Top 12 Best Entry Level road bikes for women beginners, Unbiased Buying Guide-2022
Recently, more and more women are showing interest towards fitness and working out, and most women see road cycling as a great start. Today's article is for all the ladies out there who are still contemplating on which type of bike they should get as beginners.
Most of the bikes mentioned in our list today are highly affordable and are made for beginner women. Moreover, they have a very cute appearance, endurance geometry along with great features and amazing performance, so they are totally worth the buy.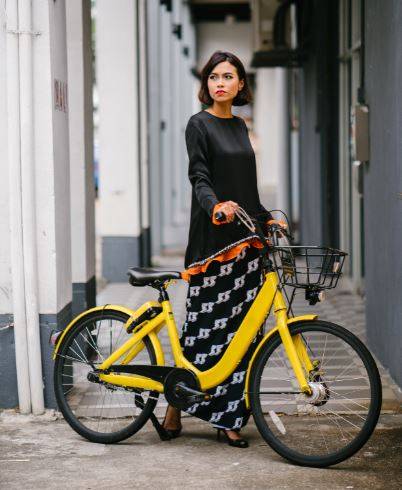 We hope that by the time you are done reading today's article, you will know exactly which best road bike for women beginners you want and to further guide you through this process, we have added a buying guide along with a list of frequently asked questions at the end of this article, so be sure to check that out as well!
Well, without further ado, let's jump right in.
Best Women's Road bikes for beginners Review, Our Top 3 Picks
1. Schwinn Volare 1400 700C wheels, Women's Starter Road Bike (Unisex Bike)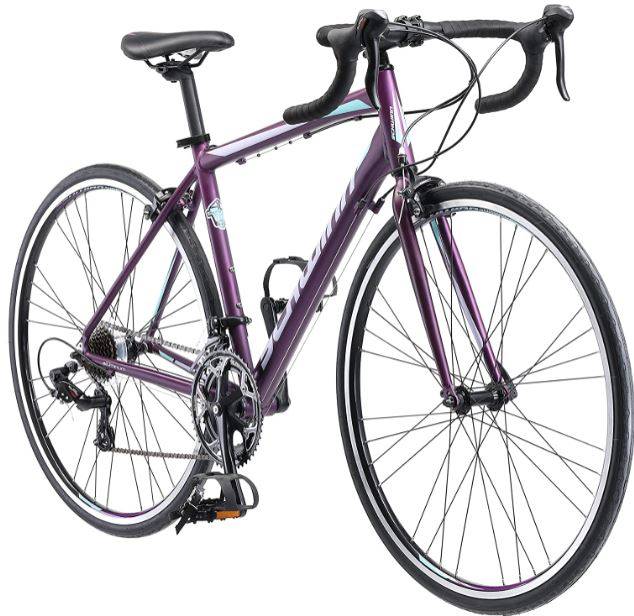 Bike's weight: 29.5lbs
Frame: Lightweight aluminum frame
Number of speeds: 14
Derailleur: Shimano RD-A070 rear derailleur
Weight capacity: 300lbs
Brake style: Linear pull brakes
Color: Matt-purple
Seat: Height adjustable soft cushioned seat
Suspension: Rigid
The very first product of the day is the Volare 1400 with 700C wheels aluminum road bike from Schwinn designed for women. Coming in at just under 1000 dollar price range, this is a perfect bike to go for if you are a beginner who is looking for a bike with good gears, great braking system, amazing performance and drop handlebars for aerodynamic position.
With the lightweight road frame being constructed of Schwinn aluminum, paired with a road fork made of steel, this budget road bike guarantees you a sprightly riding experience. Moreover, with the front and back of the bike being integrated with powerful alloy caliper dual-pivot brakes, you can rest assured that you will be able to stop at any time.
This Best Women's starter road bike is fitted with a 14-speed integrated shifter/brake lever combo for swift gear-shifting. For a smooth gliding and safe riding experience, the bike uses a pair of Schwinn oversized road tires which has alloy double wall rims for superfluous resilience while riding.
Lastly, the handlebars, stem and seat post are also constructed with Schwinn aluminum for max lightweight and a high-endurance level.
Although this aluminum road bike was made for women, it is also usable by men and this just adds on its plethora of great features.
ALSO READ: Best Road Bikes Under $400
2. Slsy Adult Tricycles , Best beginner Women's Road Bike
Bike's weight: 58lbs
Frame material: High grade steel 
Max weight capacity: 350lbs
Basket load capacity: 50lbs
Brake style: Linear pull
handlebars: Height adjustable narrower handlebars
Riding position: Upright riding position
Wheels: 20″,24″ and 26″ wheel size available
Number of speeds: 7-speed grip-twist shifters and the derailleur
Seat: Height adjustable soft padded seat with Backrest
Colors: Variety of colors available
Warranty: 1 year Warranty , 30-day return and money back guaranty
The Slsy Adult Tricycle is ideal bike for women who do not feel confident enough to ride two-wheelers and feel more comfortable riding lower vehicles. With a price of just over 300 dollars, this bike is worth your investment due to all the great characteristics that it has to offer.
This strong and hard-wearing bike is constructed with a high-strength steel frame with the elderly and women in mind. The back of the bike has two 24-inch wheels while the front has one 24-inch wheel, thus making the product a three wheeler.
To ensure safety and comfort of this entry level women's road bike, highly responsive disc brakes are used in the front and V brakes in the back, the height-adjustable handlebars are made out of durable rubber of the finest quality so make sure the user gets to grip onto the bike.
The rear brakes are accompanied by a 7-speed transmission flexible derailleur for an ultra-receptive gear shifting experience. Behind the soft, padded seat there is also a large carrier basket.
The maximum load capacity of this lovely and useful three-wheeler is roughly 159 kg (which amounts to around 350 lbs.), and can be used by women, men and even the elderly. The bike is easy to assemble and comes with an instruction manual as well as tools for installation.
CHECKOUT: Best Aero Road Bikes Under $2000
3. Huffy Nel Lusso , Women's Classic Road Bike For Beginners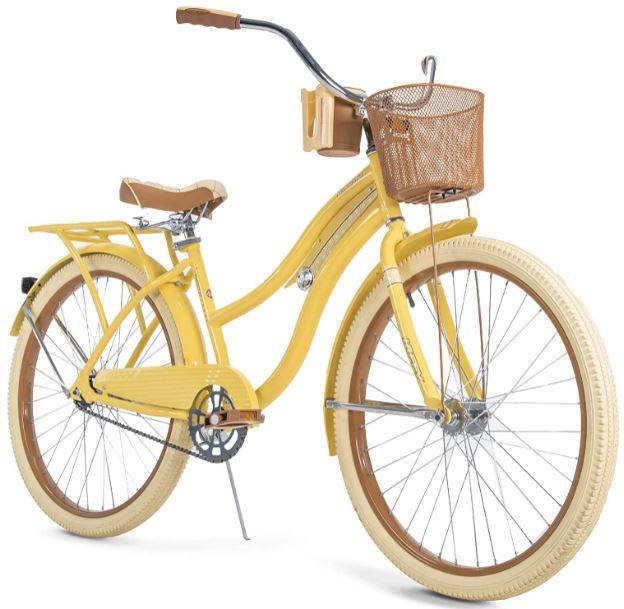 Bike's weight: 47.8lbs
Max weight capacity: Up-to 200lbs
Frame: Steel
Number of speeds: Single speed
Colors: Yellow and light blue
Seat: Leathery textured soft and comfortable height adjustable seat
Riding position: Upright riding position
Tire size: 26 inches tubeless tires
Brake style: coaster
Special features: Front basket and rear panier racks
Our next ladies beginner road bike is a feminine cruiser from Huffy made specifically for leisure purposes. Falling just under 300 dollars, this adorable bike is a must-have for all the ladies out there who see cycling as a new hobby and would like to try it out.
The steel body of the bike makes it not that much lightweight and hence increases its speed considerably. The great brakes that work perfectly helps to ensure safety of the rider. Since this is a cruiser bike, it does not come with any gears or shifters.
The seat of the bike is soft and has a leathery texture while the handlebars are high and easy to reach so that the rider can use this product while maintaining an upright riding posture.
Side by side, the wheels are neither too large nor too small, and female riders will be able to rest their feet on the ground without having to tilt the bike to the side when the cycle is stationary.
This super cute bike comes equipped with a cup holder as well as a cellphone holder and a front basket which may be removed at any time, should the user feel like they do not need it. It also comes with a stowing bracket behind the seat which you can use to carry heavy loads or large boxes.
ALSO READ: Top 4 Vilano Road Bike Reviews
Here is a video of Huffy Nel Lusso, Entry level Women's road bike
4. Hiland, Good Starter Bicycle For Women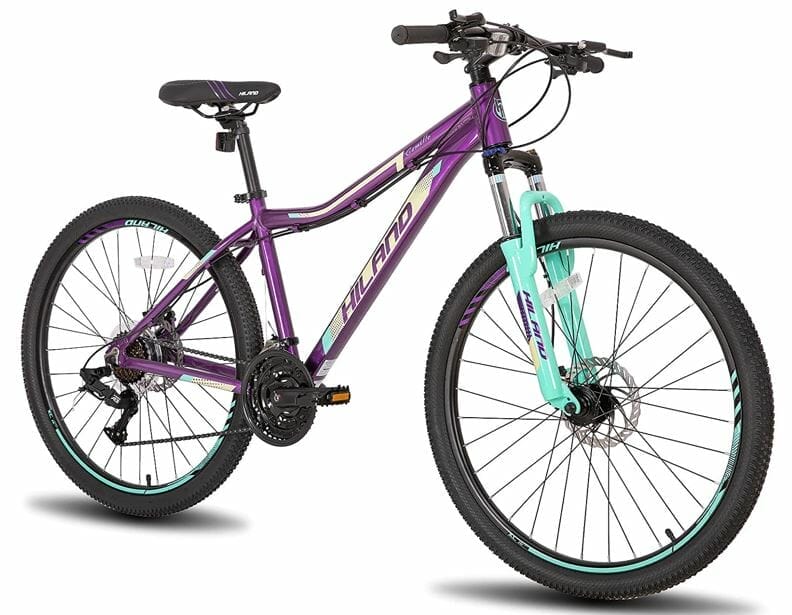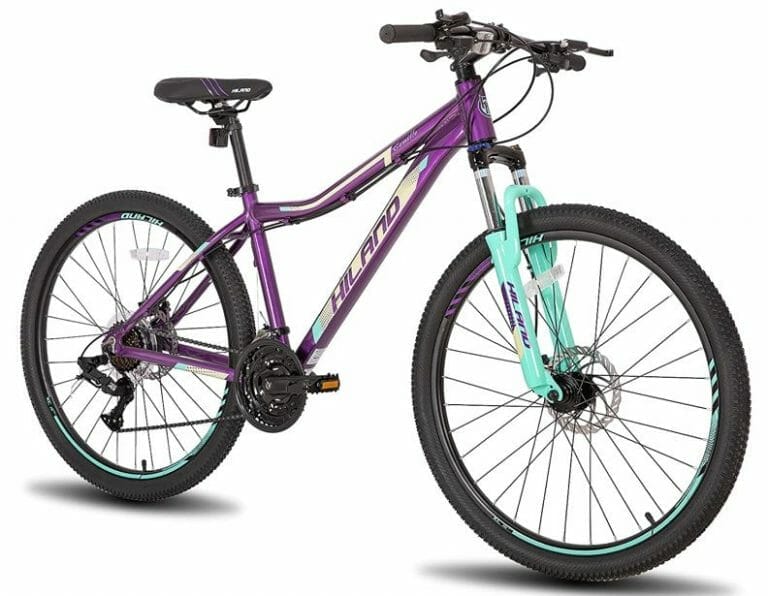 Bike's weight: 14lbs
Max weight capacity: Up-to 275lbs
Frame: High quality aluminum
Number of speeds: 24
Handlebar style: Flat handlebars
Wheel size: 26 inches
Brake style: Disc
Suspension: Front suspension fork
Seat: Height adjustable comfortable seat
Colors: variety of colors available
On this list of best starter bicycle for ladies, Our next product is the Lock-out suspension aluminum bike by HH Hiland, a brand that has been trusted by people all over the United States for decades, and that too for all the right reasons.
This mountain bike displays a aluminum mountain frame paired with dual suspension fork at the front which ensures the rider gets to experience smooth and safe rides at all times. This bike can be rode on dirt roads as well as on paved ones, thanks to the contorted tire treads that this product has been integrated with.
Added firmness and resilience is provided by the alloy rims in the wheels of this bicycle while effortless gear shifting is made possible by the 24-speed twist shifters and the Shimano derailleur that the back of this bike is equipped with. The dual disc brakes that this bike is designed with ensures safety and timely braking of the product in any situation.
This bike is beginner-friendly and since it has been designed specifically for women, it displays a very light weight of only around 30 pounds. As pretty as this bike is, flaunting its purple color with the elegance and grandeur of a woman, it is highly affordable, coming in at under 400 dollars only.
DON'T MISSOUT: Best E-Bikes Under $500
5. sixthreezero Around The Block, Best Starter Bicycle for a Woman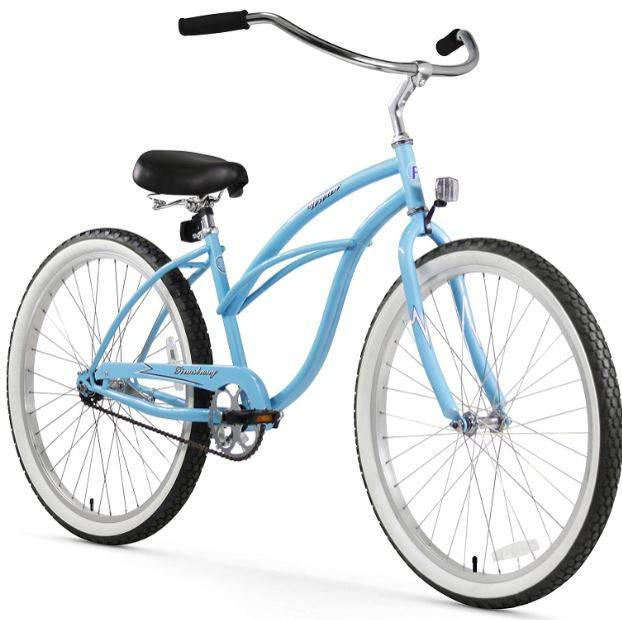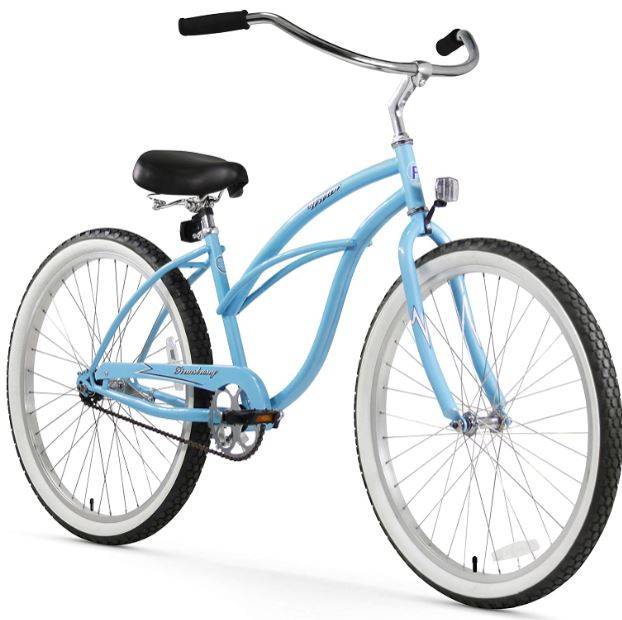 Bike's weight: 35lbs
 when assembled
Max weight capacity: Up-to 300lbs
Frame: 17″ lightweight aluminum frame
Number of speeds: single speed
Brake style: Linear pull
Wheels: Aluminum Alloy 26″ 36-Spoke 14G Rims, Quick-Release Hub, 3/8″ Threading
Colors: various colors available
Seat: Height adjustable soft seat
This best women's bike from sixthreezero is a single-speed bicycle designed for women and costs less than 400 dollars. Not only is it aesthetically pleasing to look at, but it also has amazing features that helps you ride this bike around town with ease.
The very first feature of this best starter bicycle for women we will be looking at is its frame that is made of  durable aluminum, thus making the bike very durable and strong. To guarantee 100% user comfort, the bike is fitted with well-padded and curved wide cruiser handlebars that helps you stay in an upright position while riding.
Side by side, the saddle is fixated with a dual spring mechanism to further verify maximum comfort while riding over bumps. The bike is a single-speed one which is great for cruising on even landscape, but unfortunately it cannot be used by professionals for competitive use as this is fully an entry-level cycle.
For assistance in easy braking, Sixthreezero has added pedal-backward coaster brakes to the bike. A wider range of control is ensured by the 26", 2.125" wide aluminum wheels each of which are covered by large waffle tread tires for greater stability and smoother, dampened cruising.
ALSO READ: Best Electric Bikes Under $2000
6. Huffy Panama Jack Beach Cruiser, Ladies beginner Aluminum road bike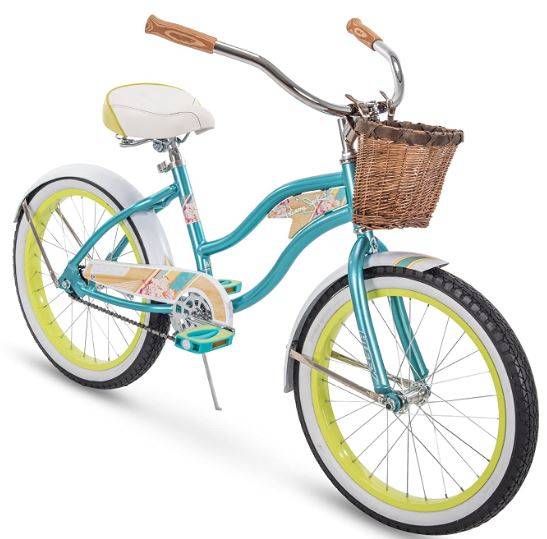 Bike's weight: 33.22lbs
Max Weight Capacity: Up-to 250lbs
Frame: 20″,24″ and 26″ aluminum
Fork: Steel fork
Number of speeds: single speed
Wheel size: 20″ ,24 and 26″
Brake style: Coaster
Seat: height adjustable super comfy seat
Extra Features: Handlebar basket, rear rack and beverage holder available
Colors: 3 colors available
Huffy is one of the most well-known bike companies on the market, and they produce a variety of models for both advanced and beginner riders. This Huffy bike has a lot of great features and tiny modifications that make it simple to use which makes it a good starter bicycle for women.
This Huffy Panama Jack Beach Cruiser Bike comes with classic and comfy seat with high-quality padding. You can also adjust the seat height according to your comfort.
The bike's handles are cushioned and provide excellent grip. The pedals on this beach cruiser bike are also soft, so you won't get sore if you have to paddle for a long distance. Its high-quality tires can adjust to a variety of terrains, dips, and bumps, which we like.
As it can ride over any kind of terrain, you probably can sense how good the balance of this bike is. Another thing we like about the Huffy Panama Jack is it comes with a good storage option: handlebar basket, beverage holder, and a rear rack.
It also includes certain extras, such as all of the tools required to assemble the bike's components. The packaging also includes an assembly manual that will make the process go more smoothly. The Huffy Panama Jack Beach bike is reasonably priced, which makes it more appealing to newbies.
CHECKOUT: Best Electric Bikes Under $1000
7. Schwinn GTX Comfort Adult Hybrid Bike , Entry-level road bike For Women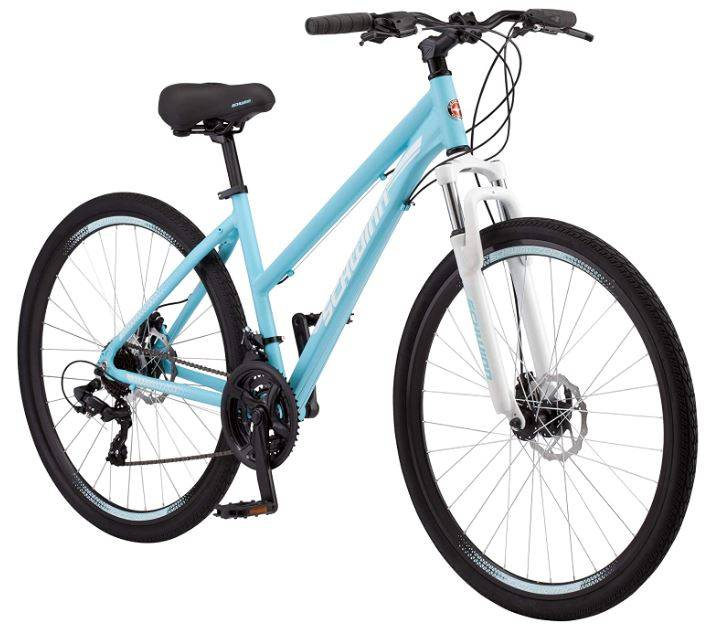 Bike's weight: 32lbs
Max weight capacity: Up-to 300lbs
Frame: 20″ lightweight aluminum frame
Wheel size: 26″ and multi purpose tires
Colors: various colors available
Brakes: Linear pull Mechanical disc brakes
Suspension type: Rigid
Number of speeds: 21 
We are back with yet another entry level women's road bike from Schwinn. The GTX Comfort Adult Hybrid Bike is a dual sport bicycle with an aluminum body, available in various colors ranging from black/pink to light blue and even red. The total cost of this bike falls under 600 dollars.
The aluminum frame of this unisex bike is well equipped with a Schwinn front suspension fork which helps to smoothen out any nasty vibrations you might otherwise feel while riding over bumpy roads or rough terrain. Since this is a hybrid bike, you will be able to ride it on both gravel as well as on bumpy dirt roads with ease.
Extra stability and strength is provided by the alloy rims in the 28" quick release wheels which are surrounded by Schwinn multi-use tires. The mechanical disk brakes at the front and back of the bicycle helps you stop your bike under any given conditions regardless of what your speed is.
The 21-speed trigger shifters and the rear Shimano derailleur contributes to swift gear changing and, in an effort of making the gear changing process easier for beginners to understand, the shifters are designed with Schwinn easy-to-understand shift icons.
This hybrid bike can be used for long distance riding as well as for travelling shorter distances. Furthermore, this bike is sold partially assembled and final assembly is very easy and can be done by yourself.
DON'T MISSOUT: Best Electric Bikes Under $1500
8. Schwinn Destiny Cruiser ,Best starter bicycle for a short woman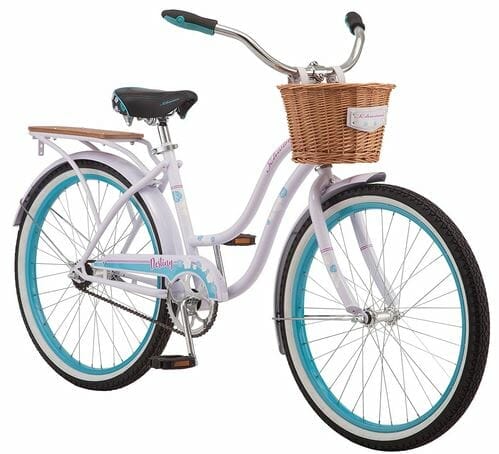 SPECIFICATIONS AND FEATURES
Bike's weight: 39lbs
Max weight capacity: Up-to 300lbs
Frame: Aluminum alloy frame
Wheel size: 26″
Brake style: Coaster
Number of speeds: single speed
Seat: Soft padded height adjustable seat
Rims: 36 spoke painted alloy rims
Special feature: Front wired mesh basket and a rear panier rack
This girlish bike from Schwinn was hand-made for women who are looking for a simple, affordable bike to use for daily cruising around the neighborhood.
The durable steel frame of the cycle sports a whitish color with floral designs around the frame and a soft, upholstered seat which is said to be very comfortable to sit on. This women road bike does not come with any additional gears or parts of that like and so is perfect for those who are looking for a starter bike that does not have any fancy parts.
The First Look Schwinn Destiny Women's Beach Cruiser is simplicity at its best and it is because of this that it will attract a lot of attention when you take it out. The handlebars are raised slightly in order to ensure that the rider gets to maintain an upright position while pedaling.
The bike is a single-speed one and comes with accessories such as a wire mesh basket at the front and a cup holder as well as a bottle opener. To top it off, Schwinn added a parrot bell to the bike thus making it look even cuter!
Assembly of this bike is rather easy and does not require professional help at all so you do not need to worry about spending a huge amount of money on this best starter bicycle for a short woman.
ALSO READ: Best Electric Bikes Under $700
9. sixthreezero Pave n' Trail Women's 7-Speed Hybrid Bike for female beginners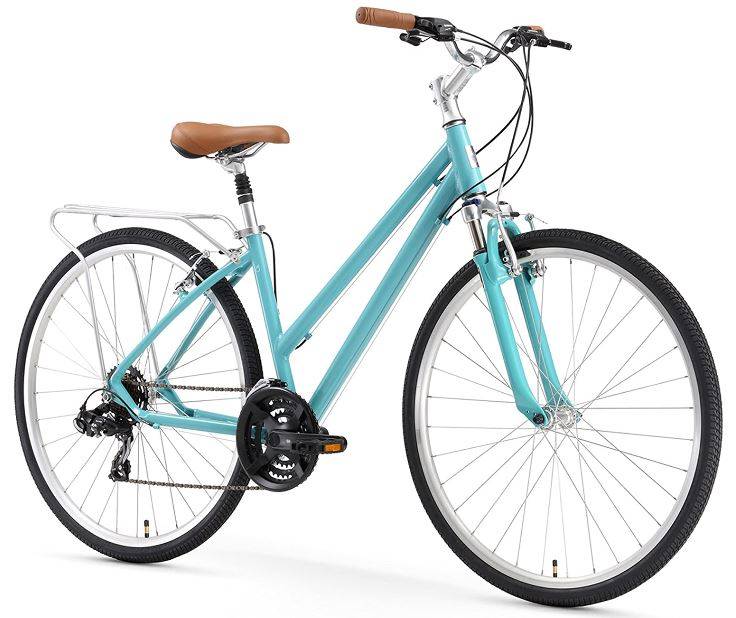 Bike's weight: 33.5lbs
Frame: Aluminum frame
Max load capacity: Up-to 250lbs
Motor: 250W
Max Range: 18 to 40 miles in full-electric mode and 20 to 60 miles in pedal-assist mode
Top speed: 15 miles per hour in full-electric mode and 28 miles per hour in pedal-assist mode
Brakes: Front and rear hand brake
Suspension: Front fork suspension
Number of speeds: 7
Featuring a Shimano 7-speed gear system, this bike is suitable for riders who fall in the height range of 5'4"-5'10". With all the components of the bicycle colored black, the bike displays a rather chic look which immediately caught our attention.
This aerodynamic 7-speed hybrid bike from sixthreezero is designed to provide maximum comfort while riding on paved roads. The Vibrazorb suspension system at the front absorbs nauseating vibrations and bumps experienced while travelling over uneven terrain.
The synchronized geometry of the handlebar and the aluminum frame helps to keep pressure away from the lower back and shoulders of the rider while the slim cut saddle that is made up of dense compression comfort foam limits the amount of pain felt in the tailbone during and after rides.
Although the bike is most suitable for riders with the 5'4"-5'10" height range, taller or shorter riders may also find this bike comfortable to ride, thanks to the adjustable stem and seat.
The maximum speed that can you can attain in this bike is approximately thirty mph. this is due to the presence of a Shimano gearing system which has can be found in two options: the 21-speed Shimano Tourney derailleur and the EZ Fire Plus shifter.
Furthermore, the 700c wheels this bike is integrated with provides better control and balance to the rider.
ALSO READ: Top 5 DYU Electric Bike Review
10. Firmstrong Urban Lady Single Speed - Women's Beach Cruiser Bike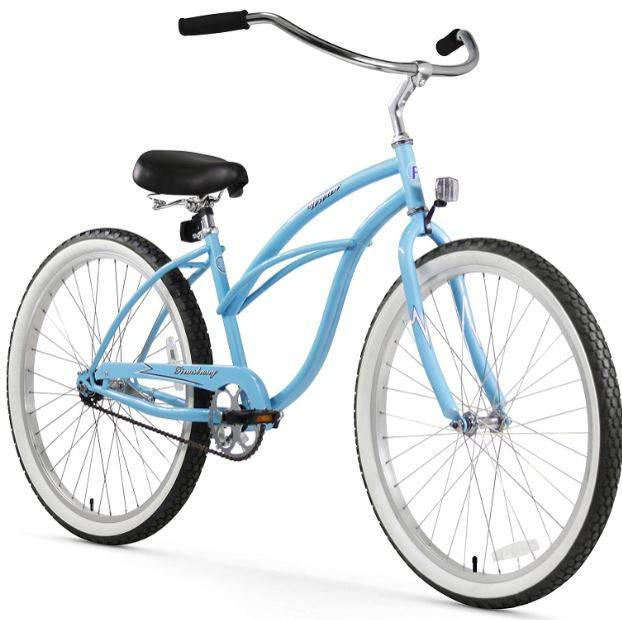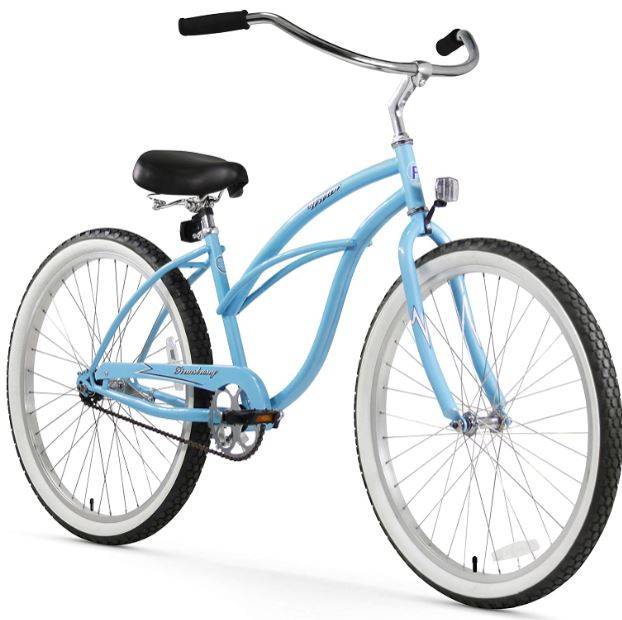 Bike's weight: 37.5lbs
Frame: Steel
Max rider weight: 300lbs
Wheel size: 26″
Riding position: Upright relaxed
Brake style: Coaster
Seat: Dual spring comfort cruiser saddle
Number of speeds: Single speed
This baby blue women's beach cruiser bike from Firmstrong is the epitome of simplistic and falls at a fairly affordable price of less than 600 dollars. Despite not being equipped with gears and derailleurs or shifters, this is the perfect bike for anyone who wishes to learn riding a bicycle.
The frame of the bike is constructed of durable steel while the wheels are of aluminum. Accompanying the 26 inch wheels are white-wall balloon tires, used to help the rider feel the euphoric sensation of a well-cushioned ride. As for the brakes, Firmstrong used foolproof coaster brakes.
To further amplify comfort of the user, the soft seat is supported by dual springs and the bike is given wide handlebars which are integrated with rubber grips. This also makes the bike suitable for use by women who are 5 to 6 feet tall and weigh under 300 lbs.
This 37 pounds bike is easy to assemble and most of its assembly is usually done beforehand by the manufacturer. Moreover, the co-owners of the company send out personal emails to all their consumers every month so if you ever face any difficulties regarding your bike, you will easily be able to get in touch with them
ALSO READ: Shengmilo MX01 E-Bike Review
11. Sixthreezero EVRYjourney, Best Women's Beginner Hybrid Road Bicycle
Bike weight: 65lbs
 when assembled
Frame: Lightweight aluminum frame
Load capacity: Up-to 250lbs
Motor: 250W
Max Range: 18 to 40 miles in full-electric mode and 20 to 60 miles in pedal-assist mode
Top speed: 15 miles per hour in full-electric mode and 28 miles per hour in pedal-assist mode
Brakes: Front and rear hydraulic disc brakes
Number of speeds: 7
Sixthreezero EVRYjourney Women's Electric Bicycle is designed with the thoughts of comfort and ease of use. This hybrid bicycle comes with all the premium features that a aluminum road bike needs to have. Besides all its features makes it suitable for riding on the beach.
Moreover, the EVRYjourney hybrid bicycle not only has great features, but it also has the ability to withstand long rides. This electric bicycle comes with a curved step-through frame design which is more likely a signature feature of this commuter bike.
After using this aluminum road bike, we get to know that the frame of this bike keeps the rider in an upright and relaxed riding position. Thus, you can reduce strain on your hip, knee, back, and shoulder due to the comfortable riding position. Overall the frame design and pedaling position help to make mounting and dismounting easier.
The motor of this hybrid bicycle is 250W which can be used in different ways while riding. If you want, you can use this bicycle as a traditional bicycle, then you can do it by just leaving the motor off. 
You can also ride on this type of bike without sweating at all. All you need to do is to turn the motor on. The price range is a bit higher than the other women's road bikes on this list. But as we have tested all these cycles, we can assure you that you will get exactly what you paid for an entry level women's road bike.
CHECKOUT: Velowave Electric Bike Review
12. Kent 26" Bayside Cruiser ,Best starter road bike for ladies
Bike's weight: 36lbs
Frame: Steel
Max rider weight: Up-to 275lbs
Wheel size: 26″ 
Brake style: Front and rear linear pull caliper brakes
Number of speeds: 7
Seat: Height adjustable comfy saddle
Height: 5.2″ and above
The Kent 26" Bayside Women's Cruiser Bike is jam-packed with easy and amazing features that make it suitable for beginners. The tire size of this Kent Cruiser bike is 26" and includes an oversized custom step-through frame.
The rear derailleur, saddle, and chain guard make it easy to twist shifting. You will also find a seven-speed option on this Kent Bayside bike. You can also adjust the saddle without using any tools. The Cruiser Bike from the brand "Kent" contains a padded seat to make riding smoother.
The tires are also soft and can adapt to terrains or bumps easily, and you can have a stable ride. The seat post clamp can release quickly. The front and rear fenders are colorful and matches the bike's color, giving it a classy appearance. It also gives you a good storage facility, and you can easily fit a water bottle in the included cup holder.
The frame of the bike is sturdy. Also, the tires are solid enough to give you a smooth ride. So you can go on a family adventure or cycling with friends to make some new memories.
The appearance is attractive, and just like other higher-end bikes, this one is durable also. It can hold a maximum weight of 275lbs and females over 5'1" is suitable for using this bike. The price of the Kent 26" Bayside Bike is higher than the first one, ranging from around $700.
Methodology of selecting the best budget road bikes for women beginners, Buying Guide
We will now be looking at some of the must-have features you should look for in the best road bikes for women beginners, regardless of which one you will be purchasing in the end.
The frame and fork should be made of aluminum because this alloy is extremely lightweight and very durable and so will help you maintain a good speed on your bike. Hi-tensile steel frames are also very sturdy, but are a bit heavy. Carbon fiber frames are the most durable and lightweight, but they are quite pricey.
The first thing you need to check before buying a women specific bike is its weight. Also, you should focus on the weight capacity as well. Checking on the weight will tell you if you can put pressure on the bike without causing any sort of damage.
For a good entry level road bike for women, you should not go for a super heavyweight road bike as it will hinder the free experience. On the other hand, a lightweight bike will give you much better control and an overall smoother experience. So, before you make your purchase, make sure to check the weight of your road bike first.
 You must check whether the saddle is comfortable enough for your sitting, as it will directly impact how comfortable you are while riding the bike.
The same goes for the handlebar as well, and you want to make sure that you've checked everything properly before you buy one. If you mess up there, you are going to face issues while going for longer rides. So, make sure to check everything by yourself to see if the ergonomics suit you, and then make the purchase.
ALSO READ: How E-Bikes Work, Mechanism And Application
Brakes are undoubtedly one of the most important parts when it comes to the best road bikes for women beginners. A good pair of brakes will keep you safe on the road, and there's no way around it.
You must have a decent pair of brakes on your bike, and again, it's not optional. A faulty or weak pair of brakes can cause unwanted accidents, which is not something you want.
You'll find 2 types of brakes on the market; rim type and disk type. In most bikes, you'll find a rim-style braking system, which is truly not bad at all. However, if you want to get the best out of your braking mechanism, you should go for the one with disc brakes. These are much safer, and you'll have more control over everything as well.
The drive train is basically a combination of the chainring, cassette, shifters, and chain that gets you going on the road, and you must pay attention to the quality of each if you want to get the most out of your bike.. That being said, you'll find Shimano Claris drivetrain in the most affordable bikes for women, which is a decent option for you.
However, if you want to get the best drive train available in the market, then the Shimano Sora is going to be a really nice upgrade. What's great about it is that you don't have to have every single best component installed on your bike. You can simply do it later, which saves you a lot of money and hassle at the beginning.
DON'T MISSOUT: Pros And Cons Of Electric Bikes
6. Quick-Release Skewers Versus Thru-Axles
That's a feature you don't really need to worry about that much, but it's good to know about it anyway. In most bikes, you'll find the traditional Thru-Axles, which are safer than anything else in the market. That doesn't mean that Quick-Release Skewers are bad in any way, shape, or form.
You'll see the Quick-Release Skewers in some modern bikes in the market, which are a pretty decent option for you. You can probably tell why you should not worry about this feature a whole lot, but it's good to know about it anyway. So, go for any type, whichever you find the best, and you'll get identical service from both of them.
7. Tubeless-Compatible Wheels
When it comes to good entry level road bike for women, there's nothing better than Tubeless-Compatible Wheels as they make your life so much easier. They are exactly as they sound, which allows you to ride your bike without the constant need of changing or fixing flat tires. The tubeless wheels will never get flat, which is a great feature to have in the arsenal.
Again, if your bike doesn't come with tubeless wheels, you can go to your local mechanics, and he will install it for you. It'll take a little money, but it's definitely worth it at the end of the day.
Although some people say that products that are too cheap do not last long, we beg to disagree. Some road bikes, despite having a very low price gives great service to its buyers for years on end.
There are numerous bike manufacturers in the market. Purchasing a road bike from a well-reputed brand will save you plenty of time that you would otherwise have to spend making small alterations to your bike if you it from a small, not-so-known company.
Before buying a road bike, do your research and make sure you know which size will be appropriate for you.
Women-specific bikes versus unisex bikes
Now that you've gone through our buying guide, you should have no issue buying the best possible affordable road bike for women. However, you may have seen unisex bikes on the market, which may have left you wondering whether you should get a woman's bike or a unisex bike. Let's compare them in greater detail down below so that you can have an easier time making the right decision.
When it comes to women specific bikes, you are more likely to get an overall better fit and ergonomics. The body will be slightly lighter, and everything will be thinner, giving you the best possible fit from a road bike.
On the other hand, unisex bikes do a fantastic job at giving you versatility and overall great performance. But as they are designed for both men and women, you can't expect the perfect ergonomics that you can from a women's specific one.
Unisex bikes are typically more sturdy and they have more weight capacity as well. So, generally speaking, you should be able to get more durability out of these bikes, which is pretty amazing. But when it comes to comfort, nothing can beat a bike that's specifically designed for either man or woman.
A women specific bike will to give you better riding experience overall, and it's just very fun as well. But if you have someone from your family or friends who'd ride the bike as well, then you should consider getting a unisex bike for yourself. That way, you and anyone else can ride the bike without any sort of issue, which is pretty amazing.
In terms of pricing, women specific bikes are cheaper than unisex bikes, which is quite good. So, you won't have to break the bank to get a good quality bike. 
Also, for women bikes, you'll get a wider variety of styles and colors that are completely feminine. That's something you can't find on unisex bikes, and it's going to give a unique touch to the whole thing.
As you saw, it can be pretty confusing if you didn't know everything to the point, but the women specific bike takes the victory.
FAQ About Best Road Bike For Female Beginner
Final Thoughts On Entry Level Women's Starter Road Bike
We hope today's article was able to help you get through the struggles of choosing the Best Road Bikes For Women Beginners. Even if you didn't find the right bike for you in this list, don't worry! There are tons of other women specific bikes out there and we are sure you will find the right one for yourself soon. Thank you for staying with us till the end!
Posts You Might Also Like