1. Emove cruiser, Electric Scooter For Adults 300lbs Review
We'll start with the Emove Cruiser. Not only is it speedy, but it also has an impressive payload capacity that makes it ideal for adults on the heavier side of the weight spectrum at an affordable price tag.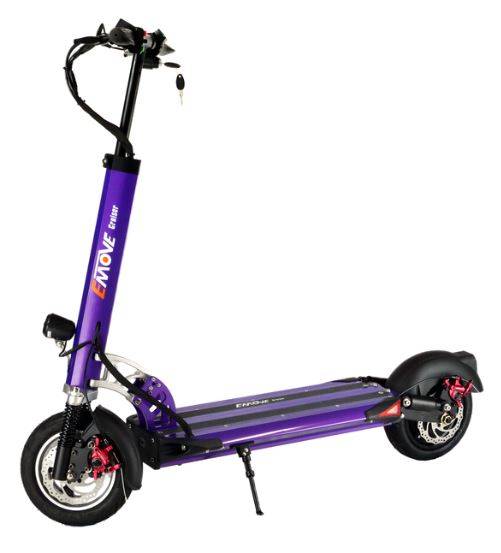 Weight: 52lbs
Frame: Forged aluminum frame
Deck size: 21/10 inches
Deck to handlebar height: 40.15 inches
Max operating Range: Up-to 62 miles
Maximum Speed: Up-to 28mph
Max load capacity: 352lbs
Motor:  1000W brushless motor with a pick output of 1600W
Battery power: 52V 30AH (LG cells)
Battery position: Inside the deck
Charging time: takes 9-12 hours depending on the charger you use
Brakes: Hybrid hydraulic double disc responsive brakes
Handlebar: Height adjustable handlebar
Foldable handlebar: Yes
Ground clearance: 8 inches
Lights: LED head lamp, turn signal light, tail lights and front deck side LED lights
This unique electric scooter is built with a mighty 1000-watt motor with a pick power output of 1600W, that gets it running for up to 28 miles per hour. It can also conquer hills with up to a 20 degrees incline, so you know it's your ultimate travel companion wherever your destination may be.
Another spectacular feature is its battery. The Emove cruiser has a long-lasting 52V,30Ah lithium battery that gets the motor going for a riding range of 62 miles. This impressive mileage can certainly get you to work and back home without needing a recharge.
And even if you have to traverse roads of different textures, this unit won't let you down. It comes with a pair of 10-inch tubeless anti-slip tires. This makes it out-and-out for all-terrain riding.
The Emove cruiser is also built to withstand a heavy load. It has a maximal payload of 352 pounds, so even the heaviest adults can ride it without worry.
Despite its heavy-duty performance, we were surprised by how comfortable it was to ride. It has a wide platform where you can fit both feet in, so you can ride it while standing comfortably.
Even when driving on a bumpy road, your legs and feet won't feel much of the impact if you're standing up. The tires provide outstanding shock absorption, and the frame includes front and rear suspension. This effectively absorbs the shock of the harsh terrain, ensuring a balanced ride.
For your safety, the Emove cruiser comes with a pair of hybrid hydraulic brakes for a responsive stop. It also comes with LED headlight, a taillight, and turn signal light to keep your path illuminated in case you have to ride it at night. 
We also love the fact that it's foldable. It boasts a quick-folding mechanism that even beginners can do. This makes it portable enough to keep in your trunk or take with you while on the bus or train. Its compact size also leaves you with more storage space.
With its impressive speed, amazing mileage, and unparalleled capacity, there's no doubt that the Emove cruiser is one of the best electric scooter for heavier riders.
12. Hiboy Titan Pro, motorized scooter for heavy adults
Completing our write down of the Best e-scooter for heavy adults is the Hiboy Titan Pro. This stunning unit offers incredible mileage, massive weight capacity, amazing speed, and quick-charging batteries that guarantee lots of fun.
Weight: 61.7lbs
Maximum riding range: Up-to 40 Miles
Maximum Speed: Up-to 32 mph
Deck size: 19/8 inches
Ground clearance: 7 inches
Max weight Capacity: 286lbs
Motor: (1200*2)2400W brushless DC motor
Battery: 48V,17.5 AH Li-Ion
Suspension: Front single and rear dual suspension
Charging Time: 9 hours
Brakes: electric regenerative and dual disc brakes
Tire size: 10 inch pneumatic tires
Max incline: 35 degrees
Ingress protection: IP54
Riding modes: 3 speed modes (Eco, Normal and Sport)
Light: Front LED headlight and tail light
This powerful electric scooter from Hiboy comes with a (1200*2)2400-watt dual motors that gets it going at speeds ranging from 30 to 45 miles per hour. It has a multifunctional driving system that allows you to easily make adjustments, so you can cruise at your desired pace and without taking your eyes off the road.
The Hiboy Titan Pro Electric Scooter also has mileage of 40 miles, and that can surely get you to your destination and back home without the need for a recharge. But even if you run out of batteries, it only takes around 9 hours to fully charge, and that's a much faster recharging time than the other models.
It has a smart screen that conveniently displays the battery status, time, gear, and speed for easier monitoring. It also has handlebars that are easy to grip, so maneuverability won't be an issue.
The Hiboy Titan Pro Electric Scooter also has dual suspension systems that absorb the impact of rough and rugged roads. This keeps you feeling comfortable throughout your ride.
While we're on the subject of comfort, this electric scooter has also an option of attaching a removable seat which you will have to buy separately. So if you don't feel like riding while standing up, you can attach the seat and ride it while comfortably seated.
Thanks to its 10-inch pneumatic tires, this scooter has excellent traction even on rough surfaces. That greatly prevents injuries from slipping accidents.
And finally, the Titan Pro Electric Scooter has a convenient foldable design. You can simply carry it with you, so you don't have to worry about parking space. It is also incredibly compact, so you can safely keep it under your desk as you work.