Top 12 Best Electric Scooter For Heavy Adults From 250-300+lbs, -2022
Electric scooters make short-distance traveling fun. It takes you to your destination faster than walking, and without spending extra on gas. It's also great for the environment since it doesn't spew out toxic fumes.
But a lot of people think that scooters are only for kids and teenagers. Well, we're here to tell you that a lot of e-scooters for heavier and taller riders are available in the market. These personal electric vehicles are packed with advanced features that heavier riders will surely enjoy like an intuitive dashboard.
These heavy duty electric scooters also come with stylish and sleek design so you wouldn't feel ashamed to take them to work. And most importantly, they're built to withstand the heavier weights of big guys.
So if you're looking for the best electric scooter for heavy adults 250-300Lbs, then this article is for you. We'll give you the lowdown on our top 12 picks to help you choose the best one for you. We also made the buyers guide comprehensive enough to include all the particulars you need to make an informed decision.
Best Electric Scooter For Heavy Adults 250-300 Lbs, Our Top 3 Picks
USE COUPON CODE "NEWAGEACTIVITY90" TO GET $90 DISCOUNT
USE COUPON CODE "NEWAGEACTIVITY" TO GET $50 DISCOUNT ON FIIDOBIKES
USE COUPON CODE "NEWAGEACTIVITY" TO GET $50 WORTH OF FREE ACCESSORIES ON APPOLLO.CO
1. Emove cruiser, Electric Scooter For Adults 300lbs Review
We'll start with the Emove Cruiser. Not only is it speedy, but it also has an impressive payload capacity that makes it ideal for adults on the heavier side of the weight spectrum at an affordable price tag.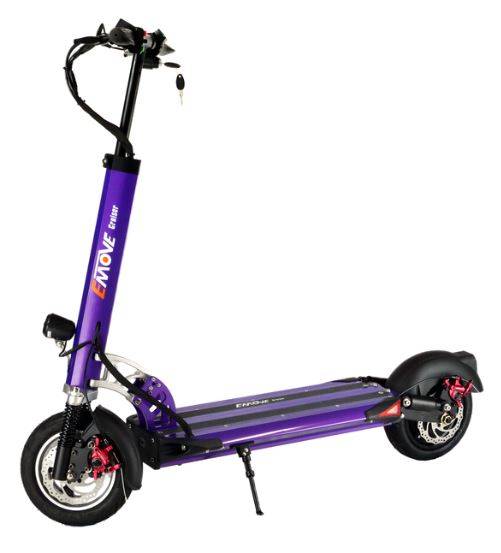 Weight: 52lbs
Frame: Forged aluminum frame
Deck size: 21/10 inches
Deck to handlebar height: 40.15 inches
Max operating Range: Up-to 62 miles
Maximum Speed: Up-to 28mph
Max load capacity: 352lbs
Motor:  1000W brushless motor with a pick output of 1600W
Battery power: 52V 30AH (LG cells)
Battery position: Inside the deck
Charging time: takes 9-12 hours depending on the charger you use
Brakes: Hybrid hydraulic double disc responsive brakes
Handlebar: Height adjustable handlebar
Foldable handlebar: Yes
Ground clearance: 8 inches
Lights: LED head lamp, turn signal light, tail lights and front deck side LED lights
This unique electric scooter is built with a mighty 1000-watt motor with a pick power output of 1600W, that gets it running for up to 28 miles per hour. It can also conquer hills with up to a 20 degrees incline, so you know it's your ultimate travel companion wherever your destination may be.
Another spectacular feature is its battery. The Emove cruiser has a long-lasting 52V,30Ah lithium battery that gets the motor going for a riding range of 62 miles. This impressive mileage can certainly get you to work and back home without needing a recharge.
And even if you have to traverse roads of different textures, this unit won't let you down. It comes with a pair of 10-inch tubeless anti-slip tires. This makes it out-and-out for all-terrain riding.
The Emove cruiser is also built to withstand a heavy load. It has a maximal payload of 352 pounds, so even the heaviest adults can ride it without worry.
Despite its heavy-duty performance, we were surprised by how comfortable it was to ride. It has a wide platform where you can fit both feet in, so you can ride it while standing comfortably.
Even when driving on a bumpy road, your legs and feet won't feel much of the impact if you're standing up. The tires provide outstanding shock absorption, and the frame includes front and rear suspension. This effectively absorbs the shock of the harsh terrain, ensuring a balanced ride.
For your safety, the Emove cruiser comes with a pair of hybrid hydraulic brakes for a responsive stop. It also comes with LED headlight, a taillight, and turn signal light to keep your path illuminated in case you have to ride it at night. 
We also love the fact that it's foldable. It boasts a quick-folding mechanism that even beginners can do. This makes it portable enough to keep in your trunk or take with you while on the bus or train. Its compact size also leaves you with more storage space.
With its impressive speed, amazing mileage, and unparalleled capacity, there's no doubt that the Emove cruiser is one of the best electric scooter for heavier riders.
2. Yume Y10, Best E Scooter For Heavy Riders 250lbs Review
Another contender of electric scooter for heavy adults is the Yume Y10. This model is ideal for larger riders who want a speedy all-terrain scooter to use around the neighborhood.
Weight: 88lbs
Max operating range: Up-to 40 Miles of range per single charge
Maximum Speed: Up-to 40 mph
Deck size: 21/9 inches
Load Capacity: 330lbs
Motor: 2400W brushless DC powerful motor
Battery power: 52V,23.4 AH Li-Ion with smart battery management system
Adjustable handlebar: Yes
Foldable handlebars: Yes
Suspension: rear and front hydraulic spring suspension
Brake: Front disc brake and rear electronic regenerative drum
Tire size: 10″ air filled tires
Hill climbing ability: 25 degrees
One of the most stunning feature of this budget scooter is its 2400-watt dual brushless powerful motor. This allows it to run at speeds of up to 40 mph. This is faster than most adult scooters, so it can certainly provide you the thrill that comes with speedy riding. The electric motor is also capable enough to get you at the top of a hill without breaking down.
The rugged design on the Yume Y10 not only makes you look good, but it also tells us that it's made of durable material.
With wide 10-inch tires with deep lugs, this electric scooter has superb traction. This allows you to ride on smooth or rough terrain without worrying about injuries from accidental slips, that assures you that you can ride it even on a dirt road.
Since the Yume Y10 made for both on-road and off-road riding, it's only logical that it should come with both front and rear suspension. These shock absorber effectively absorb the shock from the surface so you get to have a comfortable ride.
Speaking of comfort, you can also opt to ride this scooter in three different modes. It comes with an anti-slip wide rubbery deck, so you get to choose how you want to ride it. And even if you prefer to stand, the wide platform fits both feet comfortably.
We also love that the Yume Y10 is very easy to operate. It has a bright LCD display which shows all the necessary information, while its comfortable handlebars make maneuvering a breeze.
With extra weight capacity of 330 pounds, this electric scooter is ideal for young adults and college students who are looking for a quick way to get around town.
The only feature we weren't quite impressed by was its battery pack. It can only get the engine running for up to 20 miles . But riders have the opinion to use it in Eco Mode, which makes the most of the battery so you could arrive home safely.
Nevertheless, the Yume Y10 is a robust all-terrain scooter for larger riders that can certainly conquer hills, off-road surfaces and forest trails. This makes it perfect for leisurely cruising or running errands.
3. Turboant X7 Pro, Excellent Budget E-Scooter For Heavy Riders
Great features and dynamic design within a tight budget – if this is the combo that you are looking for a heavy person, then we cannot but recommend the commuter X7 Pro from Turboant. It's got a sleek black appearance that's both dynamic and comfy-looking at the same time. It's the ideal scooter for city ride.
Weight: 33lbs
Frame material: Aero-space grade aluminum
Max operating range: 30 miles 
Maximum speed: 20 miles per hour
Maximum load: 275lbs capacity
Motor: 350w motor
Battery: Detachable premium 36v, 10ah lithium ion battery
Throttle: Thumb throttle
Wheels: 10″ pneumatic tubed tires
Brake: Triple braking system (Electronic brake, disc brake and foot brake)
Speed modes: 3 driving modes(Beginner: 6mph, Eco: 10 mph, Sport: 20mph)
Lights: LED headlight + tail light
Display: Digital LED screen which shows all the necessary information
Let's start with the great mile range of the top rated Turboant X7 Pro. It has a 10 Ah high capacity removable battery that lets you ride up to 30 miles. You can comfortably commute around the entire town in that range without having to take charging breaks.
However, if you do run out of juice, it will take up to 6 hours to get it fully recharged. There are two ways that you can use to charge the battery. You can take the battery out and charge it separately. If not, you can just charge it as you would do to a normal electric scooter.
The X7 Pro commuting electric scooter boasts a great motor power of 350W that can offer you a top speed of 20 mph.
Again, you can set it to three different modes depending on the terrain conditions. There's the beginner mode of 6 MPH, eco mode of 10 MPH and sports mode of 20 MPH. You can find a digital LED screen as well that will show you the current stats at all times.
Turboant is very precise and conscious of its energy savings policy. The X7 Pro will automatically shut down after 10 minutes of inactivity to save energy.
The model can handle weight of up to 275 lbs. The extra support can come in handy for big guys.
Meanwhile, the body weight of this unique electric scooter is 33 lbs. That's due to the reinforced frames which provide better stability and durability. So, that's a plus point.
It also comes with a three-step folding process. You can store it away in your car or carry it with you on the buses or trains for easy portability.
Lastly, it has a triple braking system to assure the user's safety, with a braking distance that stands at 16.4 feet. And if you are planning to commute around after dark, there's a 3W LED in the front to guide you.
Overall, we were impressed with the energy savings policy and premium features of this brand. The design and features are great as well.
ALSO READ: Best electric scooter under 300$
4. Apollo Ghost, High-Speed Electric Scooter For Large Adults 300lbs
The Apollo Ghost Foldable Electric Scooter is another first class option for big guys that promises to deliver unparalleled speed and mileage without sacrificing comfort.
Weight: 64lbs
Frame: Forged aluminum
Deck size: 20/8.5 inches
Handlebar: Foldable handlebar
Range: Up-to 39 miles
Maximum Speed: Up-to 34 mph
Maximum load capacity: 300lbs
Motor:  (800*2) 1600 Watts
Battery: 52V,18.2Ah li-ion
Battery position: Inside the deck
Charge time: 6-12 hours depending on the charger you use
Throttle: Finger throttle
Brakes: Disc brake and electric regenerative braking
Ground clearance: 7 inches
Suspension: Front and rear hydraulic suspension
Riding modes: 3 riding modes (Low-15 mph, Medium-25mph and high-34 mph)
Lights: LED head lamp, dual  tail lights and blue  LED deck lights
Display: Bright LED control panel
Tires: 10″ Anti-slip pneumatic air filled tires 
Max incline: 25 degrees
Water resistance: IP 54
This electric scooter is built with a pair of 800-watt motors to guarantee a powerful performance. This allows it to go at speeds of up to 34 miles per hour while its 17.5-Ah battery can get it going for up to 39 miles. And with a maximum payload of 300 pounds, this is one of the best electric scooters for adults 250lbs and above.
The dual-motor system on this model is not just for delivering power. It also serves to provide you with an all-wheel-drive for supreme traction and control. And since it comes with a pair of 10-inch pneumatic tires, you can certainly ride it regardless of how smooth or rough the surface is without fear of slipping.
As a safety feature, the Apollo Ghost comes with front and rear disc braking systems to ensure a responsive yet stable stop to prevent accidents. It also has a bright headlight, characteristic blue light strips running the length of both sides of the larger deck to keep your path illuminated for safe nighttime cruising.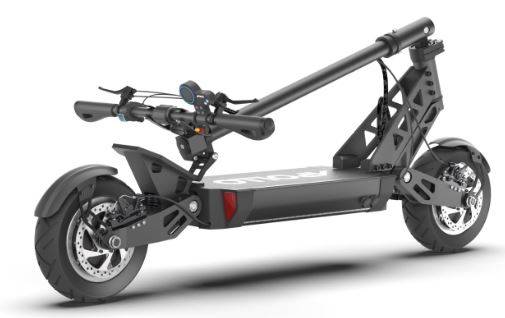 Despite its majestic power and looks, we were also impressed with how comfortable it is to ride. The Apollo Ghost has a state-of-the-art damping system that consists of 3 shock absorbers for utmost comfort. So even if you have to ride a bumpy road, it will feel as if you're smoothly gliding through the highway.
We also love that the Apollo Ghost has a portable design. Once folded, you can easily take it on the bus or train, and it can even fit comfortably inside your car's trunk. This feature also means that you won't worry about parking or storage space ever again
Here is a video of Apollo Ghost, Electric Scooter For Large Adults
5. Kaabo Mantis Pro SE, Best Heavy duty electric scooter For adults 300lbs Review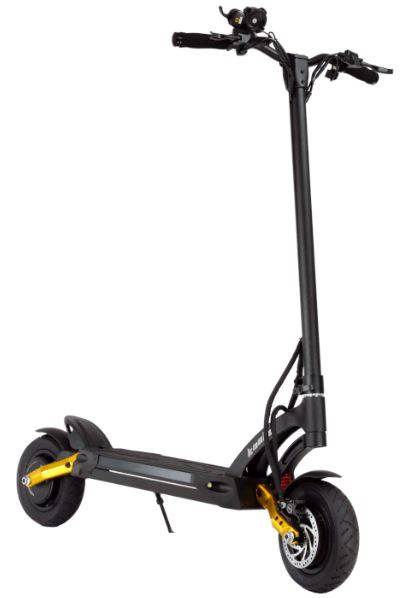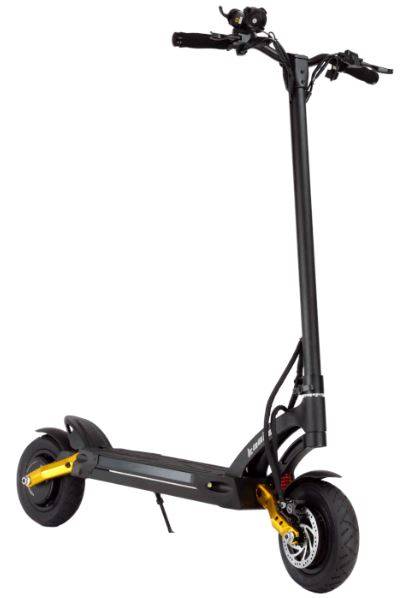 Weight: 65lbs
Frame:  High quality aluminum heavy duty frame
Payload: 330lbs capacity
Max operating range: 40 in eco mode and 25 miles in turbo mode
Maximum Speed: Up-to 40 miles per hour
Motor: (1000*2) 2000 W motor
Controller: 60V, 27A Minimotors Controller
Throttle: EY3 finger throttle
Battery: 60V,18.2Ah LG Li-Ion
Battery position: Inside the deck
Charging time: 4-5 hours with quick charger and 9-12 hours with the regular one
Braking system: Hydraulic disc brake
Suspension: Front dual suspension and rear air shock suspension
Lights: Front deck light, left and right side panel light and rear deck lights.
The product description of the Kaabo Mantis Pro SE comes with the tag "Evolution". And can we just say how befitting that tag is with this scooter?
It's termed as the king of performance. It has a dual drive mode that gives double the usual power. The electric motors are located in both the wheels. In single mode, it's at 1000W and in dual drive mode, it's at 2000W.
You can reach top speed of 40 MPH with this scooter. No wonder it's named the "PRO". Subsequently, the utmost range shifts between 38-40 miles. You can smoothly glide through steeper inclines thanks to its massive motor power.
A top class 60V 18.2Ah lithium battery powers the Kaboo Mantis Pro SE (LG cells). And it takes approximately 9-12 hours to fully recharge. It does, however, have a quick charging option, and using it can cut charging time in half.
Being able to carry up to 330lbs is not surprising, when the weight of the scooter itself is 65 lbs. Do not get spooked though. The hefty weight only indicates the use of premium quality metals in handlebars and frames. Even then, it's pretty lightweight and easy to carry around.
This load capacity is supported by the solid 10" anti skid pneumatic tires. Shock absorbers on both end ensures a smooth riding experience and guarantee zero punctures.
Finally, the hydraulic disc brakes on both ends ensure better safety during commuting. You can easily access them and they have exceptional stopping power against bumps and corners.
DON'T MISSOUT: Best electric scooter for women
6. Varla Pegasus, Long Range Electric Scooter For Heavy people
When it comes to commuting alternatives, you need an foldable electric scooter that's speedy and offers a great value for money. And among the scooters out there, the Varla Pegasus is one of the best electric scooter for large adults with premium features in the market.
Weight: 66lbs
Frame: High quality Aluminum + Magnesium Alloy 
Max Weight capacity: 280lbs
Max operating range: Up-to 28 miles per charge
Max speed: 28 miles per hour
Battery: 48V,15.2Ah Lithium Ion
Battery position: Inside the deck
Charge time: 7-8 hours
Motor: 1000W (Dual 500w motors)
Brakes: Front and rear disc brake
Tires: 8″*3.5 wide front and rear solid rubber tires
Lights: Front white LED, Rear LED tail light with braking alert
With its two 500-Watt motors the peak power output can reach up-to 1600W, it can produce top speeds of up to 28 mph. Because of this dual-motor design, acceleration won't be a problem – so you can reach top speeds faster.
Additionally, this improved motor design can help you climb steeper inclines of up to 25 degrees! That's quite spectacular, and it guarantees that you can use the Varla Pegasus Scooter on almost any terrain imaginable.
We also love its battery performance. It uses a 48V,15.2Ah battery that allows it to cover a distance of 28 miles. That's about 12% more capacity than its competitors, so you know you're getting an upgrade.
Speaking of an upgrade, the Varla Pegasus is built with a better throttle compared to its competitors in the market. As a result, you can navigate the streets better and more comfortably.
Rider safety is also a top priority. It boasts a dual-brake system, thanks to its front and rear disc brakes. This guarantees that you will be able to put it to a full stop in case of emergencies – avoiding potential accidents in the process. These brakes offer superior responsiveness, and that surely gives you peace of mind.
It uses a pair of wide airless 8″*3.5″ tires. Because of its airless construction, these tires will never be at risk of bursting. And that's an added safety feature to be thankful for.
But admittedly, the airless tire can make it more sensitive to the textures of the floor surface. Fortunately, the Varla Pegasus is equipped with dual-spring suspension systems. This feature helps absorb all the vibrations from the floor, so you can enjoy a smooth sailing ride.
Another safety feature we love about the Varla Pegasus is its front and rear LED lights. These lights will help you navigate dark areas, so nighttime travels will still make you feel safe. Also, you become more visible to those around you, thereby reducing the risk for accidents.
The Varla Pegasus has a maximum weight capacity of 280 pounds, making it ideal for almost anyone of any age. Whether you plan to use it to go to school or work, its stylish monochromatic exterior is bound to make heads turn.
All things considered, the Varla Pegasus is one of the best commuting electric scooter for heavier riders in the market. With its advanced engineered, well-balanced design, and unmatched performance, it's easy to see why we have it in this article.
7. Gyroor X8, Cheapest Electric Scooter For Heavier Adults
One of the most stylish commuter electric scooter on this write down is the Gyroor X8. But aside from being a head-turner, this model is loaded with premium features in its price range.
Weight: 28lbs
Frame: Aluminum
Maximum Speed: 18.6 mph
Battery:  36V, 5ah li-ion battery
Motor:  500W brushless motor
Max operating range: Up-to 31 miles 
Max weight capacity: 265lbs
Throttle: Thumb throttle
Hill climbing ability: Up-to 25 degrees
Tires: 10″ rubber tires
Brakes: Electronic regenerative and mechanical brake
Riding modes: 3 speed modes (10 mph and 15.5 mph)
Special feature: Cruise control mode
This all-black commuter electric scooter is powered by a 500W motor that propels the scooter to top speeds of up to 18.6 mph. This is speedy enough to get you to your destination while remaining safe to travel on. This also makes it easier to maintain balance and avoid injuries from accidents.
While we're talking about power, the Gyroo X8 can also take you uphill – as long as the hill grade is less than 25 degrees. That makes it ideal for most urban slopes, indicating that it can be a reliable commuting option.
The most fascinating aspect of this inexpensive electric scooter is its  range. It has an unrivaled riding range of 31 miles, which is enough to get you to work and back without the need for a recharge. Even if you need to recharge, you can do so in less than 5 and a half hours, which is quite impressive.
Given that Gyroorboard is a reputable brand, you may expect that the X8 will be very feature-rich. It has superior technology to its competitors, including NFC unlock, cruise control, operating modes, Bluetooth capabilities, and a mobile app. You can simply connect your smartphone to the scooter via Bluetooth and use it as your control dashboard.
Gyroorboard ensures that the safety of the riders is their top priority. It has an electrical regenerative and mechanical brake, both of which are responsive enough to bring the scooter to a complete stop. It also has a headlight and a taillight to keep you visible when it's dark.
This scooter also uses a pair of 10-inch solid rubber tires that boast a self-healing quality. This means that it can withstand punctures without deflating, and that keeps you from falling or slipping. It also saves you a lot of money on tire replacement or tire inflation costs. The platform also has an anti-slip rubbery texture to give your feet a nice grip over it.
And if you have to ride this scooter in the rain, you shouldn't be concerned because it is IPX7 water resistant. This electric adult scooter has a foldable design that allows it to be folded and unfolded in under 3 seconds. So, even if you're in a hurry, there's no need to worry because this scooter folds with minimal effort on your part.
ALSO READ: Gyroor H40 Electric Scooter Review
8. Dualtron Victor, Electric Scooter For Adults 250 Lbs
Next one for today we have the Dualtron Victor from Minimotors. This might be a personal favorite due to all its premium features and maneuverability.
Weight: 66lbs
Max operating range: Up-to 50 Miles on single charge
Max Speed: Up-to 40 mph
Max Weight Capacity: 265lbs
Motor: 3000W brushless direct current dual motor, peat output of 3400Watts
Battery: 60V,22.4 Ah (1344Wh) Li-ion
Suspension: Adjustable Front & Rear Spring and Rubber Suspension
Charging Time: 12 hours with standard charger, 6 hours with 2 standard chargers, 3 hours with the quick charger
Brake: Front and Rear Regenerative Disc Brake with ABS Standard
Deck to handlebar height: 37.5 inches
The best thing about this model is that it is designed for all-terrain commuting purposes. And that makes this model great for all those outdoorsy travels and adventures. Thus the name, Dualtron "Victor"
The Victor packs a nice battery performance in its arsenal. It has a large 60V 30Ah battery that can provide top-notch service for your electric scooter. The battery is powered by the globally renowned LG 21700 cells.
You would think, since it's a high-capacity battery, it must require at least a day to be fully recharged. Nope! It requires only about 10 hours with two regular chargers.
Now comes the best part. Did you know that the Dualtron Victor has a motor power of 4000W with its dual 2000W BDLC motors? Pretty impressive, right? And with an 86% energy conversion rate, the peak power output goes up to 4400W!
The high-efficiency motor helps the scooter to achieve a top speed of 46 MPH. It can also reach 19.8 MPH in just 3.9 seconds. It has a load capacity of 265 lbs. Steeper inclines are just a piece of cake for this monster.
Lastly, the braking system of Dualtron Eagle Pro folding electric scooter features one high-performance Electric regenerative brake with ABS and disc brake in both the wheels. In addition to working as a normal brake, the regeneration brake system recharges your battery by passing a reverse current through the motor. The braking distance stands at 8 feet.
All in all, all-terrain maneuverability, high motor power and great display makes this model one of the best electric scooter for heavier riders.
DON'T MISSOUT: Best electric mobility scooter for handicapped adults
9. Fiido Beast, Best Seated Electric Scooter For Heavy Adults Review
We understand that some riders may feel like the narrow platform on most electric scooters is limiting. And this is why we were in awe when we discovered the Fiido Beast Electric Scooter with seat.
Weight: 80.5lbs 
Maximum range: Up-to 60 miles on a single battery charge
Top Speed: Up-to 30 mph
Maximum load: 300lbs
Ground clearance: 8 inches
Charging time: 4-8 hours
Motor: 1300W brushless DC geared hub motor
Battery: 48V, 1536wh Li-Ion (removable)
Tire size: Car grade 11″ vacuum tubeless 0ff-road tires
Suspension: Front hydraulic fork and rear steel spring suspension
Lights: Front headlight with turning signal light and tail light on the fender with brake light
Display: Motorcycle style bright LED display
This Unorthodox scooter is built with a 1300-watt brushless DC geared motor that gets it running at speeds of up to 30 mph. Even if you have to ride uphill, this dynamic scooter can take you to your destination – as long as the incline does not exceed 25 degrees.
Aside from the powerful machine on the Beast fat tire electric scooter, what caught our eye is its pair of wider and thicker 11-inch tubeless tires. This not only guarantees a rugged performance but also offers a balanced ride as you cruise.
We also love that it has a wide platform and a pair of foldable footrest, that's spacious enough for both feet. Also, it comes with padded seats, so you know that the ride will be a comfortable one. And even if you're incredibly tall, you don't have to worry about your knees hitting the handlebars because there's a lot of legroom.
The handlebars on the Fiido Beast are also tilt-adjustable. This makes sure that you will be able to maneuver with ease and with the utmost comfort. It also has an automatic power-off kickstand, which eliminates the possibility of an accident occurring as a result of not turning off the power of the scooter.
Speaking of comfort, this electric scooter also comes with front and rear shock absorbers. These modern features make you feel like you're cruising through a smooth surface even if you have to go through a rough road that's filled with bumps.
The Fiido Beast has a weight capacity of 300 pounds. It also has large comfortable seat. The seat is filled with high-density foam, which helps it to absorb stress and vibration, making it ideal for long-term use. 
This electric scooter has a large LED headlight, indicator lights, and a rear brake light to ensure that you can safely navigate through the night. These lights not only illuminate your path, but they also keep you visible to those around you.
But most importantly, the Fiido Beast is easy to operate. It comes with a key start system for easy starts, while the convenient power display doesn't leave you guessing how much battery you have left.
Overall, the Fiido Beast is the best seated electric scooter for heavy adults 250lbs and above, thanks to its amazing stability, smart battery management system, reliability, modern features and rugged performance.
10. Dualtron Storm, Motorized Scooter For Heavy Adults 300lbs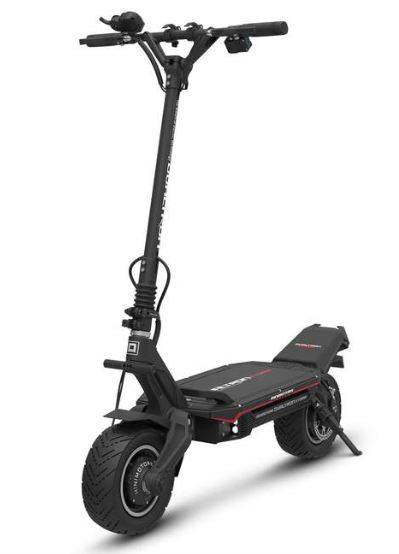 Weight: 102lbs
Max rider weight: 330lbs
Max operating range: Up-to 80 miles on a single battery charge
Maximum Speed: Up-to 60 miles per hour
Motor: 6640W dual hub motor
Acceleration: 0-30 mph in 3.5 seconds
Throttle: EY3 minimotors throttle
Battery: 72V 31.5AH LG Li-Ion
Charging time: 21 hours with standard charger, 10 hours with 2 standard chargers, 4.8 hours with the quick charger
Deck to handlebar height: 38 inches
Height adjustable handlebar: No
Braking system: Hydraulic brake with single EABS
Suspension: Front and rear suspension
The Dualtron Storm is one of the most breathtaking motorized scooter on the market with all the modern features. It can readily absorb rougher terrains and provides a more enjoyable riding experience. The electric scooter's large 11-inch tubeless tires are a plus. You will be more stable if your tires are larger.
A hydraulic braking system is installed on the scooter so that it can be brought to a full stop at any time. Consider the top speed possible with dual hub motors rated at 6640W. Isn't that why the name of this scooter is Dualtron "Storm"?
Because this e-motor is indomitable, you will be able to reach up to 60 mph, if not more! It also includes one-sided headlamps, a stem LED, and a side LED. The brand logo may even be seen on the deck, which is uncommon in other e-scooters.
The Dualtron Storm also has a replaceable battery, which is a nice feature. It makes it easier to carry, and by removing it, your scooter will become lighter. It has a very long range, roughly 160 miles, but only if you use the interchangeable battery.
However, because the battery is larger and more capable, it takes roughly 21 hours to fully charge. Furthermore, because they added two charging ports, charging the scooter with a quick charger utilizing both ports takes roughly 10 hours.
It's also waterproof, so you don't have to worry about it getting wet if you use it in the rain or want to clean it with water.. It has all the features of the other high-quality heavy-duty electric scooters for adults on this list.
11. Emove Touring, Dual Suspension Electric Scooter For heavier rider
Weight: 39lbs
Frame: Forged aluminum heavy duty frame
 Deck size: 22/7 inches
Deck to handlebar height: 40.15 inches
Max operating range: Up-to 25 miles
Maximum Speed: Up-to 25mph
Payload capacity: 308lbs
Motor:  500W brushless DC motor with a pick power output of 750W
Battery: 48V 13AH LG battery
Charging time: 3-4 hours depending on the charger you use
Brakes: Rear Electronic regenerative & Drum Brakes
Ground clearance: 5 inches
Suspension: Front Triple Suspension and Rear Dual Spring Suspension
Lights: LED head light, dual turn signal light and tail lights 
Ingress Protection: IP54
Tire size: Front 8″ pneumatic and rear 8″ solid rubber tires
The Emove touring has modest range, but it is also sturdy. We all prefer low-cost electric scooters, but if you want a faster, more powerful commuter scooter, this one is a fantastic choice under $1000. Furthermore, it is an outstanding scooter for heavy riders because of its 308lbs capacity.
It has a peak power output of 750 watts and can hit the top speed of up to 25 miles per hour. The Emove Touring, unlike other electric scooters, can effortlessly climb hills. It has an excellent battery in addition to being fast and powerful.
The best part of the Emove touring is that it just takes 3 to 4 hours to fully charge, and can commute for up to 25 miles on a full battery. The battery is a LG 48V, 13Ah and can reach (0 to 15 mph) in mere 4.5 seconds . If you are not driving at peak speed, you can travel further than this range.
The brakes are also rather good. The scooter's electronic regenerative and drum brakes allow it to stop quickly even at peak speeds. With front spring and rear dual suspension, the Emove touring provides a smooth ride. It includes front pneumatic and rear rubber tires that are 8 inches in diameter.
It's also a waterproof scooter (IP Rating: IP54). As a result, cleaning your Emove touring is a piece of cake. It also includes LED headlights, tail lights, and turning signal lights to help you see the road at night.
Overall, for day-to-day commuting, this feature-packed e-scooter from Voromotors is an excellent choice for heavy adults weighing 250-300lbs.
CHECKOUT: Best electric scooter under $400
12. Hiboy Titan Pro, motorized scooter for heavy adults
Completing our write down of the Best e-scooter for heavy adults is the Hiboy Titan Pro. This stunning unit offers incredible mileage, massive weight capacity, amazing speed, and quick-charging batteries that guarantee lots of fun.
Weight: 61.7lbs
Maximum riding range: Up-to 40 Miles
Maximum Speed: Up-to 32 mph
Deck size: 19/8 inches
Ground clearance: 7 inches
Max weight Capacity: 286lbs
Motor: (1200*2)2400W brushless DC motor
Battery: 48V,17.5 AH Li-Ion
Suspension: Front single and rear dual suspension
Charging Time: 9 hours
Brakes: electric regenerative and dual disc brakes
Tire size: 10 inch pneumatic tires
Max incline: 35 degrees
Ingress protection: IP54
Riding modes: 3 speed modes (Eco, Normal and Sport)
Light: Front LED headlight and tail light
This powerful electric scooter from Hiboy comes with a (1200*2)2400-watt dual motors that gets it going at speeds ranging from 30 to 45 miles per hour. It has a multifunctional driving system that allows you to easily make adjustments, so you can cruise at your desired pace and without taking your eyes off the road.
The Hiboy Titan Pro Electric Scooter also has mileage of 40 miles, and that can surely get you to your destination and back home without the need for a recharge. But even if you run out of batteries, it only takes around 9 hours to fully charge, and that's a much faster recharging time than the other models.
It has a smart screen that conveniently displays the battery status, time, gear, and speed for easier monitoring. It also has handlebars that are easy to grip, so maneuverability won't be an issue.
The Hiboy Titan Pro Electric Scooter also has dual suspension systems that absorb the impact of rough and rugged roads. This keeps you feeling comfortable throughout your ride.
While we're on the subject of comfort, this electric scooter has also an option of attaching a removable seat which you will have to buy separately. So if you don't feel like riding while standing up, you can attach the seat and ride it while comfortably seated.
Thanks to its 10-inch pneumatic tires, this scooter has excellent traction even on rough surfaces. That greatly prevents injuries from slipping accidents.
And finally, the Titan Pro Electric Scooter has a convenient foldable design. You can simply carry it with you, so you don't have to worry about parking space. It is also incredibly compact, so you can safely keep it under your desk as you work.
What To Look For In An Electric scooter for heavy adults that can carry 250-300lbs weight
Now that you know which electric scooters made it to the top, you might want to know the factors that we considered in coming up with this list. These factors will also help you narrow down your options, especially if you're still torn between two or more electric scooters.
The first factor we considered is the mileage or travel range.
Heavy adults use electric scooters not just for fun – they use it as a commuting alternative. Cars take a lot of time to prepare when you're heading out, so it's impractical to take it for quick errands. Similarly, waiting for the bus can also be quite troublesome.
And since adult electric scooters are primarily used as an alternative mode of transportation, it is only logical that they have impressive mileage.
On average, adult electric scooters can go as far as 15 miles. But some models can go for just 10 miles, while some even go as far as 30 miles or more.
But bear in mind that the scooter with the longest mileage isn't always the best for you. This is especially true if you live so close to everything you need. In this case, a mileage that's more than twice the one-way distance is enough to take you back home after an errand.
ALSO READ: Do You Need An E-Scooter For An E-Scooter?
Speed helps you determine how quick the scooter can take you to your destination. However, bear in mind that the speed of an e-scooter vary depending on the type of surface you're riding on.
In general, flat surfaces allow you to maximize the performance of your scooter. But in case you're climbing up a slope, the speed will also be reduced proportionately.
On average, adult electric scooters can go as fast as 15 mph. This is a decent pace that could allow you to navigate the bike lane conveniently while still being safe enough. But if you love speedy scooters, some models can go as fast as 30 mph or faster.
3. Construction And Build Quality
Since we're looking at electric scooters for heavy adults, the construction of the frame plays an important role. Looking at how the scooter was constructed, as well as the materials used in its construction tells you how well it can withstand the weight of its riders.
The most durable materials used for electric scooters include steel, aluminum, or titanium. 
Also, make sure that all of its bolts are securely in place to avoid injuries from accidents due to the scooter falling apart during your ride.
Before buying a scooter, you have to make sure that you can safely ride it, and this includes looking into whether or not you fall within its weight capacity.
When looking for the perfect scooter with modern features for you, make sure to look for the one that has the highest load capacity that's more than at least 50 pounds of your weight. So even if you're carrying a heavy backpack or bag, you can still safely ride the scooter to your destination.
The battery life of the electric scooter also plays an important role when you're out shopping for one. You have to remember that e-scooters are battery-operated, so you have to make sure that it will have enough juice to give you a roundtrip back home.
An E-scooter for you doesn't have to be the one with the longest battery life. As long as it can get you back home from your usual destination, then it will work perfectly for you.
Also, most of today's electric scooters now have a smart battery management system that allows you to maximize how you use up the battery for a longer ride. It also helps if you get fast-charging batteries – so you'll have more time riding it than leaving it at home to charge.
6. Hydraulics and Suspension System
Another important feature that you shouldn't take for granted is the suspension system. The suspension system is responsible for absorbing the impact from rough surfaces or bumpy roads, so all you get is a balanced riding experience.
Some electric scooters only have front suspension, but for supreme comfort, it's best to go for a model that has dual suspension.
While we're on the subject of comfort, the tires used on the electric scooter should also be looked into.
The ideal tires should be wide and large enough to help absorb some of the impacts. But most importantly, it should provide the scooter with excellent traction so you can enjoy riding it on different terrains.
Also, we want to emphasize the importance of getting tires that are self-healing. This type of tire does not suffer from a flat easily, so you don't have to worry about needing a replacement while in the middle of your journey. Alternatively, solid tires also do the trick.
And finally, the e-scooter must be easy to use – especially if you're a beginner.
Most electric scooters come with an intuitive display panel that allows you to change speeds or switch between driving modes with a simple push of a button. This user-friendly interface makes it perfect for beginners and experienced riders alike.
As much as possible, go for the scooter that has a control panel that you can operate even without taking your eyes off the road.
CHECKOUT: Pros And Cons Of E-Scooters
Safety Tips For Riding An Electric Scooter
Safety comes first, whether you're driving a car or riding an e-scooter. If you don't want to be seriously injured, don't take safety precautions lightly. Here are some safety precautions to take when riding an electric scooter:
Don't skip wearing a helmet —  We understand that wearing a helmet while riding may make you feel like you're sacrificing your style, that's why most riders don't wear one. It can help you avoid a serious head injury. Wearing a helmet, out of all the safety equipment, is a must and much more crucial.
Always keep your hands on the handlebar — Most of the pro scooter riders think they can handle an e-scooter with one hand. Balance is really important to maintain stability, and you will find yourself on the ground within a few seconds if you lose a bit of control. So make sure you think about safety first before anything and always keep your both hands on the handlebar.
Stay alert while riding on the road — Riding an e-scooter is both environmentally good and pleasurable. However, if you lose focus on the road, your pleasant moment might quickly turn into a nightmare. City roads are always crowded, and maintaining your eyes on the route might help you prevent many unnecessary accidents.
Keep your ears open — Aside from keeping eyes on the road and staying alert, riders should also keep their ears open. We've seen people riding e-scooters while listening to music or conversing with others via earbuds or headphones. And you should never do that; you should also be aware of the noises that are happening around you, such as horns.
Slow down your electric scooter when needed — When you need to make a turn, make sure to slow down your scooter. Drivers behind you will be aware that you intend to make a turn in this manner. You won't be thrusting with the automobiles ahead of you, either.
Run a weekly inspection on your scooter – Before you hit the road, we recommend that you examine your scooter briefly. Check to see if the motor is working properly, how much battery is remaining, and how the brake is working. Also, during your weekly checkup, look for any loose screws or signs of wear.
CHECKOUT: Electric Scooter Maintenance Guide
Frequently Asked Questions About Best Electric Scooter for Heavier Rider/ Big Guys
All things considered, searching for the best electric scooter for heavy adults 250-300+lbs with modern features isn't hard if you know where to look. To simplify your search, we already came up with the top choices for you.
If you're looking for an adult-friendly electric scooter that can take on a heavy load, we believe the choice for the best is between the Kaboo mantis PRO and the Turboant X7 Pro. Both scooters can take on a maximum weight of more than 250 pounds.
The main difference between these two scooters is that the Turboant has a narrower and shorter platform than the Kaboo mantis PRO. If you prefer a traditional kick scooter design which is well-priced, lightweight, decent range and responsive brakes, then go for the Turboant X7 Pro. But if you prefer a mini-motorbike aesthetic, the Fiddo beast is perfect for you.
But if what you're looking for is a scooter that's fast and has incredible mileage, and packed with safety features then the Dualtron Storm is the best in that category. While its load capacity is 330 pounds, this is still quite an impressive number.