Top 12 Best Electric Scooter For Teenagers 13-19 Years Old Of - 2023
Electric scooters are a fun alternative to taking the bus on your way to school. It's also a cheaper alternative to public transportation and having your parents drive you to school, especially if the school is just a few miles away. And since electric scooters do not emit any harmful gasses, it's also perfectly safe for the environment.
Because of its contemporary newness, electric kick scooters come with a variety of features that seem too hard to understand. All the information can seem intimidating, so parents opt for more traditional alternatives instead.
But to be honest, it's not that hard to find the best electric scooter for a teenagers. There are just some factors that you have to look into, and we'll discuss them all in our buying guide below. We've also reviewed twelve of our top picks and discussed their pros and cons to help you identify which scooter is best for your teen.
In A Hurry, Here Is Our Top 3 Picks Of Best Electric Scooters For Teens
USE COUPON CODE "PRO110"TO GET $110 DISCOUNT 
USE COUPON CODE  "iScooter30" TO GET $30 DISCOUNT
USE COUPON CODE  "SV6" TO GET 6% DISCOUNT
1. E-TWOW GT Booster V, Motorized Scooter For Teenagers
Scooter weight: 24lbs
Frame: Aluminum alloy
Maximum range: Up-to 25 miles on a single charge
Maximum speed: Up-to 25 mph max speed
Maximum load capacity: 220lbs
Motor: 500W DC brushless motor
Battery power: 36V,10.5Ah Li-Ion (Samsung sells 35E)
Wheel size: 8 inch tires (solid rubber)
Handlebars: Height adjustable handlebar
Charge time: 4-4.5 hours
Brakes: Regenerative brake for front wheel + Drum brake for rear wheel 
Suspension: Front and rear suspension
Max incline: 20 degrees
Cruise control: Yes
Extra features: Bluetooth connectivity and a mobile app
Colors: Grey , Black and White 
The first on our list of best electric scooter for teenagers is the E-TWOW GT Booster V Electric Scooter. Coming from a renowned company like USCOOTERS, we expected the E-twow GT Booster V to be reliable and feature-packed with techy details – and we're happy to say that it exceeded our expectations.
Its high torque 500-watt motor allows it to go at a top speed of 25 miles per hour and gives up to 25 miles of riding range. This makes it a great choice for a teen who go to a nearby school, or who want to visit their friends.
And thanks to USCOOTERS's Smart Battery Management System, you don't have to worry about losing power while in the middle of your ride.
To guarantee your child's comfort and safety, the E-TWOW GT Booster V Electric Scooter comes with a large deck that has a slip-resistant surface to give their feet a nice footing on the scooter.
This platform is attached to a pair of solid shock-absorbent wheels, giving your teenager a smooth riding experience on bumpy surfaces.
We also love that this motorized scooter for teenagers is designed for portability. It uses a one-click folding system, so storage won't be a problem.
And since it only weighs a little over 24 pounds, it can be easily carried with one hand. Its folded dimensions also allow it to fit snugly inside your car.
Another notable feature of the E-TWOW GT Booster V Electric Scooter is its dual braking system. It features regenerative front brake and rear drum brake, and this gives you peace of mind that your teenager is riding a scooter that offers efficient, reliable and responsive braking. 
USCOOTERS also made the E-TWOW GT Booster V highly customizable to suit your teenager's riding experience. It comes with a mobile app where you can track down your riding statistics, manage your cruise control settings, riding mode and keep your scooter locked or unlocked. This guarantees a riding experience that's tailor-made for the safety and enjoyment of your teenager.
ALSO READ: Uscooters E-TWOW GT Sport E-Scooter In depth Review
2. Turboant X7 Pro, Teenagers Electric Scooter Review
Scooter weight: 33lbs
Frame: Aero-space grade aluminum
Maximum range: 30 miles
Maximum speed: 20 mph max speed
Maximum load: 275lbs
Ground clearance: 4.5 inches
Motor: 350watt motor
Charging Time: 6 hours
Battery: Detachable premium 36v, 10ah lithium ion battery
Wheels: 10″ pneumatic tubed air filled tires
Brake: Triple braking system (Electronic throttle control, disc brake and foot brake
Driving modes: 3 driving modes(Beginner mode: 6mph, Eco mode: 10 mph, Sport mode: 20mph)
Max climbing capacity: 15 degrees
Display: Digital LED screen which shows current speed, battery levels etc
The X7 Pro from Turboant is another great electric scooter with detachable battery that fulfils the definition of modern design with a durable framework. This beautiful matte black scooter is a fan-favorite in more ways than one for older kids. 
Designed for long-range travels and commuting, the X7 Pro has a max range of 30 whole miles on a single charge. That's pretty impressive when we compare it to other units on this list of best electric scooters for teens. And it's only possible due to the 10 Ah high capacity battery that it contains. 
The detachable battery takes about 6 hours to charge completely. There are two charging methods to it that you can use. You can either detach the battery and charge it separately or just charge it normally as you would do in a scooter.
Speaking of high capacity battery, let's have a look at the high-performance motor as well. The X7 Pro has a motor power of 350W that can drive up to a top speed of 20 mph in mere seconds.
This model can support a load capacity of 275 lbs. which is considerably higher than normal scooters so that's a plus point.
However, the overall weight of the scooter itself is a little over 33lbs. which is a bit on the heavier side. But that's understandable since it does support a greater load capacity than the rest.
Despite being not as lightweight, the X7 Pro has foldable properties that enable the user to carry it easily. It's a three-step process to fold the scooter to make it more compact and portable. It also has a retractable kickstand.
The X7 Pro has a triple braking system to guarantee maximum safety. The braking distance is roughly 16.4 feet. Additionally, the built-in 3W LED headlight ensures better maneuverability during night times.
All in all, the great design with amazing features like the eco and sports mode are what sets this model apart from others.
3. Razor E300S, Best Seated Electric Scooter For Teenage Girls
SPECS AND NOTABLE FEATURES
Scooter weight: 52lbs
Deck dimension: 26.2″/ 8″
Maximum speed: 15 mph speed
Maximum load capacity: 220lbs
Tires: Front and rear 10″ pneumatic tires
Frame: All-Steel frame
Fork: Steel
Ride time: 40 minutes of continuous ride time on full charge
Throttle: Twist grip throttle
Charging time: Approx 8 hours
Motor: 250-watt, high-torque, single speed quiet chain driven motor
Drive type: Chain drive
Battery: 24V (two 12V) sealed lead acid
Brake: Hand-operated rear brake
Seat: Comfortable padded seat
The Razor E300S kids electric scooter provides unrivaled comfort and speed for everyday use. This battery-powered scooter has a top speed of 24 kilometers per hour, which is ideal if you need to go anywhere quickly.
This pink color scooter's electric motor is so silent that you feel like you're one with nature every time you ride it.
This is a rear-wheel drive scooter from razor electric, which means that the motor is chained to the rear wheel. This system also works silently to provide a smooth ride. A rechargeable 24V(two 12V) lead acid battery powers the electric motor. These batteries provide 40 minutes of continuous ride time.
It takes way too longer for the battery to fully recharge. If you're short on time, it can be annoying.
If you don't want to stand the entire time, the detachable seat can be used to make your journey more comfortable. In short rides, the seat post can be completely detached from the deck for standing.
Both the front and rear tires of this kids electric scooter are of 10 inches in diameter. As a result, traction will be much improved. For better performance, the brake is located at the rear wheel. It also boasts a lightning-fast throttle response.
It accelerates swiftly by simply twisting the throttle. Also, The scooter comes to a smooth stop when the brake lever is pressed.
We believe this is the best electric scooter for teenage girls due to its safe speed, build quality, and seat option.
DONT MISSOUT: Gyroor H40 E-Scooter Review
4. Hiboy S2 Pro, Electric Scooter for Teens Aged Between 15-19
SPECS AND NOTABLE FEATURES
Scooter weight: 36.3lbs
Frame : aluminum alloy
Maximum riding range: 25 miles long range
Max Speed: 19 miles per hour
Maximum load capacity : 260lbs
Motor: 350W brushless hub motor
Battery: 36V, 11.4Ah Li-Ion
Wheels: 10″ solid rubber tires (anti slip)
Brakes: Front regenerative electronic brake + rear disc brake
Suspension: Dual rear spring suspensions
Charging time: 4-6 hours
Display: Smart LED display which shows all the necessary information while riding
Lights: Bright LED headlight + tail light and side lights
Additional feature: Bluetooth connectivity and Hiboy S2 App 
Cruise control mode: Available
If you're looking for a stylish and less bulky electric scooter for teenagers and older kids, then you'd love the Hiboy S2 Pro Electric Scooter.
This electric scooter looks sleek in its dark aluminum alloy frame, making it one of the most eye-catching items on this list. But it doesn't end there – it comes with an ultra-bright front headlight, tail lights, and beautiful deck lights. This helps your teenager easily navigate their way home even when it's already dark out.
The Hiboy S2 Pro Electric Scooter is extremely lightweight due to its aluminum construction, weighing only about 36.3 pounds. Even with its lightweight frame, it can handle people weighing up to 260 pounds. It's also foldable, so there's no doubt about its portability.
This electric scooter is powered by a 350w motor and 36V,11.4Ah lithium-ion rechargeable battery that allows it to hit the top speed of 19 miles per hour. It can also cover a decent range of 25.6 miles if the battery is fully charged. This makes it perfect for short trips like errands and for simply playing outside.  
But what we love about most about the Hiboy S2 Pro Electric Scooter is that it's very user-friendly. It comes with an LCD that displays how much battery power is left and current speed. And with a simple push of a button, users can easily switch between speed modes for more controlled riding experience.
Because of its simple interface, we believe that this is one of the best electric scooter for a teenager who is looking for a sturdy and feature packed unit.
ALSO READ: Best electric scooter for heavy adults, Buying guide
5. Apollo Air PRO, Electric scooter For Kids 15 Years Old And Above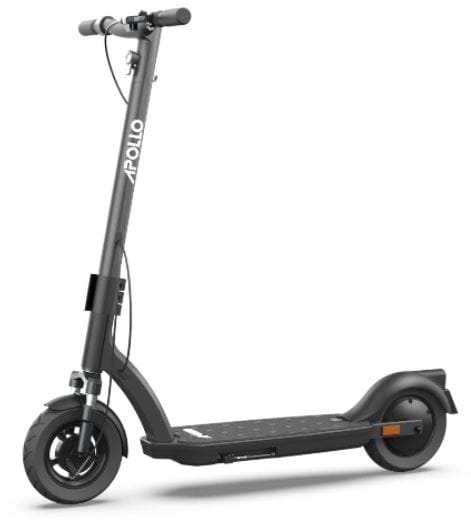 SPECS AND NOTABLE FEATURES
Scooter's weight: 35.8lbs
Maximum range: Up-to 18 miles
Maximum speed: 18 mph
Max load capacity: 220lbs
Tires: Front and rear 10 inch pneumatic tires
Frame: Aircraft grade aluminum
Throttle: Thumb style
Riding modes: 3 different riding modes
Display: LED with mode controls and key riding statistics (speed, distance, battery charge, etc.)
Charging time: Approx 5.2 hours
Motor: 350w brushless hub motor
Battery: 36v, 10.4 ah li-ion
Suspension system: Front dual fork suspension
Brake: Front regenerative brakes and rear disc brake
Max incline: 10 degrees
Lights: Front LED light and rear brake light
Warranty: 12 months warranty for any manufacturing defect
Apollo Air Pro has outstanding stability, beautiful appearance, and notable features for newcomers. This feature packed scooter exemplifies how a little package can deliver a lot of value. When we tested this scooter, we had to applaud its stability and ease of use.
The Apollo Air Pro is extremely portable, weighing roughly 35 pounds and can hold up to 220 pounds. In the front, it incorporates shock-damping dual fork suspension and 10-inch pneumatic tires. It includes a 350W quiet motor that can reach speeds of up to 18 MPH. We really enjoyed how fast it can fly, and you can get this speed for a minimal price.
This scooter, on the other hand, can go for as far as 18 miles on a single charge thanks to its 36V/10.4aH rechargeable long lasting battery. This scooter was designed primarily for youngsters who need to go a short distance to work or school on a regular basis. We could effortlessly move from the roadside to the subway while riding this scooter.
The Apollo Air is composed of solid aircraft-grade aluminum and is small and portable. The Apollo Air scooter's grip is also appealing. Due to its rubberized wide deck, this IPX4 rated scooter can also keep a strong grip on rainy days.
This Apollo Air scooter has a unique design that allows it to easily travel over bumpy surfaces. You also get a long and robust handlebar for added stability. As a result, your flight with Apollo Air becomes more convenient and secure.
However, if you're looking for the best electric scooter for teens on a tight budget, this is the right one.. It comes with not just safety features, but also strong regenerative front drum brake. As a result, you can simply stop on a dime by applying the brake.
The Apollo Air's front headlamp and rear light are also useful features. That's how you'll be able to see at night, and others will be able to see you as well. You will not be disappointed if you acquire this scooter if you require an entry-level scooter.
DON'T MISSOUT: Best Cheap Electric Scooters Under $200, Buyers Guide
6. Hiboy S2 Lite, Best Cheap Electric Scooter For Teenage Girls And Boys
SPECS AND NOTABLE FEATURES
Scooter weight: 21lbs
Frame: Aluminum alloy
Maximum Speed: 13 mph
Battery:  36V, 5ah li-ion battery
Motor:  250W brushless motor
Maximum Range: Up-to 10.6 miles per charge
Charging time: 4-6 hours
Maximum weight limit: 180lbs
Climbing capacity: 15%
Riding modes: 2 speed modes( Eco and Sport)
Display: Bright LED display which shows current speed. battery levels etc.
Brakes: Anti lock electronic and rear fender brake
IP Rating: IP54 water-resistance rating
This kids ride is lighter and easier to manage than many other budget e-scooter on the market, as the name suggests "Lite". This lightweight e-scooter was designed for young kids and teens.
Even so, this scooter can handle loads of up to 180 pounds. The scooter weighs only 21 pounds, making it easy to transport on your backpacking trips. It also folds up for easy storage.
A digital speedometer and battery indicator may be found on the scooter's dashboard. With a top speed of 13 mph, it is slower than other scooters on this list, but an excellent choice for young kids.
The rechargeable battery's maximum range is also limited. It has a range of 10.6 miles. So, even if it isn't designed for longer rides, you may use it for city commuting, camping, or excursions.
This S2 Lite scooter's aluminum frame makes it exceptionally lightweight. As a result, even with a 250-watt motor, it can accelerate quickly enough to get you where you need to go. The dual braking technology on this scooter makes your travels extremely safer.
For teenagers, the S2 Lite scooter's bright ambient lights on the stem might be rather appealing. A headlight is incorporated into the front of the vehicle, allowing you to cruise even at night. A brake light allows you to be seen by other drivers on the road.
The handlebar can also be removed from to make it more portable. The tires are wide enough to provide you with a secure grip whenever you're on the road, making it an excellent scooter for a safe ride and having a good time.
7. Gotrax XR Ultra, Electric Scooter For 14-19 Years Old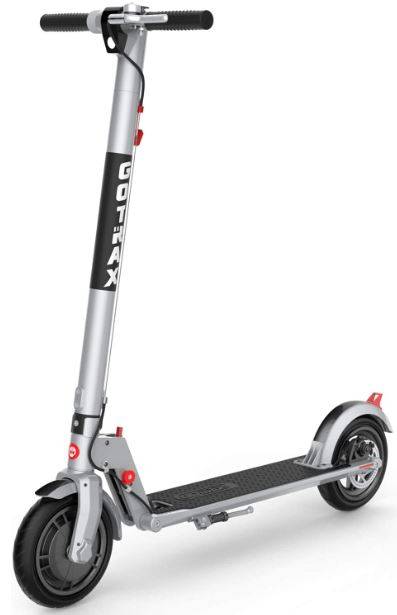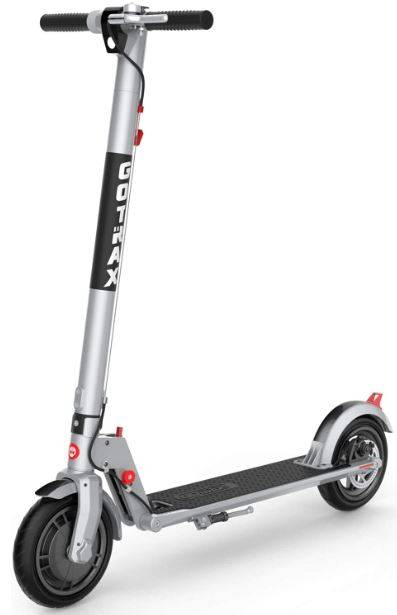 SPECS AND NOTABLE FEATURES
Scooter weight: 27.5lbs
Frame : Aluminum alloy
Handlebar: Height adjustable handlebars
Maximum Riding range: Up-to 17 miles per charge
Maximum Speed: 15.5 mph
Maximum load: 220lbs
Wheel size: 8.5″ shock absorbing air filled tires
Charging time: 3-4 hours
Motor: 300w brushless hub motor
Battery: 36v, 7ah LG li-ion long lasting battery
Brake: Front electronic and hand operated rear disc brake
Cruise control mode: Available
For those parents who are looking for a lightweight electric scooter that can take their kids to different places, then the GOTRAX XR Ultra is perfect for you.
Weighing only a little over 27 pounds, this portable scooter is one of the lighter on this list. It is made with the latest folding technology, and these two notable features make it highly portable. Even teenagers can easily carry this around with ease.
Despite its lightweight construction, the GOTRAX XR Ultra Electric Scooter still boasts an impressive 220-pound maximum load capacity. This is decent enough for most teenagers to ride on, even if they have to carry a heavy backpack with them.
It uses a 300-watt brushless hub motor that powers this kids ride to go to speeds of up to 15 mph. This speed is super suitable for young kids, you can use it continuously for up to 60 minutes and has a riding range of 17 miles. While this isn't as far as all the others on this list, this is perfect if you're only planning to ride it for short trips or leisurely cruises.
We also love that the GOTRAX XR Ultra is rattle-free. It has a stable aluminum frame paired with extra-wide pneumatic tires that offers a smooth and stable riding experience. And since the tires are air filled, you don't have to worry about the terrain while you're in the middle of having fun.
Also noteworthy is how it's designed for absolute beginners. Aside from being the easiest scooter to assemble, the GOTRAX XR Ultra is also very easy to operate. This allows you to focus more on riding, instead of worrying about the controls.
Overall, this premium electric scooter is the perfect lightweight companion for short trips, especially if your teenager is just a beginner.
8. iscooter i8, Electric Kick Scooter For 13-17 years old boys and girls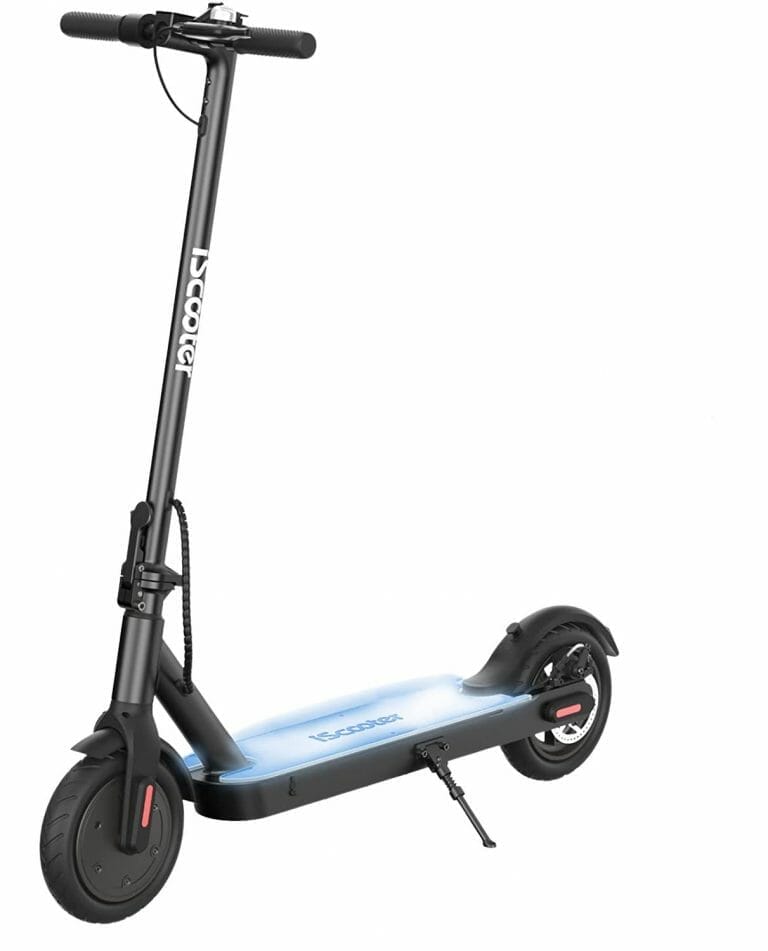 SPECS AND NOTABLE FEATURES
Scooter weight: 26lbs
Frame: Aluminum alloy
Max rider weight: 220lbs
Maximum riding range: Up-to 15 miles
Maximum speed: Up-to 15 mph
Charging time: 3.5 hours
Motor: 500W brushless direct current kick to start motor
Battery: 7.5 Ah Li-Ion rechargeable battery
Throttle: Thumb operated
Tires: 9″ dual density shock absorbing tires
Brake: E_ABS front brake and rear foot brake
Hill grade: 15%
Lights: Front and rear LED lights
IP Rating: IP54 water-resistance rating
The i8 by iScooter comes in black and white clolor with a powerful and upgraded motor at an affordable price. It's a brushless DC 500 watt motor that can achieve a max speed of 15 mph. Subsequently, the powerful motor is responsible for faster acceleration that offers a 15% strength increase in hill grade terrains.
This scooter weighs only about 11.7kgs i.e. 25.9 lbs. As a result, it's extremely lightweight and perfect for teenagers who may need to carry it around. It also has a one-step folding system that is super handy when it comes to saving much-needed storage space.
The i8 can easily support a weight capacity of up to 220lbs which should be fine for most cases. Its framework might get a bit damaged or the handlebar might bend if the load pressure is too much. So, that's a big no from us. We highly recommend keeping the weight limit within 220 lbs.
We can assure you that the 7.5ah rechargeable battery ensures user safety and precise power distribution. Furthermore, charging the battery takes no more than 3.5 hours. We got around 10-13 miles of range during our testing, though the manufacturer claims the maximum range is 15 miles.
In addition to being stylish, the frame that comes with the iScooter i8 is made of durable materials. The model has four different color lights that light up on the deck, and because it is foldable, it can easily fit inside a car trunk.
The brake system comes next. It has disc brakes at the back and E-ABS regenerative anti-lock up front. The efficient dual brake system allows for braking distances as little as 5 to 6 meters.
Lastly, let's have a look at the upgraded 8″ solid tires. They are slip resistant and also effective at shock absorption on bumpy rides. They can also withstand rough surfaces for a good amount of time without getting punctured.
All in all, the iScooter i8 is the perfect choice for teens in terms of both design and durability.
CHECKOUT: Segway Ninebot E45
9. Hiboy Titan, Best Off road Electric Scooter For Late Teens [16-19]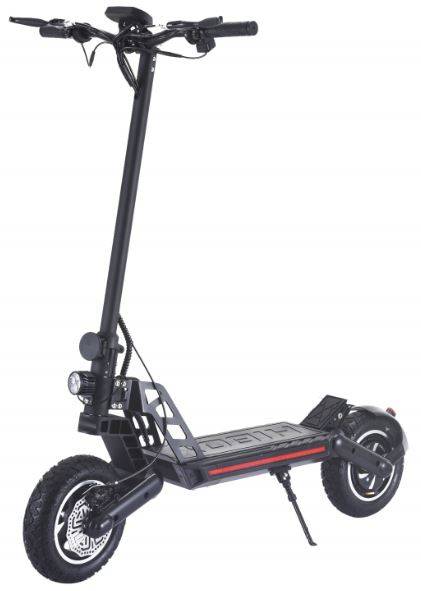 SPECS AND NOTABLE FEATURES
Scooter weight: 64lbs
Maximum riding range: Up-to 28 Miles per single charge
Maximum Speed: Up-to 25 mph top speed
Deck size: 19/8 inches
Ground clearance: 6 inches
Max load: 286lbs
Motor: 800W brushless DC motor
Battery: 48V,12.5 AH Li-Ion
Suspension system: rear and front hydraulic spring suspension
Brakes: Front and rear disc brake
Tires: 10-inch pneumatic tires (extra wide)
Riding modes: 3 speed modes (Eco, Normal and Sport)
Light: Front LED headlight and rear brake light
Display: Smart LCD display which shows battery life, current speed, riding mode
In the list of best electric scooters for teens, the rugged Hiboy Titan is a great option older teens who love to go on different adventures. It's also the fastest in this list.
Thanks to its large 10-inch tubeless tires, you know that this powerful electric scooter is designed specifically for heavy-duty performance. Each tire is wide and has deep lugs, and this provides you with excellent traction regardless of the condition of the floor. This helps you stay balanced, thereby giving you a more stable ride.
Aside from its impressive set of wheels, the Hiboy Titan also uses a powerful 800-watt brushless motor, which allows the scooter to power through even the steepest of hills. This allows it to go at an impressive speed of up to 25 miles per hour and a decent riding range of 28 miles per charging.
Thanks to its heavy-duty construction, this electric scooter can also carry a lot of extra weight and has a maximum weight capacity of 265 pounds.
We also love that the Hiboy Titan has a wide platform to comfortably hold your feet in. And if you don't feel like standing up while riding it, you'd be pleased that this scooter has an option of attaching a removable seat to make it comfortable for you. The seat doesn't come with the package, you need buy it separately.
Of course, this goes without saying that this electric scooter from Hiboy is the bulkiest on this list. The scooter alone weighs around 64 pounds, so it's not the most portable. But since it's also foldable, storage won't be a problem.
Without a doubt, the Hiboy Titan Electric Scooter is designed for heavy outdoor use.
Its sturdy construction makes the ride feel smoother, while its large tubeless rubber tires offer great traction and stability. Whether you're cruising on a dirt road or a smooth surface, this electric scooter won't turn you down.
DON'T MISSOUT: Best electric scooter under 1000$,Buying guide
10. Kugoo S1 Plus, Best Electric Kick Scooter review [For 13-19 Years Old]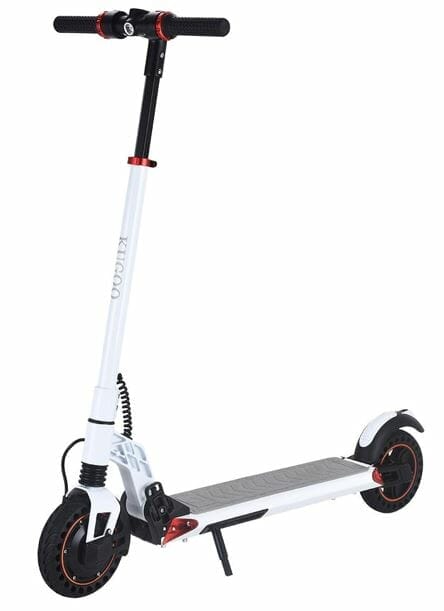 Frame material: Aluminum alloy
Scooter weight: 27.5lbs
Max range: Up-to 12 miles
Max rider weight: 265lbs
Charging time: 4-5 hours
Maximum speed: Up-to 15.5 mph top speed
Motor: 350W brushless kick to start motor
Throttle: Thumb throttle
Height adjustable handlebars: Yes
Foldable handlebars: Yes
Battery: 36V, 6Ah Li-Ion battery
Light: Ultra bright LED headlight
Braking system: Dual braking (EABS front brake+ rear foot brake)
Tire size: 8″ tubeless solid rubber tires
Display: Digital display which shows speed and battery life 
Next, we'll be talking about the S1 Plus Electric Scooter from Kugoo. It's designed specifically to be used to commute around the town.
It features a upgraded 350-watt motor which is responsible for making the commuting process easier for its users. It has a top speed of 15.5 MPH and can cover a max range of 15.5 miles in full charge.
A great feature of this model is the low charging time. It can be fully charged within 4 hours. The reason behind this is the high capacity 36V lithium-ion battery that comes with the Kugoo S1 Plus.
At only 27.5 pounds, it's on the moderate to lightweight spectrum. Howsoever, it does have a one-step folding system that's super handy if you just want to carry it instead.
Another great feature is the inclusion of 8″ inflation free tubeless tires. They have a high shock absorption capability that helps the scooter to move around freely without much hassle.
It also has front EABS and rear foot brakes, as well as cruise control feature and a sturdier frame. A height-adjustable handlebar is also included in the model, which is an essential feature for a youngster. It is undoubtedly a scooter, your teen can grow with.
Overall, if you like having upgraded features in a budget-friendly price tag, do try out the Kugoo S1 Plus.
ALSO READ: Yume Y10 Electric Scooter Review
11. Apollo Explore, Powerful Electric Scooter For Teenagers aged 16-19
Scooter's weight: 52lbs
Frame material: Forged aluminum
Deck dimensions: 20.5/7.5 inches
Max Load: 260lbs
Maximum Drive Range: Up-to 34 miles long range
Max speed: Up-to 31 mph
Handlebar: Height adjustable handlebars
Motor: 1000W powerful motor with a pick power output of 1200 watts
Battery: 52V, 18.2Ah Li-Ion battery(warranty-24 months)
Charging time: 9 hours with the regular charger
Display: LED with mode controls and key riding statistics (speed, distance, battery charge, etc.)
Deck to handlebar: 38 inches fully extended
Suspension: Front-single spring and rear-dual spring suspension
Folding mechanism: Folding handlebars and stem
The Apollo Explore scooter was designed with city mobility in mind. We were more concerned about the journey location than the charging station while riding this high quality Apollo scooter. It has a powerful 1000 watt motor with a 1200W peak output. It also includes a 52V 18.2aH battery and a peak speed of 31 MPH.
It can accelerate to 15 miles per hour in merely 4 seconds. The best part is, you get all of this in a scooter that just weighs only 52 pounds. Any rider weighing less than 265 pounds can use the Apollo Explore without any difficulty.
It comes with two brakes on each side, both of which are high-performance. Apollo Explore has a 2.5 meters average brake distance. A reverse current is passed via the motor to engage the rear brake.
The brake, on the other hand, does not abruptly halt the scooter, but rather gently slows it down before stopping it. And we particularly like this function because unexpected brakes at high speeds can sometimes result in an unwelcome accident. After applying the brake on the handlebar, the rear begins to work.
It has dual spring suspension in the rear and one in the front wheel. This scooter's air-filled 10-inch pneumatic tires made for a comfortable and smooth ride. Whether you wish to ride through hills, off-road, through grass, or across terrains, the Apollo Explore will do it with ease.
Another plus is that this Apollo scooter has a plethora of customizable settings. According to our research, it is one of the best electric scooters for teenagers, and you might be wondering why?
First of all, it has a strong motor, battery, and brake system that make it easy to get around the city. Second, because the battery doesn't drain quickly, you won't have to worry about charging the scooter frequently. Though, it is expensive, but if you want a high-quality scooter for younger riders, it is a great choice.
Checkout our in-depth review on: Segway ninebot max electric kick scooter
12. Yadea KS3 Lite, Electric kick Scooter For 13-16 years old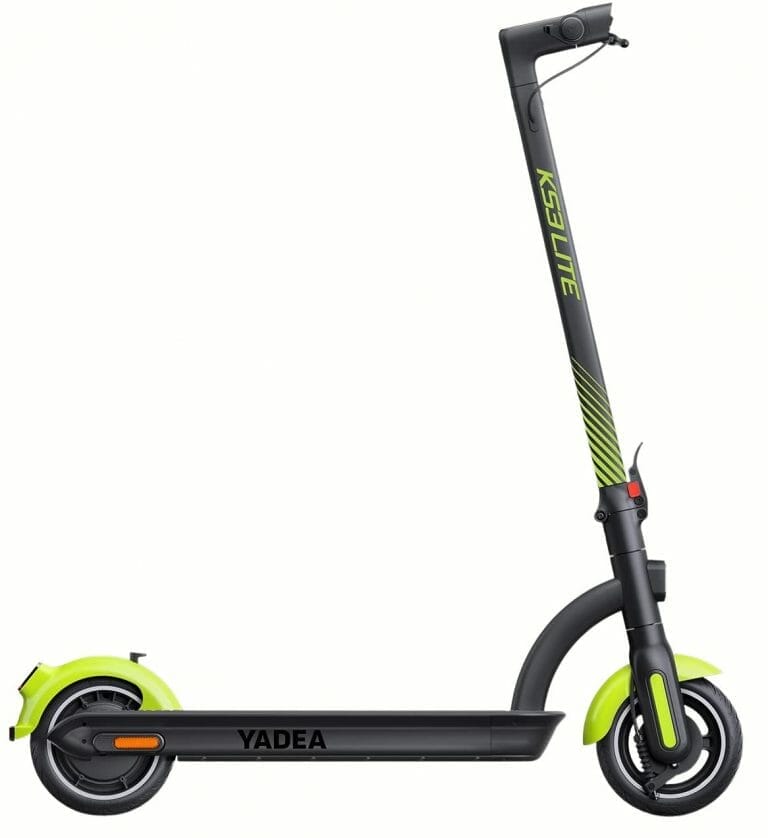 Scooter weight: 30.2lbs
Frame: Aluminum alloy
Maximum Range: Up-to 12 miles
Maximum Speed: 15.6 mph
Maximum weight capacity: 220lbs
Wheels: 8.5 inch solid rubber tires
Charging time: 4-6 hours
Motor: 300w brushless quiet motor
Battery: 36v,5.2 ah li-ion  
Speed modes: 3
Brakes: Front drum and rear electric brake
Lights: Front LED headlight and rear brake light
Display: Multi functional LCD display
Completing our list is the Yadea KS3 Lite Electric Scooter. With its intuitive controls and minimalist design, there's no doubt that this budget scooter is the easiest to learn. 
This lightweight and foldable Scooter from YADEA uses high-capacity lithium ion batteries to power up its 300-watt motor, that allows it to go at a speed of 15.6 miles per hour, and an impressive riding range of 12 miles. This is not the longest riding range on this list, although this makes it perfect for going to school or running other errands.
Another impressive feature of the KS3 Lite is that it was constructed using quality aluminum to keep it sturdy yet lightweight. This scooter only weighs a little over 30 pounds – and the fact that it's foldable makes it easy to carry by hand.  
Since it has a minimalist design, it doesn't take up a lot of storage space, either. But that's not all: YADEA promises that you can fold and unfold this scooter within just 3 seconds. You simply flip the folding lever and the handle area immediately locks onto the rear wheel area, that makes it easy to hold on to when you're planning to carry it by hand. 
This scooter's body has been constructed with durability in mind. Aside from being corrosion-resistant, it also has excellent thermal conductivity.
This helps preserve the durability of the aluminum. This also means that you shouldn't worry about how it holds up when your teenager is riding. It has a maximum weight capacity of 220 pounds, so you know it's sturdy.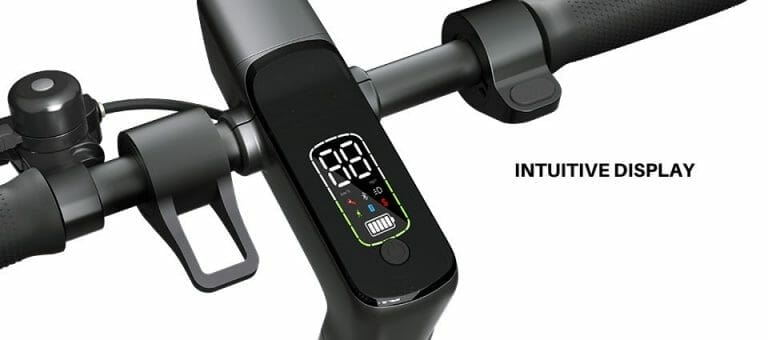 We also love that the YADEA KS3 Lite Electric Scooter comes with a bright headlight that can illuminate the path for up to 6 meters. This gives it optimum visibility even at night. It also has red taillights that turn on when you hit the brakes to guarantee your safety.  
And while we're on the subject of safety, you'd be pleased that this high quality scooter has a double braking system. It boasts both rear fender and eABS regenerative anti-lock braking systems that promises reliable and responsive braking to keep your child safe.
All things considered, the Evercross is one of the most reliable on this list of best electric scooter for teenagers. Its capacity to charge quickly and efficiently is an added bonus.
CHECKOUT: Anyhill UM-3 Electric Scooter Review
Things To Consider Before Buying The Best electric scooter for teenagers, Buying guide
To help you narrow down your choices on best electric scooters for teenagers, we have also prepared this comprehensive buying guide.
We've listed down the important factors that you should look into before buying an e-scooter so you can relate them to the teen's needs. This will make sure that you will be able to choose the right e-scooter from the market.
1. Motor power and battery capacity
Since you will be buying the electric scooter for a teen, it doesn't need to be as powerful as adults'. Ideally, a 250W to 350W motor capacity will work fine. These scooters will provide 15MPH to 17MPH speed on flat terrain and a slightly reduced average speed on uphill rides. However, if you want more speed, you may even choose electric scooters with 550W to 750W capacity.
The motor power is linked with the battery capacity. You may opt for e-scooters with 8Ah to 10Ah capacity battery. At this capacity, a 250W motor will run perfectly. Also, you can expect to get around 10-20 miles of range on the flat terrains. However, you should opt for a battery with sealed housing. It will ensure better safety of the rider. Finally, having a swappable or removable battery can greatly increase the range.
Last but not least, check how long does it take to fully charged up. Technically speaking, the battery should charge fully within 4 to 6 hours. If the battery takes too long to charge, you won't find it pretty usable; neither will your teen love it.
Since a child will be using the scooter, the most important factor that you should look into is the safety features that were built onto the scooter.
Some of the most common safety features include a responsive braking system, headlights, taillights and safe speed limit. The brakes will help prevent accidents, while the lights will not only guide him on his way home – they will make him visible to those in front and behind him.  
You should also verify whether the electric scooter complies with industry standards. In this sense, getting one from a reliable brand will give you peace of mind since all of them strictly comply with set guidelines.
Nevertheless, it's still best to make your teenager wear the necessary safety gear like elbow pads and knee pads while riding – especially if he's a beginner.
It is no secret that e-scooter riders must have a good sense of balance. However, the scooter's stability is fundamental, especially when it comes to providing them with a smooth and trouble-free ride.
When looking for an electric scooter for youngsters, you should take into account how the vehicle was built.. This way, you're sure that it won't be wobbly when the teenager rides it.  
Additionally, consider the wheels used on the scooter.. The wider the wheels, the better the  stability. And if the tires have deep lugs, these promise great traction regardless of the terrain. This effectively reduces the risk of accidents due to slippery surfaces and ensures comfortable ride.
ALSO READ: Do You Need An Insurance For An E-Scooter?
Another important factor that you should look into is how easy the electric motorized scooter is to use. Some electric kick scooters allow users to control the speed through a throttle, through the thumb, or an easily accessible LCD. However, in this case, it's all dependent on how comfortable the teenager is with operating the scooter.
Working hand-in-hand with ease of use is its ease of assembly. While this is not an issue with those who are experienced with using an e-scooter, beginners may find it troublesome to have to assemble it for the first time. Fortunately, a lot of today's new models come in easy-to-assemble design that even teens can set them up with ease.
6. Height adjustable handlebar
Since teenagers ' height varies greatly, having an adjustable handlebar will be a great bonus. The height adjustment of the handlebar should be easy and convenient. If teenagers find adjusting the height of their scooter's handlebar tough, they may lose interest in it. Also, you, too, might find it difficult at times.
As a thumb of o rule, the handlebar of the teenagers' electric scooter should be around their waist height when they stand on the scooter's deck. It improves riding comfort and safety. As the handlebar sits in a comfy position, teenagers can control their e-scooter better and boost its performance. If the handlebar height is above the waist height, you must adjust it to avoid accidents.
Henceforth, an adjustable handlebar is a must-have feature for teenagers ' electric scooter to ensure the comfort and safety on the roads, bike lanes and parkways
You should also consider the folding mechanism. But again, this will also depend on how the teenager plans to use it.
For example, if the teenager wants to use the scooter from your home to the nearest bus stop to get to school, then you would want one that's lightweight and folds easily. This makes it easy for him to carry up and down the bus, even if he's in a hurry.
And alternatively, if you live near the school and other busy areas in your city, then you can do away with the portability feature since your teen will spend more time riding than carrying it.
8. Maximum weight capacity
Electric scooters are mostly designed for light-duty riding jobs and deliver satisfactory performance. Hence, their weight capacity is pretty limited. Most e-scooters will offer you 220 pounds to 250 pounds of weight limit. It should work fine for teenagers, and thus, you don't need to worry about it unless your kid is facing an obesity problem.
The weight limit is also crucial since putting too much weight on the e-scooter might reduce its performance and speed. So, keep an eye on it. Plus, putting too much weight on the scooter will increase pressure on the deck and cause cracks. So, ensure that the scooter doesn't cross the recommended weight limit.
The weight limit of the e-scooter is clearly stated in the product label and specification chart. So, you can know it with ease.
The IP rating refers to the electric scooter's ability to repel water and dust for long-lasting performance and safeguarding the rechargeable battery. Usually, you will find IP66, IP67, and IP68 ratings for the e-scooters.
The IP65 rating indicates that the e-scooter and battery housing are fully protected from dust. But, it can withstand only low-pressure water for a limited time only. IP66 rating means the scooter will have protection from the high-pressure water jet. Finally, the IP68 rating is the highest grade with maximum safety from rust and water.
Nonetheless, you should be aware that a scooter with IP rating is expensive. As a result, you should be prepared to pay more for electric scooters with a higher IP rating.
E-scooters are made with premium materials with the highest-quality construction. Thus, you can expect these to deliver a long-lasting performance. Yet, a few of them may have manufacturing defects, which could be unfortunate.
Hence, a warranty period for any manufacturing defects would bring peace of mind for buyers. You can expect to get a 12-month to 2-year long warranty for the e-scooter frame. But, we recommend you look at the terms and conditions for availing of the warranty. Some manufacturers will offer a warranty for only the battery. In contrast, others might offer a more generous warranty period for the motor, battery, and even construction problems.
Safety Tips For Teens While Riding Motorized Scooters
Don't share your ride with others
Electric scooters are not designed to carry two people and run safely. If you continuously overload the scooter, the motor may fail.
Before you set off, study your route if possible
It will let you know how the terrain is and what safety measures should you maintain. Also, try to know whether there is any obstacle on the path.
This is a must for safe riding. If you are geared with a good helmet, it will boost your confidence in riding.
People often seem to be careless about the visor and keep it open. Close the visor to protect your eyes from dirt or debris to make you ride safer.
Always be aware of the road condition
While riding, people usually like to enjoy the scenic beauty of the surrounding. It can divert your mind from the road, and you can catch accidents.
Be very attentive to whatever is in front of you, especially in urban areas, as the traffic is heavier there.
Don't use your phone while riding
People often check messages or browse music playlists while riding. It is very risky and should be avoided by all means.
Always have a last checkup
Keep both your hands on the handlebar and have a good grip on that. If you don't have a good grip on the handlebar, small bumps or hurdles can make you fall.
Always check the tire pressure and brakes before you start riding. Also, make sure the scooter goes through regular maintenance, and there are no faulty parts during the ride.
Frequently Asked Questions
Final thoughts on Electric Scooter For Teens
To conclude the best electric scooter for teenagers exists – but it all depends on the teen's particular preferences.  
More than being able to take him from point A to point B, the e-scooter must also be built with all the features that he will need for his voyage and a comfortable ride. Does it come with shock-absorbent tires? Does it have unparalleled traction? How easy is it to maneuver and operate? These are just some of the factors that you should consider before buying an electric scooter.  
Fortunately, we have already laid down a comprehensive guide for your reference. And if you still find yourself undecided, you can always check out one of our top 13 picks. We guarantee that you won't regret your decision.