10. Hiboy NEX, Best Portable Scooter under $300 For Kids And Teens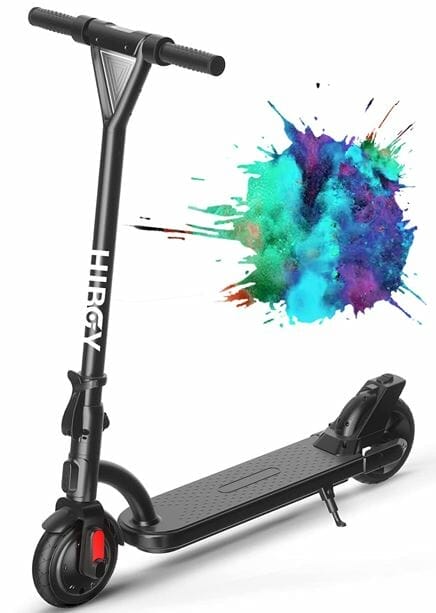 Scooter's weight: 24.5lbs
Frame material: Aluminum alloy
Maximum Speed: 9 mph top speed
Battery:  36V, 4ah li-ion
Motor:  150W brushless motor
Maximum Range: Up-to 12 miles of range on a single charge cycle
Throttle: Thumb activated push button
Charging time: 4-6 hours
Maximum rider weight limit: 140Lbs
Climbing capacity: 15%
Speed modes: 2 speed modes
Cruise control: No
Drive type: Front wheel drive
Display: Bright LED display panel which shows all the necessary information while riding the scooter
Next up, is the Hiboy Nex for kids and teens. We picked this because of how comfortable it is to ride, and the fact that it's highly maneuverable.
To start, this entry level electric scooter comes with a wide platform, so both your feet can comfortably fit in it. This eliminates the need for you to stand in an awkward position as you cruise to your destination.
The Hiboy Nex runs on a 150-watt powerful motor that helps push the scooter at speeds of up to 12 miles per hour. It also runs on a 36v excellent battery, and this allows it to run for up to 40 minutes continuously on a single charge cycle. This makes it perfect for running errands or as an alternative to short-distance commuting.
We also love that this lightweight scooter comes with wide 6.5-inch pneumatic tires, which give the scooter enough traction on the ground to keep it from slipping – and that saves you from injuries due to slipping accidents.
When these wheels are paired with the Hiboy Nex Scooter's sturdy frame, it can take you to different adventures. It also has a maximum weight capacity of 140 pounds, so you know that it's sturdy.
You don't have to worry about maneuvering with this, either. Its front-wheel-drive gives the user unmatched control, and this allows you to easily make your way across the neighborhood.
For your convenience, the Hiboy Nex has an Anti lock electronic  brake that's easy to access if you have to stop the scooter immediately. This is a great safety feature for teenagers and adults alike.