Top 13 Best Electric Skateboards/Longboard Under $300 Budget, comprehensive Buying Guide-2022
Skateboarding has evolved immensely throughout the years and electric skateboards have become highly popular nowadays. You can use this transportation device for both daily commutes and for performing stunts.
As soon as you hear the word electric, you probably thought that you need to spend a bucket load to get your hands on a good electric skateboard. Well, that's really not the case. You can get superb electric skateboards with extra features that too under 300 dollars price tag. Sounds fascinating, right?
We have picked some of the best electric skateboards under $300 budget to give a kick start to your e-boarding journey. These e-boards have exceptional quality, decent range with solid performance that's suitable for both novice and pro riders.
Our Top 3 Picks-Electric Skateboards under $300 Price Point
USE COUPON CODE  "NEWAGEACTIVITY" TO GET 5% DISCOUNT 
USE COUPON CODE  "NEWAGEACTIVITY" TO GET $15 DISCOUNT 
USE COUPON CODE "NEWAGEACTIVITY" TO GET 5% DISCOUNT
1. JKING H2B, Electric Skateboard with high top speeds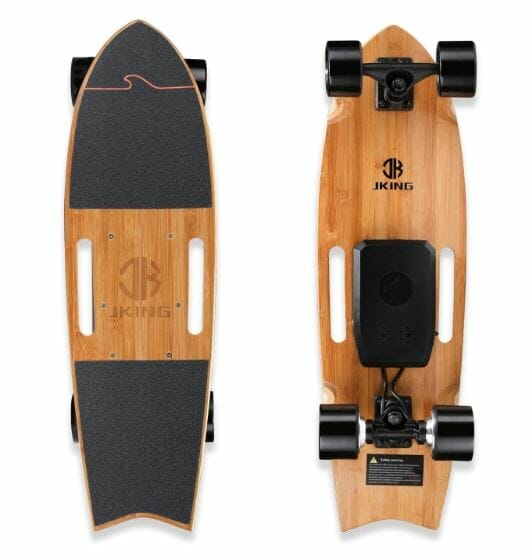 Weight: 12.3 pounds 
Deck material: 7 layers maple and bamboo deck
Max load capacity: 210lbs
Motor type: Dual 350w brushless hub
Max Range: up-to 8 miles
Battery:  4000mah lithium battery
Charging time: 4 hours
Maximum speed: 16.7 mph top speed
Remote: Ergonomically designed wireless remote with LCD display screen, which shows battery level, riding statistics etc.
Riding modes: 3 speed riding modes
Wheels: 83 mm polyurethane wheels
Max incline: 12 degrees
IP rating: IP54
Warranty: 180 days
The JKING H2B Road Electric skateboard is one of the most advanced and lightweight motorized skateboard. Your kid will never feel disappointed with its performance.
This board is only 31.7 inches, which is why it's relatively small in size. However, despite being small, its high-rebound 83 mm 80 A PU wheels that are quick and durable are made with strong elasticity and a certain amount of toughness.
When using the board, a high-density Emery surface that is non-slip and waterproof makes you feel safer. a fantastic option for commuting or exploring the city.
This board is equipped with two 350W hub motors, which are more dependable and trouble-free than belt-driven motors. The most interesting feature of this e-board is that it can be used as a normal non-electric skateboard if the battery runs out of juice. 
It's equipped with 3 speed setting: low, medium, and max gear. The low gear will let you ride on the downhill and flat surfaces, while the max gear will allow you to ride on uphill and bumpy surfaces. It passed a lot of safety certifications. So, with this model, you can stay assured that you will be safe while riding it.
It weighs only 12.3lbs, which clearly indicates that carrying it is not that much of a difficult task to do. Moreover, it comes with a unique ergonomic remote controller. It'll let you know the speed and battery percentage on the LCD display screen.
ALSO READ: Jking Jupiter 02 E-Board Review
2. Hiboy S11, Best Budget Electric Skateboard
Skateboard's weight: 7.94lbs
Deck length: 30 inches
Deck material: Maple wood and aluminum
Maximum Speed: 12.4 mph
Maximum Range: Up-to 9 miles per charge
Max weight capacity: 180lbs
Riding & Braking modes: 4 Modes
Brakes: Electronic Braking 
Motor power: 350w 
Motor type: Brushless hub single motor
Battery power: 25.2V, 4ah
Remote: Ergonomic wireless remote 
Charging time: 1.5 hours
Wheels: 2.8 inches polyurethane wheels
The Hiboy S11 Electric Skateboard is inarguably one of the best e-board under 300 for beginners. It's both affordable and fun to ride on.
The Hiboy S11 is equipped with a 350-W single motor. This motor can quicken the board up to a maximum speed of 20kmph. There's an in-built battery that will provide you a range of up to 10kms on a single charge. It can also provide more than 10kms if you ride around at cruising speeds.
The braking system of this high quality board remains gradual on flat surfaces, which makes it perfect for those who're skateboarding on an electric board for the first time. It incorporates a custom-designed composite maple wood deck. It's lightweight yet sturdy and flexible enough to handle frequent road bumps. It has a length of 29.9 inches.
This board is capable of supporting up to 100 kilos, at max. The battery pack is well-protected and it's located underneath the deck. The battery requires 2.5 hours for a full charge. However, depending on the current and heat, it can take longer.
It comes with a remote controller that is very intuitive and will offer you four different riding modes to choose from. It'll also give you the chance of choosing four brake modes. The best thing about the controller is that it's wireless. Overall, it's a great product for beginners within a affordable price range.
ALSO READ: Vestar V2 Pro classic e-board review
3. Cool & Fun Electric Skateboard
Weight: 13.2 pounds
Deck length: 35 inches
Deck material: 11 layers of  maple and fiberglass
Max speed: Up-to 16mph
Max range: Up-to 10 miles when fully charged
Motor type: Single hub
Maximum load capacity: 265 pounds 
Charge time: 3 hours
Battery: 36V 4000ah lithium -ion 
Remote: Ergonomic wireless remote with display
Remote charging time: 2 hours
Max climb angle: 10 degrees
Wheels: 3.5 x 2.0 inches Polyurethane replaceable wheels
The Cool&  Fun Electric Skateboard is undoubtedly one of the most amazing high quality electric skateboard under 300. You'll be impressed with the unique-shaped lucrative outlook, as soon as you get it out of the box. 
It comes with a dimension of 35 x 4.7 x 10.6 inches and weighs 17 pounds only. It's very lightweight; which makes it very easy to control. The shape of this board is a little different than most other electric skateboards.
It includes 83mm brushless motor, which is capable of providing the board with 400W power. It also has regenerative brakes. Thanks to these brakes, you'll be able to have a better grip over it. It can offer you a maximum speed of 15mph.
It's equipped with a 4.0ah, 36V lithium battery. It'll take you only 3 hours for a full-recharge. Due to this powerful battery, you'll have the ability to ride the board for 10 miles and that too, with one full charge.
In fact, it comes pre-assembled so that you don't have to go through the troubles of assembling it on your own. It proudly boasts of an ergonomically shaped remote. With this remote, you can change the direction or speed without facing any difficulties. This user friendly remote is one of the main feature that makes it ideal for beginners.
4. Maxfind Max One, Electric Skateboard For Kids And Teenagers
Skateboard's weight: 10 pounds 
Deck material: strong composite and a layer of fiberglass coting
Deck size: 27 inches long and 7 inches wide 
Motor type: single hub
Motor power: 350w
Maximum rider weight: 143lbs 
Max speed: 15 mph
Max range: 11 miles range when fully charged
Riding modes: 3 (Beginner, Fast and Max)
Charge time: 1 hour
Battery: 26V& 2.9AH lithium battery
Brakes: Electronic regenerative braking
The Maxfind Max One Electric skateboard will let you enjoy skating without emphasizing on the fact whether you're a beginner or a professional. It's definitely worth spending your money.
This spectacular best budget e-skateboard is constructed from strong composite and the surface is fibreglass coated. The deck features a diamond cutting design. It comes with a premium quality grip tape. It provides the skateboard with the kind of quality it would need for excellent flexibility and sturdiness.
Additionally, it comes with a 36v&2.9ah lithium ion powerful battery. It's located inside the deck. So, it can be said, this battery not only makes the board last long but also makes it look more aesthetic.
Once it's charged fully, it'll be capable of going up to 11 miles, with a max speed of 15mphs. It requires only 1 hour for full charging. It weighs only 10lbs; which means it's a lightweight board and can withhold up to 143lbs.
Apart from being very durable, it incorporates a concave deck. Thanks to this deck, you'll have the ability to place your foot and stabilizing yourself very easily. It is also available in only one color: black.
Moreover, the max one includes a intuitive ergonomic wireless remote controller. It's also very easy to use. It'll provide you with deceleration and acceleration options. With the help of these options, you'll be able to enjoy a comfortable ride.
DON'T MISSOUT: Best cheap electric skateboard under $200, Buying guide
5. BLITZART Huracane 38", Best Budget Electric Longboard
Skateboard's weight: 13 pounds
Deck length: 38″
Deck material: 5 ply of maple wood and 2 layers of bamboo deck
Max range: 10 miles range on a single charge
Max-speed: Up-to 19 mph
Motor power: 350w brushless hub
Max weight Capacity: 250lbs 
Battery: 36V, 4.0Ah Li-Ion battery
Charge time: 2.5 hours
Battery: 36v 4ah lithium battery
Brakes: Electronic regenerative braking system
The BLITZART Huracane 38" is another electric longboard under 300 we have from the BLITZART. Although the X-Plore and the Huracane both are manufactured by the same company, they have their differences which set them apart from each other and make them unique.
The unit is a classic longboard featuring a 38-inch long deck. It consists of a more square-shaped design with sharper edges and less smooth corners.
The deck is made using a combination of 7-ply maple wood and 2 layers of bamboo with a premium grip tape. Therefore, it stays extra strong and durable and ensures stable performance.
By using the grip tape, you'll be able to keep traction while you're on the road. It has the ability to hold up to a maximum weight of 250lbs. Unlike the X-Plore, it uses two 350W brushless motor and each of them is powered by a 36V 4Ah lithium-ion battery pack. You can charge the battery pack within 2 and a half hours.
So, the board will be able to run at a top speed of 17+ mph and a range of over 10 miles. However, both of these factors highly depend on your weight, the conditions you're riding in and the terrain you're riding over; although it works better even when your weight's increased. Overall, In this price range, it's a great entry-level board.
ALSO READ: Onlyone O2 E-Board Review
6. Possway V4 Pro, Longboard for under $300
Skateboard's weight: 12.5 pounds 
Deck length: 35″
Deck material: 8 ply of maple wood
Motor: (400*2)800W dual hub motor
Max load capacity: 220lbs 
Max speed: 23 mph
Max range: 8+ miles on a single charge
Speed modes:  3 different speed modes
Charge time: 3 hours
Battery: 29.4V 4000Mah Lithium Battery
Hill Grade: 15◦
Warranty: 1 year of after sales service
This Possway V4 Pro Electric Skateboard is perfect for teenagers and adults alike. This electric longboard under 300 with remote control makes an excellent gift or present for friends and family. We have tried out this skateboard and found it to be fantastic. Let's take a look at some of its most important characteristics.
The Possway V4 Pro e-skateboard is equipped with dual 400W motor. The motors can accelerate this e-longboard to a top speed of 23 miles per hour. However, we appreciate how quiet it is even when traveling at high speeds.
Another advantage of this engine is that if the battery dies, you can still use the board as a regular skateboard. Because of the motor's non-resistance function.
However, you can easily drive more than 8 miles with its 29.4V 4000mAh lithium battery at its high speed. On the other hand, it can be fully charged quickly; for us, it only took 3 hours.
To control the skateboard, the V4 Pro comes with a 2.4GHz wireless ergonomic remote controller. The remote has a battery life LED indicator, which is quite handy for knowing when to charge the controller.
Furthermore, the remote only requires 2 hours to fully charge. It has three speed settings: high (20 km/h), medium (15 km/h), and slow (10 km/h) (low). However, depending on the skateboarder's weight, the maximum speed may be slightly lower or higher.
The V4 Pro Budget Electric longboard has a maximum weight capacity of 220 pounds (99 kg). The building material is also strong enough not to break easily. We discovered that the tires are very good at maintaining a strong grip while testing them.
Also, we were able to retain optimum stability, and the PU wheels were able to absorb road bumps smoothly. If you're seeking for the best electric longboard around $300, this unit is a great option.
READ MORE: Best Electric Skateboards Under $500, comprehensive Buying Guide
7. SKATEBOLT Brisk 24 Inch Electric Skateboard for Kids and Teens
Skateboard's weight: 8lbs
Deck length: 24 inches
Deck material: ABS + glass fiber
Max range: About 6+ miles range on a single charge
Max speed: UP-to 12.4 mph
Max weight capacity: 154lbs
Motor: 150W brushless hub motor
Battery capacity: 2.5Ah lithium battery
Charging time: 2 hours
Max incline: 10 degrees
Wheels: 2.87″ Polyurethane wheels
Warranty: 3-months limited warranty
SKATEBOLT is a relatively new skateboard brand; it has only been a short time since it released its first skateboard model. And, from the start, manufacturers have worked hard to ensure that their customers can ride their skateboards safely. We evaluated this electric skateboard and discovered that it has a lot of handy functions.
This electric skateboard under 300 is another excellent option for gifting to friends and family. The SKATEBOLT Brisk has dimensions of 24*9.5*5.5 inches, making it small and portable. Furthermore, the skateboard is lightweight, weighing only about 4.5 kg.
This budget board, however, is only appropriate for teenagers and children. It can support a maximum weight of 154 lbs. It also has a 7-mile range, making it ideal for short-distance riding. This e-board has a top speed of 11MPH.
Furthermore, this affordable board is suitable for students who want to use a skateboard to get to school or college. It is, on the other hand, reasonably priced.
It has a brushless 150W high-speed motor. The good news is that the motor doesn't produce any noise when it's running. It comes with a 2.5ah battery that can drive up to 7 miles at a top speed of 11 miles per hour.
A gravity motion-sensing chip is included into the Brisk Electric skateboard from Skatebolt. You may use your body posture to control the brake, turn, and speed with the help of this clever motion sensor. This feature is one of our favorites because it makes it easier for your youngsters to ride it.
Another wonderful aspect of this electric skateboard is the wheels. It's 2.87 inches in diameter and composed of polyurethane, so it can absorb the vibrations of city streets and pavements. This SKATEBOLT Brisk Electric Skateboard is a great option for anyone seeking for a budget electric skateboard under $300.
DON'T MISSOUT: Possway T3 E-Board Review
8. Caroma 36", Good Budget Electric Skateboard
Skateboard's weight: 12.5 pounds 
Deck: 26″, 8 ply of maple wood
Motor: (350*2)700w brushless hub dual motor
Max load capacity: 220lbs 
Max speed: 15.6 miles per hour
Max range: 10-12 miles range on a single charge
Charge time: 2-3 hours
Battery: 29.4V& 4000Mah lithium battery
Hill Grade: 15◦
Remote: Ergonomic bluetooth remote
Riding modes: 3riding modes low(6.5MPH),middle(9.5 MPH) or high(12.5 MPH)
The Caroma Electric longboard comes with decent battery capacity, impressive speed and extended range. In contrast to the previous e-skateboard, you will need to manage the board with a remote controller. However, this electric longboard has a lot of great features for commuters and also good for first timers
This Budget Electric Skateboard features powerful dual motors, each of which is 350W. Both high-capacity motors provide a stable ride and a strong driving force. It has a lithium battery with a voltage of 29.4 volts and a capacity of 4000 mAh.
The battery, on the other hand, only took 2 to 3 hours to fully charge. With its battery, you can ride for more than ten miles. This electric longboard has a top speed of 15.6MPH. If you use the highest speed, the battery will quickly drain.
On the wireless remote, there's a battery life indication. When you charge the remote, a red light illuminates, indicating that it is charging. When the remote is fully charged, the red light turns green, and we recommend that you unplug it right away.
Furthermore, the construction component is excellent, and it can support heavier weights of up-to 99 kg. The wheels are made of PU material, which is excellent for absorbing terrain and providing a smooth ride. Another good electric skateboard under 300 is the Caroma Electric Skateboard.
9. Devo Nesaila, Best Value Electric Skateboard under $300 Budget
Skateboard weight: 9lbs
Deck: 27.5 inches, 7 layers of maple
Max range: 8-10 miles on a single charge
Max speed: 12 mph
Max payload: 220lbs
Motor: 350W brushless hub motor
Battery: 29.4V 2000mAh lithium battery
Charging time: 2 hours
Riding modes: 3 [Low: 6.2 mph, medium: 9.3 mph and Max: 12.5 mph]
Wheels: 2.75″ Polyurethane
Cruise controls: Not available
If you're a beginner who is looking for an affordable electric skateboard at a very reasonable price, then you should consider checking out the Nesaila Electric Skateboard from Devo. Although it doesn't work well off-road, it can offer you excellent on-road performance with its premium design and outstanding features.
It comes with a 350W hub motor. Although it's low-powered, it can provide you with speeds of up to 12mph for 20 minutes. As a result, you'll be able to cover up to 8-10 miles per charge. However, the power will start to weaken towards the end of this time frame. So, it's best recommended for commuting, as well as those who are confident at handling the board.
It includes a wireless remote control. The control features a wrist strap so that you'll never have to be scared of dropping it on the floor accidentally.  By using this control, you can decrease or increase the speed according to your own will. You can also use it to initiate brakes remotely.
This top quality motorized skateboard has a length of 27.5 inches and can handle weight up to 220 pounds; which makes it ideal for both adults and teenagers. The deck is made using 7-ply maple wood. Due to this material, it stays very durable and is able to handle damages that would usually cause it to warp or break.
10. Voyager Neutrino, Affordable Compact Cruiser Electric Skateboard
Skateboard's weight: 9lbs 
Deck: 28″ Polypropylene fireproof composite
Max Range: Up to 7 miles of range on a single charge
Motor: 350w brushless hub motor
Battery capacity : 36V,2.6Ah LG LI-Ion battery
Charging time: 2 hours
Max rider weight: 176lbs
Battery: lithium battery
Remote: Ergonomically designed wireless remote
Max-speed: 12.5 mph top speed
Max Incline: 15° 
Brakes: Electronic regenerative braking system
The Voyager Neutrino Compact Cruiser is a mini electric skateboard under 300 price point. It's perfect for both adults and children, especially for those who prefer to enjoy their ride at a medium speed range.
It comes with a silent, brushless 350W powerful motor, which is enclosed in the skateboard and can charge very quickly. It can not only provide you with a top speed of 12.5 mph but also a low speed of 6mph as well. At top speeds, you'll be able to move more quickly on open stretches, while the low speed will let you have more control over the board.
The flexible deck is constructed from a sturdy yet light 7-ply Canadian maple wood. It's capable enough to support up to 176lbs. The board itself is made using split and deformation-resistant materials; which is why it's less prone to breaking and damaging. What's amazing about it is that it's very lightweight despite being so durable. Therefore, you'll have no problem carrying it.
It includes a remote controller that features an easy-to-use ergonomic design. With this remote control, you'll be able to use variable speed modes. It'll also let you control acceleration and breaking methods directly. So, the operation of this skateboard will seem simple and less problematic to you.
Additionally, it's equipped with high elastic PU wheels. Due to these wheels, you'll be able to ride on highway paths very easily and smoothly.
11. WeSkate 35", Best Budget Electric Longboard
Skateboard weight: 10.6 pounds 
Deck: 35″, 8 layers of maple deck
Max speed: Up-to 12 mph top speed
Max range: Up-to 10 miles range on a single charge
Motor: 350w brushless hub motor
Max load capacity:  220lbs
Battery:  29.4V, 4000mah lithium battery
Charging time: 3 hours
Riding modes: 3 speed riding modes (Low, Medium and High)
If you enjoy skating on a regular basis, the WeSkate 35″ Electric Skateboard is a must-have. This skateboard guarantees not just exceptional durability and flexibility, but also years of service.
It is constructed from eight layers of maple wood. You may put your fears regarding the material's durability and flexibility to rest thanks to this material. It comes with a wireless ergonomic remote controller with three different speed options to choose from.
Three LED indicators are included. These indicators will keep you updated on the charge percentage. It is powered by a 350W powerful motor. You'll be able to ride at a reasonable speed of up to 12mph .
One of the most incredible features of this affordable electric skateboard is that it can be used without the use of energy. All you have to do is to kick it like a conventional skateboard. You can save power in this method. Another excellent aspect of this board is that it can withstand any weather.
It has a built-in lithium-ion battery with a capacity of 4000mAh, which  gives the ability to travel up to 10 miles on a single charge. The battery's biggest feature is that it just takes 3 hours to fully charge. It has PU wheels on it. These wheels are tough and will allow you to ride smoothly even on bumpy terrain.
12. Vivi H2E, Electric longboard under 300$
Skateboard's Weight: 9.2Lbs
Deck length: 27.3 inches
Deck material: Polypropylene
Max payload: 154Lbs
Motor power: 350W 
Motor type: Brushless hub
Max speed: 18.6 mph
Max range: 6-8 miles range when fully charged
Battery power: 36V, 2000mah Li-Ion battery
Charging time: 1.5 hours
Remote: 2.4G ergonomic wireless remote
Remote charging time: 1.5 hours
Speed modes: 3 speed modes [Low: 6.2 mph, Medium: 12.4 mph and High: 18.6 mph]
Brakes: Electronic braking
The Vivi H2E Road Electric Skateboard is one of the best electric skateboard under $300 out in the market. In terms of quality, though it's not near the best, it's still quite decent.
It gets its power from a 350-watt hub motor. At such power, it's capable of running at an impressive speed of around 18 mph and that too, safely. It comes packed with a lithium-ion battery. This battery can make this skateboard run continuously for up to 40 minutes. However, in order to do that, it needs to be in full charge.
This skateboard is equipped with a deck that has a length of 27.3 inches. The deck is constructed from polypropylene and Its shell adopts of one-piece PP material. Since there's polypropylene integrated into the deck, it will be able to provide you with good flexibility, as other electric skateboards can do. Still, you can expect it to be durable enough to last for a long time.
The standout feature of this e-board is the 7-color LED gradient lighting effect, which is located right in the middle of the deck. You'll be the center of attention, especially if you slide at night. At the same time, it lets people to see you from afar, increasing your safety and preventing you from being hit by others.
The Vivi H2E also comes packed with high-grip polypropylene wheels. Thanks to these wheels, you can expect to have a strong grip over the board. Therefore, you'll be able to enjoy a perfect ride on almost any type of terrains, without the risks of getting into a serious accident. It can support riders up to 154 pounds. 
Moreover, it comes pre-assembled, so that you're able to start using it as soon as you unpack it.
13. Razor RipStik Ripster Caster Board , Non Electric
Minimum Age: 8+
Max Rider Weight: 220 lbs (100 kg)
Wheel Size: 76mm
Wheel Material: Urethane
Weight: 5.68lbs ( 2.5 kg)
Deck Material: ABS
Caster Material: Steel
Dimensions: 33.5″ x 8.7″ x 5″
In this list of  best electric skateboard under 300, the next one is a non electric board. The Razor RipStik Ripster Caster Board is a very unique board that can easily attract attention from the get-go. It's not only attractive in terms of sleek design but also excellent in terms of performance as well.
This regular board has been designed to appeal to many modern-audiences. It features a thunderbolt design that will allow you to associate it with speed, adrenaline, and fun. It'll also let you do more tricks than you could've imagined.
You can find it available in three different colors: red, blue, and black. No matter what kind of attire you prefer to wear when you're out skating, one of these colors will suit your style perfectly.
Apart from having an attractive, fantastic design, it's very easy to carry around. If you want to take it to the park, on a vacation, or to a friend's house, you can expect facing no problems as it allows easy transportability; due to it being lightweight and relatively short. This is the main reason why most people are willing to buying this product.
It's even safe to use too, thanks to the rubber padded steel torsion bar. The deck is quite compact; which is perfect for beginners. The wheels measure 66mm and are constructed from high-grade urethane. Therefore, with this board, you can expect to have a smooth ride on the road without any hindrances.
Things to consider when buying A Budget Electric Skateboard under $300
Electric skateboards will bring a unique dimension to your life style. Now you know about the top 13 best budget electric skateboards in the market with friendly price tag. However, there are a few other factors that you should take into consideration before making the final purchase.
E-skateboards come in a variety of sizes. The majority of the affordable electric skateboards on the market are around 37 to 40 inches in length and have wheels around 80 to 100 mm in diameter. This type of skateboard is known as a longboard.
Then there are shortboards or mini boards which are mostly around 28 to 32 inches in length, with wheels around 70 to 90 mm. Lastly, there are the all-terrain boards. They're about the same length or a little bit longer than the longboards. However, they're heavier, use much bigger wheels, and have wider trucks.
There are also some premium or specialty boards that you can consider. However, the vast majority of people choose their first board from within these three.
Generally speaking, for the most enjoyment, you should use the smallest wheels that are appropriate for the situation. Smaller wheels are more stable, nimbler, weigh less, and allow for stronger acceleration and braking. If you've never been on an electric skateboard, then you might get confused about what size of wheels is perfect for you.
If you've seen others in your city use regular skateboards or longboards on roads, then electric skateboards should be fine on those roads as well. If your roads look smooth and free of debris, but nobody in your area skates, so you're not sure which skateboards are good for skating, then get a longboard that uses belt drive. This will allow you to change to larger wheels if necessary.
If your roads are smooth but have lots of debris, then you probably need an all-terrain board. However, get it with wheels around 120 mm if available instead of the larger 6- or 7-inch wheels.
Moreover, if you'll be riding on dirt roads or other uneven terrains, or if comfort is a lot more important to you than carving and portability, then you should get a board that uses all-terrain wheels.
Most of the affordable electric skateboards on the market today use either hub motors or belt motors. There are significant advantages and disadvantages to each type. If you want to be as discreet as possible, hub motors might be more suitable for you. The hub motors are hidden inside the wheels, and most of the time they're quieter than belt drive motors.
Hub motors also require less maintenance than belt drive. If a hub motor fails, normally you just replace that motor. If you go off-roading on an all-terrain board, hub motors are far less likely to get clogged by sand or other debris compared to belt drive motors.
On the other hand, with belt motors you can use any third-party longboard wheels that are compatible with your board's supplied wheel pulleys. This means you have way more options for wheel size, durometer, color, etc.
You can also change the gear ratio using either supplied pulleys or third-party pulleys. This affects things like torque, range, and top speed. Compared to hub motor wheels of the same size, belt drive wheels which are actual longboard wheels are much more comfortable as they have way more urethane.
Electric skateboard manufacturers like to highlight their board's top speed for marketing, even though most boards on the market have roughly the same top speed. Don't make the mistake of thinking that higher top speed means higher acceleration or more torque.
The speed of an electronic skateboard is one of the least important things to consider. This is because most of the boards that you're going to look at have similar acceleration and tops speeds anyway. Something more important that you should consider is the brake performance.
The brake performance of different boards can vary a lot. This is one area that frequently disappointing otherwise really good. Most boards don't have brakes that behave like brakes in a car. In a car, you can slam your foot on the brake pedal to make the car brake as hard as possible.
However, on many electric skateboards, if you pull back hard on the brake control, the board just gently slows down and lets you slam into the back of the car in front of you. If you'll never ride in traffic or around pedestrians, then having soft brakes doesn't really matter. There's another important thing to note about brake behavior and it has to do with the ESC.
ESC stands for electronic speed control. This is the motherboards or the brain of your electronic skateboard. The majority of electric skateboards on the market today use some variation of either the Lingyi ESC or Hobbywing ESC. This isn't always stated in the product description, so you may need to ask the manufacturer or find out from product reviews.
There are other ESCs out there, but again mostly Lingyi pr Hobbywing. Many but not all, boards that use the Lingyi ESC have this great feature where the board turns on by itself if you just push it forward or back a little. This means that you never have to bend down to turn on the board.
Compared to Lingyi, the throttle and brakes on boards that use Hobbywing's ESC feel much more accurate and intuitive. They just work the way you expect. For many people, this control accuracy is an absolute requirement.
When comparing the range of boards from different manufacturers, don't compare them based on the manufacturer's stated range. There is no standard for how the range is measured across different brands. Instead of looking at the stated range, look at the battery capacity in watt-hours.
If two boards have similar size wheels and are similar in weight, then the board with a higher capacity battery should have more range. If the two numbers are close, then it's harder to predict which one would have more range
There was a time when none of the affordable electric skateboard brands used quality parts, but that's not the case anymore. Make sure that whichever board you choose has at least a little bit of concave in the deck.
Quality trucks are also important if you plan on carving, but it's hard to tell if a board has good trucks without trying them. Make sure to choose a board with good trucks because they can make the skating experience really good or really bad.
Benefits of an Electric Skateboard/Longboard
Electric skateboards have to offer more than a regular skateboard. They not only help you commute, but they also have tons of other benefits.Every single day It is gaining more popularity as well
If you want to reduce your carbon footprint and lead a more sustainable lifestyle then an electric skateboard is a must-have for you. They don't burn any fossil fuel and they don't emit any harmful gas to the environment. You can ride all you want without leaving any negative impact or pollution on the environment. 
Electric skateboards can be a little heavy on the pocket in the beginning. However, considering the long run, they're highly cost-effective. You don't need to spend any extra money on fuel as they run on electricity. You can run errands or have a cruise around the city without having to worry about spending any cash for your ride.
3. Effortless Riding Experience
Unlike the traditional skateboard, you don't need to manually push the skateboard in order to ride. Thank technology, you can enjoy a smooth ride without breaking a sweat. The electric skateboards are designed to cover a long-range on each charge to that you can enjoy your rides without any hassle. Along with city cruising, many of these skateboards can be used for stunts,tricks and riding on harsh terrain as well.
4. Can be used as a Regular Skateboard
If you miss the fun of riding a regular skateboard then don't worry, we have got you covered. Electric skateboards can also be used in the old-school traditional way. You can just simply turn off the motorized drive system and ride it like a normal skateboard. You can perform a stunt or just cruise around enjoying the best of both worlds.
Traditional skateboards are surely lots of fun but you may get exhausted after a while. Also, it takes longer to reach your destination because you have to run it manually. Electric skateboards offer high speed that can take you to your destination a lot quicker compared to a regular skateboard. They're an excellent mode of transportation for a quick ride around the city, inside the campus, or just for running an errand.
This one may have caught you by surprise. You're probably wondering how will my health improve by riding a skateboard?
Well, you need to stand on your feet during the ride give a slight push to the board if necessary. This motion helps with muscle buildup and enhances your overall strength. You need to balance on the board which implies that your nervous system needs to be more frequently used than any other mode of transportations. Also, the fresh wind during the ride is a bonus that will refresh both physical and mental health conditions.
Maintenance Tips For Electric Skateboard
No matter how expensive or how sturdy the skateboard is, if it's not maintained properly then it'll not last. Here are some simple maintenance tips that will help you enhance the life cycle of the bike to a great extent.
Always clean the deck after every few rides. If you're riding on muddy terrains or dusty areas then it's better to clean it ride after the ride. Otherwise, the accumulated dust particles will reduce the shine and deteriorate the quality.
The trucks of the board tend to loosen up over time. Don't overtighten or loosen up the trucks to much. Give the trucks quarter turn clockwise if you think it's not performing as per your preference.
As you ride continuously, the wheels will become blocked by dirt and not perform well. They'll make a buzzing noise as you roll and you'll end up with a bumpy ride. Clean up the dirt from the wheels after every few rides to enjoy a smooth fun-filled ride.
Bolts and bearing are some of the most essential parts of an electric skateboard. Never use a lubricant that will clog the bearings. If you hearing a squeaky sound as you ride then it's time to change the bearings.
Don't overcharge your electric skateboard. Even though the battery stops charging once it's full, it's not a good practice to keep it on charge even after it's full. Also, make sure that you don't fully drain down the battery while riding
Safety precautions to take while riding an E-Skateboard
Your fun-filled ride can turn into a nightmare in just a matter of a second. Electric skateboards ride with quite a high speed and you should always wear protective gear during a ride. Wearing proper safety gear will save you from accidents and help you enjoy your rides to the fullest. Make sure that you buy quality gear to ensure the utmost safety and security during the ride.
Your head is one of the most vital organs of your body and a slight injury on it may incur a severe health issue. You should always opt for a high-quality helmet that will keep your head well-protected.
Keep in mind that not all helmets are created equal. The majority of the helmets in the market are not certified. It's important that you buy an officially certified helmet that follows the safety standards.
You may also like: Best helmet for electric scooters, Buying guide. These helmets can also be used as skateboard helmet.
Our fingers are quite fragile and it's important to protect them properly to refrain from any injuries. However, you need to hold the remote control while riding an e-board so it may become tougher to control it while wearing gloves. Try to get a pair that will keep the hand protected and offer flexibility at the same time. Also, make sure the material is sturdy enough to handle the falls and retain its quality.
3. Knee pads and Elbow Pads
When you fall, it's highly probable that you'll fall in your hands and knees. Therefore, knee protection is highly important to save you from those painful injuries. Our elbows are quite vulnerable and you should also wear elbow pads to keep them protected.
Make sure that you choose the right size of elbow and knee pads to keep the knees and elbows protected. Also, don't go for excessively bulky ones as those may weigh you down during the ride.
4. Headlight and Taillight
If you're a nightcrawler then these two are a must-have for you. These lights will make you visible from far away and keep you safe on the road. You can also wear an LED vest for extra visibility in dark.
Frequently Asked Questions
It's not an easy decision to choose the best electric skateboard under $300 from the myriad of options out there. The task is even more daunting for beginners. We have chosen the top-rated budget electric skateboard/longboard under 300 so that you can enjoy your rides and get the maximum value out of your purchase.
Give one of these a try and get ready to enjoy the summer breeze on your electric skateboard.
Posts You Might Also Like