Top 12 Best Affordable Electric Skateboard/ Longboard Under $500, Unbiased Buying Guide-2022
With the rise of technology, our vehicles tend to get a lot crazier in new features and operations. So it's not a surprising thing that most people go head over heels after having their first encounter with an electric skateboard.
An electric skateboard gives you all the pleasure you get from a regular skateboard except for the sweat, which is great if you're going to class or work and don't want your appearance to be ruined.
Affordable electric skateboards are a good investment if you find the right one that suits you. Many options available in the market have different features in terms of power, strength, speed limit, battery life, remote control, charge time etc.
So, we have compiled an ultimate guide to show you the eleven best electric skateboards under $500, from budget boards to premium high-end ones, and how you should be choosing them without breaking the bank account .
Without any further ado, let's get started with the product reviews followed by a buying guide.
Affordable Electric Skateboard reviews under $500, Our Top 3 Picks
USE COUPON CODE "NEWAGEACTIVITY" TO GET 5% DISCOUNT
USE COUPON CODE "NEWAGEACTIVITY" TO GET 18% DISCOUNT 
USE COUPON CODE "NEWAGEACTIVITY" TO GET $30 DISCOUNT 
1. Backfire G2 Black, Best Electric Board Under $500
SPECIFICATIONS AND FEATURES
Skateboard's weight: 16.2 pounds
Deck material: 7 layers of Canadian maple wood
Deck length: 38 inches
Maximum weight limit: 240lbs
Top speed: Up-to 24 mph
Max range: 11-12.5 miles per charge
Charge time: 3.5 hours
Motor: 400*2 high torque hub dual motors
Battery: 42V, 5.2Ah Li-Ion Rechargeable battery
Wheels: 96mm Durable PU materials and replaceable
Remote: Ergonomically designed hobby-wing remote With bright LCD screen which shows battery level, speed mode etc.
This is an excellent road electric board for anyone on a tight budget. The Backfire G2 is also ideal for those that want to be in the e-skating squad but are not ready to spend a lot of money quite yet.
The G2-black's deck has seven layers of maple wood, making it more flexible and durable. It will give you a more smoother ride as well as improved shock absorption.
G2-black uses a well-known 7″ MD truck with a custom-designed motor carrier and belt frame. The motor carrier allows you to change the load capacity. So you can make your own adjustments to the belt. The belt case is designed to be very adaptable, and it can handle a wide range of pulley sizes.
The Backfire G2-black has an improved Hobbywing ESC that allows for more torque and quicker propulsion. Hobbywing's ESC is well-known for its acceleration and braking systems. Now you can also have a fantastic and smoother riding experience!
Inside and out, each G2-black is already equipped with a simple waterproof coating. Generally, it will be able to withstand the splatters of everyday life.
That being said, keep in mind. Water should not be absorbed or poured near the power button or charging port.
The hyper elastic PU wheels used in the G2-black are smoother and more durable, and hence offer improved shock absorption and a more comfortable ride.
Compared to most of the other choices on the list, it's also a pretty pricey board. While it isn't the most expensive electric skateboard on the marketplace, the price tag means that only serious buyers would want to take a closer look at this.
If you want fantastic performance and a large weight capacity, then this is a great choice.
ALSO READ: Best Off Road All Terrain Electric Skateboard, Unbiased Buying Guide
2. Hiboy S22, Best Dual Motor Electric Skateboard Under $400
SPECIFICATIONS AND FEATURES
Skateboard's weight: 8.3lbs
Deck material: 7 layer of maple deck
Deck length: 36 inch
Maximum weight capacity: 180lbs
Max speed: Up-to 24 mph
Max range: 12 miles per charge
Charge time: 2 hours
Motor: 350*2 dual brushless motor
Battery capacity: 36V,4.4AH Li-Ion
Wheels: Durable PU materials and all 4 replaceable wheels
Riding modes: 4 different riding modes
Brakes: 4 Different brake modes (Electronic regenerative braking)
The second product on our list is this Hiboy S22 Electric skateboard that is a pretty good street board considering its value. This is a must checkout brand for entry-level skaters as it rides nice and stable, responding to the remote very well.
The Hiboy S22 is a sturdy longboard that features a 7-layered maple deck with U-shaped trunks. Before using it for the first time, don't forget to tighten the trunks as it seems to be a bit loosely held.
This classic design board ensures a smooth and comfortable ride with little to no jerks when you're riding on bumpy roads. The extensive deck is ideal for both beginners and experienced riders and provides a stable ride for those with big feet.
The unique wood-covered black and red truck design is solid and lets you have safe turns without trembling over. With hundreds of 5-star ratings on Amazon, this e-skateboard is a very reliable product that will ensure you're not wasting your money on some crappy product.
This road electric board features two 350 watt brushless motor and four riding modes that can reach up to 18.6 – 24 mph top speed easily. You get a 36-volt li-ion battery that you can charge in under 2 hours and gives Up-to 12 miles of range.
Side by side, you will also be able to ride up to about 13 miles. Even at low battery levels, the Hiboy S22 can go about 20% of inclination with ease.
The wheels are made of long-lasting PU material that you can replace when they wear off after rough use.
Overall, the Hiboy S22 is a great deal for beginners starting on a new skateboarding hobby but don't want to have an empty pocket.
CHECKOUT: How To Maintain An Electric Skateboard?
3. Maxfind Max2 Pro, Best Budget Electric Skateboard review
SPECIFICATIONS AND FEATURES
Skateboard's weight: 15lbs
Deck material: Nylon Fiber + Glass Fiber(Carbon Fiber Coating) Diamond cutting design
Deck length: 31 inches
Maximum weight capacity: 220lbs
Max speed: Up-to 24 mph
Maximum range: 12 miles on a single charge
Motor power: 600*2 dual  hub motor
ESC: Hobby-wing
Battery: Samsung 36V,4.4AH Li-Ion
Wheels: 90mm PVC wheels
Riding modes: 3 different riding modes
Brake: Electronic regenerative braking
IP Rating: IP 65 water resistant
The Maxfind Max2 Pro is the best electric skateboard under 500 for those that like to exhibit their artistic minds on the skateboard and be a bit edgy.
The upgraded version of its predecessor, the Max2 Pro stayed on the best-seller shelf for a long time. The Maxfind brand's superior build quality is immediately apparent in the board's design. It has a lovely nylon fiber deck with fiber glass coating that will cater to both kids and adults.
Hobbywing ESC and two 600W powerful motors operate the Max2 Pro, enabling you to achieve speeds of up to 24 mph. You can expect 12 miles per charge in terms of range, which is very good for the money.
Unlike most models, this Max2 Pro device also has three modes- Turbo mode, Sports Mode, and Eco. With the sports mode, you can ride up to 12 miles, and the eco mode will take you somewhere around 15 miles.
The turbo was previously limited to only 30 seconds, but now you can turn it on for more extended periods if you have a charge of more than 50% and also get it up to 25 mph.
The most prominent upgrade on this device is the battery. The MAX2 Pro has a Samsung battery of 158wh, which is a lot more than the rest of the products on our list. But this big battery might take slightly more time to recharge when it runs out of juice entirely.  
This powerful skateboard has fully sealed motors, so you can go skateboarding in all weather conditions without worrying about ruining it.
We would say this is a great board that confirms a smooth ride with the small PU wheels and curved deck for flexibility.
ALSO READ: Maxfind Max One E-Skateboard Review
4. Gyroor R1, Affordable Motorized Skateboard Review With Wireless Remote Control
SPECIFICATIONS AND FEATURES
Skateboard's weight: 17.5 pounds in weight
Deck material:  8 layers of Canadian maple wood
Deck length: 36.1 inches
Maximum weight capacity: 220lbs
Maximum speed: Up-to 28 miles per hour
Maximum range: 23 miles 
Motor power: 550*2 dual  hub motor
Battery capacity: 36V,144WH Li-Ion
Wheels: 90mm PU wheels
Riding modes: 3 riding modes
Brake: Electronic regenerative braking
Remote: Ergonomically designed with Smart LCD display
Warranty period: 6 months warranty for boards and 3 month warranty for parts
This is one of the most powerful skateboards that come in a very compact design. It is a great device for the regular commuters that are constantly running around.
The Gyroor R1 has a unique, minimalistic outlook, a must-have for all modern technology hoarders. In this monochrome board, you get a smooth deck that has a big GYROOR logo at the edge. You get a visually pleasing black/grey color on the deck where dirt won't show up easily, making it easier for lazy people to clean.
Made from the 7-ply Canadian maple, the deck is concave, making it ideal to have a firm grip and let your feet be in a comfortable position. The deck is also wide, about 9 inches that give you the stability to balance if you're new to skating.
This perfect board is run by two 550W motors that can easily help you climb hills at about a 30 degrees angle.
This compact e-board has crazy acceleration, giving you a top speed of 22 mph in just a couple of minutes. The battery on this little device is pretty amazing, too, as you get a 216Wh/6000mAH battery pack. Once fully charged, you'll be able to travel about23 miles at a stretch.
The large 90mm wheels on this longboard guarantees that you get to navigate uncertain roads without any difficulty.
The ride on this product is smooth and balanced, but one drawback is the lack of recoil absorption. You can easily go through smooth surfaces and most of the city roads, but the rough terrain rides might prove to be a bit difficult to get through.
Gyroor R1 might just be the best electric skateboard under 500, thanks to its quality, classic design, safety features, and ease of use.
5. VESTAR V2 Pro Classic, Fastest Electric Longboard Under 500 Dollars reivew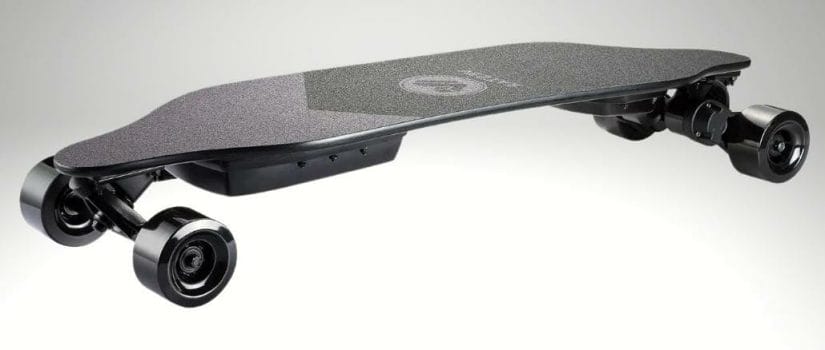 Skateboard's weight: 15 pounds in weight
Deck material:  7 layers of Canadian maple wood + 2 layers of bamboo 
Deck length: 38″ flexible deck
Maximum weight capacity: 260lbs
Maximum speed: Up-to 27 mph
Max range: Up-to 17 miles
Motor: 800*2 dual belt driven motors
Battery: 180Wh Li-Ion battery
Wheels: 90*52 mm PU wheels
Brake: Electronic regenerative braking
IP Rating: IP 65
The VESTAR V2 Pro Classic electric skateboard is in fifth place. This is another lightweight  and heavy duty product that only weighs 16 lbs.
The versatile 38-inch flexy deck is made up of 7 layers maple wood and two layers of bamboo. It's fun to ride, and it's sensitive enough to let you sense the road. A good-quality grip tape is applied to the deck, ensuring support and security while making it comfortable to travel on any road conditions.
The users mustn't surpass the company's limits to achieve the estimated top speed. In terms of weight, this beast can bear up to 260 pounds, which is impressive for an electric board that costs less than $500.
This beauty's wheels are made of a special PU material to provide additional resistance and a longer lifetime, as the 25-27 mph top speed might cause damage to the wheels in the near future.
The VESTAR V2 Pro classic , which is powered by a 36V Li-ion high-quality battery, can provide you with a max range of up-to 17 miles through one full charge.
This budget e-board comes with two brushless 800 watt motors that allows you to achieve speeds of up to 25 miles per hour consistently.
On full charge, the 180Wh 36V Li-ion battery allows you to travel fifteen miles, which isn't a lot but is adequate enough, given the price.
Considering how loosely the wheels on this board are held, you might need to have a backup pair at hand at a times. Having said that, this is not a very bad choice for an electric board thanks to all the other added features.
6. Jking Jupiter-02, Electric Motorized Skateboard review
Skateboard's weight: 19.4 pounds in weight
Deck material: 8 ply Canadian maple wood and fiberglass coating
Deck length: 38.2 inches flexible deck
Maximum load capacity: 330lbs
Maximum speed: Up-to 26 miles per hour
Max range: 22 miles on a single charge
Charge time: 2 hours
Motor power: (450*2) 900Watt 
Battery:  36-volt, 7.5ah Lithium-ion battery
Wheels: Polyurethane wheels
Riding mode: 4 riding modes
Brake: Electronic regenerative braking
Warranty: 1 year manufacturer warranty against mechanical defects
For the daily commuters who need to be in different places around the city and want a board within their closely-knit budget, Jking has launched the neatly designed JUPITER-02.
This motorized skateboard has a long 38.2-inch flexy deck that is made from a unique combination of 8 layers of maple wood and fiberglass coating. While going downhill, it has a fair level of versatility and a U-type curved shape, making your ride more responsive and efficient.
Since the deck is just 3.1 inches off the ground, you'll have a lower center of gravity. This makes for a very relaxed ride, and you'll feel totally in control even when you are going at full speed.
This electric skateboard is powered by two 450W hub motors, which can generate a speed of 26 mph. One full charge will take you up to 22 miles (low mode), which is not bad given the longboard's price point.
This budget board also has four modes that the rider can switch up using the Seahorse remote that is included. The 90 mm PU wheels on this board are worth mentioning because they vary from standard skateboard wheels. In fact, they are very less likely to degrade over time, unlike regular skateboards.
The Jking Jupiter 02's battery is housed within the deck in an ultra-thin compact design. As a result, it is protected from damages, earning an IP64 waterproof rating for the board as a whole.
The JUPITER-02 also features a regenerative braking mechanism, which turns kinetic motion into a charging station when you slow it down. If you're moving downhill, this will significantly extend your battery life.
In case if you're looking for solid power in your board that doesn't cost much then this will be the best electric skateboard under 500 dollars that you will find in the market.
DONT MISSOUT: Best Electric Skateboards Under $300, comprehensive Buying Guide
7. SKATEBOLT Tornado II, Best Budget Electric Skateboard For Heavy Riders review
Skateboard's weight: 19 pounds in weight
Deck material: 8 ply maple wood
Deck length: 38 inches long
Maximum load capacity: 280lbs
Maximum speed: High speed of Up-to 25 mph
Max range: 22 miles
Charge time: 3 hours
Motor: 250*2 dual brushless hub motor
Battery: 7.5AH Li-Ion
Wheels: Durable PU materials and replaceable for all 4 wheels
Remote: Ergonomically designed wireless remote with LCD screen
For a number of different reasons, the SKATEBOLT Tornado II is among our favorite electric skateboards. For instance, given the board's actual power and advanced features, it comes at a rather excellent deal.
If you're hunting for a new electric longboard to jazz up your daily commute, the SKATEBOLT Tornado II should be at the top of your list.
Its shiny black style with red LED lights resembles something from a science fiction film giving you all 'The Matrix' vibes.
The SKATEBOLT Tornado II features two powerful 500watt brushless hub motors. When fully charged, these motors have enough power to propel you at a speed of approximately 25mph.
The wireless remote has a few more features than the average skateboard. For example, an LCD screen displays your current velocity as well as the remaining battery life. There's also a speed mode toggle and a cruise control/LED button on the remote.
The Tornado II's upgraded 36-volt lithium-ion battery has a 7.5Ah capacity, allowing for a 22-mile range on a single charge.
Even at high velocities, the average ride quality is exceptionally smooth. The rather jerky braking systems, on the other hand, can significantly reduce this smoothness. It can be challenging to dial in the right level of power to be used on the brake pedals, resulting in some jarring stops.
This flexible board comes with taillights, a unique feature that you won't get in many other e-skateboards. With the wireless remote, the tail light can be turned on or off. This will give ample warning to cars behind you that you will be stopping, significantly decreasing the risk of a collision.
8. Possway T3, Electric Longboard Under $500
Skateboard's weight: 16 pounds in weight
Deck material: 9 ply maple wood and bamboo
Deck length: 31 inches long
Maximum load capacity: 330lbs
Maximum speed: High speed of up-to 28 miles per hour
Max range: Up-to 18 miles 
Charging time: 3-4 hours
Motor power: (500*2) 1000Watt
Battery: 42-volt Lithium-Ion battery, capacity: 7.8 Ah (swappable)
Wheels: 105mm Durable shock absorbing wheels
Riding mode: 4 different riding modes
Braking modes: 4 brake modes
IP rating: IP65
Hill grade: 25%
Warranty period: 180 days
The Possway T3 appears to be a robust all-around board with outstanding high performance and a surprisingly lightweight.
The Possway T3 is slightly more expensive than most of the models on the market, so riders who are looking for a high-quality board but are not bound by a budget would be intrigued in what it has to offer.
This device exhibits an increased range of drive and a top speed weighing only about 16 lbs. The skateboard's strong dual brushless motors account for its greater pace. This electric longboard can reach 28 mph speed and has a peak of range 18 miles.
The 9-layered maple and bamboo deck is rugged and solidly built. This lightweight board bears a maximum weight of 330 pounds. It is very comfortable to move from one place to another due to its shock absorbing wheels and sufficient ground clearance.
This feature of the board makes it ideal for use on university campuses as well as during light traveling. A special W-concave deck style is also included. The goal here is to withstand as much shock as possible, which is key for off-roading.
The concave shape uniformly disperses vibration around the flexible deck, making rugged terrain as seamless as possible, and the top-quality grip tape keeps your feet firmly planted on the surface. This helps to have a better control over the board.
Despite being marketed and listed as an entry-level skateboard, the Possway T3 delivers more than you would think. It has potent hub-driven motors which not only provide quick acceleration but also allow you to reach a satisfactory cruising speed.
Overall, we're dealing with a true outlier if ever there was one. Despite this, T3 delivers a surprisingly solid start that can easily compete with the stronger competitors we mentioned earlier.
9. Vestar Mini, Best Portable E-Skateboard under
Skateboard's weight: 17.64 pounds in weight
Deck material: 7 layers of Canadian maple wood
Deck length: 27.5 inches
Payload capacity: 260lbs
Max speed: Up-to 25 miles per hour
Max range: 17-22 miles
Charging  time: 3-5 hours 
Motor: 600*2 high torque hub dual motors
Battery: 5.2Ah Li-Ion Rechargeable battery
Remote: Ergonomically designed wireless remote
Wheel size: 83*52mm PU wheels
The Vestar Mini is our favorite e-skateboard under $500 because of its smaller size, portability, and high top speed that is easy to handle. In comparison to several of the skateboards on the list, the skateboard has a longer battery life and faster speed.
With two motors hidden beneath the robust deck, the skateboard appears to be quite capable. As a result, it not only improves your commuting experience but also gives you a sleek and attractive appearance. If you value both appearance and utility, the Vestar Mini is an excellent choice.
The top speed is 27 mph. In addition, its range of 12 miles (16 kilometers) is more than adequate for regular commuting.
The hub motors, each with 650Watts of power, provide the necessary power to generate such high speeds. It provides the fastest acceleration, which will appeal to young people. The motors are powered by a li-ion battery with a capacity of 5.2Ah.
A complete charge of the battery takes 3 to 5 hours. Its metal ESC housing also allows for maximum heat dissipation. As a result, you won't have to worry about the battery overheating or being overcharged. It assures that the skateboard will last a long time.
The deck is made of 7-ply maple wood. As a result, the stiffer deck is extremely durable and can easily support a weight of 260 pounds. Skateboarders will also love the all-black board's construction, which gives it a distinctive appearance.
According to several experts, it closely resembles the classic design of the popular Boosted Mini skateboard. As a result, it is a terrific option for skateboarders because it is also much less expensive. As a result, you won't have to empty your wallet to acquire the famous bold look on your e-board.
We discovered that the skateboard is an all-around skateboard thanks to its lightweight frame and twin kicktail feature. It's less expensive, more durable, and more stylish. Vestar Mini has several characteristics that will keep you interested if you are looking for a portable and budget-friendly skateboard. At such a low price, we hope you will like its extended range, high speed, and controls.
10. Onlyone O-2, Best Affordable E-Board
Skateboard's weight: 17.8lbs
Deck material: 8 layers of Canadian maple wood
Deck length: 38 inches
Payload capacity: 330lbs
Max speed: Up-to 24 miles per hour
Max range: 17-20 miles 
Charging time: 2 hours 
Motor: (250*2)500W dual brushless motors
Battery: 6Ah 216W/8AH 288W Li-Ion Rechargeable battery
Wheel size: 90mm PU wheels
Riding modes: 3 speed modes(slow: 11mph, medium: 18 mph, fast : 24 mph)
Remote: Ergonomically designed .
Max climbing angle: Up-to 25-30 degrees
After evaluating a variety of parameters, we determined that the O-2 longboard is a good choice for passionate and enthusiast riders.
We couldn't find any flaws in this amazing longboard that costs around $500, from user-friendliness to affordability, from long range to enhanced top speed and a sturdy deck. This outstanding model will exceed the majority of skateboards in its class by a long shot, both physically and practically.
The deck's 8-ply 38″ Canadian maple wood structure is the most durable you'll ever find. As soon as you see it, it makes a pleasant effect on you. Once you've started riding, the deck's anti-skid feature will keep you stable and comfortable throughout your journey.
Its cruising and rolling capabilities will also appeal to riders. It can incline up to 30 degrees for uphill rides. It's also one of its more impressive aspect, which we adored. With such a sturdy deck and wheel construction, you may even take it off-trail.
The longboard, which is powered by two 500W brushless motor and a li-ion battery, has a range of about 30 kilometers and three speed levels. Slow, medium, and fast settings are included to fit your riding needs in various conditions.
You can, however, select from two different battery alternatives. As a result, when you buy the skateboard, you can manage its top speed and range.
The skateboard also comes with a handheld remote controller. The remote control is more convenient and faster to operate. When driving in heavy city traffic, such add-on capabilities improve dependability. You may also increase your e-board riding enjoyment by using the sophisticated remote control.
The beast is equipped with PU wheels for a thrilling ride. To fit your daily commute demands, you can choose from two different wheel sizes.
Overall, this inexpensive longboard will be a fantastic choice for both novices and experienced riders looking for a unique and thrilling experience. Last but not least, this e-longboard is ready to give an unparalleled performance in your daily life, thanks to its water-resistant deck, wheel, and motor.
CHECKOUT: Best Cheap Electric Skateboards Under $200, Buyers Guide
11. SKATEBOLT Brisk, Affordable Electric Skateboard For Kids And Teens
Skateboard's weight: 8lbs
Deck material: ABS + glass fiber
Deck length: 24 inches
Max range: About 6-8 miles
Max speed: UP-to 12.4 miles per hour
Max load capacity: 154lbs
Motor power: 150W brushless single motor
Battery: 2.5Ah lithium battery
Battery charge time: 2 hours
Max incline: 10 degrees
Wheels: 2.87″ Polyurethane wheels
Warranty period: 90 days warranty
This is the most versatile board on our list that runs on an intelligent motion-sensing technology. The best part about this board is that it doesn't require any remote to control the balance instead, you can just use your center of gravity.
The Brisk board comes in two colors – dark blue and green. The deck is about 24 inches long and 9.5 inches wide, which is a very adaptable size. The silicone anti-skid pad on this device gives children or newbies a good grip for holding their balance.
Under the board, you get a 150 watt single motor (brushless hub) and a 2.5Ah li-ion battery that gives 6+ miles of decent range, the battery takes about 2 hours to charge fully. As the battery is pretty much hidden when you ride on top of it, the color and style really stands out.
This self-balancing board is very popular among people with a 5-star rating on Amazon. It comes in with two riding modes- Beginner and Advanced. It runs about 3 mph on beginner mode, which is a good option for those just getting the hang of electric skateboards.
You can also switch to the advanced mode with the press of a button that will let you go up to 11 miles an hour. If you can learn the body posture on this device well, you'll love this board, and you can go totally hands-free on it.
The PU wheels on this device are about 2.87 inches in size, which is pretty hefty than similar models. This will help you absorb shock on all different types of roads and pavements.
Overall, the SKATEBOLT Brisk is a good beginner-friendly e-board that also has a modern technology implementation that too at a very reasonable price.
Things To Consider Before Buying An Affordable Electric Skateboard Under $500
To better understand which budget electric skateboard is right for you, we have compiled a buying guide for you, given your circumstances and needs. Here, you can get all the necessary points that you must remember while you are looking for your first motorized skateboard.
This is a really important factor that everyone must look into as the first condition. Different boards come with various features and accessories depending on how much you are willing to pay. 
Once you have your budget set, you can eliminate many potential boards that go over it. The best thing to do would be to make a list of the products that you can afford.
For less than half a thousand bucks, you can get a decent electric skateboard. We have also listed the best electric skateboards under $500 that are of lowest price and satisfactory as a well-built skateboard.
CHECKOUT: How Much Is An Electric Skateboard?
2. Battery power/Capacity
Battery capacity is an important factor for those that will be using the electric skateboard for longer periods and that too on a daily basis.
Consider how much variety you need before making a purchase. Perhaps you'd like to take a board into and out of work.
To be safe, calculate the distance you need to cover (backward and forwards) and get something with an upper range of 20% more.
The battery is normally the most costly part of your vehicle, and is where the less expensive models cut corners. The battery power is measured in Wh (watt-hours), and it can be determined using the voltage and amp-hours of the battery. All you have to do is just multiply those two numbers.
Even though the weight of the rider and the pace at which you're moving can impact this figure, it gives you a better understanding of the unit's overall capacity.
3. Acceleration and braking
How much your skateboard will speed up depends on the motor type and the braking mechanism that is integrated into the device.
The ability of the user to control the device is also very important. We would recommend you to either go for low acceleration longboards or ride on the easy mode if you are a complete beginner to skateboarding. This will keep you safe from crashing into other vehicles.
Most budget electric skateboards come with a regenerative braking system nowadays. When you are applying brakes to stop or halt your skateboards in this system, the board automatically starts charging. This is a great feature to look for if you are someone who is always on the run.
Electric longboards, in particular, are the vehicles that take the most brutality over the course of their lives. This is particularly true when it comes to off-road vehicles that must navigate rough terrains such as dirt and grit. It should be in your economic interest to locate a board that can withstand such violence.
The avarage speed that your skateboard can generate depends on the motor power that the board is built with. There are two types of motors you'll find in general- hub motors and belt-driven motors.
If you are a beginner, don't go for higher speed ones as that might result in horrendous accidents. The range should be considered too, as it depends on how often or quickly you can charge your longboard.
5. Drive terrain and motor type
If you plan to commute or cruise with your electric skateboard, please consider the pathway you'll be traveling by every day. Not all skateboards are made for rough and rocky roads. So, motor type is also a good point to consider before confirming your purchase.
The two types of motors are briefly explained below for your understanding:
Hub motors- are far less expensive, quieter, and need less servicing. In most cases, they're also lightweight and much more energy-efficient. As a consequence, you will see this sort the most.
Belt drive motor – As the name implies, belt drive motors use connecting belts to spin the wheels. This solution is much noisier and more difficult to keep running, but it achieves great torque.
It is also a more power-efficient choice because you get more bang for your buck for a similar amount of power.
Most people try to avoid this and end up not considering it at all. But when you are spending such a hefty amount of your hard-earned money, you should obviously get full facilities.
A bad customer service team will not help you with the difficulties you face and guide you through the whole procedure of their build. Good customer service, on the other hand, will be a friend in need alongside their improvement in building customer loyalty.
When these issues arise, it is beneficial to have the company's strong and comprehensive support from the customer service team. A good reputation for outstanding customer service will help you get the details and parts you will need to maintain your board in the long run.
7. Deck quality (material)
To avoid catastrophe, most reputable goods have a temperature seal near their motor and other fragile components. Every product is typically given an IP-rating to describe its resistance to moisture.
Most road electric skateboards are built with 5-ply maple wood. We consider maple woods to be the strongest and most sturdy ones that are built to last. Two layers of bamboo surround the maple base in some of the higher-end versions, making the deck more versatile and compensating for the maple's stiffness.
Another one is the carbon material that has a high degree of toughness and is light in weight, making it a great option for electric skateboarding.
The positive aspect of the material is that its features can be drastically altered by changing its base, giving designers more leeway. But one big drawback is that carbon is much more expensive than maple.
Frequently Asked Questions
Verdict: Should You Get An ffordable E-Board
Coming to our final thoughts about affordable skateboards, we hope by now you have all the information you need to buy the best electric skateboards under $500.
Riding an electric skateboard is super fun, and you don't need any prior skateboarding experience to get going. It's actually a lot easier to ride this way because you don't have to drive the board to pick up speed constantly. You just have to think about spinning, which you will master in no time.
We believe it is our responsibility to help you select the right board for yourself and others by giving clear and useful information about the items that fit into your budget. Happy skating!