Best Electric Bikes Under $1000 Reviews-2022 [Folding, Commuter, Mountain, Fat-tire]
Are you also tired of your friends flexing on their new e-bike? But you're not sure whether an foldable e-bike would be a great choice as your daily commuting partner? Worry not, because we have come up with an article that will remove all your confusion and help you get the best electric bicycle.
Now, if electric bicycles were not trendy enough, you have foldable electric bikes that you can take with you wherever you want. These foldable electric bikes come in compact sizes, making them easy to carry to your offices or classes avoiding traffic jams.
Electric bikes can be very expensive, which is why we have made a list of the best folding electric bikes under 1000 dollars available in the market.
So, let's get straight to our review of the 11 high quality best electric bikes under 1000 dollars reviews without any further ado.
Best Folding Electric Bike Under $1000-Our Top 3 Picks
USE COUPON CODE  "NEWAGEACTIVITY" TO GET $50 DISCOUNT 
USE COUPON CODE  "NEWAGEACTIVITY" TO GET $70 DISCOUNT 
USE COUPON CODE  "NEWAGEACTIVITY2022" TO GET 10% DISCOUNT 
1. Swagtron EB-7 Elite Plus ,Best Value folding e-bike under $1000 For City Commutes
Frame material: Aluminum alloy
Max load capacity: 264.5lbs
Max range: 19 miles of range on electric mode, 40 miles on paddle assist mode
Max speed: 22 mph
Number of speeds: 7 speed
Motor power: 350W strong motor
Battery: 36V long-lasting removable Lithium-Ion battery
Handlebar style: Height adjustable
IP rating: IPX4
Brakes: Front and rear disc brake
Suspension: Rear air suspension
Display: LCD Screen
Seat: Height adjustable comfortable seat
Our list's first cruiser bike is the Swagtron EB7 Elite Plus, a stylish, lightweight e-bike that's perfect for short trips. It rides more like a moped than an electric bike, but it's still enjoyable and works beautifully.
This high quality bike has a 36-volt 6.4-amp-hour capacity lithium battery and a 350-watt high speed motor to help keep the bike light and inexpensive without sacrificing efficiency.
When using the throttle, you should expect a maximum speed of around 18 mph and a range of around 20 miles. For a roughly $1000 bike that fits in a trunk, that's not bad at all.
This cruiser bike comes in two color options. One is the black one with red accents that looks pretty sleek and classy. Another is a more vibrant and bold-looking one with black and orange accents.
If you can make sure of proper maintenance, then the orange one is the one you should go for.
The versatile 7-speed gear system on this electric commuter bike allows for true multi-gear efficiency. It provides precise, and consistent shifting that riders expect from a motorcycle.
On the other hand, the EB7 Plus has a removable battery, which is a massive bonus. Many e-bikes in this class lack removable batteries.
Replaceable batteries are available on Swagtron store as well as on Amazon, which is a significant aspect to consider when buying an e-bike.
If portability, low price and excellent braking system are more important to you, the EB-7 Elite Plus is well worth considering as it is the best budget folding electric bike we know.
ALSO READ: Shengmilo MX01 E-Bike Review
2. Ecotric, Best Fat Tire Folding Electric Bike Under $1000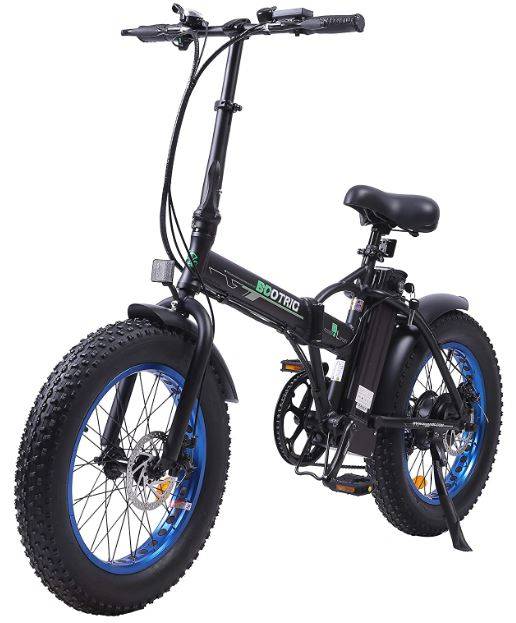 Frame material: Aluminum alloy
Item weight: 56 pounds
Max Rider weight: 260lbs
Range: 18-23 miles (E-bike mode) and up-to 37 miles on pedal assist mode
Max speed: 20 miles per hour
Motor power: 500W rear hub motor
Derailleur: 7 Speed SHIMANO transmission system
Riding modes: 4 
Display: ECOTRIC smart LED display
Battery capacity: 36V/12Ah long-lasting removable lithium battery
Brakes: Hand operated mechanical disc brakes ensures powerful braking
Next up, we have the best fat tire electric bike that you can get your hands on. Following their legacy of building high-quality, sleek design, and durable electric bike for adults, ECOTRIC launched the Fat tire mountain bike.
Even though this is a folding bike, this unit hefty machine that you can ride in tight spaces as well as in steep terrains easily. The 20-inch fat wheels are the first thing that will catch your attention when you have the first look. It is pretty big when compared to regular mountain bikes. These tires provides excellent performance on hilly terrains.
The foldable frame on this bike is sturdy and massive that effortlessly showcases the aluminum body. You can carry this bike in the trunk of your hatchback easily as it reduces to almost half of its size after folding.
Also, this affordable bike is fitted with a 12 Ah removable lithium battery in terms of power. A full battery charge could take up to 6 hours in this circumstance.
The ECOTRIC Fat Tire  electric bike include a 500W powerful motor that can easily pick up the bike from a standing position. The bike's peak speed is 38 kilometers per hour, which is very fast for such a large machine.
At the same time, the front fork is of average quality, but when paired with large low-pressure tires, the e-bike glides over any bumpy road or rugged terrain with ease.
This bike is the perfect option for those who want a faster ride with reliable brakes and can afford it. We promise you given the specifications, and you definitely wouldn't be disappointed about spending so much.
ALSO READ: Top 4 Addmotor Electric Bike Reviews
3. Vivi F20F, Folding Electric Bike For city commutes
Frame material: Aluminum alloy
Item weight: 44 pounds
Max load capacity: 330lbs
Range: 35 miles ( Throttle mode)
Assist distance range: 50 miles on pedal assist
Levels of pedal assist: 3 levels
Acceleration: Twist throttle
Max speed: 24 mph
Motor power: 500W rear wheel hub motor
Derailleur: 7 speed Shimano
Battery: 48V, 10AH long-lasting Samsung li-ion  battery
Handlebar: Height adjustable handlebar
Charging time: 6 hours 
Tire: 20″*4″ air filled tires
Braking system: Hydraulic disc brakes
Suspension: High-strength front suspension fork
Climbing capacity: 15%
Fenders: Included
The Vivi F20F Electric Bike is not just hip and cool but also ultra-reliable and durable and if you're looking for an awesome ride that's going to be well-worth of your investment for the long-term then we highly recommend this E-bike right here.
Travel around town, go for errands or ride this e-bike for your daily commute. It's comfortable and your rides will surely be the smoothest. And that smoothness didn't just come out of nowhere that's due to the Shimano 7 speed drivetrain onboard this bike that gives it the much-needed power to get you up and down some steep hills.
It's also got a power assist and throttle that will give you that added boost and convenience when you're driving around town with it. We also appreciate (and you will too) the cool-looking 20-inch wheels that can handle whatever terrain you're on, whether you take it on rougher roads, uphill drives, or city pavements. The double disc brake's stopping power on this e-bike is also top of the line and will surely keep you safe at all times.
Amidst all of those dazzling features what we like best about the Vivi e-bikes, in general, is that they blend right in the urban aesthetic. So, you should get in on the fun and tell a friend or two to enjoy the ride with you too!
It's healthy, it's convenient, and the powerful brushless 500W motor will take over nicely if you don't feel like paddling on steep terrain. If you live in a hilly town then Vivi electric bike is the one to have.
4. Engwe EP-2 Pro, Best Foldable all-terrain Electric Bike Under 1000 Dollars
Frame material: Aluminum alloy
Item weight: 64 pounds
Max Rider weight: 330lbs
Maximum Range: Up-to 34 miles per charge(electric mode)
Paddle assist range: Up-to 56 miles
Max speed: Up-to 28 mph
Number of speeds: Shimano 7 speed gear (transmission system)
Handlebar style: Height adjustable handlebar
Motor power: 750W high-speed brushless motor
Battery: 48V/12.8AH li-ion removable battery
Charging time: 5-7 hours 
Tire: Front and rear 20″x 4″ fat tires
Rims: Double-walled rims
Braking system:  Mechanical disk brakes
Suspension: High-strength front suspension fork
As our fourth product, we have this ENGWE EP-2 Pro fat tire electric bike for adults that doesn't take up much room and can easily be stored in compact space.
The ENGWE EP-2 Pro does not disappoint when it comes to safety and comfort. To make your drive more comfortable, you can change the bicycle's handlebar position and seat.
This high quality electric bike's entire frame is made of aluminum and comes in various colors. It resists scraping, corrosion, and degradation while still giving the bike a trendy cut.
With the craftsmanship paid to its architecture, it looks elegant and significant. It can carry up to 5 times its weight despite weighing just 64 lbs. The aluminum frame has been rigorously checked to make sure that this is uncompromising in any case.
You should ride the ENGWE EP-2 Pro fat tire electric bike with assurance whether you're a professional or a regular cyclist.
The bike's huge battery range allows it to ride for up to 34 miles(electric mode) and up-to 56 miles in paddle assist mode without stopping, but it depends on road conditions and weight. The 4-5 hour charging time is unrivaled in the market, which makes it stand out among the rest.
Simply pressing the brake with one hand will bring the electric bike to a stop. You can ride carefree because the braking is comfortable and responsive.
The ENGWE EP-2 Pro is an excellent vehicle for those who live in crowded areas where commuting is challenging. Since this bike has high-strength front suspension fork, it's great for those who live in hilly environments.
5. ANCHEER, Full Suspension Electric Mountain Bike Review
Frame material: Aluminum alloy
Item weight: 60 pounds
Weight capacity: 330lbs
Range: Up-to 30 miles per charge
Max speed: 20-25 mph
Motor power: 250W high speed brushless  motor
Battery: 36V/8AH long-lasting removable lithium -Ion battery
Charging time: 4-6 hours 
Handlebar: Height adjustable handlebar
Suspension: High-strength front suspension fork and rear air suspension

Number of speeds: Shimano 21-speed gears (transmission system)
Then we have the best folding electric mountain bike Under 1000 Dollars on our list, the ANCHEER electric mountain bike. The Ancheer folding bike attracts a lot of attention, be it in all-black or with a white accent.
But with enough details to give it dimension, the matching black tires and parts build a very elegant and intimidating appearance.
According to the manufacturer, this bike has a 36v Lithium-Ion battery and a range of 25 to 30 miles when fully charged.
We believe that the lower end of the range uses it in electric mode, while the top end uses the pedal-assist mode.
But a notable drawback is that the battery takes about 4-6 hours to completely charge, which can be a turnoff for some people.
A 250W motor delivers better efficiency and leverage performance for reaching inclines on this bike. With the 250W strong motor, you'll be able to achieve speeds up to 25 mph. It also has amazing hill-climbing power.
The pace is good, and the ride tends to be enjoyable on straight terrains.
Dual mechanical disc brakes are mounted on the vehicle, providing excellent halting power at very high speeds. The brakes are fast and elastic, ensuring that the bike is quick to come to a complete stop.
Except for some screeching sound, while braking, they perform magnificently on the trail.
The Ancheer electric folding bike isn't the best, but it's a full-suspension electric mountain bike that's extremely compact and adaptable. It gives more than enough power whenever you require it, whether for a smooth ride or a short hike.
6. Gyroor C3, Best Mini Folding Electric Bike In A Budget
Frame material: lightweight Aluminum alloy
Item weight: 47 pounds
Max load capacity: 265lbs
Electric Range: 28 miles when fully charged
Assist distance range: 38 miles
Acceleration: Twist throttle
Max speed: 18.6 mph
Motor power: 450W rear wheel electric motor
Battery: 36V/10Ah long-lasting li-ion  battery
Handlebar style: Height adjustable handlebar
Charging time: 6 hours 
Charger: Smart lithium battery charger
Tire: 14″ air filled tire
On the sixth position of our list of the best folding electric bike under 1000, we have the Gyroor C3 electric bike. This is probably the light weight bike on our list that features tiny 14-inch tires.
Even though the tires are small, they can absorb a lot of shocks while riding on bumpy roads. Furthermore, the saddle is relatively thick, making it highly comfortable for long journeys.
Since the large battery is placed in the center of the bike, you can't fold the frame. You can fold down just the front stem and seat post, but thankfully, because of the compact size it already adheres, you can easily fit it in your car's trunk.
This cheap e-bike has three riding modes- the electric assist mode, assisted bicycle mode, and the regular bike mode. It has a range of around 28 miles in throttle mode and nearly 38 miles in pedal-assist mode.
Even if the battery is completely depleted, you can continue pedaling like a  traditional bike and finish your ride.
A powerful 450W brushless rear-drive strong motor drives the C3. While this may not be the fastest e-bike on our list, the maximum speed of 18.6 mph is sufficient for most ordinary users.
You should be able to scale some lower and brief inclines without difficulty. Since it incorporates a cadence system, like every other budget electric bike in the industry, the riding experience might not be very smooth.
Given the price range, we can say that this is the pretty value-for-money product that most new bikers look out for.
7. Rattan Compass, 500W Mountain E-Bike Review
Item weight: 51.8 pounds
Frame material: 6061 Aluminum alloy
Drivetrain: 7 speed gear system
Levels of pedal assist: 3 levels (low, mid, high)
Maximum Range: Up-to 60 miles per charge (throttle only)
Maximum Speed: Up-to 28 miles per hour
Max load capacity: 250lbs
Motor power:  500W brushless gear motor
Battery: 48V 13AH  Li-Ion battery
Charging time: 4-6 hours
Braking system:  Tektro mechanical disc brakes 
Suspension: High strength front suspension fork
Lights: Bright LED headlamp
Saddle: Height adjustable wide seat
This model from Rattan is one of the best selling electric bicycle this year. Another statement that we would like to make is that this might be the most stylish cruiser bike on our list.
Rattan has built a commuter electric bicycle that masks its true reputation admirably. The battery is removable, and the rear hub brushless gear motor is difficult to see unless you get very close.
The Rattan Compass has a rather pleasing appearance. People will praise you and ask you questions as you walk by. The bike's unconventional layout has piqued people's interest.
With a 500-watt strong motor, this bike can reach 22 miles per hour at maximum power. If you just use the throttle and not the pedals, you can get a range of up to 25 miles and up-to 70 miles while using the PAS mode.
We believe this is important because few people would choose to travel further on a regular trip back home.
The high-capacity 48V, 13AH Li-Ion battery in the Compass charges in around 5-7 hours. This is great not for long commutes, and the added bonus is how you can replace the battery pretty quickly.
The only drawback we found was its high 52-pound weight, which we're betting you'll accept is a lot to carry for an extended period, as well as the absence of an electric taillight.
ALSO CHECKOUT: Best Electric bike Under $1500, Buying Guide
8. Fiido D11, Best Value Folding Electric Bike Under 1000 Dollars
Item weight: About 38.5lbs
Fork: High strength aluminum fork
Handlebar: Height adjustable
Max weight limit: 265lbs
Maximum Range: Up-to 60 miles on pedal assist mode 
Max speed: 15.5 mph
Motor power: 250W High speed brushless electric motor
Battery: 36V,11.6AH long-lasting li-ion battery
Charging time: 7 hours 
Tire: 20″ air filled tires
sensor: Cadence sensor
Brakes: Front and Rear disc brakes
Saddle: Height adjustable comfortable seat
Display: LCD smart display
IP Rating: IP54
Almost at the end of our list, we have this best 20-inch folding electric bike from the trusted manufacturer "Fiido". Given the price point, the Fiido D11 single speed e-bike is a good enough entry-level bike which provides decent performance.
The sleek aluminum alloy frame, weighing just 38.5lbs, is easy to transport while remaining durable enough for long-distance cycling.
There is a power-assisted mode that, when paired with the 250w brushless rear hub motor, help accelerate you at a top speed of 15.5 mph, depending on the legal restrictions of the country that you live in.
It has dual disc brakes and a brake locking system. So, you won't have to be concerned about your D11 being stolen.
For the battery, this cruiser bike has a 36v 11.6Ah lithium-ion battery. This battery is tucked away inside the seat tube but is readily accessible if you need to. It takes a longer time to recharge, estimating somewhere around 7 hours fully.
This affordable electric bike comes 85 percent assembled, with the final assembly being simple to finish, particularly with the help of the Fiido website's video and the necessary components that come with it.
This budget friendly bike can be driven as a normal bike once the battery have been removed, which can be done simply by slipping out of the seat tube.
9. Eahora Azarias, Long Range E-Bike
Frame material: Aluminum alloy
Item weight: 62.8lbs
Max Rider weight: 220lbs
Max Range: Up-to 42-45 miles on a single charge(electric mode)
Pedal assist distance range: Up-to 84-90 miles
Acceleration: Thumb throttle
Top speed: 26 mph
Motor power: 750W rear wheel hub motor
Shifter: 7 speed 
Battery: 48V,18AH long-lasting li-ion  battery pack
Handlebar: Height adjustable handlebar 
Suspension: (Dual suspension) High-strength front suspension fork and rear spring shock absorber
If you are looking for a heavy duty e-bike with powerful motor that's going to last very long then look no further than the Eahora Azarias folding fat tire electric bike.
This budget friendly bike can travel and by that, we mean travel long distances day in and day out and can handle just about any terrain that will come its way. It comes at a great price tag (pretty affordable for its quality) so if you're looking to take a bike out for a long ride or something super reliable in your everyday commutes then this is the e-bike for you.
The 20-inch fat-wheels and its alloy foldable frame will take you anywhere you'd enjoy. The brushless electric motor can take over if you need it to and it's got enough power to get you to some serious distances all over town. Whether you want to commute to work, just run some errands, or just get a breath of fresh air.
The tires offer superb traction and additional grip so, it works smoothly on pavements, roads, dirt trails or off-road terrains. What we like most about this bike is that it defies our expectations, where most e-bikes are probably not ideal this one runs through the route smoothly.
We haven't even talked about the 7 Speed Shimano derailleur that turns this bike into a versatile monster. It's got a pedal assist technology onboard, of course, and this bike is just a nice combination of mechanics and innovation. And, on top of it all, it looks really nice and tough. Perfect for urban bike rides.
CHECKOUT: Velowave Electric Bike Reviews
10. Ecotric Starfish, Folding E-Bike Under $1000 with removable battery
Frame material: Aluminum alloy
Item weight: 50.7 lbs
Max Rider weight: 200 lbs
Range: Up-to 20 miles on a single charge
Top speed: 20 mph
Motor power: 350W rear wheel hub motor
Handlebar: Ergonomic design, height adjustable handlebar
Battery: 36V,12.5AH li-ion long-lasting battery
Battery life: 400-600 cycles
Charging time: 5-8 hours 
Tire: 20″ air filled tires
Brakes: Front V brake Rear disc brake
Derailleur: 7 Speed SHIMANO
Now that we are almost at the end of our list of Best E-bike under $1000, we would like to present the final product that is- the Ecotric Starfish electric bike review.
This modern, minimalistic bike comes in three color options available for you to take.
On this polished aluminum frame, we feel like the classic white suits the best. But you can also go for the black and blue options to exhibit the artistic side of yours.
Like most bike models, you get 7-speed gears on this bike too, with a brushless 350W powerful motor and range of about 30 miles. The transmission system it comes with allow you to switch between them whenever you want.
This powerful bike has a removable 36V 12.5 Ah lithium battery. Removable batteries are super helpful when you are going for long rides and need a good battery backup that you can swap out when you run out of juice entirely.
It is also possible to charge the swappable battery individually, which makes charging a lot easier.
This Starfish bike also includes an LED adjustable smart display to accommodate various riding requirements.
The LED display will tell you how fast you're going, how far you've come, and how much battery power you have left.
This road riding bike also has 20*1.75-inch city tires, making it much easier to adapt to various terrains when riding. The Ecotric Starfish electric bike also includes a set of good-quality reflective lights for nighttime safety.
11. Heybike Mars, Best Folding Electric Mountain Bike Under 1000 Dollars For Teenagers And Adults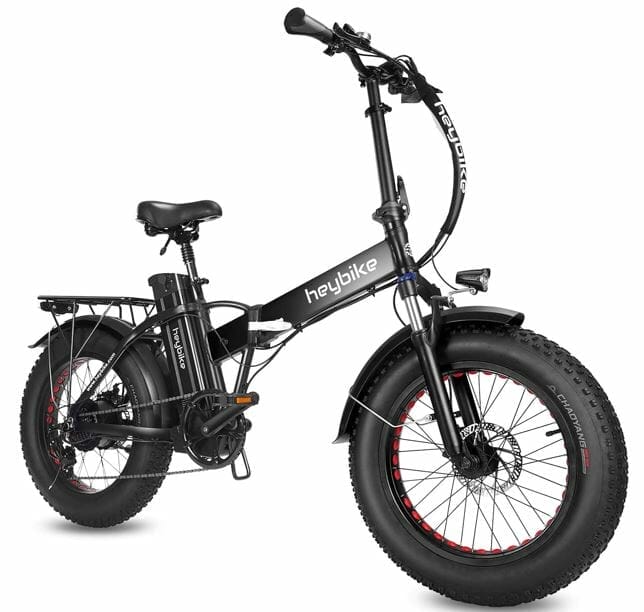 Frame material: Aluminum alloy
Item weight: 66lbs
Max Rider weight: 330lbs
Range: Up-to 20 miles on a single charge
Top speed: 20 mph
Motor power: 500W rear wheel hub motor
Handlebar: Height adjustable handlebar
Battery: 48V,12.5AH li-ion long-lasting removable battery
Tire: 20″*4″ puncture resistance fat tires
Brakes: Mechanical disc brakes
Derailleur: 7 Speed SHIMANO
Warranty: 18 months warranty on manufacturing defect
If you're looking for the best electric mountain bike under 1000 dollars that's also child-friendly, then you can't go wrong with the Heybike Mars E-Bike. With its low-maintenance design and user-friendly features, anyone can start learning about this sturdy nit.
Thanks to its 20-inch rims, the Heybike Mars is the ideal size for young riders and beginners who want more control over their e-bike. Each tire is also 4 inches wide, which makes it easier to balance while adding that extra support in case of rough terrain.
Speaking of rough terrain, the Heybike Mars E-Bike comes with seven gears, so you can shift to the gear that's most ideal for the terrain you're traversing. We also love how the wheels are designed with deep lugs to ensure strong traction regardless of how smooth or rocky the terrain may be.
Safety is also a top priority when the brand came up with the Heybike Mars. It features dual disc brakes to ensure a full stop whenever you have to, and that greatly keeps you away from accidents and injuries. And if it's your first time riding an electric mountain bike, knowing this feature will give you exceptional performance every time you go out for a ride.
Another notable feature of the Heybike Mars is its low-maintenance design. This unit's power lines can be easily disconnected and reconnected, so performing any maintenance work won't be a problem. The rear motor is also electric, which means you don't have to monitor gas and oil levels so often – and that makes it convenient for beginners.
But most importantly, the Heybike Mars boasts an IPX4 water resistance rating. Even if it drizzles unexpectedly in the middle of your ride, you don't have to worry about the system malfunctioning at all.
ALSO READ: Top 5 DYU Electric Bike Review
How to Choose The Best Affordable E-Bikes That Falls Under $1000 Budget
From our list given above, you might be a bit confused about the right type of bike for you.
To dissolve that confusion, we have included this detail buying guide that will show you important factors to consider and actually make you understand the concept behind the factors.
This is one of the most important factors when buying an electric bike for a daily commute.
E-bikes, in general, tend to be a bit heavier than standard bikes. But that doesn't mean that you shouldn't consider this factor.
If you're planning to buy an e-bike, then that obviously means that you want a product that is portable enough for you to carry it everywhere.
The total weight of an e-bike is heavily influenced by the scale of the battery and motor. While a powerful motor would provide more "pizzazz," and a larger lithium battery will extend the range, you must weigh these factors against the bike's anticipated usage.
A hub motor is used on most battery powered e-bikes because it has a few advantages over the fairly common mid-drive motor.
Hub motors are lightweight and don't take up any extra space on the electric bicycle, which is one of the key reasons they're widely used on e-bike. Hub motors may be used in either the front or back tire; front hub motors can negatively impact a bike's handling.
Batteries are often already housed on the frame and non-removable. But having the battery removable is also another alternative.
It offers that you could always recharge your battery anywhere handy when your bike is locked up or stored even in the basement. It is also possible to replace embedded batteries for some models.
Another factor you have to consider is the battery of the e-bike. This will help you determine how far you can travel when running on a full battery.
Most popular e-bikes come with lithium-ion batteries since they are lightweight and are highly rechargeable.
As for the battery's capacity, you have to factor in how often you're going to use it in a day. For leisurely rides, an electric bike with a 36-volt battery will suffice. But if you're planning to use it as a commuting alternative, then you have to go with something that has a 46-volt capacity or higher. That guarantees that you'll get to ride back home without needing a recharge.
Aside from the capacity, you should also consider the charging time. This means that you don't have to wait for a long time just to get to ride the e-bike again. A decent charging time for a $1000 powered e-bike is somewhere between 3 to 5 hours.
4. Pedal Assist System (PAS)
You should also consider whether the bike features a Pedal Assist System or PAS. As its name implies, this feature gives you the extra push whenever you're pedaling, and that results in faster speeds without much effort on your part.
Aside from allowing you to pedal at a more relaxed pace, the PAS also helps prolong the battery life. This guarantees that you'll get to cover more miles, even when you own one with a humble battery capacity.
In some instances, electric bikes come with the cruise control feature. This feature allows you to maintain a certain speed when you're traveling through traffic-free streets, which comes in handy for long-distance travelers. This helps reduce fatigue on your part since you don't have to worry about switching gears often.
To ensure your safety, it's important to look into the braking system as well. Most e-bikes come with either a mechanical disc brake or a hydraulic disc brake. Mechanical disk brakes use air-filled cables, while hydraulic disc brakes use fluid-filled cables. As a result, the former is easier to maintain, making it the best option for beginners.
As much as possible, the braking system should be updated, responsive and powerful to bring you to a full stop to prevent accidents and injuries. That's why it's so important to look into the braking system before you decide to purchase one.
Now comes another essential feature to remember that is the size of the wheel. As you go for a electric bicycle that is supposed to be lightweight so you can carry them as you are on the run, it should have wheels small enough but still giving you the pace.
There are smaller wheels that can run a lot faster than the larger wheels. It also depends on how much you can fold down the bike into.
The majority of folding e-bikes have a 20-inch wheel, which allows them to fold down to a size that will accommodate your car's trunk. Search for a bike with 16 inch wheels if you'd like a much smaller folded kit.
The wheel size you choose would be a personal decision based on your preferences and use.
If you're considering a ride that requires public transit, you'll need an electric bicycle that folds up as compact as possible to fit on packed trains, car trunks or up uncomfortable steps on buses.
An electric bike with an internal battery is convenient in this situation because it won't get in the way of both the folds.
A bike with fewer folding points is simpler and easier to fold, but it will be less lightweight.
Any bike will fall somewhere in this scale of advantages and disadvantages, so there is no wrong or a right response regarding how compact to really go, and the decision is entirely up to you anyway.
Some bikes have a clever arrangement that includes a skate wheel on the rim, which makes maneuvering the folded bundle much smoother.
Again, it's essential to test the electric bike in person to get a sense of the size and ease with which it collapses.
Electric bikes are maintained in the same way as you would have done for your traditional bike.
But due to the technical features and configurations, they might need a bit more extra care than ordinary bikes. So, consider a bike that you can clean and maintain regularly.
You should at a first look if your regular workshop is familiar with your e-bike model so that they can help you any time if you fall into trouble.
Most electronic devices should be charged as well as used regularly, which helps to keep the bike going. So, don't forget to conserve battery charge.
Tires play a big part in the bikes, which is why you should check on a regular basis whether your bike's tires are properly inflated or not.
Lastly, go for a bike that you would actually care for and wouldn't just leave it sitting in the corner for days.
ALSO READ: How To Start An E-Bike Without A Key?
There are also quite a lot of other factors that might not be very important to consider for a basic bike. But your needs might demand these notable features that will exponentially enhance your cycling journey.
A bright LED headlamp is a feature that nighttime bikers should consider the most. This is an outstanding safety feature, and high-end bikes usually have more efficient lighting than lower-end bikes.
Those who are usually delivering stuff for their work or are maybe carrying a few light bags here and there, then pannier racks might be a nice addition to carry cargo. 
E-bikes can also be fitted with a number of pannier racks that you can purchase separately, but you should double-check whether the rack would suit your bike model or not.
LCDs are a bit more tech-savvy feature to have on your bike. These help you keep track of the modes, battery life, speed, and how much you have traveled.
An integrated locking system is another most considered feature if you plan to take your bike to crowded places.
Many bikes include back wheel latches built into the frame, while some have battery locks that can be bolted to fit a separate bike lock.
This way, you can ensure the bike's safety and not be in constant tension about your bike getting stolen.
Frequently Asked Questions
Final Verdict on Folding E-Bikes under 1000 Dollars
Now that we are almost at the end of our article, we hope our extensive research has helped you gain some sort of knowledge about the wide variety affordable electric bikes.
E-bike is an ideal choice for those who are constantly traveling or commuting for work or something else. But the service that a good e-bike offers is enough reason to get one.
So, choose one from our list of the eleven best folding electric bikes under 1000 dollars after you have considered all the factors from the buying guide that we have provided above.
Have fun with your compact device, be it in a daily work ride or a vacation hike.
Posts You Might Also Like