Top 7 Best Helmet For Electric Scooter, Comprehensive Buying Guide-2022
Safety should always be your top priority when riding motorized vehicles like electric scooters. Aside from exercising caution when you ride it, you should also wear the appropriate safety gear to leave you unscathed after every cruise.
Out of all the safety gear out there, the most important one is the helmet. Helmets serve to protect your skull in case of a sudden impact.
They are specially designed with a solid shell and a cushioned interior that works together to keep you safe in case of a sudden fall.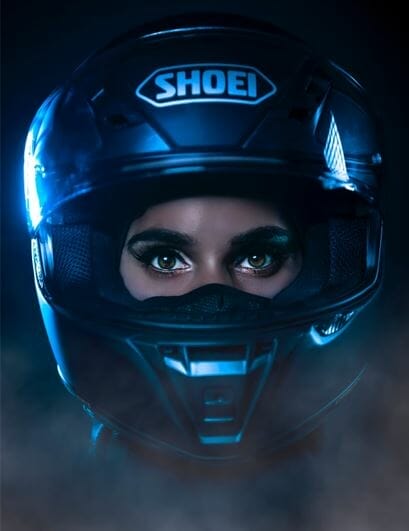 Since the head is a vital part of the electric scooter rider, we can't stress enough the importance of buying a high-quality helmet.
If you're looking for the best helmet for electric scooter, then you came to the right place. There are various types of helmets and  we'll introduce you to seven of the best ones in the market that provides decent head protection, plus a detailed buying guide to help you pick the safest helmet for scooter riding according to your head size.
CHECKOUT: Best Light Weight Folding Electric Scooters, Buying Guide
Best Electric Scooter Helmets Reviews-Our Top 3 Picks
1. Lumos Kickstart Smart, Electric Scooter Helmet With Lights
Visibility is one of the main problems that scooter riders often face, especially if they're riding at night. Fortunately, the Lumos Kickstart Smart Bike Helmet helps improve the rider's visibility while also protecting your head. It is also packed with advanced features and one of the stylish helmets on this list.
Product weight: 380gm
Battery: 3.7v 800mah Lithium polymer rechargeable battery
Wireless: Bluetooth 4.0
Dimensions: (H)5.9″,(L)10.9″,(W)9″
Charging Time: 2 hours
Automatic brake lights
Turn signal capable
Other features: Apple watch, Apple health, Strava compatible and adjustable strap
This weatherproof helmet is built with an impact-resistant polycarbonate shell to make sure that your skull won't suffer from a head injury. This is paired with an EPS foam liner that provides comfortable cushioning on your head while also ensures extreme protection. Both of these features work together to keep your head safe from harm.
The Lumos Kickstart Smart Helmet comes in a one-size-fits-all design, but its adjustable retention system securely keeps it on your head. By simply turning the dial, the helmet adjusts to your size to guarantee a snug fit.
But what caught our attention was its promise of 360-degree visibility. And fortunately, this helmet exceeded our expectations with its 500 lumens of lighting and lightweight design.
The Lumos Kickstart Smart Helmet is built with 10 white front lights and 36 red rear lights which greatly improve your visibility. This smart helmet can sense when you're slowing down, and it activates all the red rear lights to warn those riding behind you that you're coming to a stop.
These lights can also serve as signal lights to inform riders behind you if you're about to make a turn. You can easily turn this feature on by using a remote or by doing hand gestures, but the hand gesture option is only available if you're using an Apple Watch.
We also love that the Lumos Kickstart Smart Helmet offers sophisticated connectivity features that allow you to connect to various apps to improve your riding experience. You can even sync your data to keep track of your progress.
Overall, this item is perfect if you're looking for an electric scooter helmet with light, which provides decent protection. It can certainly improve your visibility while still looking stylish and cool.
ALSO READ: Best E-Scooters Under $1000, Buyers Guide
2. Bell Custom 500, Best Open Face Electric Scooter Helmet
If the Lumos Kickstart is too flashy for you, then you might prefer the more modest appeal of the Bell Custom 500 Helmet. But even with its vintage design, this open-face helmet can fully protect your entire head with its tough exterior – and without sacrificing comfort.
Product weight: 3.5lbs
Safety certifications: DOT Certified
Shell construction: Low-profile fiberglass composite
Shield system: After market shield available
Interior: Genuine leather, Antibacterial, Antimicrobial
Chin Strap: Padded with with D ring closure & Strap keeper
Sizes: variety of sizes available
This Bell 500 helmet has a tough outer shell that's made from fiberglass that's perfectly molded into shape. This material is known for its resistance to impact while still being lightweight. The lightweight nature of glass fiber reduces the fatigue around your neck so you can wear it comfortably for hours. It also ensures extreme protection.
Speaking of comfort, the Bell Custom 500 Helmet uses a multi-density EPS liner for maximum cushioning and shock-absorption. This liner also has anti-microbial properties, so you shouldn't worry about feeling sticky even after a long ride on a hot day.
Also, the leather interior is removable, washable, and has antibacterial properties. This keeps the interior hygienic and clean for your next use. Doing so will certainly help with the longevity of your helmet.
And while we're talking about personalization, the Bell Custom 500 Helmet comes in 13 eye-catching designs. You'll surely find one that best reflects your personality. Also, you can choose from 7 size options ranging from extra small to double extra large. This guarantees that you'll find the helmet that will snugly wrap itself around your head.
With its impressive glass fiber construction, internal padding and comfortable weather resistant EPS foam linear, there's no doubt that the Bell Custom 500 Helmet is one of the best open face electric scooter helmet in the market.
ALSO READ: Best Electric Scooters For Teenagers
3. ILM Off-Road Dual Sport, Electric Scooter Helmet With Visor
For those who prefer an full-face helmet which passes all the necessary safety standards, then you might want to check out the ILM Off Road Helmet for scooter riding.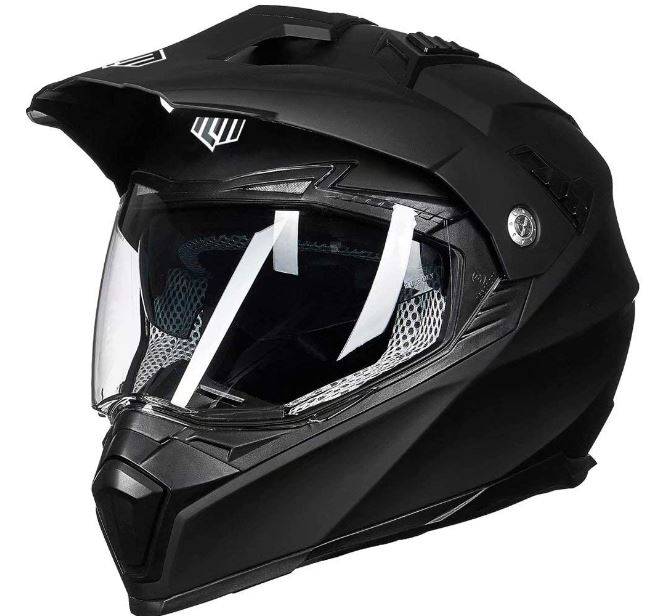 Product weight: 4.84lbs
Safety certification: DOT Certified
Material: Injection Molded ABS Shell
Removable and replaceable sun visor and lenses
Ventilation System: Airs Vents on the Top and Front of the Helmet
Interior: High Density EPS Foam, Antibacterial, Antimicrobial
Sizes: all sizes available
This DOT-approved helmet is designed for use in multiple ways. Aside from being a full-face helmet, you can also use it as a rally helmet and an off road helmet for different riding activities. This guarantees that the materials used are sturdy and reliable.
The inside of the ILM Off-Road Motorcycle Dual Sport Helmet has a mesh lining and extra padding that serves as a thick cushioning to reduce the impact in case of a fall. But even if it is lined thickly, we love that it still feels cool even after riding under the sun for hours. And since the lining is removable, you can take it out to have it cleaned after the ride to keep things hygienic.
But perhaps the feature that had us most impressed is its sophisticated Aerodynamic Air Intake System, which draws in the fresh air and pushes it inside the helmet to replace the hot air. This effectively keeps your head cool, so you will feel fresh and clean throughout the ride.
Also noteworthy is that the ILM Off-Road Motorcycle Dual Sport Helmet has a dual-visor design. Its inner tinted visor keeps the sun away from the rider's eyes to help you keep your eyes on the road.
To ensure maximum sun protection, you can rotate the visor so that it faces the direction of the sun..
On the other hand, the outer visor offers a high-definition wide-angle lens to provide you with a better field of vision. This increases your peripheral vision to help you maneuver better and avoid possible accidents even if you are riding at a maximum speed.
All things considered, the ILM Off-Road Motorcycle Dual Sport Helmet is a top runner for the best helmet for electric scooter with visor because of its durable construction and excellent value for the money. If you love multiple sports activities, this is the perfect multi-functional helmet.
CHECKOUT: Best E-Scooters For Kids reviews
4. Giro Switchblade MIPS, Best Electric Scooter Helmet For Adults
For the stylish scooter riders, we believe the Giro Switchblade MIPS is the best e-scooter helmet for extra protection. With its lightweight design and cool features, this off road helmet will keep you safe without sacrificing your smooth ride.
Product weight: 1.1lbs
Sizes: S,M,L
Construction: In-mold construction
Ventilation: 20 vents with internal channeling wind tunnel
Removable chin-bar
Sun visor: Spare visor With camera mount
Anti-bacterial anti-microbial padding
Safety certification: Certified to CPSC safety En-1078 and ASTM-1952
Thanks to Giro's state-of-the-art engineering, the brand has perfected a modular helmet that offers unparalleled protection and comfort while still making the rider look good.
It uses a durable polycarbonate material for that's formed with in-mold construction. This guarantees a solid outer shell that can greatly resist impact. This is fused with its shock-absorbing foam liner, so you'll enjoy a lightweight helmet with a toughness that's second to none.
The hydrophilic padding on the Giro Switchblade MIPS off road helmet absorbs moisture that's up to 10 times its weight, leaving you dry and feeling clean all day. The X-Static lining also has antimicrobial properties, so you don't have to worry about bad odor after a sweaty day of riding.
This electric scooter helmet for adults also has an impressive ventilation system. It comes with 20 vents and a sophisticated internal channeling wind tunnel that allows the air to circulate, leaving you feeling cool after a long ride. The Roc Loc DH air fit system also works to let the air freely pass over the head to push the hot air away. It also has cheek pad ventilation for added comfort.
All helmets from Giro come equipped with the Multi-Directional Impact Protection System or MIPS, which effectively reduces the rotation force to reduce the effects of the impact.
5. Lumos Matrix Smart, E Scooter Helmet
Lumos matrix is another top contender for the best electric scooter helmets for adults and teenagers. With its highly customizable design, you'll surely enjoy the ride with this helmet .
Product weight: 580gm
Inner material: Expanded Polystyrene
Outer material: Acrylonitrile Butadiene Styrene
Battery: 3.7v 1800mah Lithium polymer rechargeable battery
Wireless: Bluetooth 4.0
Dimensions: (H)7″,(L)10.6″,(W)8.2″
Charging Time: 5 hours
Automatic brake lights
Turn signal capable
Other features: Apple watch, Apple health, Strava compatible and anti-bacterial protection
At first glance, you might think that this is just an ordinary cycling helmet. But once the LED lights are switched on, you'll be in awe of what this open-face helmet has to offer.
Boasting a total of 1000 lumens of lighting at eye level, the Lumos Matrix Smart Urban Helmet is built with 22 front lights and 77 rear lights. This promises 360-degree visibility, so you wouldn't worry about riding at night anymore.
The rear lights on this helmet are arranged in a dot matrix display panel that you can customize. This will allow you to display your desired pattern, message, or symbol to make the ride more fun. You can also turn these lights into signal lights with the help of the Lumos Remote or an Apple Watch.
As for the materials used, the Lumos Matrix Smart Urban E-Scooter Helmet uses an impact-resistant ABS shell that's paired with a comfortable EPS foam core. The design is also water-resistant, so you know it's meant to protect you from impact and other external factors.
HERE IS ANOTHER BUYING GUIDE: Best Electric Scooters For Heavy adults
Here is a video of Lumos Matrix, Best helmet for scooter riding
6. S-One S1 Lifer, Open Face E Scooter Helmet For Adults
For the e-scooter riders that offers the most adequate protection, color and sizing options, and ensures a comfortable ride then look no further than the S-One S1 Lifer Helmet.
Helmet weight: 0.8lbs
Certification: CPSC and ASTM certified
Inner material: Expanded Polystyrene
Outer material: 

Specially formulated EPS Fusion Foam

Size: all sizes available
Visor: After market visor available
Color options: Wide range of colors available
Helmet safety certification: ASTM and CPSC-certified.
To guarantee maximum safety, this e lightweight helmet uses EPS fusion foam for its core. This offers better impact-absorption that helmets using soft foam, so you're sure that your noggin is safe and well-protected.
The S-One S1 Lifer Helmet also boasts being certified by both the ASTM and the CPSC, so you know that it is made with top-quality materials and construction for extra safety. It protects users from both low and high impact and promises to be 5 times more protective than its competitors. Thus, you can ride with peace of mind when you're using this helmet.
This open face e-scooter helmet for adults has strategically-located vents that help improve the airflow – and this keeps you feeling fresh and cool, even when you're riding under the intense hot weather.
We also love that the S-One S1 Lifer Helmet is incredibly lightweight. This will prevent riders from feeling fatigued, so you can enjoy the ride for longer periods.
Despite its minimalist design, the S1 Lifer boasts the most number of color schemes for you to choose from. You can choose from 39 color schemes and patterns, so it's impossible to not find the helmet that best reflects your personality and style.
And finally, the S-One S1 Lifer Helmet comes in 7 sizes, so you don't have to worry about the fit, either.
7. Triple Eight Dual Certified E-scooter And Skateboard Helmet
If you're looking for an affordable best electric scooter helmet, then you might want to check out the Triple Eight Dual Certified youth multi-sport helmet. Despite its affordable price tag, its features are similar to the expensive ones.
Helmet weight: 1.8lbs
Safety standards certifications: CPSC & ASTM certified
Inner material: EPS
Outer material: ABS
Fitting system: EPS foam linear
Padding material: Sweat-saver fit pads
Available sizes: XS/S, S/M, L/XL
Color options: Various colors available
Anti-bacterial protection
This durable open-face affordable helmet is made from an ABS shell that's coupled with an EPS foam liner. These two materials work together to provide you with impressive impact absorption, so you know you're safe and protected.
Additionally, the Triple Eight Dual Certified Bike and Skateboard Helmet comply with the standards set by the CPSC for bike helmets, so you know that it's for heavy-duty riding. Aside from your electric scooter, you can also use it for biking, skateboarding, or rollerblading.
To guarantee the best fit possible, it comes with two different Sweat-saver Fit Pads, so you can use the one that makes the most snug fit. The chin strap is also adjustable, which ensures that the helmet is securely hugging your head for maximum protection.
The Sweat-saver Fit Pads on this decent helmet has impressive moisture-wicking properties, so you will feel dry and clean throughout the ride.
We also love that the Triple Eight Dual Certified Bike and Skateboard Helmet comes with well-positioned vents to help improve the airflow from inside the helmet. This will help keep your head cool, so you will feel comfortable even when you're riding your scooter in the summer.
Overall, the Triple Eight Dual Certified Bike and Skateboard Helmet is a good quality helmet for scooter riding that offers great value for the money. It also boasts having the perfect fit, so you know it won't be thrown off easily in case of a high-impact crash – and that guarantees that your head is fully protected.
How To Choose The Best Electric Scooter Helmet- Buying Guide
Now that you've read our best electric scooter helmets reviews, we understand that some of you may still find all the information overwhelming. To help you gain a deeper understanding of the different types, here is an informative buying guide for you.
ALSO READ: Everything You Need To Know About E-Scooter Brakes.
1.Half Helmets vs. Full-Face Helmets
In general, there are two main types of helmet designs: half-helmets and full-face helmets.
Simply put, half helmets merely protect the upper portion of your skull, which is the most vital part of your head. On the other hand, full-face helmets protect the entirety of your head from injuries.
Half helmets are recommended if you're riding in low-risk areas such as parks, public roads or if you're simply cruising around the neighborhood. On the other hand, you should wear a full-face helmet if you will use your electric scooter as a commuting substitute – especially if you plan to drive it at speeds exceeding 20 mph.
CHECKOUT: Best Electric Scooters With Removable Battery Reviews
2.Materials for Outer Shell
The materials used on the electric scooter also plays an important role in keeping you protected.
For example, helmets need a durable outer shell that serves as the first line of defense in case of a crash or fall. Common materials used for the outer shell include ABS, polycarbonate, fiberglass, butadiene styrene and carbon fiber.
Out of these materials, carbon fiber offers the most protection while remaining incredibly lightweight. However, carbon fiber is the most expensive material for modern helmets.
Aside from a durable outer shell, the perfect e-scooter helmet should also have impressive internal cushioning.
The most common material used for the inner part of the helmet is EPS foam, mainly because of its impressive shock-absorbing properties. This will prevent you from feeling the impact, even in case of a nasty fall.
The cushioning works hand-in-hand with the lining. The lining is usually made of padded material for added comfort while also offering moisture-wicking properties to keep the sweat off your head. Thus, this leaves you feeling dry and fresh all day.
And finally, you must look for a helmet, which ensures proper ventilation. The vents at the top area are not just for aesthetic. These vents are responsible for improving the flow of air from the inside of your helmet so that the hot air is replaced by fresh air.
This keeps your head cool, so you'll surely feel comfortable even if it's too hot outside.
ALSO READ: Yume Y10 E-Scooter Review
When looking for the perfect helmet according to your head shape, you have to make sure that it wraps around your head comfortably and securely. It shouldn't be too tight because that could cause much discomfort, and it shouldn't be too loose because it might fall off your head upon initial impact – and that leaves you with no protection when you fall.
Fortunately, looking for the perfect size is easy. All you have to do is wrap a tape measure around the widest part of your head and take note of the circumference. 
Now, take note of the measurement of your head circumference and consult the size chart below.
| | |
| --- | --- |
| Helmet Size | Head Circumference |
| Small | 21.5-22 inches |
| Medium | 22-22.5 inches |
| Large | 22.5-23 inches |
| Extra Large | 23-23.5 inches |
| Double Extra Large | 23.5-24 inches |
However, bear in mind that this size chart is a mere generalization for adult riders. For the most accurate fit, we still recommend looking into the manufacturer's specific size chart. This is especially true if you're looking for child-friendly helmets.
ALSO READ: Best E-Scooters Under $400, Buying Guide
Electric Scooter Helmet Law
Once riders become over 16, they are legally eligible for riding an electric scooter in most of the state of America. And using helmets is legally required for riders under 18 on public roads. When they become over 18, there will be no law for wearing safety gear while riding on an e-scooter.
However, no government law would suggest you to not wear a helmet while riding. Here are the States where wearing a helmet is required for riders and their ages in the United States:
California — To ride over an e-scooter you must have a driving license. Using a helmet is a must for riders under 18.
Connecticut — In this state, you must wear a helmet if you are under 16.
Delaware — If the rider is under 16, they must maintain the law of wearing a helmet.
Massachusetts — Driving license, wearing a helmet, and giving audible signals while passing people is a must.
Minnesota — To be eligible for riding on an e-scooter, riders must be over 12 and wear a helmet till they become over 18.
New York — In NY, you need to be over 16 to ride on electric scooters, and wearing a helmet is a must for riders under the age of 18.
North Dakota — Riders must wear a helmet while using an electric scooter if they are under 18.
South Dakota — Driving license and wearing a helmet if they are below the age of 18 is legally required.
West Virginia — Whether you ride a bicycle or an electric scooter, if you are under 15, you must wear a helmet.
CHECKOUT: Pros And Cons Of Electric Scooters
FAQ about Scooter Helmet for kids , teenagers and adults
Final Thoughts On E Scooter Helmet
To conclude, the best helmet for electric scooter should have impressive impact-absorption while still keeping you comfortable and feeling clean. All of the items on our list offer that protection, so choosing the perfect one for you will depend on your riding preferences.
For the adventure-loving adult riders, the heavy-duty protection from the Lumos Kickstart Smart Bike Helmet will surely suit your taste. On the other hand, if you prefer nighttime cruising on the city streets, the impressive visibility offered by the Lumos Matrix Smart Urban road Helmet is perfect for your extra safety.
For the rider who loves speed, you might want to consider the full-face protection from the stylish Giro Switchblade MIPS Adult Dirt Cycling Helmet. All its premium features will make you feel safe while you enjoy the ride. But if you want full-face protection for half the price, the ILM Off-Road Helmet is your best bet.
Posts You Might Also Like