Top 12 Best Off Road Electric Skateboard/Longboard That Can Handle All Types Of Terrain-2022
Do you want to take your electric skateboarding journey to a new dimension?
Then it's time to get your hands on the best off-road and all terrain electric skateboard. Off-road skating isn't as easy as it sounds. It comes with tons of challenges and perks. However, with the right skateboard paired up with some skating skills, you'll surely rock the ride.
Your off-road journey will include rough terrains with low center of gravity. It's not an easy task to find an electric board that's awesome enough to handle all these heavy beatings. We have carefully scrutinized the market and after many trials and errors, we have made our picks for the best off-road all-terrain electric skateboard.
Our Top 3 Picks: Motorized Off Road Skateboard
GET 5% DISCOUNT USING COUPON CODE "NEWAGEACTIVITY"
GET 12% DISCOUNT OFF USING COUPON CODE "NEWAGEACTIVITY"
GET $10 DISCOUNT OFF USING COUPON CODE "NEWAGEACTIVITY"
1. Backfire Hammer Sledge, Best All Terrain Electric Skateboard Review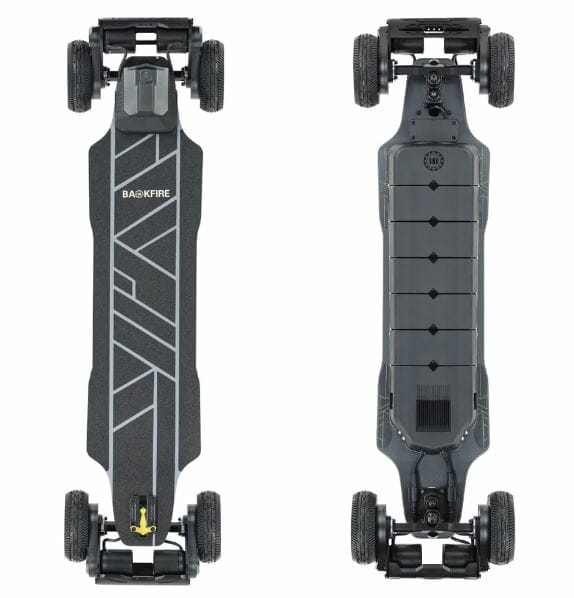 Skateboard's weight: 29.7lbs
Deck: Flexible dropdown deck
Top Speed: 31mph speed
Max load capacity: 240lbs
Charge Time: 4-5 hours
Motor: 1600W X 2 High torque dual belt drive motors
battery: 50.4V 820Wh Lithium-ion flexible battery pack
Tires: 6 Inch heavy duty pneumatic Tires
Range: Up-to 31 miles on a single charge
Riding modes: 3 (Eco, Sport and Turbo)
Waterproof certification: IP55 
Max incline: 30%
Trucks: 10″ Front and rear double kingpin trucks with extra thick axles
Backfire Hammer Sledge All Terrain Electric Skateboard is an innovative product that comes with two belt driven motors, one on each rear wheels. Given the motor power of 3200 watts, the top speed this electric skateboard can acquire is 31 miles per hour. Which makes it the fastest electric board in this list.
If you want a unique design, charming looking and highly customizable remote control electric skateboard, Backfire Hammer Sledge is the perfect choice in today's saturated market. The flexible dropdown deck is robust that makes it best for rough and challenging outdoor activities.
This dual motor electric longboard has a maximum weight capacity of 240 pounds. If you are looking for a unit that gives the best off-road performance and reliability, then you are in the right place. Also, note that Hammer has large robust and well-built pneumatic tires and high ground clearance.

Some electric skateboards have issues while making turns, but with two belt motors on each rear wheels in Backfire Hammer's turning radius is astounding, you won't face any trouble while doing so. This e-board comes with a remote which you can use to control the speed, acceleration and braking.
Backfire uses the best quality honeycomb style airless pneumatic tires that come with a sturdy grip, makes it suitable for gravel, dirt and forest trails. This product is your ideal fun package if you are looking for a best of both worlds electric skateboard with extreme adventure.
ALSO READ: Are electric skateboards worth it?
2. Onlyone O2 Plus, Dual Motor Skateboard with Remote Control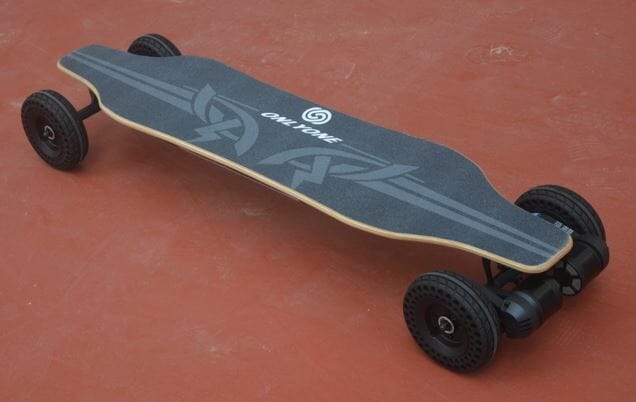 Skateboard's weight: 22.05lbs
Deck material: 6 layers of northeast maple and 2 layers of bamboo
Deck length: 41 inches
Max speed: 25mph
Max weight capacity: 330lbs
Maximum range: Up-to 20 miles on a single charge
Motor: 1650W dual bet drive motors
Battery: 37V,7.5AH Li-Ion
Wheels: 6″*2″  inches off road honeycomb style rubber wheels 
Working modes: 3 (Slow, Medium and fast)
Braking system: Electronic regenerative brakes
The most alluring skateboard by Onlyone is this model with a robust characteristic. The design is fascinating, and the body is strong that can withstand any rough surface.
With the remote provided with this product, you can control the speed as your wish. It has dual best drive motors with 3300 watts of power and can give you lightning fast acceleration and the highest torque on off-road trips.
The wireless remote control that we talked about earlier is easily rechargeable, helping you speed, switch, easy forward, and brake. There is also a battery indicator along with this wireless remote control.
Talking about the speed, Onlyone O2 Plus all terrain Electric Skateboard has a top speed limit of 25 miles per hour while it's on a full charge. The body is claimed to be sturdy and secure for the 8-ply maple and bamboo deck that can hold up to 330 pounds of weight. 
The O2 Plus all-terrain electric skateboard has robust and well-built  pneumatic tires that have a firm grip and fantastic control, make it stride over on any surface. You will get a one-year warranty, and each of the boxes will include assembling tools for you. Overall, this electric skateboard is a perfect choice for you to look for a thrilling off-road experience. 
ALSO READ: Best Electric Skateboard Under $500
3. Vestar Black Hawk 2.0, All-Terrain E-Longboard

Board's weight: 26lbs
Deck: 38 inches, 9 layer of maple wood and 2 layers of bamboo deck
Max range: Up-to 35 miles range
Max speed: Up-to 27 mph top speed
Maximum load capacity: 330lbs
Riding mode: 3 riding modes 
Braking: 3 braking modes 
Motor: (2*2000W) belt drive motors
Max Climbing Grade: 30%
Battery size: 36V,15 Ah Li-Ion 10S4P Battery
Charge time: 3-4 hours
Remote: Ergonomically designed 2.4 GHz wireless R3 OLED
IP rating: IP65
Wheels: 165mm X 55mm honeycomb style solid rubber wheels
If you are a bit overweight or you like to carry heavy bags, this might put pressure on your skateboard in the long run. Because of the added weight, your skateboard's speed will decrease as well.
This Vestar Blackhawk 2.0 E-skateboard supports rider weight of up to 330lbs. That's not all. It can maintain its speed even if you exceed the maximum weight limit. This is great, considering it weighs only 26 lbs.
It has a 9 layer of Canadian maple wood and 2 layers of bamboo deck. The double drop-down deck is a charming thing to have because it will help you lock your feet in place when accelerating or braking. Overall, a solid deck.
You get a great smooth ride with a Hobbywing ESC. The acceleration and braking curves are extremely steep. This ESC uses double-drive sine waves to provide a comfortable ride, and the brake system is regenerative, allowing energy to be recovered while braking and reducing power consumption.
The wheel size is 165mmx50mm. This is more than enough for off-road riding. When you switch from a road to a grassy surface, the transition is handled super smoothly, thanks to the sets of wheels.
They will also handle rainy terrain pretty fine because of the grippy nature of the wheels.
You can travel from 30 miles to 35 miles on a single charge. That's great, considering how flat the battery is. It takes about 4 to 5 hours to fully charge it with the included charger.
So, if you like to ride your skateboard regardless of the weather or terrain and want the best possible acceleration and grip, the Vestar Blackhawk 2.0 All-Terrain longboard will be your best bet.
ALSO READ: Vestar V2 Pro classic e-board review
4. Raldey AT V3S, Off road powered skateboard for all types of terrain
Skateboard's weight: 23.5lbs
Deck material: 8ply of Canadian maple wood
Deck length: 40.6 inches
Max weight capacity: 265lbs
Maximum range: Up-to 28.5 miles range
Maximum speed: 24 mph
Motor: (1500*2 belt drive) powerful dual motors
Battery: 42V, 14Ah SANYO GA
Charge Time: 4 hours
Wheels: 6.5 inch explosion proof all terrain wheels
Wheel material: Solid rubber
Brakes: Electronic regenerative braking system
Max slope: Up-to 30%
Trucks: Double kingpin trucks
Riding modes: 4 riding modes
The Raldey AT VS3 is another name that comes to mind when it comes to the best off road electric skateboard. With its minimalist aesthetics, we didn't expect a lot from this board. But when we finally tested it out, we were quite surprised by how well it performs.
Thanks to its dual-motor design, two 1500-Watt motors work together to take you to your destination faster. It can reach a top speed of up to 28.5 mph, which is quite impressive for a skateboard. For the thrill-seekers out there, the Raldey AT VS3 might just be the right one for lightning fast acceleration.
Because of its powerful motor, this electric skateboard can also work its way uphill, as long as it has a maximum incline of 30%. If you love exploring uneven terrain, this feature will surely make the experience more memorable.
Aside from its motor, the Raldey AT VS3  All-Terrain Electric Skateboard also comes with a praise-worthy battery. It features the Sanyo 10S4P, which allows it to cover a maximum range of 19 miles. This is impressive since other electric skateboards can only cover around 10 miles.
As for the truck, the AT VS3 features a customized truck that can be adjusted according to the rider's preference. That allows you to ride it more comfortably, which also makes you feel more confident.
The Raldey AT VS3 All-Terrain longboard comes with a durable 8-ply canadian maple deck that offers unmatched shock absorption. Even if you're riding on rough terrain, you will barely feel anything.
And finally, the AT VS3 comes with explosion-proof robust and well-built honeycomb tires. Aside from the added safety, these tires offer great traction regardless of the floor surface. Accidental slips are a thing of the past with these wheels.
Overall, the Raldey Vs3 AT all-terrain electric longboard offers stability, safety, and superior performance. While it comes with an expensive price tag, it is justified by all its impressive features.
5. SKATEBOLT Tornado, Affordable Off Road Electric Skateboard
Skateboard's weight: 19lbs
Deck: 8 layers of maple
Max Range: 18-20 miles on a single charge
Max weight capacity: 264lbs
Max Speed: 28 miles per hour
Wheel size: 110*67 mm interchangeable wheel
Motor: 450w dual powerful hub motors
Battery: 7500 MAH Samsung 30Q lithium-ion
Hill Grade: 30%
Braking: 4 brake modes 
Riding modes: 4 ( Low, Medium, High and professional )
Waterproof rating: IP67
Warranty: 90 days
Lights: Bright LED tail light
When we look for longboards, it is often perplexing to choose the perfect one for all kinds of terrain. Regular longboards are not suitable for people who prefer to ride almost every time on a longboard.
Skatebolt longboards are different in the market that will give you high performance on variety of surfaces, be it your neighborhood, campus area, or any rough grounds. 
Most of the time, making turns on regular longboards is difficult, and often we lose control and fall. But with Skatebolt Tornado All Terrain Electric Skateboard , you can make swift turning without facing any problem.
The 450watt dual brushless motors provided with this product do the work precisely. It also has 110*67mm all-terrain wheels that ensure complete grip over rough surfaces. The great wheels will also ensure a top-notch speed with less push than usual.
Now, talking about the deck, Skatebolt Tornado has a robust 8 layers of maple construction perfect for safe standing and a comfortable ride. Astoundingly, it has a double drop down deck that keeps the center of gravity low, making it less stressful while pushing the awesome e-board. Skatebolt Tornado is commendable for its cost-effectiveness. It is also a top choice for beginners. 
ALSO READ: Skatebolt Brisk Review
6. Maxfind FF Plus, motorized off road skateboard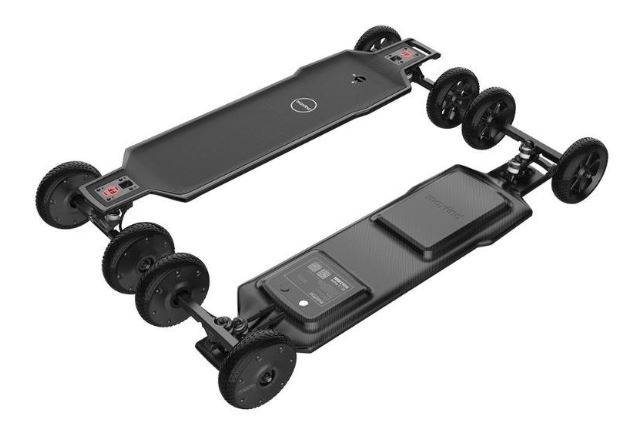 Skateboard's weight: 24lbs
Deck material: Super Flex PPS + Glass Fiber(carbon fiber coating)
Deck length: 96cm
Max weight capacity: 220lbs
Ground clearance: 4.7 inches
Maximum range: Up-to 30 miles
Top speed: Up-to 24 mph
Motor: (1200*2) 2400W Hub motor
Battery: Samsung 6AH,36V Li-Ion
Charging time: Up-to 3 hours
Riding modes: 4 safe riding modes
Wheels: 6.5 inch all terrain honeycomb rubber wheels
Braking system: Electronic regenerative brakes
Hill climbing ability: Up-to 35%
When it comes to looking for the best off road electric skateboard, the Maxfind FF Plus All-Terrain Electric Skateboard instantly comes to mind. Since Maxfind is one of the most trusted brands in the market, we have a lot to expect from this awesome e-board – and we're happy that it meets all expectations.
Since we're looking for an all-terrain skateboard, the board's construction is of utmost importance. The FF Plus has a notable ground clearance of 4.7 inches, which is quite impressive. You don't have to worry about working your way through a rocky field with this unit.
For its deck profile, Maxfind uses a combination of Super Flex PPS and Glass Fiber to deliver that unmatched elasticity. As a result, it moves with you as you work your way through any terrain. That makes it extra fun.
This Super Flex material also offers excellent shock absorption, so you barely feel any vibrations throughout the ride. So even if you plan to go on long cruises, you won't feel any tension in your feet or legs.
Aside from the deck, the Maxfind FF Plus also comes with double-kingpin truck. This feature offers better stability on rough and uneven roads, thereby reducing the chance of accidents along the way.

As for the wheels, it uses 6.5inch honeycomb rubber tires with deep lugs. These lugs offer better traction than most wheels, so you can safely navigate through any types of terrain. Whether you're riding on asphalt or sandy areas, you don't have to worry about accidental slips.
Another notable feature of the FF Plus is that it comes with a replaceable Samsung 6.0Ah 42-Volt battery. This fast-charging battery allows it to cover a maximum distance of 10 miles, which is great for leisurely cruising.
If you want to travel longer distances, swapping the battery can be done in 10 seconds! And to get the best value for the money, you can get an extra battery worth $249 if you buy directly from their official website. That's quite a deal.
READ MORE: Maxfind Max One Review
7. KYNG 40", Best budget off road e-board
Skateboard's Weight: 14lbs
Deck: 8 layers of maple wood and 2 layers of bamboo
Motor: 1650W Brushless DC (Belt Drive)
Max rider weight: 325lbs
Max Speed: 25 miles per hour
max Range: 15 miles on a single charge
Charging time: 2 -3h ours
Hill Grade: 12 %
Batteries: 42V 11Ah li-ion 
Brakes: electronic regenerative
Wheels: all terrain pneumatic wheels
Nowadays, slim-line design skateboards have become very popular in the market. KYNG 40″ Electric Longboard is most probably the best cheap electric off-road skateboard in the market. The deck is measured to be only 0.8 inches thick.
With this thickness, it is quite impossible to think that the main battery is built inside the board. It is to mention that thick deck cannot ensure full safety.
KYNG 40 inch budget electric Longboard have two 825W powerful motors and can speed up to 25 miles per hour. That's a great feature in the case of an cheap electric longboard, but it can do the job efficiently for which it had been designed.
One of the prime reasons for which people are very inclined to this product is its more affordable price in the market. With less cost, you can get more than you have paid. It has a beautiful outlook which is probably one of the best things about this skateboard.
This cheap electric skateboard has a speed indicator, a battery display, two-speed settings, and a Remote. This skateboard looks like a non-electric skateboard by appearance. For KYNG electric skateboard being lightweight, it is very suitable for teenagers who want to learn to board. Overall, it's a top pick in the market.
DON'T MISSOUT: Best Cheap E-Boards Under $200
8. Jking Jupiter-01, all terrain electric skateboard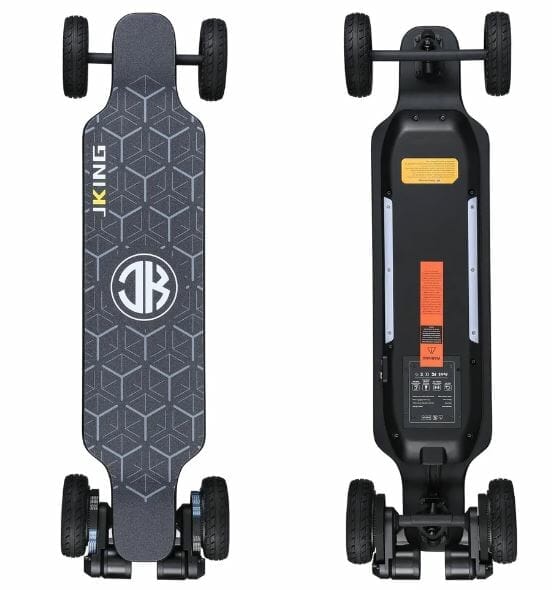 Skateboard's weight: 21.6lbs
Deck material: 8 layers of maple wood and 2 layers of bamboo deck
Deck length: 42 inches
Maximum rider weight: 330lbs
Ground clearance: 4.7 inches
Max range: Up-to 18 miles per charge
Top speed: Up-to 24 mph
Motor: (900*2) belt driven powerful dual motor
Battery: 7.5AH,36V Li-Ion battery
Charging time: Up-to 4 hours
Riding modes: 4 safe riding modes
Wheels: 200×50mm pneumatic tires
Brakes: Electronic regenerative braking system
Trucks: Reverse kingpin trucks
Max hill climbing ability: Up-to 22 degrees angle
Before we start, let's ask you a quick question. What do you want in an electric board?
You might say big battery, moderate to high speed, sturdy body, decent price range and something that can easily be used. Keeping those in mind, we bring you the Jking Jupiter-01.
You get 4-speed modes with this skateboard. The slow mode is ideal for beginners. It is a stalling speed. The next mode is medium. In this mode, the skateboard can go up to 13.5mph max. The 3rd mode can hit speed of 18mph.
Finally, we get the fast mode. This is for the pros who love speed. You can go up to 24mph. This E-board can climb up 22-degree angle roads.
The double drop deck is made out of 6 layer maple and 2 layer bamboo. If that wasn't enough, it could handle heavy weight of up to 330 pounds easily. The deck also has an amazing looking premium grip tape helps you to keep you feet in place and ensures amazing balance.
The only major drawback we could find is that the wheels are not designed for slippery surfaces such as wet or icy roads. So, we suggest not taking it out in rainy or snowy weather.

It has a 7500mAH battery which is enormous considering the price of this remote control electric skateboard. But because it is enormous, it takes about 4 hours to juice it up entirely. It has a cruising range of 18 miles.
So, if you are a beginner who needs lots of safety features and stylish looks then the Jupiter-01 is the "only one" you will ever need.
ALSO READ: Jking Jupiter 02 E-Board Review
9. RALDEY CARBON AT V.2 Off-road electric skateboard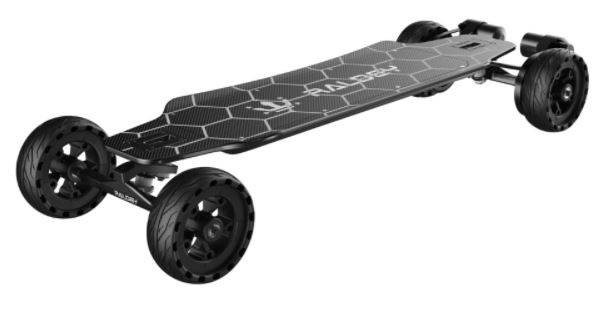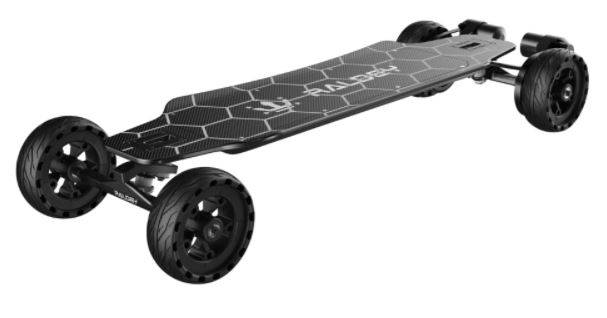 Board weight: 23.5lbs
Deck: 38.5 inches 100% Japanese T700 carbon fiber
Max range: Up-to 19 miles
Max speed: Up-to 28.5 mph (with 195mm wheel option)
Max weight: 265lbs
Riding mode: 4 riding modes 
Braking: 4 braking modes 
Motor: (2*1500) belt driven motors
Hill Grade: 30%
Battery: 42V,14 Ah Li-Ion 10S4P Battery
Charging time: 3-4 hours
Remote: Ergonomically designed 2.4 GHz with LCD display
Trucks: Double kingpin trucks
Cruise control: Not available
The high-spec features and the solid design of the Raldey AT-V2 Electric Skateboard will ensure that you have a smooth off-road ride. This board's (1500*2)3000W dual belt driven motor is able to carve in grass, dirt, or mud and you can also enjoy a high-speed ride downhill. The remote controlled braking system works like a charm when you're going downhill.
The board is quite lightweight and it weighs only about 23.5 lbs. The double drop deck of the board is constructed with 100% Japanese T700 Carbon fiber to absorb vibration and provide great stability during rides. The PHT graphic makes the board highly attractive and gives an aesthetic touch to it. It features 195mm/165mm airless honeycomb style solid rubber tires with all-terrain skate trucks. The larges are the signature feature of Raldey AT-V.2 Electric Skateboard as they offer superior comfort during the rides.
It also includes 4 types of different riding and braking modes that ensures that it will stay put no matter how rough the terrain is. The honeycomb style solid rubber tires which sits on 10″ double kingpin wide trucks makes it an excellent choice for entry-level riders as they can have better control of the board.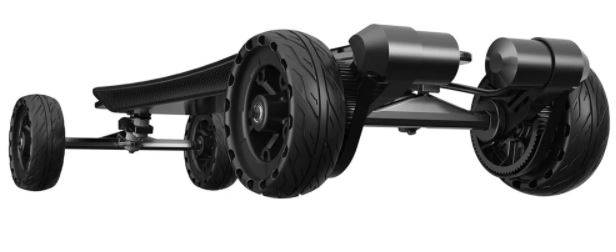 The removable battery is the most impressive feature of this motorized off-road longbord. Most of the boards in the market doesn't have this option. If your board's battery needs to be changed, you can easily change it yourself by removing the screws under the deck without any professional help.
The AT-V.2 comes with a new honeycomb design foam grip tape that helps the rider have the ultimate balance on the board. The axles are placed at the tip of the board that helps to absorb the shocks from the impact, which ensures comfortable riding experience on rough terrain.
DON'T MISSOUT: Possway T3 E-Board Review
10. Backfire Ranger X3, All Terrain-Off-Road Electric Longboard
Skateboard's weight: 28lbs
Deck: 41 " Carbon-fiber flexible dropdown deck
Max weight capacity: 265lbs
Max Speed: 24 miles per hour
Max range: 17-21 miles on a single charge
Charging Time: 3-5 hours
Motor: 1500W X 2  high torque powerful hub motors
Batteries: 50.4V 518Wh Li-Ion
tires: 6.5 Inch Thickening Honeycomb Airless Rubber Tires
Remote: Abs material with OLED display which shows battery level, current speed etc.
Remote charging time: 30 mins
Riding modes: 3 riding modes (Eco, Sport and Turbo)
We have kept a treat for you in the last review. If you're an experienced rider looking for an upgrade then do check this baby out.
The double drop deck of this electric mountain board is made with carbon fiber that offers incredible durability and strength. The high-density non-slip waterproof design of the surface ensures that you don't fall off during the ride. The maximum supported weight is 260lbs that makes it suitable for both teenagers and grownups.
The Backfire Ranger X3 All Terrain Electric Longboard is suitable for all types of terrains as it features an in-hub 1500W dual motor. Thanks to the dual hub motor, you can reach up to 38 kmph/24mph. The 50.4V 518Wh lithium-ion batteries ensures that you enjoy a long ride without any interruption and it takes only about 3-5 hours to fully juice up the machine. You can avail of a total range of 21 miles on a full charge.
It comes with a wireless remote control feature that enables you to control the brake, speed switching, etc. The skateboard is equipped with 6.5 inch thickening honeycomb airless rubber tires that allow you to cruise to even the roughest terrains without any hassle.
ALSO READ: Onlyone O2 E-Board Review
11. Happybuy Mountainboard 39 inches Cross Country,All Terrain Skateboard Non Electric
Most people have a severe fascination with black color. If you want a heavy duty off road skateboard that has an attractive black color with a lovely design, you are sure going to love Happybuy Mountainboard skateboard.
Apart from the system and color, this durable board is suitable for rambling on any terrain.
Happybuy is one of the best skateboard brands for newbies who are enthusiastic enough for skating. The double drop deck is made with 9-ply maple wood, durable enough to withstand any surface. The deck has a length of 39x 9.5 inches with a cover of sandpaper grip over the deck's top portion.
The all-terrain wheels with ABEC bearings ensure super safety on off-road trails and smooth surfaces. The unique grip tape also provides high performance and safety. For this reason, amateurs prefer Happybuy all terrain board. 
It has a tremendous shock-absorbing system as well as provides high speeds on steep hills without any inconvenience. Happybuy is about something that makes a person happy. You can have various accessories, including a safety kit bundle and an easy to carry bag if you buy this skateboard. Surely, it can be the perfect gift for your dear ones who are into boarding. 
12. Hi-Na Mountain Board, All-Terrain Skateboard Non Electric
Another non electric off road board that has gained popularity in the market is Hi-Na Mountain Board. For newcomers, this budget board has become very admirable. This all-terrain skateboard is also a top choice for people who are regular on an off-road expedition.
It has a unique and robust design that comes with a 9-ply maple wood curved deck. The exceptional inflatable tires have a firm grip that makes it different and suitable from other skateboards in the market.
The Hi-Na Mountain all-terrain board should be your priority for a fun off-road experience on poor terrain surfaces, as the wheels have ABEC-9 bearings that provide swift and fast turning.
The most impressive factor of this longboard is its endurance. It can hold up to 500 pounds that are quite impossible for other skateboards in the market. Overall, this product is ideal for mountain boarding, cruising roads, and other sporting actions.
It has a unique shock absorber, and the inflatable wheels will give you no shock while riding on poor terrain surfaces. The Hi-Na Mountainboard offer accessories like protective gear set and a big enough bag to pack them all.
The Hi-Na skateboard's price is quite reasonable, and it is ideal for both teens and adults in terms of recreational boarding.
Best all terrain electric skateboard Buying Guide: Things to Consider Before the Purchase
If you have prior experience with skateboards and ready to take this journey to a new dimension then the off-road e-boards are the one for you. You need a powerful machine while climbing hills or ride along dirt trails . For that, you need a powerful electric skateboard to smoothen out the ride.
However, not all electric longboards are designed for off-road rides. Most of the skateboards we generally see are designed for cruising around the city. Off-road boards come with a larger wheel, stronger motor, powerful battery pack, and bigger trucks to provide all the power you need to carve through the tough terrains.
We have picked the top-rated skateboard brands in the market. All of them offer exceptional quality and incredible durability. The buying guide will help you pick the best one that matches your preference and the one you think will be able to give you the best off-road experience.
The deck of the board holds your weight, therefore, it's highly important that it's made with quality material. Also, it needs to be rugged enough to handle the tough terrains. Make sure that the deck comes with anti-slip as well as water and dust resistance features so that you stay put during the ride.
Off-road riders are known to be rugged and the e-board needs to be sturdy enough to handle all the heavy beatings of an uneven terrain. The skateboard brands included in this article are highly durable and they'll surely make the best of the money you spend on them.
Off-road electric boards have a sturdy and bulky design that helps them to last for years. Since they're exposed to rough surfaces, these boards are made with high quality, water and dust resistance material to ensure durability.
What good an off roading e-board be without a powerful brushless motor? The motor needs to have the oomph required to pass through the inclines or uneven surfaces. Off-roads tracks are filled with bumps and jumps, so the motor has to be powerful enough to go through it without any hassle. The off-road e-boards are generally equipped with dual motors. Check the wattage before you buy the skateboard as higher wattage indicates greater power.
Off-road e-boards are equipped with large pneumatic tires to withstand the bumps and humps of the rougher terrains. The wheels are also generally bigger as you need to have an optimum balance during the ride on difficult terrains.
However, if the wheel is extra-large then it will have slower acceleration with less torque. On the other hand, a smaller set of wheels have a quick acceleration rate with more torque and less top speed.
Running out of battery in the middle of nowhere sure sounds like a scary story. A powerful battery pack is one of the most essential component for an electric skateboard. If you want to jazz up your ride and fly high through the rocky roads or sandy beaches, a powerful high quality battery is a must-have. Keep in mind that if the e-board comes with a bigger battery, it's going to be more expensive.
Are you a speed junky or a slow rider?
You should always check the speed limit and the range you can obtain from the off road powered skateboard. You may not get a long-range if speed is your top priority. The battery will drain faster when you're riding at a high speed. Therefore, you may not probably enjoy a long cruise.
However, if you want a long distance off-road riding expedition then you may need to sacrifice speed a little. When you ride with a low speed, the battery will drain comparatively at a lower rate. Also, opt for a bigger battery to avail longer range from the skateboard. You need to check the size and the quality of the battery to determine the range you're going to get out of it
Off-road journeys are quite risky and you may come back home with few missing parts of the skateboard. Does that mean it's gone forever? Well, not always.
You should pick an all terrain electric skateboard whose spare parts can be easily found so that you can repair it if needed. Check for the availability of the spare parts and make sure that you don't have to break the bank to get your hands on them.
The Electronic Speed Controller, also known as the ESC, is the component that acts as the "central nervous system" of an electric skateboard.
It does this by adjusting the amount of energy that is sent from the battery to the motors, which in turn influences the shape of the curve as well as the intensity of the acceleration and braking.
In your e-board, you will either have an ESC or a VESC, and the differences between the two are rather significant.
An electronic speed controller (ESC) is a regular controller that has a fixed cap on the amount of power that can go through it. A conventional electronic speed controller (ESC) has the advantages of being inexpensive and having a plug-and-play design.
The other type of controller, known as a VESC, has the ability to be updated programmatically, which means that the acceleration and braking curves of your electric skateboard can be altered with only a small bit of technical know-how.
They are able to deliver greater power to motors, but because of their higher cost, you will only find them in the more luxury off-road electric skateboards.
A word of caution, though: if you aren't sure what you're doing and you make adjustments to your VESC, you could end up hurting yourself as well as the parts you're working on.
Your purchase decision relies heavily on the amount you're willing to spend. If you're planning to go on regular rides then we recommend you to spend on a high-end model. This will give you better durability and you'll get more value for the money you spend on it.
However, if you're a recreational rider then you can opt for a budget-friendly model. All the electric skateboard models that we reviewed are top of the line and you'll get great value out of them. We reviewed models with different price ranges and different skateboard brands so that you can find your best match.
Safety Tips For Riding Motorized And Non Electric skateboard
Remote Controlled Electric skateboards have got highly popular in recent years. However, people are not generally as cautious about their safety as it should be. Safety should always be the prime concern when you're riding an e-board on rocky forest trails. You can get seriously injured and it's highly advisable to wear protective gear and follow the necessary security precautions. Here are some safety tips that you follow to have a excitement-filled yet safe e-riding experience.
Your head is the most vulnerable place in your body. Skull injuries are highly severe and you should always keep your head protected. electric longboards are extremely powerful and runs at quite high speeds and it's even more dangerous as you'll be riding off-road. One hit on the rock and bam, you're scarred for life.
Wearing a helmet will keep your head secure and the impact will be a lot less severe during a collision. Helmets are designed to absorb a massive amount of shock. Brain damage is no joke so even if you're riding on a smooth road, it is not a good idea to leave the home without a helmet while riding an off road e-skateboard.
Along with your head, you should also protect your knees, elbows, shoulder. One collision may lead you to the hospital with several broken bones. Wearing paddings on these places will reduce the shock and reduce the level of injury. You can find adjustable knee pads, elbow pads, and wrist guards at a super budget-friendly price. Nothing is more important than your safety so make sure that you purchase the paddings before going on the off-road journey.
Wearing flip flops or sandals on an electric longboard is a big no-no. We hope that no one is stupid enough to do so. Never wear open-toed shoes as your toe will be at risk to get injured during an impact. Also, don't just opt for a random sneaker that you find comfy.
Try to wear a pair with a flat sole that is well-balanced and offers proper grip. If you're going for long rides then you can wear shoes with extra cushioning to get extra comfort during the ride.
When you're using a transportation device, there are some specific rules set by the government that you should follow. Each state may have different rules and regulations regarding off-road electric skateboards. Before you start your expedition, make sure that you have a clear understanding of the rule and abide by them properly. 
Also, never do any damage to private property and take permission before you ride on a privately owned area. Skaters are not allowed in some areas so make sure that you avoid those areas at all times.
If you prefer riding at nights then reflective vests are a must-have for you. The vest will come in super handy especially if you don't have any lights out on the motorized off road skateboard. This will help people to locate you from far away and reduce the risks of any unfortunate events. However, we don't encourage off-road riding at night as it's important to have proper visuals at tough terrains.
Off-road riders are already riskier than regular rides inside the city. The terrain will be more slippery and you'll find it harder to control the board if you're riding during the rain. Also, check for water-resistance capabilities of the electric skateboard before you plan a ride when it's raining or snowing. Check the weather before you plan the trip to avoid any unfortunate situation.
Along with all the safety gear and equipment, one thing that will come in super handy is your common sense. We understand the adrenaline rush but don't go all turbo on a steep slope or a super rough surface. Follow your instincts and make sure that you don't overboard with excitement.
Reflective lights are a must-have for the night riders. You can add up some lights and reflectors to the electric skateboard to make it look great and for safety reasons. The lights will look super cool when the lit-up especially when you're on the go.
This one may have caught you by surprise. Electric skateboards are loved by people due to their portability and many people would love to take this companion on their holiday to have some enjoyment. Well, keep in mind that electric skateboards are not much welcome on the airplane and they generally go on hold.
If the battery power is over 160WH then you're not allowed to take it with you. Some airlines have restrictions even with power below 160WH. So, if you're really keen to take the board with you on holidays then we suggest you opt for a board that's within the limit of the standard power. Also, check with the airlines before you book your ticket about their rules regarding electric skateboards.
Is There Any maintenance Required With All-Terrain Electric Skateboards? Some Useful Maintenance Tips Given Below
Maintaining your electric skateboard on a regular basis will not only extend its lifecycle but also ensure security. You can incur fatal accidents or injuries when you're riding on a rusty broken down skateboard. It's not much of a hassle to follow a cleaning and maintenance regime for the board. We have come with a simple and easy to follow guide that will help you keep the electric skateboard in a mint condition for years.
Off-roading adventuress are going to be quite hectic and you must clean off all the dirt and gunk from the deck after every ride. Use a moist towel to wipe off all traces of dirt from the underside of the deck to the grip tape on the top. However, don't wet the towel too much as excessive moisture may damage the quality of the deck.
Many of us have this misconception that the more we charge the batteries, the longer the battery will last. Wrong!
Charging the battery after its full will deteriorate its condition. However, modern technology dictates that the battery stops charging once it hits 100%. Keeping the skateboard connected to the charger for a long period will cause it to overheat which will eventually damage the controller and other internal components.
If you feel that the e-board is not running up to the par and you're not getting the same service as before then we recommend you to get it checked by a professional. Don't get over-enthusiastic and open up the skateboard yourself. This may lead to damages beyond repair. Try to take it to the manufacturer to retain the warranty. If you open up the machine with a non-authorized dealer then you'll end up losing the warranty.
Frequently Asked Questions
Verdict: Are all terrain electric skateboards worth your money?
Be a pro or a novice, you'll surely find the best off-road all terrain electric skateboard from our list. We have narrowed down our options after lots of trials and errors. All of these electric boards offer top-notch performance with a high tolerance for rougher terrains. You can enjoy a smooth balanced ride and enhance your skills as well.
Make sure that you go through the buying guide for the factors you need to consider before the purchase. Also, before you plan your ride, keep the charge time in mind to enjoy the ride to the fullest. So, pick up the one you like the most and get ready for an exciting fun-filled off-road skateboarding expedition.