How Much Does An Electric Scooter Cost-Total Guide
So you're saving up to buy an electric scooter – that's great.
Electric scooters are economic, fun, and convenient ways to get from place to place. It does not rely on gas to function, and it's easier to operate than most motorized vehicles. They also take up less space in the garage, so parking won't be a problem, either.
The most popular question we get from someone who's planning to buy a scooter is this: how much does an electric scooter cost?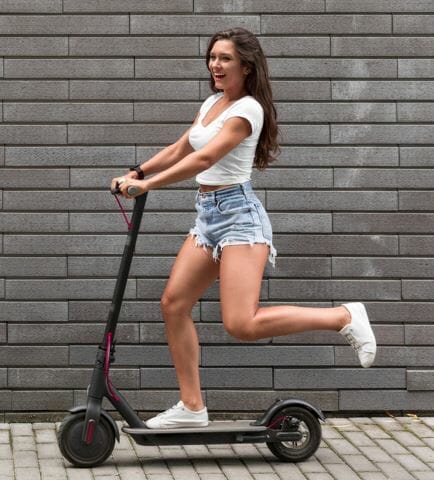 In this article, we will talk about everything you need to know about the cost of owning an electric scooter. We'll explain why they're priced that way, the cost of making sure they run properly, and all other important factors.
We'll also share guidelines to help you choose the perfect electric scooter – so you'll end up with one that fits your lifestyle and needs.
So How Much Does an Electric Scooter Cost?
The price of electric scooter ranges somewhere between $100 and $2000. This can be divided into several categories, which we will get into later. But on average, an adult kick scooter with decent specs goes for $300, more or less.
1. How Much Do Electric Kick Scooters for Kids and Teenagers cost?
Electric kick scooters for kids and teenagers are usually made with simple designs with an emphasis on the child's safety. For this reason, they do not usually come with powerful motors that could potentially cause them harm while riding. This is why they are usually cheaper than adult kick scooters.
A simple electric kick scooter for kids are sold for around $80, and these make great entry-level scooters for kids who simply want to play outside. However, they do not have all those cool add-ons and can only carry riders up to 120 pounds.
On the other hand, if you're looking for an electric scooter that your kid can grow with, they're usually available for around $150 to a little over $200.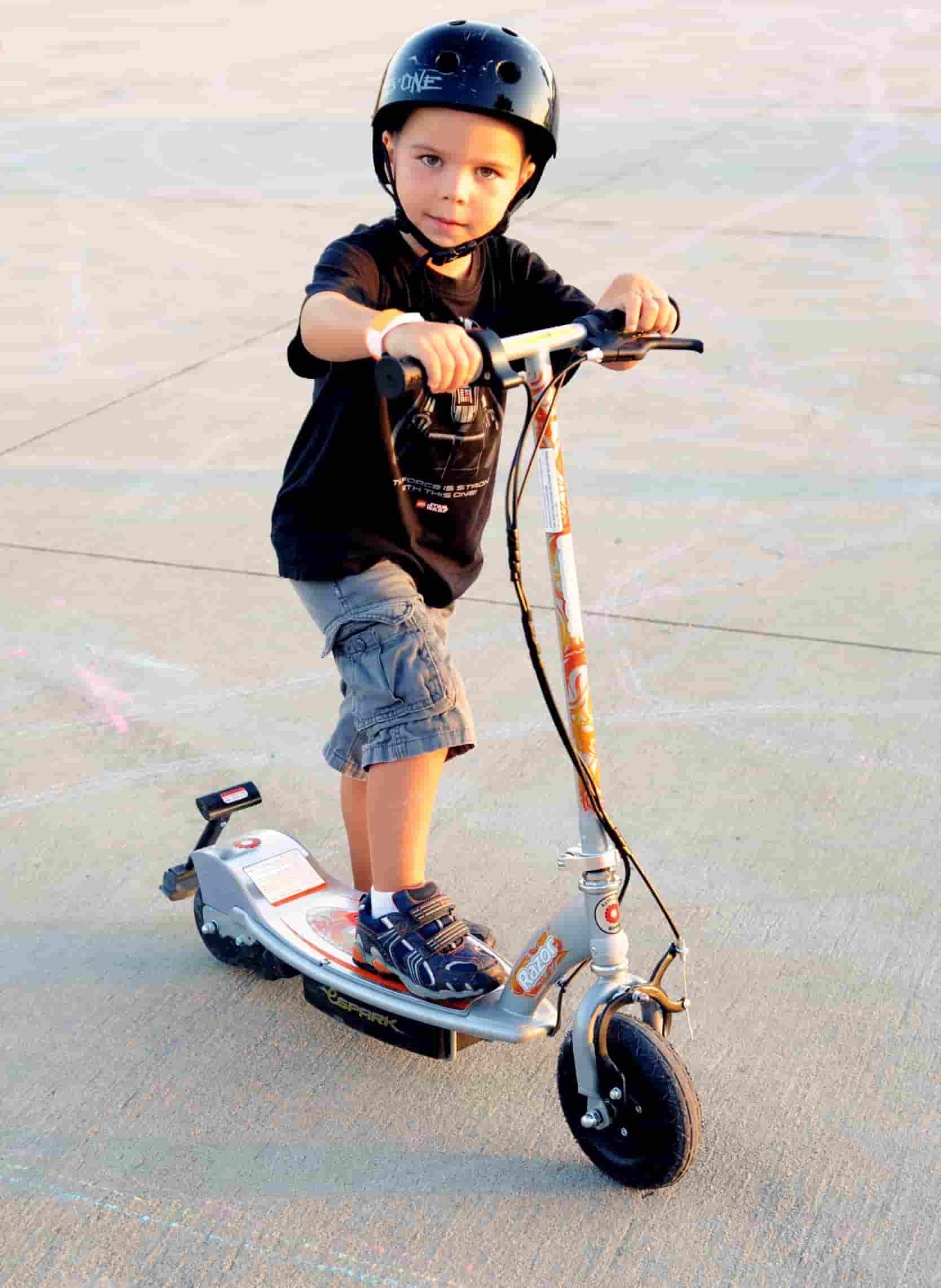 These usually come with an intuitive LCD screen and are easy to maneuver. They're also built for longer travels, so they can ride it to school or a friend's house.
2. How much Do Electric Kick Scooters for Adults Cost?
In contrast to electric kick scooters for kids, those made for adults usually come with more sophisticated features. Not only are these scooters built for bigger riders, but they also offer better speed and mileage. They also come with a lot of cool features that could put a motorbike to shame.
For this reason, adult electric scooters are priced at around $200 to $900. Those in the more affordable range usually have shorter mileage and slower speeds with a traditional scooter interface.
On the other hand, more high-end electric scooters come with responsive braking systems, cruise control, comfortable suspension systems, and a folding frame. Because of their durability and convenience, they can already rival your car as your source of transportation – especially if your destination falls within the riding range.
4. How Much do 3 or 4-Wheeled Seated Electric Scooters Cost?
And finally, we have the large, 3 or 4-wheeled scooters. These scooters often come with seats, so the rider gets to ride it comfortably. They also have a wider wheelbase, so balancing won't be a problem.
These 3 or 4 wheeled scooters can be operated like a motorbike or tiny car, and are often used as a mobility device for handicapped persons. Considering that they need larger motors and offer better features, these electric scooters are the most expensive.
The avarage price for these scooters usually run between $500 and $2000. More affordable ones get you around safely but do not usually come with convenient features like large cushioned seats. More expensive ones have an impressive battery life, a powerful motor, and other features that guarantee the user's comfort.
Also don't forget to check out: Electric scooter troubleshooting,Tips &guide how to fix an electric scooter.
Here Are Some Electric Scooter Buying Guides
What determines the price of an electric scooter
Now that we've answered, "how much does an electric scooter cost?", we want to explain why they cost that way. Here, we will discuss all the factors that contribute to determining the price of each electric scooter. 
The first contributing factor is the manufacturing cost. This can be divided into three components: the cost of the materials, labor costs, and overhead costs.
The cost of the materials used in building the scooter refers to all the materials used by electric scooter companies – not just for the frame, but for acquiring all other components that go into it. A high-quality material does not come cheap, so expect to pay more if you want one that's sturdy and long-lasting. 
To build the scooter, workers are needed – either to manually piece components together or to operate machines. Salaries paid to these workers fall under the manufacturer's labor costs, and this has to be factored in when coming up with the final price of the electric scooter.
The final component of the manufacturing costs is overhead costs. This refers to all other fees incurred by the manufacturer to ensure the successful production of the electric scooter. This includes machine acquisition and machine maintenance costs
Another factor that affects the price of an electric scooter is its design.
While some budget scooters have simple designs, high-end ones often come with sophisticated designs that make the riding experience more enjoyable. In these instances, manufacturers hire professional designers and engineers to guarantee just that.
These professionals incorporate the latest developments in their field to make sure that the scooters they design are not only fun but safe and efficient as well.
In some cases, manufacturers move to have these designs patented, which can also cost them a fortune. And that adds up to what you ultimately have to pay for.
6. Additional Features and Upgrades
Additional features and upgrades that go into the e-scooter also affect its final price.
Think about it: acquiring LCD screens or sophisticated braking systems already costs money, and incorporating them into the scooter also costs money. Other smart features include suspension systems and anti-slip tires to ensure the rider's comfort and safety. All of these are eventually factored in to get the price of the scooter.
CHECKOUT my latest article on: Electric scooter laws, Are electric scooters legal on sidewalks?
Is an Electric Scooter Worth the Cost?
Now that you know how much electric scooters cost, you may be asking yourself: is it worth the cost?
We believe that an e-scooter is worth the cost – but, only if you buy one that perfectly caters to your needs.
Today's electric scooters now come with a load of advanced features that it all seems too overwhelming. If you don't know what to look for, you might end up buying the first scooter that a salesman suggests to get it over with.
Unfortunately, doing so might leave you with a scooter that's either too simple or too complicated for your taste.
Thus, to make sure that you end up buying an e-scooter that's worth the cost, we suggest knowing your needs first and then looking for the smart features that will meet those needs.
What to Look For in an Electric Scooter?
Searching for the perfect e-scooter requires you to scrutinize its advanced features. This may seem time-consuming and boring, so we've simplified everything for you. Here, we will teach you everything you have to look for in an e-scooter.
One of the features you have to look for is the max speed of the scooter. While it's tempting to buy the fastest electric scooter available, this isn't always the smartest thing to do.
The ideal max speed for the e-scooter depends on the rider's preferences. For children, we recommend speeds of 5 to 9 miles per hour. This is a safe speed for them to cruise around the neighborhood and play with their friends.
For teenagers, a maximum speed of 7 to 12 mph is fast enough to get them to different places but still safe enough for them to control. And for adults, a speed of 12 mph or more is enough to get them to work on time. This is also an ideal speed for university students who want to use a convenient foldable electric scooter around campus.
2. Riding Range/Battery range
The riding range or battery range is the distance covered by the scooter is also important. This helps you determine how far the scooter can go in one full charging.
For kids, a 5-miles per charge range is already enough for a full day of play, but this may be too short for your sporty teenager. In the case of the latter, go for a scooter that can run for about 10 to 12 miles per charge.
For adults, these electric scooters work as their alternative to riding cars, so a riding range of 15 miles or more would be great.
However, bear in mind that the riding range of the scooter depends on the condition of the road. Some scooters claim to cover up to 18 miles, but this becomes shorter if you have to ride up a hill. Thus, consider the road you have to traverse before buying your scooter.
The electric motor that's been built into your electric scooter also determines how fast the scooter can go, and how efficient it is while it's running. This also determines how accurate it performs, even if it's carrying a heavy rider.
Toy-grade electric scooters for kids would do well with 100-watt underpowered motors. This produces enough power for your child to ride and control comfortably.
But for bigger kids and teenagers, you may want a motor that produces more power. A 250-watt motor would be strong enough to carry them around town and offers better control and a comfortable ride as to the speed of the scooter.
And finally, adult scooters come with motor power of  250 watts or more. This guarantees impressive speeds and pushing power without fail, even for riders who weigh more than 200 pounds.
While some beginners tend to overlook the battery, we highly suggest looking into it.
The battery determines how long you will be able to use the electric scooter. This goes hand-in-hand with the riding range(miles per charge) since you can't tell how long the battery can last in terms of hours.
Nevertheless, we suggest going for a scooter that also has a battery-savings option. While this slows down your scooter for a while, it nevertheless guarantees that you'll get home safely.
Also, we suggest getting a battery that offers fast-charging. This means that you'll spend more time using and enjoying the scooter – instead of waiting for it to charge. Charging time of 3 hours is already considered fast for an electric scooter.
If you're looking for a scooter that will replace other commuting alternatives, we recommend getting one that offers great control.
By control, we mean something that's easy to maneuver and offers different cruising modes. The cruising modes offer different speeds to help you make the most of your ride.
As much as possible, make sure that operating the electric scooter is easy to do, and with buttons that are immediately accessible to the user. This helps keep their eyes on the road, reduce injuries from accidents and also ensures a smooth ride.
The materials used and the quality of how the electric scooter was built is another factor you have to look into.
Making sure that all materials are of superior quality guarantees its longevity, while high-quality construction keeps you safe during your ride. This promises that its pieces are tightly screwed and won't unravel in the middle of your journey.
Some scooter frame materials that are known for their durability are stainless steel, aluminum, titanium, and magnesium. Steel is heavy but affordable, aluminum is lightweight and affordable, while titanium and magnesium are both lightweight yet expensive. Use this as a guide for when you're looking for the perfect electric scooter.
Good electric scooters are comfortable. While affordable ones rely on shock-absorbent tires to make the ride feel smooth, more expensive scooters are also built with sophisticated suspension systems.
These suspension systems absorb the impact in case of bumpy and rough roads. When paired with shock-absorbent tires, users are guaranteed to enjoy a smooth-sailing riding experience.
Some manufacturers only incorporate front suspension, while others offer front and rear suspension for maximum comfort.
Also, we suggest looking for one with a wide platform so you can stand comfortably while riding. When buying one, especially if you're planning to use it as a commuting alternative, make sure that you can fit both feet on the platform comfortably.
In the case of seated scooters, especially for handicapped persons, look for cushioned seats with back support. Make sure that it also has a wide wheelbase since this offers better stability.
You must make sure that the braking system that's built into the electric scooter is reliable and responsive. This is one of the most important safety features that should never be overlooked.
The simplest electric scooters come with a braking system that immediately halts the scooter. But if you're willing to spend a little more money, you can go for one that offers dual braking systems. This usually comes with one brake that immediately halts the scooter and another one that merely decreases the speed – and these brakes give you better control over the ride.
As to the positioning of the brakes, it all depends on the braking position you're most comfortable with. Some users prefer handbrakes, while others prefer rear foot brakes. You can also choose one that offers both.
The features mentioned above are the most important ones. Extra features you could consider include higher weight capacity, headlights, taillights, deck lights, rearview mirrors, an LCD screen, smartphone connectivity, and waterproofing.
A lot of today's electric scooters are also foldable, and that comes in handy if you want to save up on storage and parking space.
Don't forget to checkout  How does an electric scooter work.
Electric Scooter charging costs
Electric scooters can be easily charged from your home's power outlets. This means that while it doesn't use gas, you have to expect an increase in your monthly electricity bill.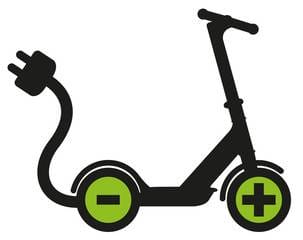 Electric Scooter Maintenance Cost
Unlike cars, electric scooters do not require you to spend much on maintenance. You only have to shell out a small amount for the times when you need new brake pads, or when you have to pay to get the tires filled with air. You may also need to have the battery replaced from time to time, but it usually takes years before you need a battery replacement.
But if you want to save more on maintenance costs, we recommend getting solid tires or anti-flat tires. These do not require frequent tire inflation, so you end up saving more money in the long run.
How to Determine the Value of an Electric Scooter?
At this point, we have already given you the answer to the question: how much does an electric scooter cost? Now, we're going to teach you how to determine the value of an electric scooter.
While cost refers to the price you pay to acquire the scooter, value refers to the benefits you will derive after the purchase. This greatly depends on how often the scooter will be used, and whether or not the user will enjoy using it.
For kids, the e-scooter will be valuable since it will teach him to be sociable and be a good sport. This could also serve as a healthy and fun exercise to help develop his muscles, balance, focus, and agility.
For teenagers and adults, a foldable electric scooter is a fun alternative to commuting around the neighborhood. Not only does it help you save up on gas and parking fees, but it also serves as a great exercise to keep you active.
Electric scooters are also safer for the environment since it does not emit any harmful fumes. So if you're running quick errands, or live somewhere where everything you need is just a few blocks away, these affordable scooters save you the time, money, and effort of driving the car.
Comparing Electric Scooter with Other Toys
If you're not sure if an electric scooter would make a great gift for a child, then we're here to clear any doubt you have.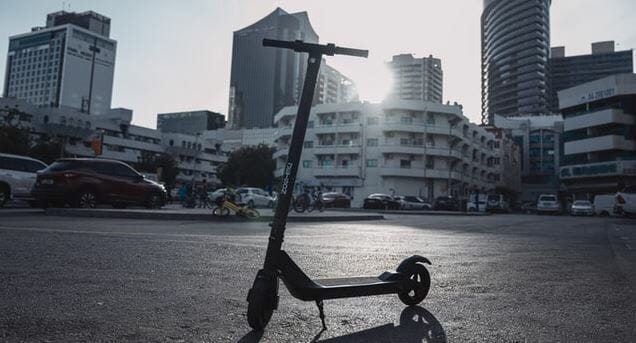 Kids usually ask for toys if you ask them what they want for their birthday or the holidays. Fortunately, electric scooters are giftable – we guarantee that they'll be excited to get one.
But what sets an e-scooter apart from other toys? The biggest reason why we find them better is its longevity.
By longevity, we do not simply mean the durability or quality of the e-scooter. What we mean is that children do not easily outgrow scooters. While a lot of toys are durable and of high quality, children usually stop playing with them after a few months or years. In contrast, electric scooters will always be fun, even when they're well into their teenage years as a mode of transportation.
Frequently Asked Questions About The Cost Of Electric Scooters
We've also gathered the most frequently asked questions involving electric scooter's cost. We hope that our answers will enlighten you to ultimately make the best decision.
Final Thoughts On Electric Scooter Cost
We just covered a lot of questions and in-depth information on how much is an electric scooter and so much extra stuff. Now, you should be pretty clear on this topic and you can see that it's not so expensive after all.
Considering the features and perks, you are getting a lot of value out of your money getting an electric scooter. So, you can see "how much does an electric scooter cost" doesn't matter that much when it comes to functionality.
Hopefully, this discussion will help you make better decisions in regards to identifying the cost of electric scooters better. All things aside, an electric scooter is undoubtedly one of the best ways of transportation for modern times.
newageactivity.com is a participant in the Amazon Services LLC Associates Program, an affiliate advertising program designed to provide a means for sites to earn advertising fees by advertising and linking to Amazon.com.