Eovan GTS Carbon Super E-Board: One Of The Best In The Market
The Eovan GTS Carbon Super has taken the e-board market by storm. However, people are still not clear about its utility and power. Some claim that the manufacturer has curtailed its performance. Others say that it is an excellent e-board with a dual 3500W motor, a top speed of 32MPH, and 46%-50% hill climbing ability.
So, what's the truth about the GTS carbon super e-board?
I rode it for about 100 miles to put its performance, capacity, and dependability to the test. It's a fantastic e-board with powerful motors, quick and smooth acceleration, and a sporty appearance. Nonetheless, during my review of the Eovan GTS carbon super, I found its VESC system to be underpowered.
As a result, based on my user experience, I'll assist you in determining the value of purchasing it. So, without further ado, let us begin the review.
Weight: 29.7 pounds 
Deck material: Carbon fiber
Deck length and width: 41 inches long and 10 inches wide
Maximum load capacity: 286lbs
Maximum speed: Up-to 32 miles per hour
Max range: Up-to 37 miles 
Charging time: 3-4 hours
Motor power: (3500*2)Watt
Battery: Panasonic 21700 cell lithium-Ion battery, capacity: 852Wh 
Wheels: Eovan super RS series and AT series
Riding mode: 4 different riding modes
Braking modes: 4 brake modes (electronic regenerative)
Truck type: DKP
Hill grade: 45%-50%
Warranty period: 180 days
Eovan GTS Carbon Super E-Board In-Depth Review
The GTS carbon super is the first VESC electric board with intelligent functions. It can reach top speed of 32MPH but can go up to 36MPH with the help of Eovan race mode.
The dual 3500W motor puts up an incredible show with quick acceleration, stability, and smooth rides without any vibration. The battery range is up-to 37 miles, which is more than sufficient. However, after reaching 60%, the battery losses its charge faster. So, you need to look at it.
Additionally, it offers excellent controls, spectacular aesthetics, and exceptional value for the money. So, do you want to buy it? This amazing electric board has passed my tests, thus it is certainly worth your money.
ALSO READ: Best Electric Skateboards Under $300 
I won't exaggerate but I've rarely found such a minimalist yet attractive-looking e-board as this GTS CS. It has a red accent on the wheels with an all-black design. The red accent gives the e-board a nice sporty look without being too colorful.
The hexagonal grip tape looks nice on top of that. It has a wonderful, seamless finish. As a result, Eovan's work on the design element is just amazing. Even if aesthetics are a matter of personal taste, most people will adore it.
USE COUPON CODE  "NEWAGEACTIVITY" TO GET 5% DISCOUNT AND FREE SHIPPING
Just about the right speed:
Top speed is one of the main factor that buyers consider while purchasing electric skateboards. The Eovan GTS CS maintains its top speed of 32 MPH capably. As you are aware, the GTS CS may be driven with various gears and wheels. Depending on the wheels and tires, the speed might change a little.
I rode it with RS125MM wheels and it could reach 33MPH, which is slightly faster than the documented speed. I weigh 150 pounds (68 kg). Because of my weight the e-board would have a slightly higher top speed. However, for people weighing more than 165 pounds (75 kg), the speed should be between 30-32 miles per hour.
DON'T MISSOUT: Best Cheap Electric Skateboards Under $200
I rode the GTS Carbon Super with its stock batteries and motors. It uses Tesla 21700 fat cells and offers 26 to 40 miles of range. But did it deliver the accurate range? I tested it at 55-75 Fahrenheit and could hit 30 miles of battery range. It was more than adequate for me to meet my daily demands. Also, it would be suitable for most people.
Nonetheless, there's a big catch to this battery range. It provides almost 23-25 miles of range at just a 60% charge. And then, suddenly, the battery starts draining faster, and you will get around 5 to 7 miles of range with the remaining 40%. I tested the electric board multiple times, and the battery provided similar results every time.
I am trying to figure out what's the problem. But, Eovan needs to address it faster. So, as riders, you should look at the battery's remaining charge closely. When it reaches 60% or over, expect it to deliver at most 10 miles of extra range.
Thankfully, the Panasonic 12S4P batteries have an 852Wh capacity. With the street wheels and proper circumstances, you can also hit 35 to 37 miles of range. But, it would be in rare cases with the 125mm rubber wheels.
Excellent hill climbing ability:
California has a few nice hillocks with brilliant routes. I love to roam around them and the GTS CS helped me immensely. It has 46%~50% hill riding capacity. The good part is it can quickly go through the steeper hills easily. I could pass the normal hillocks with the electric board quite comfortably. I rode the e-board in the hills near Sacramento with around 35% grading. It didn't show any jittery and shaky situations to top the hills.
Also, it had good controls and less vibration, improving the riding comfort. The grip tape will further reduce its vibration. I loved this clever inclusion. Also, people will appreciate it as the grip tapes incredibly lower the vibration.
USE COUPON CODE  "NEWAGEACTIVITY" TO GET $30 DISCOUNT AND FREE SHIPPING
Smooth acceleration and braking:
The Eovan GTS Super Carbon review shows its brilliant hill riding capacity, speed, and range. But how it performs when it comes to braking and acceleration? It is crucial because I've seen many e-boards with great speed but poor braking and acceleration.
Fortunately, GTS CS is free of these problems. The e-board accelerates as smoothly as possible. Also, it has the strongest acceleration in the e-board market. Yes, it has a sports mode, but you can ride it in a high mode without a problem.
Its acceleration in high mode offers enough speed for adventures. However, I stumbled two times at sports mode because it was stronger than I anticipated. Unless you are a highly skilled e-board rider, I discourage you from riding the GTS CS in sports mode. Chances are high that you can get off the e-board accidentally.
Nonetheless, the braking capacity is genuinely appreciable. The brake intensity is robust and reliable. I tested it in different situations; it would stop in less than 5 meters. Even in the stiffer hills of El Dorado National Forest, the e-board stopped smoothly.
Motor and ESC performance:
Eovan has upgraded the GTS Carbon Super with new dual 3500W motor and VESC system for monitoring and control. The dual motor delivers excellent performance without any problem. It requires the least maintenance and still delivers appreciable performance.
What's more, the ESC has all the required smart functions for smoother rides. It is mighty and reliable too. However, it's surprising that Eovan needs to improve the usability of the ESC and VESC tool. Eovan has integrated the VESC tool but has limited its application. I wonder what Eovan has thought about it.
Nonetheless, the ESC system is still one of the best in the industry. You will find the throttling and speeding performance of the e-board brilliant.
USE COUPON CODE  "NEWAGEACTIVITY" TO GET $30 DISCOUNT AND FREE SHIPPING
Wheels and deck construction:
The deck design of GTS Super Carbon impressed me right out of the box. It has a muscle carbon design that is sturdier than you think. It can accommodate 286 pounds (130KG) which is indeed remarkable. Also, the hexagonal shape on the deck will reduce the vibration effect and make your rides smoother.
The e-board comes with AT pneumatic and solid tires. It helps ride the board on both highways and off-road terrains. I took the GTS CS at the Folsom Lake State Recreation Area and roamed around the lake with the e-board. Everyone who has gone to this recreational area would know the banks of the lake and the presence of small pebbles there. The e-board deck and wheel withstood the roughness of the dusty and rock-filled terrain quite brilliantly.
However, changing the wheel is complex. You will need time to learn to change the wheel and maintain the trucks. So, it can be a headache for newbies with little knowledge of e-boards.
Smart remote with display panel:
Last but not least, the remote and display panel adds a cherry on the pie for the e-board. The wireless remote allows you to control the e-board confidently. You don't need to control the e-board with your hands to reduce your riding smoothness.
The display panel is minimalistic, with a high-speed and low-battery warning. However, there's a catch to using the remote. It is proprietary to the ESC system. You will either use the ESC or remote, and that's a significant setback for the e-board.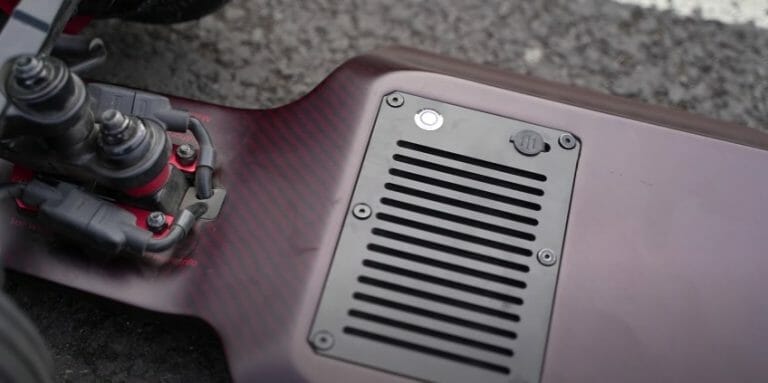 Who Should Choose GTS Super Carbon E-Board?
Eovan has made the GTS super carbon e-board for everyone. Its 32MPH top speed and 26 to 40 miles of range with different wheels allow everyone to get their best requirements. Even if you live in hilly regions, its 45% hilly topping performance will work brilliantly.
As I tested it in hills, off-terrains, and city streets, it delivered equally outstanding performance. The brakes and acceleration are appreciable. I also loved the deck design, which looks attractive. So, from newbies to professionals, everyone will love riding it.
The Eovan GTS carbon super e-board review suggests it is a fantastic board for all. With incredible features, practical functions, and longevity, GTS CS is more than a good value-for-money e-board. Every penny you spend on it is worthwhile. However, I would love it if Eovan listened to the customers to remove the challenges in using the VESC tool settings to their full potential.
Being a new setup in the e-board market, Eovan deserves due credit for making such a wonderful electric board. You will find it indeed helpful for adventures and regular rides.
USE COUPON CODE  "NEWAGEACTIVITY" TO GET 5% DISCOUNT AND FREE SHIPPING