Ford Ojo Electric Scooter Indepth Review-2022
When it comes to running quick errands, driving a car isn't the most practical solution. Aside from spending money on gas, you also have to deal with traffic and limited parking space. In these situations, it's better to take a more eco-friendly alternative – an electric scooter.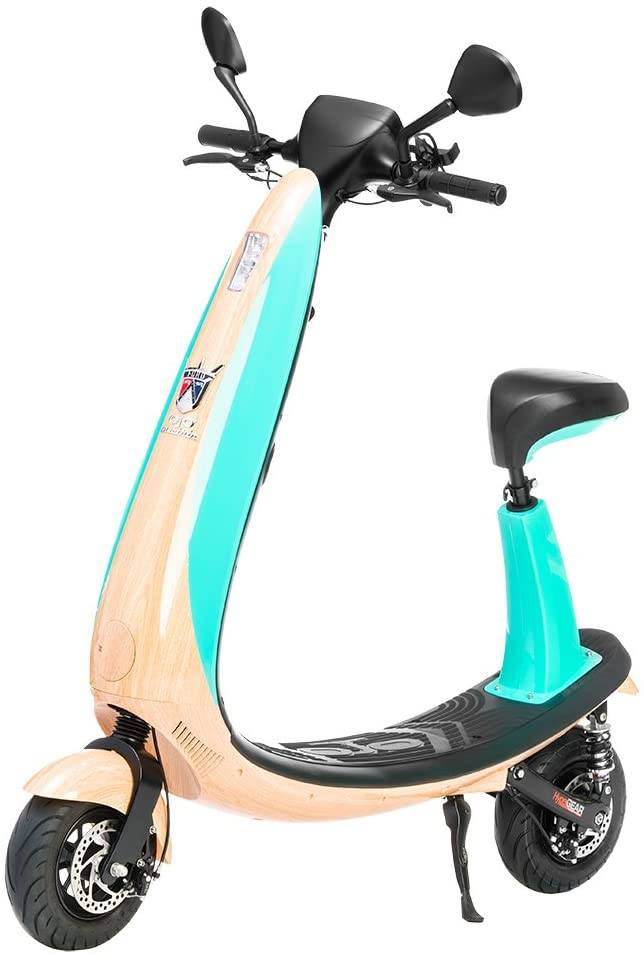 Electric scooters are great alternatives to driving a car. You get to save money on gas, you can use it on bike lanes, and it only needs a small parking space. And not to mention, it doesn't emit nasty fumes, so you know it's also safe for the environment.
Additionally, today's electric scooters have come a long way since its kick scooter style. They now come with seats and other convenient components to make it safer and more comfortable to ride. They're also very stylish, so even adults can use them confidently.
Take the Ford Ojo Electric Scooter, for instance. It has an eye-catching vintage charm that's sure to make heads turn while you're on the road. It's also very powerful, and it can surely take you to a lot of places.
In this article, we'll give you an in-depth and honest review of this electric scooter. We'll show you what makes it one of the best scooters for this year, and why it's the perfect commuting alternative for adults and teenagers alike.
Ford Ojo Commuter Electric Scooter For Adults (In Depth Review)
Item Weight: 65lbs
Motor: 500w hyper gear hub motor
Load Range: 25-300+lbs.
Max Speed: 20 mph
Riding Modes: 3 Sp
Battery Capacity: 48 volts
Charging Time: 0%-100% in 7 hours
Brake System: Front and rear disc brakes
Light: LED Headlight, LED Tail Light & LED Turn Indicator
Dimensions: 51.5 x 24.2 x 49 inches
Max load: 300+lbs
Special Features: Wireless key FOB, Bluetooth speakers
The Ford Ojo Commuter Scooter has an eye-catching exterior and rigid aluminium unibody, but there's more to it than what meets the eye. It is packed with a lot of impressive features, and we're here to talk about each of them.
First of all, the Ford Ojo Electric Scooter uses a powerful 500-watt hypergear motor that allows it to go as fast as 20 miles per hour. This is if you're riding it on the road with a flat surface.
But even if it's going up a steep hill, it can still take you to the top at a speed of up to 10 miles per hour. We found this very impressive since not a lot of electric scooters can perform that well uphill. In fact, most of today's electric scooters can't even go up a hill with an inclination of more than 15%, so you know that this is a big deal for us.
We also love that it has a maximum weight capacity of 300 pounds. So even if you're a teenager with a heavy backpack or a fully-grown adult, you can expect this electric commuter scooter to perform at its optimum levels.
The battery that comes with this scooter also proves how powerful it is. It allows the scooter to run at a maximum riding distance of 25 miles. This is twice the average range that an electric scooter can run, and this allows you to go to school, work, enjoy a stroll around the neighborhood, or run a few errands.
All things considered, it's undeniable that this stylish electric commuter scooter from Ford Ojo is extremely powerful.
This electric scooter from For Ojo also comes with three driving modes. Each driving mode is made for different uses and users to guarantee a fun riding experience.
The first driving mode is the Eco Mode. this driving mode limits the speed and power consumption to make the most of the scooter's features. This is the best driving mode for beginners to learn the ropes in operating the scooter while still enjoying it at a safe riding pace
The second driving mode is Tourist Mode. This helps maximize the riding range so you can ride the scooter at a farther distance.
And finally, the third driving mode is Sports Mode, which offers the highest performance. This is perfect for seasoned scooter riders who love the thrill of using these vehicles. This is best if you want speed or that extra push if you're planning to ride uphill.
All of these driving modes show us that this Ford Ojo scooter can be used by a variety of riders – whether they're beginners or just looking to replace an old electric scooter.
We also love that this electric scooter is incredibly comfortable and bike lane friendly.
First, it has an impressive front and rear suspension system that reduces the impact of bumpy or rough roads. This leaves the rider with smooth riding experience.
Second, this electric scooter comes with a comfortable seat, so you don't have to keep standing as you travel. This leaves you with a lot of energy to have fun as soon as you reach your destination.
And finally, this electric commuter scooter from Ford Ojo has a unique U-shaped design that leaves the rider with a lot of legroom. Thus, you don't have to worry about feeling sore or having an aching knee after your ride.
Of course, any decent electric scooter must come with a variety of safety features to keep you out of harm's way. And fortunately, this electric scooter exceeded our expectations.
Let's talk about its wheels first. This scooter uses large tubeless tires that come with deep lugs. This guarantees impressive traction, even when you're riding on smooth surfaces. This greatly prevents accidental slips. This also makes it perfect for all-terrain riding.
The fact that the tires used are tubeless also means that they are more resistant to becoming flat. This reduces the need for regular tire maintenance, thereby saving you a lot of money and effort in the long run. Also, even when the tires become flat, tubeless tires are less prone to separating from the rim – and that effectively reduces the risk for accidents.
Another important safety feature is its brakes. This electric scooter from Ford Ojo comes with powerful and responsive mechanical brakes with abs. These are conveniently located at the handlebars for easy access. This makes it perfectly safe to use, even for beginners.
This electric scooter also comes with a led headlight to keep your path illuminated even when you're cruising at night. And finally, it comes with a pair of rearview mirrors to help you navigate safely.
Nevertheless, we strongly recommend wearing the appropriate safety gear whenever you're riding this ultimate two wheel smart electric scooter – or any scooter for that matter.
The Ford Ojo Electric Commuter Scooter is also incredibly stylish. While much of its front and upper aesthetic gives off a vintage vibe, it's undeniable that its sleek construction also makes it look futuristic. This makes it an easy head-turner that guarantees you'll be riding in style.
We also love that it comes in a variety of bright and fun colors. Not only does this increase your visibility while you're on the road, but this certainly helps you reflect your personality through the scooter.
We also love that the Ford Ojo Electric Commuter Scooter has a simple user interface that's easy to use. Whether you're new to riding an electric scooter, or someone who's not a fan of gadgets, we guarantee that you'll be able to operate this scooter like a pro.
It also comes with waterproof dual Bluetooth speakers, USB phone charging port and a phone holder, so you can keep your hands free and enjoy the music as you ride – and keep your eyes on the road.
Here is a video of Ford Ojo Commuter Electric Scooter
It can go as fast as 20 miles per hour with a maximum range of 25 miles with one charging.
It has impressive battery life.
It is easy to operate and maneuver.
It offers decent legroom and is very comfortable.
It is stylish.
It has a responsive mechanical braking system.
It has a superior suspension system.
It offers value for the money
As of the time of writing, there are no negative Ojo scooter reviews available.
FREQUENTLY ASKED QUESTIONS
How fast do Ojo scooters go?
On average, Ojo scooters can go as fast as 20 miles per hour. However, this rate can change depending on the condition of the road and other factors. For example, riding uphill can cause the scooter to slow down, especially if it's carrying a heavy load. On the other hand, it can move faster if it's riding along a flat surface, even if it's carrying a load of the same weight.
How do you start an Ojo scooter?
Ojo scooters are designed with the user's convenience in mind. It boasts a Quick Start function where you simply hit the power button to turn it on. Once it's turn on, you can simply choose the driving mode you want, and you're good to go. The preset driving mode is Eco Mode, and you can make adjustments accordingly.
How much does an Ojo cost?
Admittedly, the Ojo Commuter Scooter price is not cheap. These electric scooters are available in the market for a little over $2000. But if you consider all the benefits that you can derive from it, there's no doubt that you're definitely getting your money's worth.
Overall, the Ford Ojo Electric Scooter is one of the best electric commuter scooters in the market today.
It comes packed with impressive features such as high quality front and rear suspension to keep you comfortable, a 500-watt motor that powers it up to run at a top speed of 20 mph, and can go as far as 25 miles with one charging. Thus, this is not your ordinary electric scooter.
It also has a beautiful U-shaped design that gives even the tallest of riders enough legroom to enjoy the ride. And the fact that it has three convenient driving modes make it perfect for a wide range of users.
With its sleek exterior and impressive interior, there's no doubt that this electric scooter is the one to beat.