Gyroor H40 E-Scooter: Should You Get It For You Kid?
One of the best things about being a parent is watching your children develop into mature adults. You should take care of the physical and mental health of your children as they mature. You must therefore make sure they get exercise, fresh air, and mental rest.
Imagine having all these critical elements for kids and teens in one place? Yes, Gyroor H40 E-scooter will provide you with all. During my Gyroor H40 e-scooter review, I found it suitable for kids and teens with a 10MPH maximum speed and 10 miles range. Its stylish appearance, which includes vibrant LED lights and reflective stickers, makes it fascinating and attention-grabbing for enjoyable rides.
However, because it is adjustable in height, even adults may use it on occasion. I could at least use it perfectly with a 5.10 height. So, let's get into the main review to see what I discovered and whether it's worth the $250 price tag.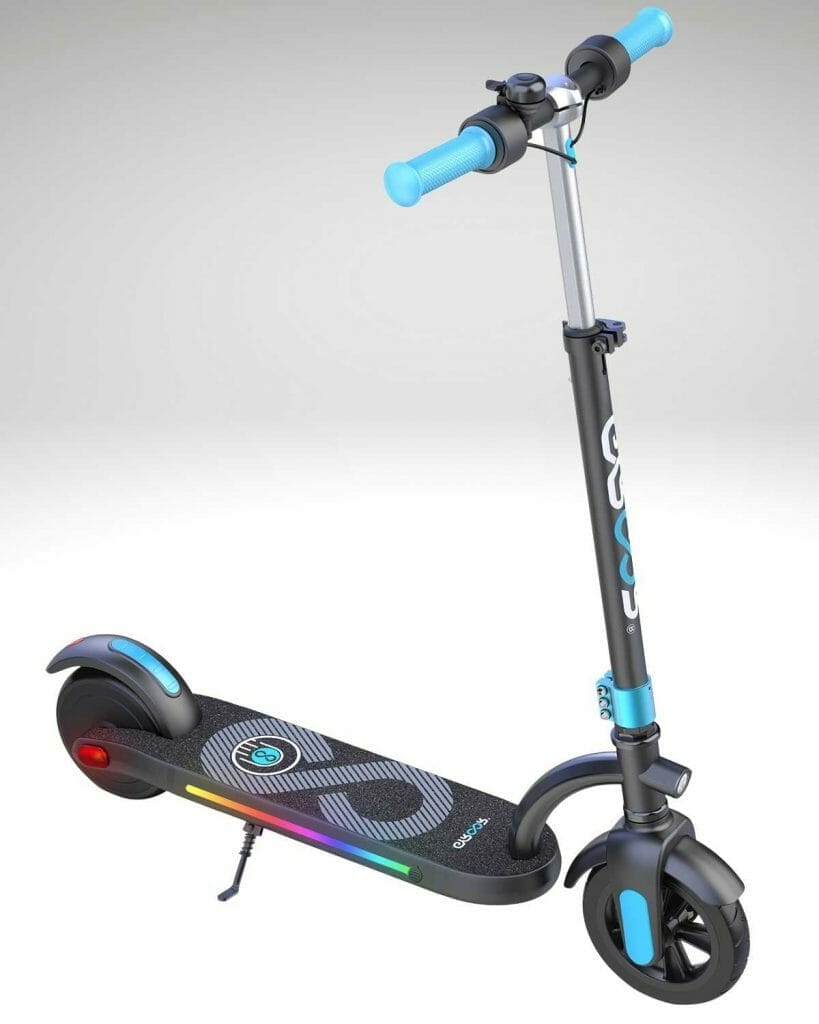 Scooter's weight: 17.2lbs
Frame: Aircraft-grade aluminum alloy frame
Max operating range: Up-to 8 miles
Top Speed: Up-to 10 miles per hour
Max load capacity: 177lbs
Motor: 200W brushless motor
Battery: 37V, 2.5AH lithium battery
Charge time: 2 hours hours
Throttle: Thumb throttle 
Ride modes: Single speed
Max climbing capacity: Up-to 15°
Brakes: Electronic and foot brake
Lights: Gradient LED Lights on both side of the deck, bright headlight and flashing taillight.
Gyroor H40 E-Scooter In Depth Review
Gyroor isn't a big name in the electric scooter industry. Yet, they marked their name brilliantly in the market with their H40 and various other models. H40 is one of the best and most-engaging design languages I've recently seen in kids e-scooters.
Plus, this wonderful unit is well-built and has some useful features. I was impressed with how Gyroor integrated performance, riding smoothness, and longevity together in this unit.
Awesome and attractive design
The first thing that impressed me about H40 is its unique design. The electric scooter comes in variety of color options. The colorful stripes on its deck and front bar look awesome.
Plus, its deck has LED strip light on both sides. It changes colors keeping pace with the ambiance. There's a reflective sticker on the side of the front wheel to improve visibility in dark situations. The reflective sticker looks cool too.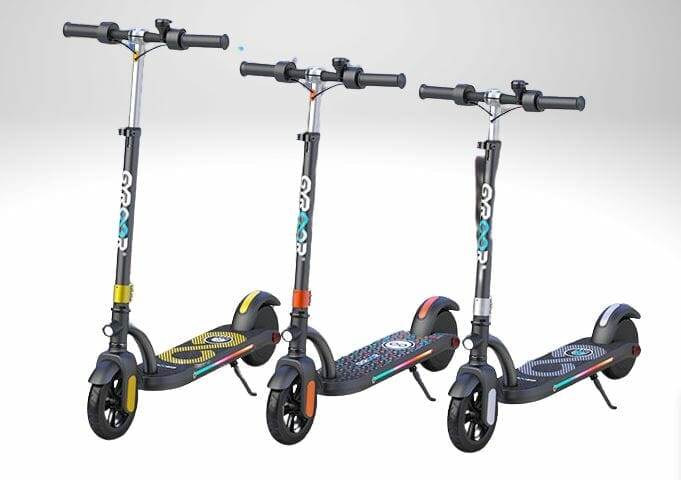 Kids will fall in love with this design language. Even I must give accolades to the designer. Thumbs up for such an amazing look for the scooter!
Outstanding brake and safety features
When you buy a e-scooter for your kid, you must take a closer look at its safety features. Otherwise, it may injure them. Thankfully, Gyroor didn't compromise with safety features for their H40 e-scooter. It has a dual braking system.
Electric brake
Mechanical brake
Among other safety features, the electric scooter includes high-visibility front lights, reflective sticker, and tail lights. But we will focus on the brakes now and discuss the lights later.
Electric brake performance
The electric brake is useful to stop the scooter from running at full speed at 10MPH. It is made with a high-performance antilock mechanism. As soon as you press it, the e-scooter will come to an immediate stoppage.
During my test, I pressed the e-brake button on the left side. The red brake button is easy to see and reach, even for kids. Right next to the red button of the e-brake, there's a car bell. You can press it to warn other vehicles of your presence. The horn is loud enough to reach 30 feet in distance. It comes in handy during emergencies.
The e-scooter also has a mudguard brake right at the backside of its deck. Kids can easily press the foot brake to de-accelerate the scooter safely. Plus, the mudguard protects the deck from rain and splashes.
I went over a small puddle with the e-scooter. It withstood the water splash and protected my feet quite brilliantly. I've to say Gyroor has done brilliantly with its braking system.
ALSO READ: Best Lightweight Folding Electric Scooter
Moderate mileage and speed
Gyroor claims that the H40 can reach 10MPH of top speed along with 10 miles of range on paper. However, I've found the battery lasted from 6.5 miles to 9 miles, depending on the road conditions. Also, being a 5.10″ person with 165 pounds weight, I wasn't surprised with the speed performance of the scooter.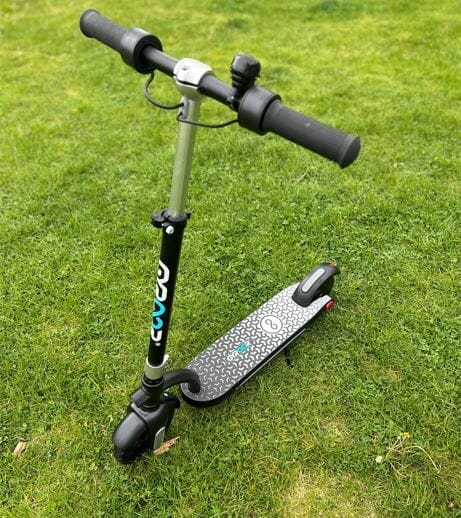 USE COUPON CODE "NEWAGEACTIVITY2022" TO GET 10% DISCOUNT AND FREE SHIPPING
Kids will get more mileage for sure. So, there's nothing to worry about at all. Nonetheless, you may think that the speed isn't enough. Well. I would disagree with those people. You need to realize that this e-scooter is mainly for kids and teens.
And for them, both its speed and battery range is more than satisfactory. They can ride through their neighborhood and go to nearby parks with ease. And for kids, its 10MPH of top speed is also safe since it decreases the chance of collision and accidents.
2500mAh battery to power up the 200W motor
H40 is equipped with a 2500mAh battery and 200W motor. At first glance, you may find the scooter largely underpowered. That's understandable because most adult e-scooter comes with at least a 350W motor and 8Ah battery.
Nonetheless, you must realize that it is primarily a scooter for children. So, I found its battery and motor power fine for them. The H40 delivers smoother riding performance with the moderate motor and battery power. 
Moreover, the motor capacity is enough for occasional fun rides for adults. I took the e-scooter in my neighborhood, which held my weight quite well. Of course, I got less speed and range, but that's okay considering my weight. You will experience some wonderful riding moments with this vehicle. Just make sure you don't over-push it to damage the vehicle.
Finally, the battery and motor housing is made fully weather-resistant. It ensures the safety and longevity of the scooter.
DON'T MISSOUT: Best Razor Electric Scooters
Easy and quick acceleration
I loved the quick acceleration feature of the scooter. The acceleration button is located on the right side of the handlebar. It's under the display and has black paint. The scooter will increase speed as you press and hold the black accelerating button.
What's impressive is that it accelerates smoothly. Kids won't find any shakiness as they speed up the scooter.
Practical and lightweight construction
One of the best things about the H40 e-scooter is its well-built construction. The vehicle has nothing fancy for showing off purposes. Instead, Gyroor has been selective in choosing the right features and integrating them into the scooter.
It has only 17.2 pounds of weight with a payload capacity of 177. Its lightweight design enables kids to ride and maneuver the scooter comfortably. They don't need to apply their full strength to move the vehicle, only to get fatigued soon.
Also, with 177 pounds of weight carrying capacity, it is suitable for heavier teens. However, adults above 170 pounds are strongly discouraged from riding the H40 scooter. It can easily damage it. Even when I rode it with 165 pounds weight, it started squeaking. I was afraid that I could damage it.
Height adjustable handlebar
I talked about the practical design of the e-scooter in the previous section, and it's for no simple reason. Its handlebar has three different position adjustability. You can adjust the height of the handlebar at the following heights.
The three adjustments mean you don't need to change the scooter for kids yearly. As they grow up in height, they can easily adjust the handlebar to find their comfort. Also, height adjustment is made easy with guided instructions.
Multiple lights for visibility and safety
Another top feature of the H40 electric scooter is its improved visibility. You will get the following safety lights for the e-scooter.
Bright front light
Tail light
Reflective stickers
The LED front light with bright and white illumination covers 30ft spaces. Also, its natural cooler tone looks eye-soothing. The tail light is also bright and is visible from quite a distance. So, vehicles will be warned by your presence.
Finally, the reflective sticker on the deck and pedal further improves its visibility. I would give Gyroor 10 on 10 for the inclusion of high-visibility and safety features.
Kid-friendly electric scooter
Many manufacturers build electric scooters for kids, but these aren't kids-friendly in real life. Gyroor H40 e-scooter contrasts those scooters superbly.
The deck is wide enough for kids to position their legs. Also, the handles have a soft and skid-resistant grip. Even if kids hold the handle without gloves, their hands will remain safe and won't slip. Moreover, you will get a complete set of high-quality gloves and protective gear for free when you buy the e-scooter from Gyroor's website.
USE COUPON CODE "NEWAGEACTIVITY2022" TO GET 10% DISCOUNT AND FREE SHIPPING
The wheels are also made wear and tear-resistant. Plus, it has a skid-proof facility. So, kids can ride through the water with ease. They will also find its easy maneuverability quite friendly and useful.
Good-quality display panel
Finally, there's the display panel on the right front side of the handle. It is small in size. Yet, it is easily visible. You can see the following four items on display.
Gear mode
Speedometer
Speed unit
Battery life
So, riders will know the latest condition of their e-scooter with ease. However, the display isn't bright enough. I took it in the daylight and found it difficult to see it in sunlight. So, kids may find it difficult to see the display.
DONT MISSOUT: Best Razor Electric Scooters
Verdict: Is Gyroor H40 Worth The Money, And Who Is This Scooter For?
Gyroor H40 e-scooter comes at $250 pricing. Thus, compared to its practical and premium features, I found its pricing worthwhile. It has a small motor with a 2500mAh battery to hit 10MPH of top speed. Also, kids will find its unique and engaging design attractive.
Kids and teens from 6 to 13 years old can ride the e-scooter smoothly. Also, based on my Gyroor H40 e-scooter review, I suggest it for adults with a lightweight physique. If you are around 150-160 pounds, you can ride the scooter for fun. However, roaming through the city streets is not recommended.
USE COUPON CODE "NEWAGEACTIVITY2022" TO GET 10% DISCOUNT AND FREE SHIPPING