Jking Jupiter-02 Electric Longboard: An Intelligent E-Board That's Becoming Widely Popular
These days, many electric longboards are entering the American market every day. Surely, not all of them are worthy of your investment. But, hey, I discovered an e-longboard that showcases its quality through consistent performance and dependability. Yes, I'm referring to JKing's Jupiter 02 electric longboard.
During my extensive research for the Jking Jupiter 02 longboard review, I was blown away by its reliability, performance, and maneuverability. The longboard truly lives up to its name, "Jupiter," a Roman god king.
The intelligent electric longboard has several king-like characteristics, as suggested by its name. First off, it includes a multi-functional remote controller that is simple to use. Second, it can easily reach the top speed of 26 MPH.
Additionally, it is equipped with dual 450W brushless motor that is perfect for speedy and uphill rides up to 20 degrees. Finally, you'll adore its automatic turn on and off feature and intuitive controls.
Skateboard's weight: 19.5 pounds 
Deck material: 8 ply maple wood and a layer of fiberglass
Deck length: 38.2 inches 
Maximum load capacity: 330lbs
Maximum speed: Up-to 26 miles per hour
Max range: Up-to 22 miles 
Charging time: Around 4 hours
Motor power: (450*2) 900Watt
Battery: 42-volt, 7.5 Ah Li-ion (2272 UL Certified)
Wheels: 90mm polyurethane wheels
Riding modes: 3 different speed modes
IP rating: IP64
Hill grade: 20 degrees
Warranty period: 1 year
Jking Jupiter 02 Electric Longboard In-Depth Review
When Jking first started, they promised to offer iconic and stylish e-skateboards and longboards. The Jupiter 02, which was recently launched, demonstrates that the company kept its promise. People have become obsessed with it, despite the fact that it did not receive much attention at first.
Henceforth, I opted for the JKing Jupiter 02 review based on my real-life experience. If you plan to get a decent electric longboard at a budget-friendly price, don't skip it.
ALSO READ: Best Electric Skateboards Under $300 
7.5Ah battery with pulse charging technology
The first thing I loved about Jupiter 02 is its amazing battery. It comes with a 7.5Ah lithium-ion battery. Its total capacity is 270Wh, enough to offer you almost a day-long backup with moderate uses.
You will get 19 to 21 miles of battery backup. I tested it three days consecutively, and I got an average of 19.4 miles of average range. It wasn't bad at all. However, I was most impressed with the latest pulse technology that Jking has used for this e-longboard.
Yes, pulse technology offers better battery performance than the popular fast-charging. This technology uses a positive pulse with high current and voltage for charging. Firstly, it charges the battery faster than actual fast-charging. Yes, in my testing, the battery charged from 0% to 100% in less than 4 hours.
Secondly, the positive charge auto-repairs the lithium-ion cells that disintegrate with time. So, you will get around 15% more longevity of the battery.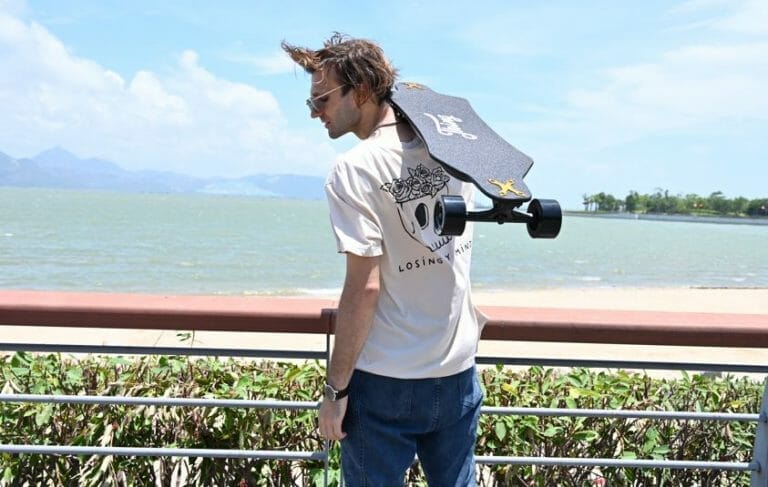 Dual 450W motor for fast acceleration and speed
The 7.5Ah battery powers the dual 450W hub motor of the Jupiter 02 electric skateboard. It reaches the 26MPH of top speed in less than 30 seconds. It was impressive as many skateboards need more than that to reach their top speed. Moreover, while accelerating, you won't feel any shaky moments.
As these are hub motors, they need the least maintenance. Also, you only need to replace the sleeve of the motor wheel instead of replacing the entire motor as it wears out. Henceforth, the dual 450W hub motor offers an excellent money-saving facility.
DON'T MISSOUT: Best Cheap Electric Skateboards Under $200
Awesome uphill performance
I'm a true Californian. So, I went to ride the hills whenever I got the time. Thus, I never like e-skateboards, that has poor uphill riding performance. In the past few months, I've tested over 10+ boards; many disappointed me.
Thankfully, Jupiter 02 longboard isn't among the disappointing ones. Its 20° uphill riding capacity without compromising comfort and speed is appreciable. I went to test it on the small hilly parts of Sacramento, and the longboard delivered a great performance. In fact, it delivered better riding capacity than I expected.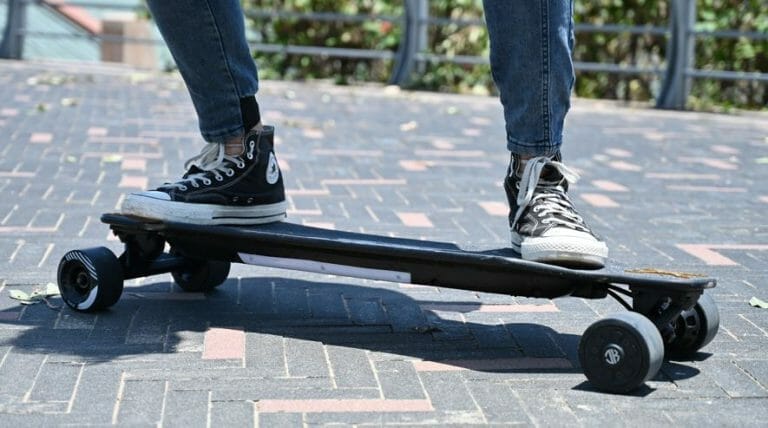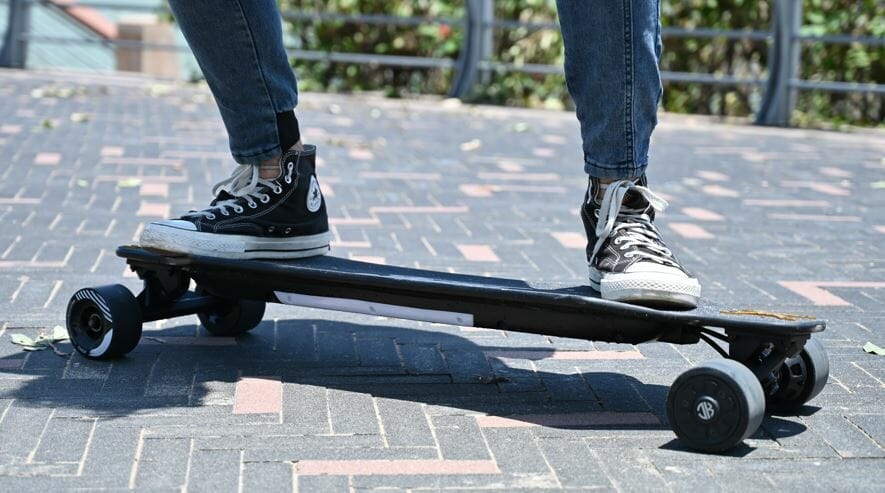 I could reach 24MPH of speed with 15° riding. Well, it is surely one of the finest hilly rides I've ever had with it. Plus, the wheels didn't slip, and I found no shaky feel. So, JKing deserves great thumbs up for incorporating such amazing performance even on hilly terrains.
Secure and sturdy construction
A longboard may have 100MPH of top speed and 200 miles of battery range. Yet, it will be useless unless it has a sturdier and safe design for long-term usability. Regarding this, Jupiter 02 comes out with flying colors.
It has an 8-ply pure Canadian maple wood deck. It offers superior sturdiness for easy use. People over 6 feet tall and 200lbs eight can confidently ride the longboard. It won't break apart as it has 330lbs of maximum weight carrying capacity.
On top of the maple wood, there's fiberglass covering that offers better grip and security. So, you will love its longevity and riding safety.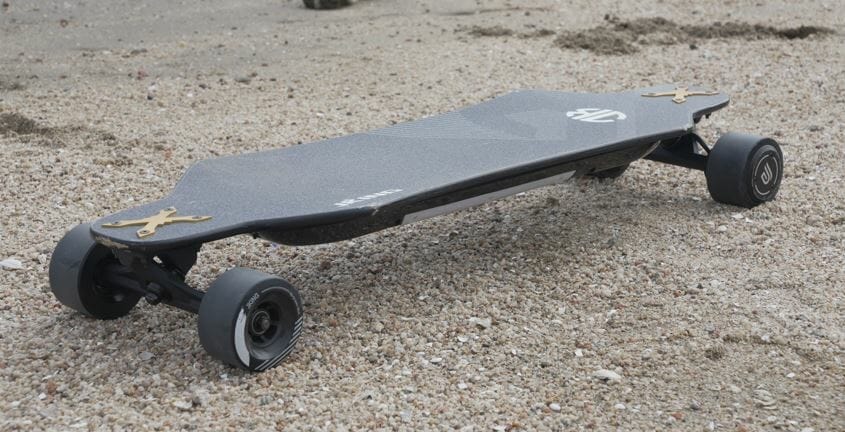 USE COUPON CODE  "NEWAGEACTIVITY" TO GET $30 DISCOUNT AND FREE SHIPPING
Wider deck and bigger wheels ensure better stability
Many e-longboards come with a narrower design. Although it may appear stylish, it is not good for safe and comfy rides. So, Jking has incorporated the Jupiter O2 with a wider deck. Yes, the deck dimension is 38″X10″ X5.2″. It is wider and longer than many high-end e-skateboards.
It is also wide enough to provide you with the steadiest riding experience. It comes in handy on bumpy roads where you struggle to maintain stability on the deck. On top of it, you will get 90mm PU wheels. 
Furthermore, the PU wheels are 100% waterproof. You can easily ride through the puddles and rainy roads with it. It even has anti-slip tread patterns that are useful on wet surfaces and hilly rides.
So, you can confidently ride Jupiter 02 for street wandering, mountain adventures, and daily commuting.
If you have ever used an electric longboard, you will know its overheating effects. When you ride for miles, it can easily get overheated. The overheating can quickly damage the battery and motor and even reduce your riding comfort.
Hence, a longboard with premium and the latest overheating protection can be a boon for you. In this regard, Jupiter 02 is a marvelous addition. Yes, it comes with overheating detection system with a customization facility.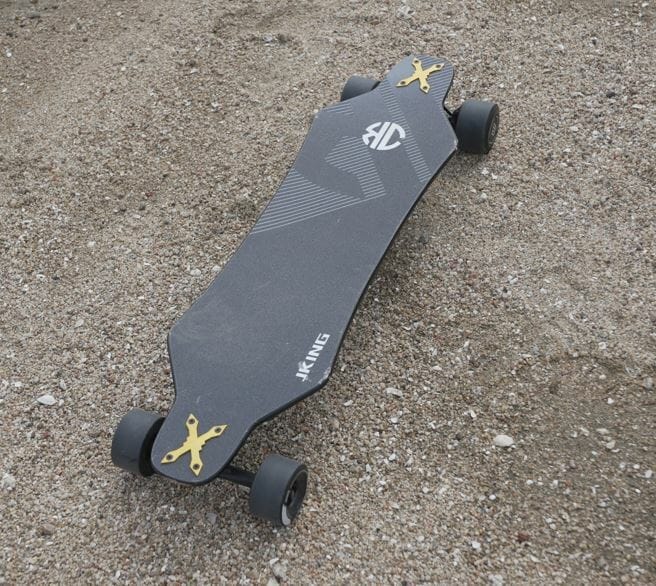 USE COUPON CODE  "NEWAGEACTIVITY" TO GET $30 DISCOUNT AND FREE SHIPPING
When the system detects overheating around the battery and motor, it automatically enters cooling mode. As a result, it safeguards the system from damage. JKing has used the latest high-pressure forged bridges for this technology. So, it provides better reliability to protect it from overheating damages. It ensures you don't spend money on replacing or repairing the power system.
An intelligent e-longboard
The electric longboard isn't only powerful and sturdier but also is an intelligent one. It has an automatic starting feature. As you hop on the longboard, it will start automatically. Afterward, you will be able to control it with the remote.
The multifunctional remote is easy to operate, even for non-tech-savvy persons. You can switch between 3-speed modes with it. Also, you may control the brakes, acceleration and backward t forward rides with the remote. It lets you enjoy the scenery on the roads for a soothing experience.
Directional color-changing LEDs
One of the best things I found during the Jking Jupiter 02 electric skateboard review is its color-changing LEDs. Well, at first glance, this feature may appear pretty childish. However, you will be surprised to know that the LEDs change color and direction with the skateboard's movement.
Yes, two LEDs have 7 colors. As you change the direction of the board, it changes colors. Also, it indicates speed and acceleration. Henceforth, you will find it useful for a safe riding experience at nighttime.

Frequently Asked Questions
Verdict: Is The Jking Jupiter 02 E-Board Worth Buying?
JKing Jupiter 02 electric longboard review showcases its worthiness. At around $549, it is an excellent investment. Its intelligent functioning, multifunctional remote, and quick acceleration make it a sure-shot choice for adventures and daily commuters. Plus, its pulse charging facility for battery health and overheating protection ensures its longevity.
If you are looking for a reliable longboard with decent features and performance at affordable pricing, I would suggest you buy the Jupiter 02.
USE COUPON CODE  "NEWAGEACTIVITY" TO GET $30 DISCOUNT AND FREE SHIPPING