Maxfind Max One Electric Skateboar: Is It Worth Your Money?
There are many longboards and skateboards in the market with great design, performance, and longevity. Yet, I felt using them was challenging because of their heavier weight and bigger size.
So, I was looking for a lightweight and compact e-board that could compete with the bulkier ones in terms of speed, performance, reliability, longevity, and user satisfaction.
Thankfully, I found the Maxfind max One. After using it for more than two weeks, I found it worthy. Thus, I decided to bring the Maxfind Max One Electric skateboard review. It will help you know whether or not you should buy one.
I was impressed with the FOC drive mode for safety and accuracy during my testing. Also, the lightweight yet sturdy design of the e-board is admirable. At 10 pounds, it is surely one of the lightest e-boards out there. It can still crank up 15MPH speed with 11 miles of battery range. It is amazing for such a lightweight board as it comes with only a 2.9Ah battery.
The Max One electric skateboard has superb controls, easy functioning, and affordable pricing. Thus, beginners will find it a great investment. Even intermediate and professional skateboarders will appreciate its performance.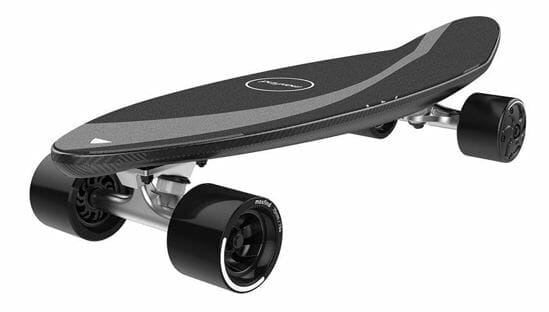 Skateboard's weight: 10 pounds 
Deck material: strong composite and a layer of fiberglass coting
Deck size: 27 inches long and 7 inches wide 
Motor type: single hub
Motor power: 350w
Maximum rider weight: 143lbs 
Max speed: 15 mph
Max range: 11 miles when fully charged
Riding modes: 3 (Beginner, Fast and Max)
Charge time: 1 hour
Battery: 26V& 2.9AH lithium battery
Brakes: Electronic regenerative braking
Hill climbing grade: Up-to 10%
Remote: Ergonomic wireless remote
IP Rating: IP65
Maxfind Max One e-skateboard is a top-of-the-line commuter under $300. It comes with optimal power and efficiency with good controls. Before I jump deep into the e-skateboard review, let's look at the top findings of the Maxfind e-skateboard.
The electric skateboard comes under $300. Yes, it comes with a $299 price tag which is great pricing for people with a tight budget. I found that the skateboard did amazingly combine the high-end features within the budget.
With a 2.9Ah battery (36V) and 350W motor, the commuter is a perfect go-to option for groceries and patrolling in the neighborhood. Also, you can take it for fun rides to remove boredom.
Its 11 miles of battery range and 15MPH speed are not the highest in the market. However, it is capable of meeting your short-distance riding requirements.
The battery will charge in 60 minutes only. So, you can charge it fast when necessary. It will be useful for emergencies.
Last but not least, at 7.7 pounds, the skateboard is lightweight and portable. You won't need to think about carrying a bulky item in your backpack when you go to the picnic.
Maxfind Max One Electric Skateboard Review
Max One electric skateboard, as the manufacturer says, is made mainly for beginners. But, during my review, I found it quite compatible for intermediate riders. Also, the vehicle is truly an amazing piece of engineering.
However, does it live up to the hype, and should you get one for your kid?
Let's see what I found during the review.
I'm continuously saying about its lightweight design because it is the main point of this skateboard. The board is 68cm (27 inches) long and 21cm (8 inches) wide.
The compactness is useful for easy control. You can place your feet comfortably on the deck and ride through the busy streets easily. However, the deck might be not that good for taller and heavier people. If you have long feet, you will find the deck shorter.
Average people will love the compactness for an easy riding experience. On top of it, the board weighs only 10 pounds. So, you can move it comfortably without sweating. Also, it is super portable.
You can easily carry it in your backpack or at the back of your car. So, it will be useful for going to parks, picnics or weekend tours. It will bring fun and joy to your life.
Medium battery range and manageable speed:
The Maxfind Max One is a mid-range e-board. It cranks up 15MPH speed and can go up to 11 miles with a fully charged battery. Thus, you better not expect the skateboard to give you adventurous speed and longer mileage.
Nonetheless, the shorter mileage and less speedy progression doesn't mean the skateboard is not worthy of the investment. You can ride it to hop around the neighborhood, go to groceries and schools. Yes, students can easily ride it to schools or colleges and enjoy the experience on their campus.
Also, it has a 10% hill climbing facility. So, you can go up small hills with this skateboard. But, I would not recommend you to take it on hilly rides since it's not much powerful.
Improved controls and settings:
The electric skateboard has adapted the FOC drive mode. Thus, the FOC mechanism brings accuracy and safety to the forefront of this skateboard. It lets you control the brakes and speed settings more accurately.
What's more, the FOC system is famous for its speed optimization. So, you won't see the battery and deck getting warmer even after running at full speed for the entire range. On top of it, the accuracy helps in better brakes. It will be useful for avoiding collisions. Plus, improved brakes and settings control make it super-reliable.
You will also love its power output adjustments. It reduces the battery to drain quickly and boosts motor efficiency. Therefore, you will love the overall performance for sure. Last but not least, its better controls, reliable brakes, and easy functions make it a perfect deal for beginners.
Awesome flexibility and durability:
A skateboard should be flexible. It is crucial because you will move the deck in all ways, jump with it, and performs tricks, unlike a car or motorbike. Thus, you would never like a skateboard with less flexibility and mobility.
USE COUPON CODE  "NEWAGEACTIVITY" TO GET 5% DISCOUNT AND FREE SHIPPING
Luckily, the Max One skateboard is famous for its flexibility. You will find its smooth steering experience quite useful in daily life. Also, the sliding is smoother than you expect. Moreover, I loved its aluminum alloy design.
It is extremely strong. It combines the reinforced deck with toughness to make the electric skateboard an extremely long-lasting investment. As a result, you can expect it to last for many years.
Next, its design language features a 45-degree angle. It will be useful if you want to perform a few tricks since it enhances mobility and strength. Also, during the test rides, I found its aluminum alloy material quite stealthy. It won't break or get damaged soon.
Classic yet modern design:
You will hardly find a skateboard that can combine both modernity and classic appeal in its design. The Max One is a great exception because it has the classic kicktail deck design while still looking trendy and modern.
The kicktail shape is a great option for cursing along the city streets. It makes the little adjustments of your feet and acceleration of the e-board easy. If you ride through the busy areas, you will love its kicktail shape.
Also, the deck has a sleek design. The battery is placed underneath the deck, so there's no eyesore. I also loved its all-black design that truly looks fashionable. School and college goers will love the trendy look for sure.
Motor and battery performance:
The Max One electric skateboard is compact in terms of size. Yet, the e-skateboard has included a 350W motor and 2.9Ah battery within its housing.
Also, it is adequate for daily rides.
I also loved that it has a hub motor. So, it needs the least maintenance. Thus, It will be useful if you are too lazy to maintain your skateboard timely.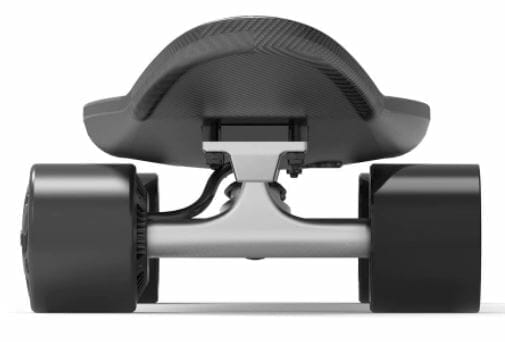 Moreover, the electric skateboard has an IP65 rating. So, it can withstand water splashes and dust with ease. You can ride the e-board even in the rainy season, pass through the puddles. The IP65 rating also safeguards the battery and motor for a longer lifespan, protecting against dust and water damage.
Last but not least, the battery charges from 0% to 100% in just 60 minutes. So, you won't have to be impatient to see the battery charging fully. It is a great benefit since teenagers want everything to be speedy.
The pocket rocket skateboard is made for all. Whether you want to cruise lazily or love speeding on the streets, this e-skateboard is ready to serve your every requirement. It has three-speed settings:
Beginner speed settings that support up to 5MPH
Fast speed setting goes up to 10MPH
Max settings let you touch 15MPH
So, depending on your riding mood and necessity, you can easily choose from the three-speed settings. Beginners will hugely benefit from the 5MPH speed setting that lets them improve controls without tumbling.
As you learn the art of riding the e-board, you can then gradually increase your speed. Thanks to the convenient remote control facility, I was also impressed with the easy shifting between the three speeds. The FOC system or Hobby Wing Esc button further helped in the changes. So, you can keep your eye on the roads and ride safely.
Wheelbase and wheel size:
Max One e-skateboard has 75MM wheels. The wheels are medium-sized and ideal for cruising through the city streets, pavement and concrete.
Also, the wheels are made with PU material. They can withstand the daily abuses for a couple of months with ease. Thankfully, the wheels are affordable and easy to replace if need be.
The wheels combine with the composite deck offers you a smooth riding experience. However, I would love to see bigger wheels since it is useful for showing tricks.
Weight capacity and Deck sturdiness:
I found the composite deck quite sturdy. For a couple of years, you can ride on it comfortably. It doesn't discolor and also won't wear out easily. However, I was a little disappointed with its weight-bearing capacity.
Yes, the skateboard manages only 176 pounds to accommodate. It was surprising to see since many e-boards of its class hit 210 pounds of weight capacity with ease. So, if you are a heavy rider, you should avoid this skateboard.
Who Should Choose Maxfind Max One?
As the Maxfind Max One electric skateboard review suggests, the commuter is made for beginners. Its three-speed settings, affordable pricing, reliable controls, and performance make the Max One a good option to kick off your skateboard career.
You can start riding at 5MPH speed and slowly increase the speed as you learn the skateboarding basics.
ALSO READ: Best Cheap Electric Skateboard Under $200
Frequently Asked Questions
The electric skateboard has come a long way from being a trendy toy to useful for daily commuters. The Maxfind Max One has understood this change and has included amazing features to meet your necessities. Moreover, I was impressed with its performance during the Maxfind max One electric skateboard review.
You will surely appreciate the pricing and performance without major compromises if you are a beginner. However, it may not be a good deal if you are a professional or intermediate rider and looking go a powerful skateboard. It is mainly for shorter rides.