Onlyone O-2 Electric Skateboard Review: A Perfect Longboard For Passionate Riders
Fun, joy, and challenge!
An electric longboard brings everything to your feet and helps you look fashionable.
A longboard will surely meet your riding necessities if you want to move through your college campus, neighborhood, or parks. It gets even better when you can get a superior one like Onlyone O-2 e-longboard at budget-friendly pricing.
Onlyone O2 Electric skateboard review shows this e-board has three speed modes with 25MPH of top speed, a standard 7.5Ah battery, and improved control. If you have been using regular skateboards, the O2 e-longboard gives you a perfect opportunity to upgrade to a modern one.
O2 electric skateboard is priced around $500 and delivers quite satisfactory performance in most regards. From professional packaging to long-lasting construction and impressive remote control facility, O2 is one heck of an addition for professionals and beginners
Skateboard's weight: 16 pounds 
Deck material: Maple and bamboo
Deck length: 38″
Motor type: Dual Belt driven
Motor power: 800w each
Maximum rider weight: 260lbs 
Max speed: 27 mph
Max range: 12-17 miles range when fully charged
Riding modes: 3 (Beginner, Fast and Max)
Charge time: 2 hours
Battery: 180WH lithium battery
Brakes: Electronic regenerative braking
Hill climbing grade: Up-to 30 degrees
Warranty: 6 months
Onlyone O2 Electric Skateboard Review: Is It a Good Choice?
Of course, conventional skateboards have excellent design and better familiarity. They ensure a good riding experience. Nonetheless, upgrading to an electric skateboard will open up a whole new world in front of you. And when the O2 longboard opens this door for you, it will impress you.
While testing the O2 electric board, I was thoroughly amazed at its features. So, let's take a look at what I found.
ALSO READ: Best Electric Skateboards Under $300 
I've seen most reviewers ignore the packaging f skateboard and longboards during their review. They think it's unnecessary, and most users agree with them. However, I consider the packaging of an item incredibly crucial. It shows how much care and attention the manufacturer has given to their product.
Regarding packaging, I found the O2 e-longboard truly incredible. It comes in an immaculate pack with great protection inside. It was a joy to unbox the beautifully arranged 38″ deck, its parts, and the remote. You will surely love it.
When you choose a longboard, its battery and range play a crucial role in its selection. Regarding it, I found the battery inclusion of the O2 longboard quite effective. You can choose between two battery ranges for the O2 board. It includes:
A 7.5Ah standard battery with 14 to 17 miles range.
A 6.6Ah Samsung battery with 15 to 18 miles range
Of course, the bigger battery is a reliable and better option. I tested the longboard in a nearby park and neighborhood. I got around 12 to 13 miles of battery range on average. While it's not as long as some high-end longboards, it's still sufficient for most people. You can roam around your college compound full day with this battery.
Three different speed modes
The O2 offers a brilliant cruising experience with three different speed modes. It gives the longboard a great edge over other regular ones. So, the three speed modes comprise the following options.
A slow mode with a 10MPH speed
Medium mode with 13MPH speed
Fast mode with 25MPh speed
A slow mode is a great option for beginners. You can easily ride in slow mode to familiarize yourself with the longboard. Once you gain confidence, you can move to the medium and fast speed modes. Also, speeding up the longboard is pretty convenient. It takes less than 10 seconds to switch between the three speed modes.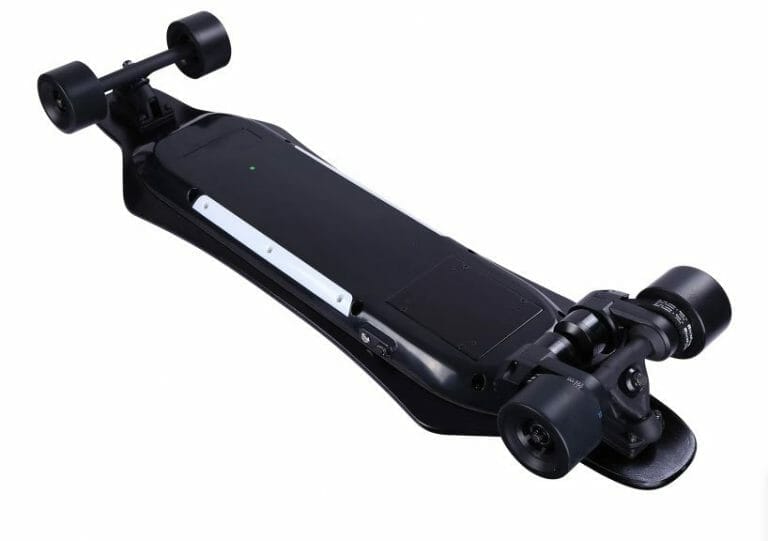 Furthermore, you won't see any bumpy feel while switching between the speeds. The transition between these modes is fast and smooth. It is a great benefit for beginners who might fall off due to sudden speed changes.
Its delayed speed is backed by smooth acceleration for such smooth rides. Plus, professionals will have the privilege to ride at a 25MPH of top speed. However, during my tests, I found 22mPH of average top speed, and it's not bad at all.
Let's make it straightforward that the O2 longboard has the best deck out there in the market. The manufacturer has used 8-layers to construct the deck. It is made of 100% pure Canadian maple wood, which provides the best durability.
The deck is strong enough to withstand 330 pounds of weight. Hence, even the heaviest person can easily ride the 38" deck. You will never have to worry about breaking the deck at all. On top of it, it has a beautiful black finish. The deck features anti-skidding construction for better stability. It will be a great inclusion for beginners to reduce the risks of injuring themselves.
USE COUPON CODE  "NEWAGEACTIVITY" TO GET 18% DISCOUNT AND FREE SHIPPING
I'm impressed with the climbing facility of the O2 electric skateboard. It has a 30° of the climbing facility. Of course, during uphill rides, its speed slows down. However, it's understandable since you will ride in hilly regions.
Furthermore, the uphill ride is smooth and doesn't cause shocks and impacts. You can easily bypass the hilly regions. Plus, the larger 83mm by 52mm and 90mm by 52mm wheels can easily pass the uneven surfaces with improved controls. Professionals will find it suitable for trick shows, and beginners will love it for easy control and steadiness.
An outstanding remote control:
Onlyone O2 electric longboard seems to be a few years ahead of our technology with a brilliant remote. You may easily control the proceedings of the longboard with the remote. Moreover, it also works as a display once connected with the electric board.
You will see 4 white buttons on it, each signaling a different battery range. The remote control will provide real-time information about the riding mode and speeds. So, you will be fully aware of what's happening with the electric longboard.
You will also find power, reverse, and pressing buttons. However, at first, you may find it challenging to remember which button is for what use. It will take a couple of days to get used to the remote. Once familiar with the remote control buttons, manipulating and controlling the skateboard will become easy.
Hence, your skating hours will be fun and joyous. The remote control also has an anti-slip design and easily sticks to your hand.
USE COUPON CODE  "NEWAGEACTIVITY" TO GET 18% DISCOUNT AND FREE SHIPPING
Onlyone claims that the O2 longboard has a waterproof design. Its battery and motor housing are 100% waterproof. However, I didn't find any IP68 waterproof raring for the electric longboard. So, I decided to test it.
I rode the electric longboard for several hours and went through puddles. It held on quite well. Also, it performs well under the rain to protect the battery and motor housing. However, there's a big twist if you want to ride it in wet conditions.
The wheels lack adequate traction. Henceforth, you will get less control over the slippery floors. Also, its 80A PU wheels aren't made for wet and slippery pavements. So, we discourage you from riding O2 under these conditions, especially if you are a beginner.
Also, the water-resistance of its circuit boards starts reducing right from its first day. So, I doubt how long the waterproof facility will work.
I tested the O2 longboard for more than 10 days. During my Onlyone O2 Electric skateboard review, I compared it with some high-end longboards. It included Meepo NLS Pro, Verrell RS, and Backfire Zealot.
I found that these longboards, although priced around $650, didn't deliver better performance than Onlyone O2 electric skateboard. At around $500, you will hardly find any better option than O2, which greatly lives up to our expectations.
You don't need to worry about its longevity, easy maneuverability, and intelligent remote control. So, it is a great longboard option for those on a tight budget. Its versatility, three riding modes, and improved control make it a perfect deal!
Frequently Asked Questions
The longboard can withstand small puddles easily. I rode it through puddles, and it didn't show any problem. Nonetheless, it is not a good longboard for icy and wet roads.
Yes, electric skateboards and longboards such as O2 are fun and joyous to ride. Its better control, longer deck design, and remote controlling ability make it a go-to option for students and others.
Verdict: Is The Onlyone O2 E-Board Worth Buying?
As I conclude my OnlyOne O2 electric longboard review, I must admit that Onlyone has done a brilliant job stacking some high-end features at such an affordable price. The skateboard offers superior controls, excellent performance, and smoother rides. You will surely love its excellence.
If you plan to get a longboard for fun or professional rides, O2 is there to meet all requirements. Plus, the longboard has a nice design. You may pair it with black shoes and joggers to look cool and fashionable.
USE COUPON CODE  "NEWAGEACTIVITY" TO GET 18% DISCOUNT AND FREE SHIPPING