Possway T3 Electric Skateboard: An Unthinkable Deal-2023
Many Chinese skateboard brands have recently knocked on American doors. However, only a few of them have been successful in attracting customers with their high-quality, performance-oriented skateboards at a reasonable price. And, I must say, Possway has had a lot of success in this area with its T3 electric skateboard.
So, I couldn't help but prepare this Possway T3 electric skateboard review. The skateboard comes with 105mm big cloud wheels closing the famous Donut wheels, a chunky 7.8Ah battery, and a 500W hub motor right out of the box. Plus, with a pricing of $499, the T3 has everything you want in a good-quality board for daily commuting.
If you are a beginner or intermediate skateboard rider looking for a big motor, wheel, and battery, the T3 skateboard is surely made for you. Plus, with a 32MPH of top speed and 17 miles of battery range, the board is a top choice for those on a tighter budget.
Skateboard's weight: 16 pounds in weight
Deck material: 9 ply maple wood and bamboo
Deck length: 31 inches long
Maximum load capacity: 330lbs
Maximum speed: High speed of up-to 28 miles per hour
Max range: Up-to 18 miles 
Charging time: 3-4 hours
Motor power: (500*2) 1000Watt
Battery: 42-volt Lithium-Ion battery, capacity: 7.8 Ah (swappable)
Wheels: 105mm Durable shock absorbing wheels
Riding mode: 4 different riding modes
Braking modes: 4 brake modes
IP rating: IP65
Hill grade: 25%
Warranty period: 180 days
Possway T3 Electric Skateboard Review
Possway is a Chinese manufacturer of skateboards and longboards. They, like the dozens of Chinese board makers, had the opportunity to be washed away in memory lanes. Fortunately, they worked hard to bring us this comfortable and incredibly classic T3 skateboard.
The skateboard prioritizes comfort, safety, and an easy-riding facility. You'll enjoy its riding moments for their graceful moves and ease.
ALSO READ: Best Electric Skateboards Under $300 
T3 provides one of the most long-lasting skateboard decks available thanks to its construction, which features eight layers of pure Canadian maple and one layer of bamboo. For increased comfort and control, the deck is designed with a W-concave profile. Even on the busiest roads, you'll have exceptional control thanks to the combination of this and those massive 105mm wheels.
Your ability to ride easily and with minimal vibration is enhanced by the vehicle's low center of gravity. It comes in handy when you need to ride the board at a rapid pace. Therefore, those who are interested in racing will adore the deck's design, which is undoubtedly handy and functional. In addition to this, the architecture of the 11-layer deck makes it more durable.
Shock-absorbing bigger wheels with higher ground clearance:
In a general sense, skateboards and longboards with larger wheels naturally deliver a higher degree of control and comfort. In the course of my extensive career as a reviewer of skateboards, longboards, and electric bicycles, I've seen that the vehicle's ability to maintain control improves when its wheels are larger and have a greater diameter.
Because of this, I really liked the 105mm cloud wheels that came with the T3 skateboard. It has a ground clearance of at least 56 millimeters, which is the most among the majority of skateboards in its class. With a T3 skateboard, you will have the confidence to travel through tough terrain such as uneven roads and speed breakers. Using it in one's regular commute will make good use of it.
In addition to that, the wheels have a fantastic shock-absorbing mechanism built into them. As a result, you may ride the board comfortably because the wheels absorb a significant portion of the impact and shocks. It makes the roads easier to navigate. Finally, with wheels that are larger and of higher quality, the T3 skateboard is equipped to handle practically any surface.
Bigger and removable battery for enhanced range
Tell me, what factors do you consider to be the most important when purchasing an electric skateboard? The majority of consumers will express their need for a larger battery and improved mileage. T3 Skateboards will offer it to you exactly, or possibly even more than that.
Indeed, a 7.8Ah 42V battery is included in the package. It has a total capacity of 280.8Wh, which is sufficient for everyday commuting needs in and of itself. On paper, you will have a range of 18 miles with your battery. During my tests in the local area, I easily got between 16 and 16.5 miles of range out of the battery.
I believed that the battery's range was more than sufficient for my normal commute, therefore I was fairly pleased with that aspect of the product. With this 7.8 Ah battery, you should have no problem going to the workplace and coming back home, and you should still have some juice left over.
When it comes to the kids, this battery gives them the freedom to traverse their entire campus without worry. And if they want better gas mileage, they can easily remove the battery and replace it with another one. The time required to replace the battery will be less than five minutes. Therefore, you won't waste a lot of time on it.
A capacity for rapid recharging is included with the lithium-ion battery, which is of utmost importance. I tried out its quick-charging capability on many occasions. In less than twenty minutes, the battery may achieve its maximum capacity of one and a half hours for riding. It was impressive, and the vast majority of people would gladly take it any day of the week.
Cruise control riding settings
It's possible that riding a T3 skateboard will make you feel unmotivated at times. I get that it occurs; every once in a while, we just want to take it easy on the road. Possway has addressed the issue and added a fantastic cruise control option to the T3 skateboard in order to improve its performance.
You can use the remote to adjust the settings for the cruise control mode.
Therefore, you don't even have to press any buttons in order to put the vehicle into cruise mode. Once you start the setting, the skateboard will continue moving at a constant speed. After putting it through its paces, the cruise control option passed my reliability test with flying colors. However, I do not advise you to switch to cruise control while driving on the congested routes.
In addition to the cruise control, the remote control will provide you with a button that allows you to adjust the low, medium, and high speeds independently.
USE COUPON CODE  "NEWAGEACTIVITY" TO GET $15 DISCOUNT AND FREE SHIPPING
Are you a beginner-level skateboard rider? If you answered "yes", you could be hesitant to ride a skateboard because you are afraid of losing control of the board. You won't have to worry about losing control of the skateboard if you have a T3, which is specifically designed to eliminate that possibility.
With the release of their T3 skateboard, Possway has included their most recent PEST 2.0 electronic speed control. When compared to the earlier version, this ESC control features significant upgrades. It is, without a doubt, both more exact and accurate. Additionally, understanding how to use the ESC system has become less difficult.
You won't need more than fifteen to twenty minutes to get a basic understanding of this fantastic PEST 2.0 electronic speed control technology. Therefore, even beginners may ride T3 skateboards with confidence because they have better and more stable controls.
Even while the ECS prevents you from achieving the top speed as rapidly as possible, the ECS's steady and gradual increase in speed is great for developing your self-assurance.
Trucks with enhanced stability:
The skateboard's trucks and wheels work together to increase stability. Its 7″ breadth and 45-degree angle provide maximum stability. It will be practical for fast riding.
Additionally, the improved trucks enable quicker and smoother turns. Its curving abilities will prove to be highly helpful, even for novice to intermediate learners.
Although it's not particularly remarkable, I thought the turning circle was quite good. However, you will find the T3 skateboard's turning capability useful for daily travel.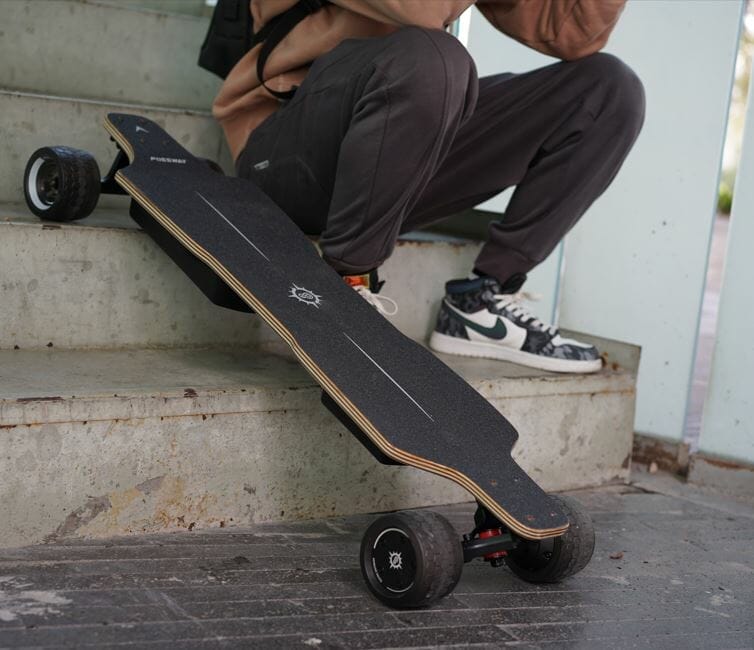 USE COUPON CODE  "NEWAGEACTIVITY" TO GET $15 DISCOUNT AND FREE SHIPPING
Dual 500W motor with optimum hill climbing ability:
Two 500W brushless hub motor comes with the Possway T3 skateboard. With the least amount of maintenance, it performs brilliantly. It is also one of the strongest skateboard motors you can find. 
On paper, the skateboard is capable of climbing hills of 30 degrees. Unfortunately, I didn't think it was as upscale as Possway says. On Californian hills sides with 10-degree slopes at their steepest, I tested the skateboard.
I was annoyed because T3 was having a hard time accelerating and couldn't achieve the top speed. Possway should make use of their climbing ability, in my opinion. In particular, I won't advise using a T3 skateboard for uphill travel.
The 500W motor, without a doubt, fails abruptly in the hill climbing facility. While frustrating, the motor compensates with a superior top speed. Yes, it has a top speed of 28 miles (46 kilometers). I averaged a top speed of 27 miles per hour while riding the skateboard.
On paper, the skateboard could deliver its claimed top speed. It's a great feature because most skateboards fall well short of their claimed speed. I had to commend the designer for maintaining such incredible speed.
A great remote controller:
In recent years, the remote control has become an essential and important purchasing aspect of the skateboard. Possway has followed suit by including a simple and compact remote with their T3 electric skateboard.
The remote will comfortably fit in your hand. There is a button to switch between speed modes.
As a result, operating the remote requires no rocket science. On top of that, the remote has a well-illuminated LED display. You can see the following things on the display:
Speed
Battery level
Direction
There're four-speed modes that you can control with the remote. These are:
How Was The Riding Experience With T3 Skateboard?
I must say that riding on the T3 skateboard has been one of my favorite experiences. Its ability to absorb shock and reduce vibration is impressive. I rode the skateboard over bumpy roads without feeling any vibration. As a result, riders will find it more comfortable.
On top of that, I could consistently hit a top speed of 27 miles per hour, which was also impressive. Last but not least, the updated ESC control made the T3 skateboard easy to ride and control.
The only disadvantage I discovered was its difficult hill climbing ability. Aside from that, my riding experience assures me that the skateboard will easily meet the daily commuting requirement.
Who Is This Possway T3 Skateboard Build For?
In a nutshell, the T3 skateboard is designed for novice and intermediate riders. Furthermore, the skateboard has a limited edition price of $500. As a result, even those on a tight budget can afford the T3 skateboard.
In fact, the skateboard outperforms its price in terms of performance and durability. As a result, you will find the T3 skateboard to be ideal for your riding needs at a reasonable price.
Frequently Asked Questions
Yes, Possway is a reliable skateboard brand. Its T3 skateboard has impressed most reviewers. Also, the company has good reviews from customers.
The Next board is the fastest skateboard in the world, with a top speed of 60MPH. Hence, you will find it 2X speedier than standard skateboards.
Of course, a T3 skateboard with updated ESC control, shock and vibration reduction facility, and an 11-layer deck is worth any investment. So, you will find it an amazing skateboard for the budget.
Verdict: Is The Possway T3 E-Board Worth Buying?
This electric skateboard, according to the Possway T3 review, is designed for regular commuters. It makes for a nice and comfortable ride to the office or college. You won't feel the road's bumps, shocks, or hits thanks to the vehicle's vibration- and shock-absorbing wheels.
The T3 skateboard also has a good remote and display and is simple to operate. Consequently, you will find the T3 e-skateboard to be helpful. Your daily commute needs should be perfectly satisfied.
USE COUPON CODE  "NEWAGEACTIVITY" TO GET $15 DISCOUNT AND FREE SHIPPING