Segway Ninebot Max Electric Kick Scooter: - One Of The Best In Today's Market 2023
Everyone appreciates a good quality E-scooter. Kids love to ride it for fun, teenagers even use it for quick errands, but for adults, it can be a practical alternative way to travel. No one likes getting stuck in traffic and admit it, if you can, you'd rather travel fast on E-scooters rather than spending two hours in traffic jams.
Plus, E-scooters are really cool!
And, speaking of which, this is a Segway Ninebot Max review and this heavy-duty E-scooter is sure to surprise you in a lot of good ways.
So if you're someone who's seriously looking to buy a high quality e-scooter under $1000 then you should, by all means, check out our thoughts on this promising product. Get ready to pedal and go full-throttle!
In-Depth Review: Segway Ninebot Max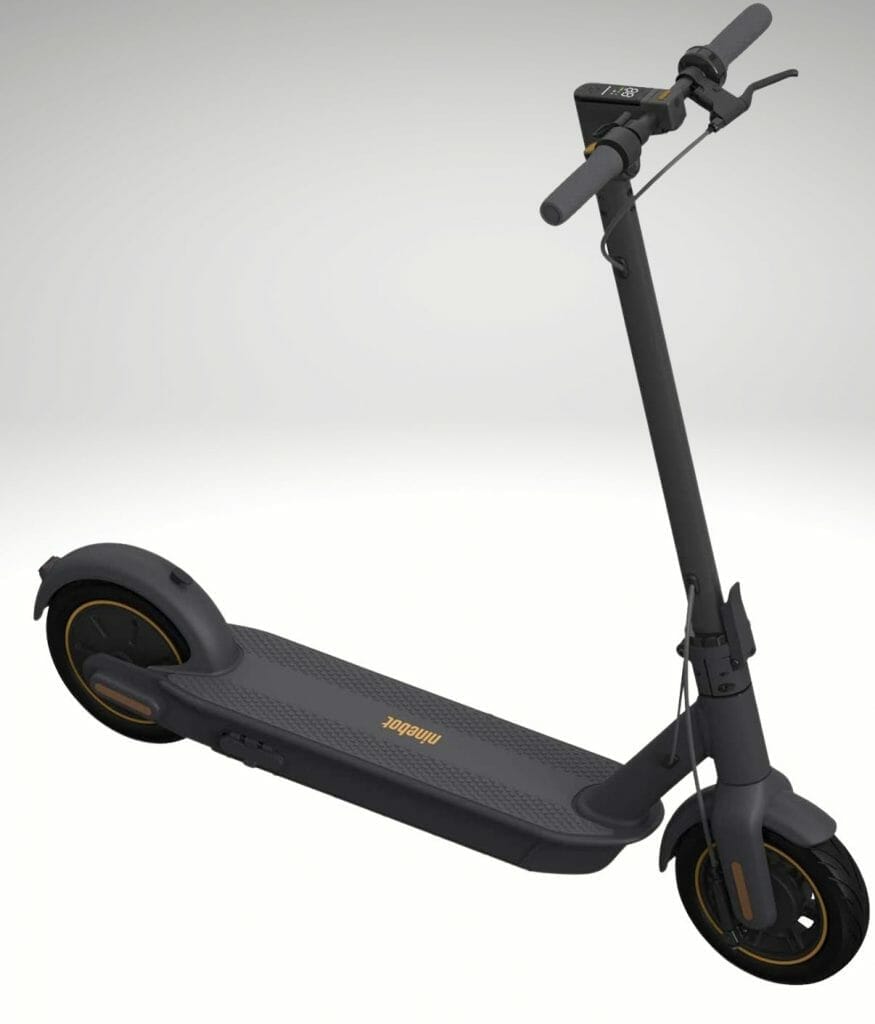 Size: 9 inches x 18.6 inches x 47.4 inches
Size (folded): 9 inches x 18.6 inches x 21 inches
Weight: 19 kilograms
Hill-grade: 20%
Water Resistance: IPX7 (updated)
Brake type: Drum and Electronic
Lights: Front and Rear
Tire type: Pneumatic 24.5 cm (10 inches) x 2
Miles Range: 40 miles
Top Speed:
18.6 miles per hour
Battery: 551Wh
Charging time: 6 hours
Max weight for the rider: 220 pounds or 100 kilograms
Motor: 350 watts
Overall Performance and Capacity Of Segway Ninebot MAX Electric Kick Scooter
Being an electric scooter, the first aspect that you got to know about the Segway Ninebot Max is how far it will take you. Of course, that can be answered by knowing the power, speed, and overall capacity of this model.
Right off the bat, we can say that this unit's name is fitting because the Segway Ninebot Max is a scooter with almost all of its features maxed out should you compare it to other E-scooters from its category. (We're going to compare it to other top E-scooters later on)
The Segway Ninebot Max is a premium scooter and bank on significant improvements from Segway's previous releases. You can say that they went all-in on this one.
It all starts with its 350 watts motor that can go for a top speed of 18.6 mph. That in turn, reaches an extra-long range of 40.4 miles which is quite impressive for a scooter. So, if you're someone who really wants to commute back and forth to work riding an E-scooter then this is the unit for you.
It runs on a fast-charging (6 hours) 551Wh battery. And can carry a load of 220 pounds. It's also programmed with the Smart Battery Management System which is a way for the Segway Ninebot Max to extend its battery life and make sure that it's safe as well as efficient when operating.
It's also worth noting its 20% hill grade so you're sure that it's got what it takes to go uphill. It's one of those units with a really impressive hill climb capacity. With the Segway Ninebot Max you can maintain a speed of 11km/h while climbing a hill.
You also need to take note that the 350 watts motor can go for 700 watts at peak performance. That's 40% than what other leading E-scooters can do with the standard 250 watts.
So that's definitely more power and more impressive performance from the Segway Ninebot Max. That power enables the Segway Ninebot Max to accelerate from 0 to 24 km/h at only 5.4 seconds.
But there are a few things that you got to know about accelerating on your Segway Ninebot Max. The thing is, this unit does not have a zero start mode. So you have to kick start it at about 3 km/h. Once it's starting roll then you have to gently twist on the throttle or the motor won't engage.
That's a safety feature though and not intended to be a quirk. Once the motor engages then you can go max throttle without any issues at all. Smaller riders though when trying to traverse a hill because of this feature may have some problems starting on the cruise.
Also, take note that the top speed kind of goes down once the battery goes below 50%. And we would just like to emphasize based on the Segway Ninebot Max's price that it's got one of the longest range for an E-scooter.
Design, Construction, and Ergonomics Of Segway Ninebot MAX G30
All of that power cannot be executed if the Segway Ninebot Max was not constructed and designed the right way. We're also going to talk about the ride quality of this unit later on as a culmination of all the components that we are going to discuss.
First of all, this portable e-scooter is not so hard to assemble and setup. There's not much difference to other E-scooters in a good way. The only thing that you need to make sure is to connect the wire inside its handlebar to the wire that's inside the stem.
The Segway Ninebot Max has impressive build quality. The beefy construction definitely is paying off. This E-scooter feels like it's an actual legit way for you to get from point A to point B, no kidding around.
1.Frame and Deck Of Ninebot Max G30
The frame is supersized and durable. Have you ever heard about sharing a ride on your E-scooter? While most commercially available scooters might not be ready for that then the Segway Ninebot Max definitely is. Given that it's targeted or designed for ride-sharing then it should be one reliable personal E-scooter that you ride around town.
And, as a testament to its reliable construction, it also is IPX7 water-resistant. While not designed for full-submersion, this unit can sure handle a few splashes of rain if you do get caught on your way to your destination or at home.
The frame has a nice black finish that looks modern and emits coolness as well as an urban vibe to it. It's of course, not all style though and this frame is ultra-durable.
With a 7 inch by 20-inch deck, the Segway Ninebot Max is like a dream come true. It's so spacious that it always gives a comfortable ride even for larger riders. And surely this large deck can fully handle its 220 pounds weight limit.
The deck also then employs an anti-slip design for added safety so you won't have to worry about a few bumps in the road. The deck should then give you a lot of comfortable positions as you ride it and makes balancing a breeze. Also, the deck allows for a 7.6 cm clearance from the ground.
Of course, good design leads to great ergonomics. And that is super important when it comes to the handlebar. The handlebar is more than just for the throttle and control but for the Segway Ninebot Max will serve as your control panel.
As expected, this unit has got a thick handlebar grip. But you can expect that it feels sturdy and textured so that's a plus in terms of control. If it feels right then it should work right. Then right at the center of your handlebar is the LED for added modernity.
You may check relevant data on the display as you ride. That includes your current speed as well as battery level, and when to engage your lights for safety and visibility. You can also appreciate the level of thought put in on the design because the LED dims when the front lights are on and that's to eliminate glare. Then you'd have a button that controls different aspects of your ride like the speed mode, lights, and the power of the scooter.
The next components that we are going to tackle on our Segway Ninebot Max review are the ultra-important brakes and wheels.
The Segway Ninebot Max makes use of a combination of a front drum brake and one regenerative electric rear brake. You may see a dual attack on brakes on some other units but the Segway Ninebot Max stands out because of the drum and electric brake combo.
Only a single hand lever activates the brakes but that in turn, helps in adding some stability on your rides. It won't matter whether you are riding on flat pavements or bumpy terrains the results of both these unit's brake system is pretty much the same.
Then, you'll be working with two 10 inches pneumatic tires. These tires can easily make the ride less rough on you with its ability to just roll over some minor obstacles with ease. It should also make sure to eliminate whatever vibrations your route may induce on your scooter.
Also, these Segway tires are said to be self-healing. And if you're curious as to what that means then know that the tires of the Segway Ninebot Max come with tire slime. That means, your tires would then be a bit more resilient and resistant to flats.
The Segway Ninebot Max is a bit heavy at 42 pounds but of course, that's all because of its beefed-up size so it's all worth it. Also, you don't have to worry about when it's time to carry it.
It can be folded and it fits right in on any trunk. It's got a folding stem designed with a latch. It also then has a rotating safety collar to lock the folding lever into place. Once again, the folding mechanism on the Segway Ninebot Max is solidly built.
5. Other Features Of Segway Kickscooter MAX
The Segway Ninebot Max has good quality LED lights at the front and the rear. A small tail light that activates once you activate the brakes and a high-mounted one at the front. If you ride at night then these lights are quite visible and are good safety precaution add-ons.
The Segway Ninebot App will also then allow you to have access to additional information needed for your riding experience. The app is available for both IOS and Android devices and your smartphone can connect to this E-scooter via Bluetooth.
Also, the charging port has a built-in DC converter and a traditional DC port. This should enable you to use a standard power cable for your charging needs.
Riding Quality of Segway Ninebot Kickscooter MAX
So is the Segway Ninebot Max worth the investment? Does the premium tagging of this E-scooter give you a premium quality ride?
When we are talking about rides on pavement and city asphalt then the Segway Ninebot Max can more than handle that and should offer the smoothest rides. Some minor bumps on your route should also pose no issues at all.
The nice grip on the handles should also give you a comfortable feel. The dual-brake system also makes sure that it's responsive enough and won't jolt you as you squeeze them.
Overall, this is one powerful scooter and should let you cruise through the city. Take note though that this scooter ain't made for rougher roads especially on dirt tracks even though it is beefed up so keep it within city limits.
Who would benefit the most from the Segway Ninebot Max?
Anyone serious enough to use an E-scooter as their daily means of transportation should benefit enough from the Segway Ninebot Max. Is your workplace or school not that far but is not as practical to walk to? Go get the Segway Ninebot Max!
Even teenagers can handle it and it's safe and comfortable for anyone as long as you don't exceed 220 pounds. This scooter is reliable and durable and can handle a few bumps on the road. It's a premium scooter and so take advantage of that capacity if you've got a few extra bucks to spend for it.
Just quick comparisons to some other top E-scooter models that you may want to check out as part of our comprehensive Segway Ninebot Max review.
1.Segway Ninebot MAX VS Xiaomi Mi M365
The Xiaomi Mi M365 has pretty much the same features compared to the Segway Ninebot Max but has got shorter range, less expensive, and a bit smaller thus making it a bit lighter. You may think of the Xiaomi Mi M365 as the toned-down version of the Segway Ninebot Max.
So if you want something, not as hardcore as our featured E-scooter then goes check the Xiaomi Mi M365.
2.Segway Ninebot MAX VS Fluid FreeRide Horizon
This comparison section won't be complete without talking about the Fluid FreeRide Horizon. Now there's an E-scooter than can go toe to toe with the Segway Ninebot Max pound for pound.
This unit has a similar range to that of the Segway Ninebot Max but has a higher top speed and slightly better acceleration and a suspension to boot which should get the attention of potential buyers. The Fluid Free Ride Horizon is generally less expensive too. But aside from the aspects that we mentioned the Segway Ninebot Max outperforms the Fluid FreeRide Horizon.
Frequently Asked Questions
Do I need a license to ride an E-scooter?
As of now, you don't need a license to go ride your E-scooter whenever, wherever. I guess this is also part of the appeal of using one. There are no concrete laws that mandate the usage of it so that could either be good or bad for riders. One thing is for sure, please do be careful when out riding in the streets.
Are E-scooters eco-friendly?
Yes, they are energy-efficient and eco-friendly devices. You use a motor with a battery instead of petrol or gas so it's definitely good for the environment.
So there you have our Segway Ninebot Max review! If we're going to describe this E-scooter in a few words then we shall say powerful, reliable, and innovative. That should be a fitting summary of what this unit is all about.
Again, if you're serious about making an E-scooter as your transport of choice then the Segway Ninebot Max should be on top of your list. It's built for comfortable rides for all walks of life. It's engineered to not only be eco-friendly but also to take on the wear and tear of the daily commute.
So why wait? Go grab your Segway Ninebot Max now!