Skatebolt Brisk: Is It A Worthy Mini Electric Skateboard On A Budget?
A mini electric skateboard is convenient to carry and store, as well as safer to ride. As a result, it may be a lot of fun for both youngsters and adults to ride. And all of these important features are so evident for the Skatebolt Brisk mini e-skateboard that I was blown away the point I saw it.
With an anti-slip pad on the deck and gravity sensors for stability, the small e-board has an excellent appearance.
During my Skatebolt Brisk review, I also found it a worthy investment under $300 since a good-quality mini skateboard is tough to find within this price range. So, it's time I unfold what I've found about the Brisk e-skateboard during my three weeks testing period.
It would be useful to continue reading the article if you plan to get an affordable yet quality e-board for you or your kids.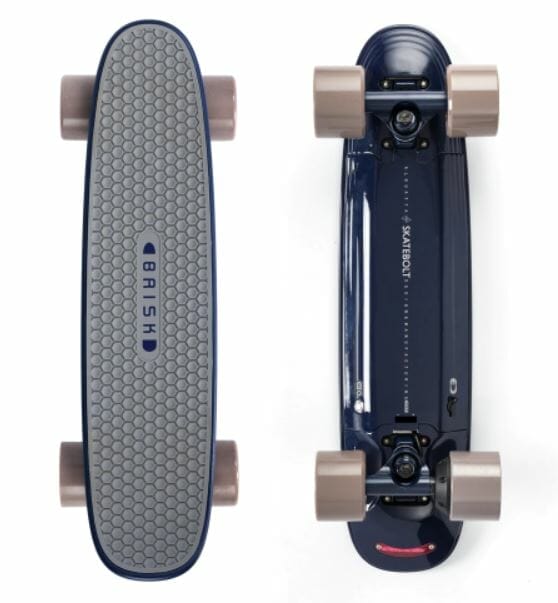 Skateboard's weight: 8 pounds 
Deck material: Fiber glass, ABS
Deck size: 24″*9.5″*5.5″
Motor type: single hub motor
Motor power: 150w
Maximum rider weight: 154lbs 
Max speed: 11 mph
Max range: 5-7 miles range when fully charged
Riding modes: 3 (Beginner, Fast and Max)
Charge time: 2 hours
Battery: 2500mAH lithium battery
Brakes: Electronic regenerative braking
Hill climbing grade: Up-to 10 degrees
Warranty: 6 months
Who Is This Brisk E-Board For?
Brisk is an amazing piece of engineering for any skateboard. During the Skatebolt Brisk electric skateboard review, I found its controls pretty easy and safe. Also, the skateboard features a functional design with an anti-slip deck. On top of it, the e-board features flexible turning for a smooth rider experience.
With all these incredible features, adults are tempted to use the skateboard. I understand this temptation. But, I have to resist the allusive calling and say that the Brisk skateboard is made mainly for kids, even with such outstanding features.
It only takes a max load of 154 lbs. and has a 5-7 miles range as it hits 11MPH of top speed. So, adults won't find it pretty useful in real life. Yet, adults may ride Brisk e-skateboard for some fun rides around the neighborhood.
So, here's the key takeaway:
The brisk skateboard is mainly designed for kids. It allows them to ride around the neighborhood, schools, and even playgrounds. However, adults will like it for fun rides occasionally.
I have to say I was skeptical about the Brisk skateboard when I got it for the review. However, the skepticism about the e-skateboard didn't last long. I was mighty impressed with the premium feel it gave right out of the box.
The deck has a silicone finish. Its gravity control sensor and comfy directional change make me an instant fan of Brisk.
ALSO READ: Best Off Road All Terrain Electric Skateboards, Buying Guide
Silicone padding on the deck:
The first thing that grabs the attention of the skateboard is its silicone pads on the deck. It has anti-slip features. So, the rider's feet will stay firm and balanced on it. Even if the padding of the deck gets weight, its anti-slip properties will work perfectly in line.
It improves the safe riding experience. The silicone pad with better stability makes it ideal for kids and teens as they need better protection.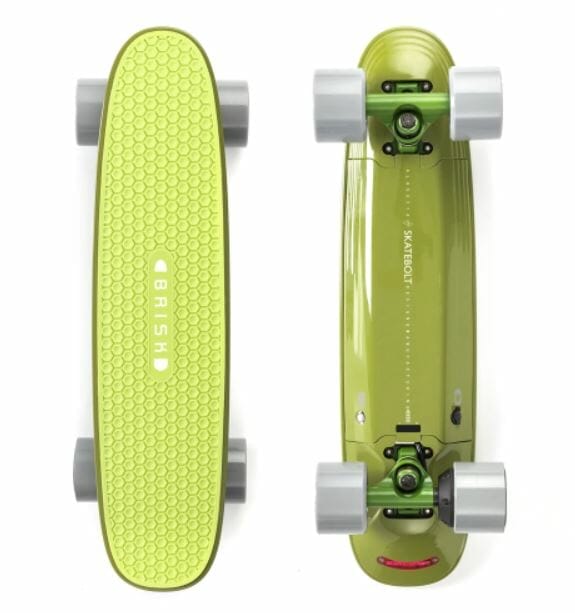 USE COUPON CODE  "NEWAGEACTIVITY" TO GET 5% DISCOUNT AND FREE SHIPPING
Lightweight glass fiber deck:
Talking about the deck, I found it quite remarkable. The manufacturer has used fiberglass to construct the deck, which makes the deck sturdier and easy to navigate with a lightweight design.
Thanks to such a lightweight design, I was more than satisfied with the navigational directions. Yes, the mini-board weighs only 8lbs. Thus, it is among the lightest mini e-skateboards on the market.
What's more, fiberglass is among the most durable materials out there. So, you won't need to worry about the durability of this beautiful deck. I'm ready to lend my words to its durability.
There's no denying that we love the compactness of electric skateboards, mainly for carrying and storage facilities. Thank God Brisk has brilliant compactness. It couples with the lightweight design for quick controls and carrying facility.
The deck length is 24". Thus, anyone will find it easy to control and maneuver. I'm 5.8" tall and found riding the compact deck quite easy. However, it is made mainly for kids and teens with that 24" length and compactness.
Gravity sensor control for safety:
I loved that Skatebolt has integrated the intelligent motion-sensing chip with its deck. It is an incredible feature for e-boards under $300. The chip will detect your motion and directional movement and adjust the direction following your body posture.
Thus, the rider won't need to forcefully change their direction, which can often distract them from the roads. I also found it easy as I rode it several times to groceries to get my drinks and loaves of bread. I didn't have to put extra pressure on my feet to change the direction while moving. I turned my posture, and its gravity sensor followed accordingly.
I've to give thumbs up to Skatebolt for such an innovative and useful integration of the motor sensors, which elevates the quality of the electric skateboard to the next level. Most importantly, it keeps your hands free. The hands-free riding experience is even better.
Ideal for shorter distances:
With 11MPH of top speed and 5 to 7 miles of average battery range, I found the Pennyboard ideal for short distances. You can go to groceries or for a visit around your neighborhood with the board. Also, its short distance facility makes it a good deal for kids and teens.
They can ride the skateboard around the neighborhood. It will allow them to spend quality time with their friends nearby. Long story short, I won't recommend you the skateboard for serious riding requirements. Get Brisk only for some fun rides and occasional long rides.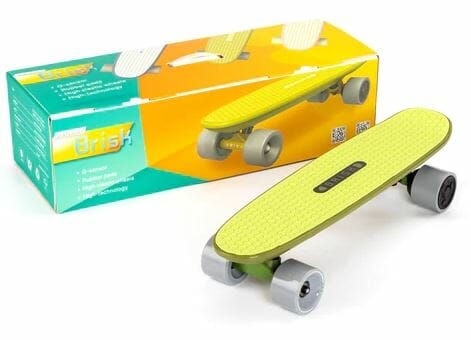 I've seen many skateboards with complex controls only to make riders' life hell during my last 5 years of skateboard reviewing career. Thanks to Jesus, Brisk isn't among them.
I loved the intuitive controls with body posture. You can lean forward to accelerate the board and lean back slightly to stop and slow down the speed. Can the controls get easier than this? The only complaint I've is that it didn't have any controlling app facility. It would have been a cherry on the pie for sure.
Nonetheless, its easy control is still impressive. You will also appreciate the quick turning facility. It has a high-quality truck frame that makes quick and flexible turns possible.
Do you live in a hilly region? It doesn't matter since Brisk offers your 10-degree climbing capacity with great control; it doesn't matter. Yes, I know it isn't compatible with the 15-degree climbing facility of many high-end boards.
Yet, I found the climbing capacity quite handy during the test rides for occasional and daily uses. You, however, need to keep in mind that Brisk can climb the slopes only at high-speed mode. It is essential to bring it to their attention because kids and teens might easily forget it.
And it can be dangerous. I was once trying to ride uphill a small hillock at medium speed. And guess what, I was about to tumble, and it was scary!
Easy maintenance with the brushless motor:
One thing that mightily impressed me about the Skatebolt Brisk is its brushless motor design. It was a great feature to have since we rarely see such improved motors with this kind of budget skateboard.
Additionally, a brushless motor is easy to maintain. It doesn't need any regular maintenance. Also, with 150W motor power, it can reach the 11MPH top speed in less than 10 seconds. It is to be appreciated, and I believe that young people will enjoy the rapid acceleration.
After all, every kid wants to be Luis Hamilton, right?
On top of it, the brushless motor is more stable than you may think. The stability is handy for rides on rough roads.
Mid-sized battery with quick charging facility:
During my Skatebolt Brisk electric skateboard review, I found the battery capacity more than the average rating. The skateboard isn't any exceptional, with a 2160 mAh battery capacity. Yet, it delivers the right amount of power for the 150W motor.
While both the motor power and battery capacity aren't in the high-end category, they combine perfectly for a mini skateboard. Also, it is safer for kids because they won't be able to hit insane speed for collisions. I found it useful from a parents' perspective to know that their kids are safe on this fantastic skateboard.
The battery goes from 0% to 85% in less than 1 hour and 30 minutes. It takes around 2 hours to charge completely. So, there's no waiting moment for the battery charging to ride the outstanding electric skateboard.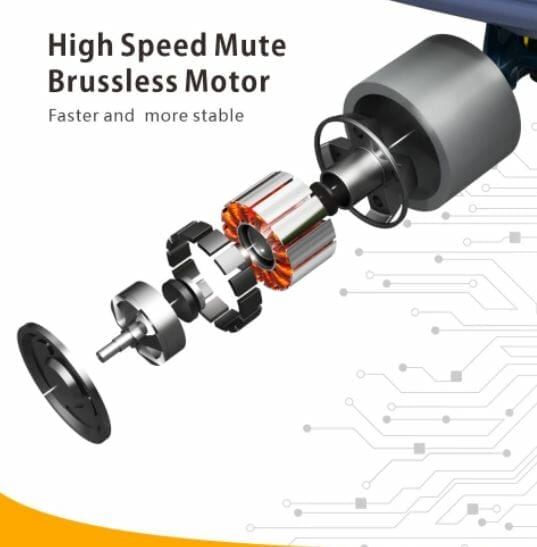 USE COUPON CODE  "NEWAGEACTIVITY" TO GET 5% DISCOUNT AND FREE SHIPPING
Improved safety features:
Last but not least, I have to give accolades to the safety improvement of Brisk. As I mentioned earlier, it has integrated a soft silicone pad on the deck. The soft silicone pad ensures a safe landing without any hard impact on your feet. Also, it protects the rider from slipping even in wet conditions. The ABS brakes also offer immediate slowing down and stopping facility.
Plus, it has integrated bright taillight. So, the rider remains more visible to traffic. It is helpful to skip collisions. It is even more important for kids as they may collide easier than adults.
Smooth and affordable riding option:
Finally, I couldn't help but mention its smoothness. The 51mm PU wheel can easily go through bumpy roads. You won't face any hiccups with the skateboard. The PU while also operates quietly to offer you a noise-free riding experience.
And before wrapping up the Skatebolt Brisk review, I must mention its affordability. It comes right under $300 and so is pocket friendly. If you plan to give your kids a nice birthday present or gift for his brilliant scores in the school, Brisk surely is the best deal you can get.
Trust me; kids will fall in love with the Brisk mini skateboard's look, design, controls, and smoothness.
Final Thoughts On The Skatebolt Brisk
Brisk is a smart inexpensive e-board with reasonable pricing. Kids and teens will love the modern design, quick controls, and flawless riding experience. Even adults will find it quite useful for occasional rides now and then.
As I wrap up the Skatebolt Brisk review, I recommend it for people under 16. You can gift it to kids to light up their days. Also, the skateboard will easily last for a few years until your kid grows up and is ready for some serious skateboard magic.