Uscooters GT Sport Electric Scooter: why It Is Gaining So Much Popularity Amongst Commuters?
There are times when you want for something to be true, and it turns out to be true. It's possible you won't believe it. The same skepticism will be present in your mind when you see the Uscooters GT Sport electric scooter in front of you.
Yes, the GT Sport is so fantastic that most people are taken aback at first glimpse. But what is it about this e-scooter that makes it so popular and in demand?
I've used the e-scooter for the last 15 days to find the answer. And here, I will put my honest opinion in the  GT Sport electric scooter(powered by E-Twow) review.
To begin with, the GT Sport appears little, but don't be deceived by its relatively small size. The e-scooter is capable of reaching speeds of up to 25 miles per hour, which is above average for today's e-scooters. You'll also get a 28-31-miles of average range, which I found to be really useful for everyday commuting.
Even on uneven ground, the airless tires with front and rear suspension makes for a lively and enjoyable ride. I took the scooter off-road near my house and was pleasantly surprised by its comfort, dependable brakes, and ease of usage.
So, let's dive deep into the GT SE scooter review to see who should buy it and who shouldn't.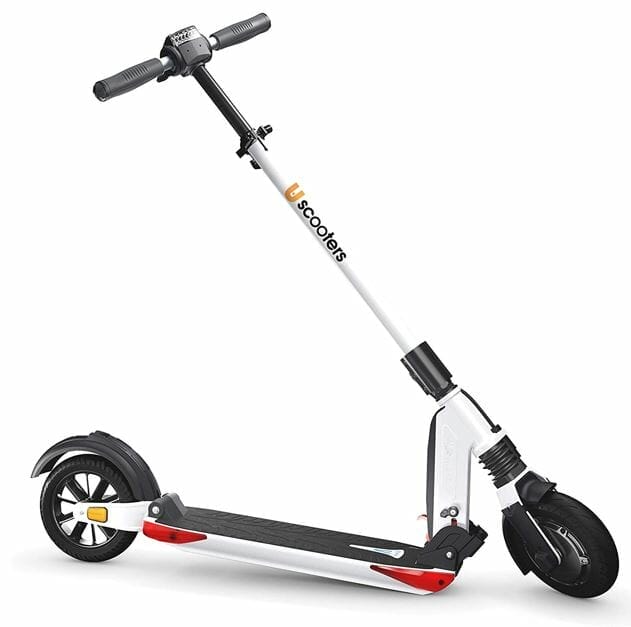 Scooter's weight: 29lbs
Frame: Aluminum alloy
Max range: Up-to 31 miles on a single charge
Maximum speed: Up-to 28 mph top speed
Max weight capacity: 280lbs
Motor power: 700W DC brushless motor
Battery: 46.8V,10.5Ah Li-Ion (Samsung cells 35E)
Battery position: Inside the deck
Wheel size: 8 inch solid rubber tires
Ground clearance: 4.5 inches
Foldable handlebars: Yes
Height adjustable handlebars: Yes
Charging time: 4-4.5 hours
Brake: Regenerative brake for front wheel + Drum brake for rear wheel and rear fender friction brake
Suspension: Front and rear shock absorbers
Special feature: Bluetooth capabilities and a mobile app
Before I get into the meat of the review, I'd want to go over a few crucial points regarding the electric scooter. It will provide you with insight into what to expect from the GT Sport.
First and foremost, the GT Sport is a more powerful variant of the GT SE 2020. The design language and build quality are the same on both models. And I have to say, I was blown away by the build quality and design of both the scooters. They have a simple appearance yet are dependable and attractive for long-term use.
Nonetheless, as compared to the GT SE 2020 version, the GT Sport variant is slightly lighter. It also comes with a mobile app. You may use your smartphone to control the safety and rider settings. At roughly 30 pounds, this e-scooter is so light that you'll feel like you're flying through the air.
It also comes with a 504W battery pack that drives the 700W motor. The 35E cells battery is made by Samsung and has a faster charging time. I was able to charge the battery in less than 5 hours, which was adequate for my needs.
Now it's time to get down to business with the review.
There's no denying that UScooter's GT Sport is a fantastic product. But how does it perform in terms of design, price, and performance?
Here's what I discovered after 15 days of intensive testing.
Design and appearance: Simple but functional
With the GT Sport, you will get a minimalistic design. The long handle and thin standing point look fine. Most users will find the design quite satisfactory, with an almost identical appearance to the GT SE 2020 version. The good thing is the e-scooter is built ruggedly and surely will withstand heavy uses and a bit of off-road riding. Also, the tires ad brakes are good enough for most riders.
However, if you are a fan of a sporty look, GT Sport won't make it there. It's not a good deal as long as you are a regular rider and will not get the e-scooter for showing off causes. I also found it functional and must say UScooter has done well to make it look good without increasing the price.
Quick folding capacity and carrying handle: Excellent
I was blown away by how light the e-scooter felt the first time I rode it. It appeared to be elegant. I was intrigued when I carried it to the neighborhood and folded it.
With a three-step folding capacity, the scooter folds fast. You may also easily fold the handlebar. The locks and stem telescopes also fold beautifully. I have to praise it because it has a convenient carrying handle.
The Uscooters GT Sport e-scooter is also one of the lightest scooters on the market, weighing only 30 pounds. It can, however, readily support up to 280 pounds of weight. I am a 175-pound individual. Riding the e-scooter did not cause any speed decreases or trouble for me. I also had my laptop in my bag for a few minutes, which added a few pounds to the scooter.
From then on, I was very happy with the GT Sport's lightweight design, carry handle for portability, and good weight carrying capability. If you want a powerful e-scooter that isn't too heavy, the GT Sport is a decent choice.
A small scooter that delivers superior speed and mileage
When I rode the scooter, I never expected it to reach 25MPH speed as described on the product label. But it did.
The scooter performed brilliantly to reach the 25mPH (37.5KPH) speed and maintain the riding smoothness. Also, I loved that it could reach 20KPH from 0KPH in just 5.4 seconds. It was quite impressive given the size of the scooter and its motor.
Also, the thumb throttle will allow you to accelerate the scooter smoothly without any jitters. So, you can keep pace with the traffics without any problem.
The scooter could also hold on to its speedy performance with a big rider. I've already mentioned that I am 175 pounds, and I could ride the scooter at its top speed with ease.
A good deal for hilly regions: Brilliant suspension system with inclining ability
I wasn't prepared to ride the scooter across difficult terrain. However, I decided to go for a short off-road ride around the steep areas of San Jose, my hometown. The scooter's ability to tilt the hills with a 10-degree inclining capability astounded me.
The scooter could reach speeds of up to 9 mph (15.3 kph) when inclining, which I believe is sufficient for most riders unless they are adventurers. The 20.3cm tires, on the other hand, appeared to be a little too small for the mountainous areas. It includes dual shock suspension, which helps to absorb the little bumps. As a result, you won't have any difficulties riding uphill with the scooter.
Furthermore, the brakes are dependable. You won't have to be concerned about traffic crashes or accidents. It has front-wheel regenerative brakes and rear-wheel stomp brakes. The brakes are responsive, allowing you to bring the scooter to a near-instant stop.
Finally, the compact 51.3 cm long deck can tolerate bumps. As a result, you won't get the terrible shakes.
Less maintenance and easy to ride
The GT Sport scooter's low maintenance efficiency is one of its strongest selling qualities. It includes airless tires. As a result, they will never go flat, and you will not need to contact a mechanic to have them repaired.
The tires, on the other hand, lack traction. As a result, I will not advise you to use your scooters on wet roads. Although it is a disadvantage, airless tires are nevertheless preferable over air-filled tires. You won't have to go out of your way to inflate the tires every now and then.
Furthermore, the scooter is constructed of high-quality materials and has a sturdy design. As a result, its components are unlikely to fail anytime soon. It also means that the scooter will require less upkeep.
User-friendly interface and riding cockpit
The cockpit of the GT Sport is built with a nice  and bright LCD panel. It is small yet you can access all the required information you would want as a rider. It includes the following readouts:
Odometer
Speedometer
Battery percentage
Ambient temperature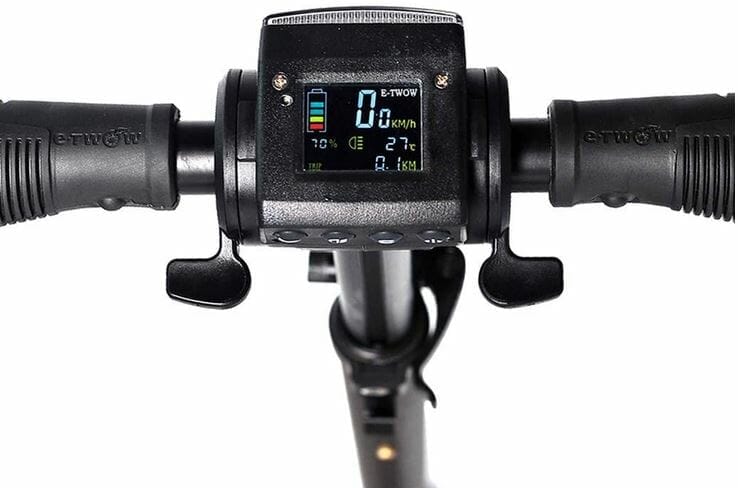 What's more, the handlebar will offer you nice controls without stretching your hand too much. You can control the following options with the buttons.
Electronic horn
High-mounted headlight
Fender-mounted taillight
Display settings
Power
You may easily regulate the speed, display, power, and lights as a result of this. If you have a little palm, you will find it really beneficial.
There are two thumb controls as well. These are the regenerative thumb brakes and the traditional thumb throttle. However, I discovered that the regenerative brake's thumb control is in an inconvenient location. You may mistakenly hit the horn when reaching for the regenerative brake button to activate it.
And I remember being in agony with my hands over my ears, trying to survive the terrible sound. The horn sounds authentically like a fire alarm. As a result, you should avoid using it.
Satisfactory battery range and charging speed
The GT Sport electric scooter's 504Wh battery is more than enough to power its 700W motor. With a full charge, it can easily travel 20 miles. It also recharges really quickly. According to the specifications, it takes 4 to 6 hours to fully charge.
During my testing, however, I discovered that the battery can be charged from 0% to 100% in less than 5 hours. As a result, it will enough for the majority of riders. Furthermore, the 700W motor has enough power to allow the scooter to gently incline across mountainous terrain.
Furthermore, the 700W motor is nearly 50% more powerful than any other e-scooter in its class and price range. The battery is very well-made, and it can easily survive 500 cycles without losing performance. As a result, you can rely on it for a long time.
The mobile App: A brilliant addition
The Uscooters GT Sport comes with a number of minor but important upgrades. The latest smartphone app is one of the biggest additions to this e-scooter. Using Bluetooth connectivity, you may pair your GT SE with the mobile app on your smartphone.
The following settings will be controlled via the mobile app:
Speedometer style
Max speed
Zero start
Security lock
Lights
Cruise control
The security lock is also quite trustworthy. As a result, you may leave your electric scooter in a park and still discover it there. Thieves will have a hard time getting away with the GT Sport. The electronic brakes will be activated if somebody touches the e-scooter without your permission and tries to move it. 
Furthermore, the alarm's high-pitched sound will rapidly alert you to the fact that something is happening, allowing you to rush to save the e-scooter from thieves.
Affordable and reliable: A go-to option for the beginners
Last but not least, I must point out that the GT Sport electric scooter is extremely affordable while maintaining a high level of build quality. The e-scooter is priced under $1000, which is surprising given its high-end features.
An innovative mobile app, a theft lock, a 50% stronger motor with a good-performing battery, and airless tires are included. At this price point, all of these are more than perceptible.
Water resistance is the only flaw with this e-scooter. As a result, I would advise riders not to ride their scooters in the rain. It has the potential to harm the battery and motor.
To summarize, if you are a beginner looking to invest in a high-quality e-scooter that will last for several years without hassles or severe issues, the Uscooters GT Sport should be your first pick.
As I wrap up my assessment of the Uscooters GT Sport electric scooter, I must praise the manufacturer. During my test rides, the GT Sport maintains its performance admirably. In addition, I found the little changes from the GT SE 2020 edition to be really handy.
Thus, if you are a beginner or want to upgrade your ride at a reasonable price and enjoy a hassle-free riding experience, the GT Sport should be an excellent choice. The sleek design and user-friendly mobile app will appeal to you. In addition, I discovered that the scooter compensates for its appearance with some useful high-end characteristics such as a decent battery range, long-lasting motor, and excellent suspension system.