Voyager Night Rider Electric Scooter [Should You Buy It For Your Little One]
Looking for the perfect scooter for your child can take a lot of time. With the many options available today, you may feel like you're looking for a needle in a haystack.
Many scooters now come with a ton of new features, and we know how overwhelming that feels. You may think that your child wants one with a large LCD and incredible speed, but these may not always be the safest options. As far as the specs for a child's first electric scooter go, we believe that the simpler, the better.
For this reason, we want to talk about the Voyager Night Rider Electric Scooter review. This electric scooter comes with a minimalist design that's easy to operate, and that means fewer distractions to keep his eyes on the road. It also has a maximum speed limit that's perfectly safe for kids.
What we've mentioned above are just at the tip of the iceberg. There's so much more we love about this electric scooter, and we're sharing everything we know with you in this article.
Voyeger Night Rider Foldable Electric Scooter Review
SPECIFICATIONS AND FEATURES
Max Speed: Up to 12 mph
Max Range: Up to 6 miles
Scooter's Weight: 18lbs
Motor: 150w Brushless
Load capacity: 155lbs max
Frame: Steel
Battery: 24V, 5Ah Li-Ion battery
Charging Time: Up to 6 hours
Recommended Age: 5 and up
Folding option: yes
Max Incline: 10 degrees
What we love most about the Voyager night rider Electric Scooetr is its powerful motor, foldability, and nighttime visibility. Here, we will give you the lowdown on each of its features to help you decide if it's the perfect scooter for your child.
First, the Voyager Night Rider Electric Scooter comes with a powerful 150-watt motor. This is powerful enough to push the scooter at child-friendly max- speed of up to 7.5 miles per hour and mileage of up to 6 miles.
Bear in mind that most of today's kid-friendly scooters can only cover a distance of fewer than 4-5 miles, so anything more than that already reflects an impressive motor and battery. Besides, a riding distance of 10 miles is enough to let him enjoy a decent cruise around the neighborhood, visit friends living nearby, or to run quick errands.
Also, the average kid-friendly scooter only runs at speeds of about 6 miles per hour. While this is safe enough for your child to ride on, this can get boring once the child grows older. When he starts to want more speed from his scooter, your alternative would be to buy him a new one – and that can be troublesome and costly.
Interestingly, some adults claim that they also enjoy riding this electric scooter from Voyager. The Proton's brushless motor can push the scooter efficiently, even if it's being used by adult riders – as long as they weigh within 155 pounds.
This makes it the perfect alternative to walking within the school compound. You don't have to worry about being too tired for the next class, especially after all the running between classes.
The brushless motor also provides the electric scooter with plenty of torque, and this makes it more maneuverable. For kids, this means that it is easy to use. For adults, it means that they get better control over the ride.
All of these features guarantee that the Voyager Night Rider Electric Scooter is not just for kids. Since teenagers and young adults can use it because it has height adjusting features, you know that it's something that will be used and enjoyed for a long time. And as a result, you know that buying one is a great investment
Going hand-in-hand with its powerful motor is its portability. The Voyager Night Rider Foldable Electric Scooter is one of the best portable e-scooters for kids, and we'll show you why.
First, it has a unique foldable design that makes it easy to carry. The top portion of the scooter can be folded within seconds, and it easily locks into place to be conveniently carried by hand.
This feature is convenient for several reasons. Children usually treat their scooters as toys – whether it's manual or electric. Getting him a folding scooter will teach him to keep his toys after he's done playing with them. This not only develops discipline but also prolongs the longevity of the scooter.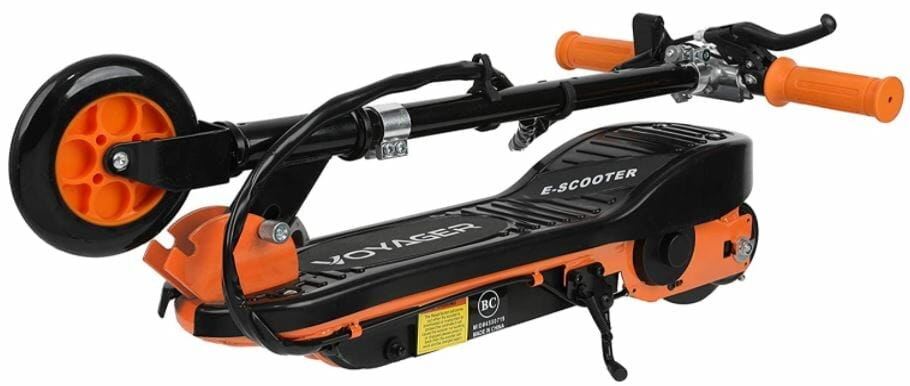 USE COUPON CODE "NEWAGEACTIVITY" TO GET 15% DISCOUNT
Also, a folding scooter doesn't take enough storage space. You can decide to keep it in the garage or your child's room, but wherever you decide to keep it, know that it won't take up a lot of space.
In the case of adults, the folding feature allows you to carry it inside the bus or train if you have to commute to school or work. You can then ride it from the stop to your particular destination to keep you energized for the day ahead. Parking isn't a problem, either. You can simply hide it under your desk while you work on your tasks.
Another feature that makes it portable is its weight. This lightweight scooter only weighs a little over 18 pounds. This is coupled with the fact that when it's folded, the weight is evenly distributed. And this makes it easy to carry with just one hand – even for a child.
For your child's safety, you'd be pleased to know that this electric scooter comes with a responsive braking system.
It has a rear braking system that's easily accessible whenever your child needs to put the motor to a halt. Because it's located by the rear wheel, your child doesn't have to take his eyes off the road. This allows him to focus on avoiding obstructions to keep him safe during the ride.
Another important safety feature is its built-in LED lights and a small LCD display. You can teach your child to turn these lights on to remain visible, even in low-light areas. Doing so will keep them out of harm's way while also illuminating their path home. This is why it's aptly called the Proton.
Its anti-slip design is also worth noting. The Voyager Night Rider has a textured platform that provides the rider's feet with decent traction to prevent them from slipping. This comes in handy in case you come to a full stop, or in case of a full turn. This also helps with practicing the child's balancing skills.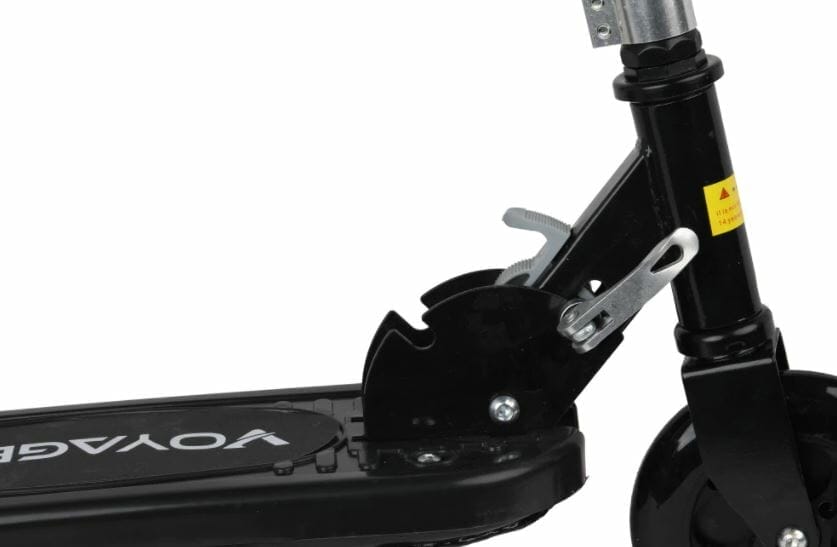 USE COUPON CODE "NEWAGEACTIVITY" TO GET 15% DISCOUNT
When we think of scooters, we often think of two-wheeled mechanisms with a narrow platform where your child has to squeeze both feet to ride it. Fortunately, this is not the case for the Voyager Night Rider Electric Scooter.
This foldable electric scooter comes with a long and wide platform that could fit both feet on – even for bigger adult feet. This large platform allows the rider to stand comfortably while riding, so he or she wouldn't suffer from muscle strain or foot cramps after a long ride.
Additionally, this electric scooter also allows the rider to adjust the height of the handlebar. This allows you to set it at the most comfortable height – so your child neither has to slouch nor extend his arms too high.
Finally, the Voyager Night Rider comes with a pair of solid tires. Solid tires are known for their shock-absorbent properties, and this guarantees smooth riding. This also means that you shouldn't worry about getting a flat tire, so this can also be considered as an additional safety feature. It also reduces maintenance costs, and that helps you save a lot in the long run.
Frequently Asked Questions
Before ending this article, we have also gathered some of the most frequently asked questions about Voyager scooters. Here, we will answer all of them to give you an additional source of reference.
Depending on the model, Voyager electric scooters can go as far as 10 miles. But for this review, the Voyager proton can go as far as 10 miles, which is pretty decent for a kid scooter.
As for the speed, most Voyager scooters can go as fast as 12.5 miles per hour. Nevertheless, its child-friendly models can go as fast as 7.5 miles per hour. This, however, still depends on several factors such as the weight of the rider and the texture of the floor surface.
Final Words On Voyager Night Rider Foldable Electric Scooter
The Voyager Night Rider Foldable Electric Scooter is one of the most versatile child-friendly electric scooters around.
First, we love how portable it is. It comes with a unique foldable design that allows for better storage options. This is coupled with the fact that it only weighs 18 pounds, so even teenagers can carry it with one hand.
Second, it has a safe maximum speed of 7.5 mph. This is fast enough to allow your kids to enjoy a day with friends, but still slow enough to keep him safe. For teenagers and young adults, this is also fast enough to cruise around campus to get to the next class faster.
And third, the suitably-named Proton comes with beautiful LED lights that allow it to stand out at night. This added visibility keeps you safe at night while you cruise around in style.
All things considered, we highly recommend this scooter for anyone who is looking for an electric scooter that their child won't easily outgrow.